The Cookies by Bess cook book is filled with over 200 cookie recipes and my Grandma Bess categorized each recipe into one of 6 Basic Cookie Types.  I know this because my Aunt Suzie sent me the book Bess used to identify each cookie type.  How fun to see my Grandma's writing next to each cookie.
As I continue to learn about the ins and outs of baking cookies, these 6 basic cookie types seem to be the most traditional as they continue to come up in the specialty cookie cook books I've read.  Each cookie recipe I post on my blog will have a cookie type assigned and will be sorted by each type to make it easy to search if you are looking for a specific type of cookie to make.
I have also included one additional category for Holiday Cookies.  In the Holiday category, you will find all cookies types with holiday recipe names and recipes.
6 Basic Cookie Types
Bar Cookies
Baked in shallow pan and then cut into bars or squares, cookies can be soft or firm, and can have different bases, fillings, or toppings.  Common examples of bar cookies include brownies and blondies.  My favorite examples of bar cookies from Cookies by Bess are English Toffee Bars No. 1, Tom Thumb Bars, Chinese Chews, and Scotch Toffies.
Drop Cookies
Made from soft dough dropped onto a cookie sheet. Allow at least 2" between cookies because they flatten and spread during cooking. Common examples of drop cookies include chocolate chip and oatmeal cookies.  My favorite Cookies by Bess drop cookies are Bachelor Buttons, Rich Flavor Macaroons, Macaroon Surprises, and Sour Cream Oatmeal Cookies.
Rolled Cookies
Made from stiff chilled dough cut into different shapes with cookie cutters. Best to work with small amounts. Common rolled cookies include gingerbread and sugar cookies.  My favorite Cookies by Bess rolled cookies include Rich Flavor Christmas Cookies, Sour Cream Holiday Cookies, and Christmas Trees (Valentine's Hearts).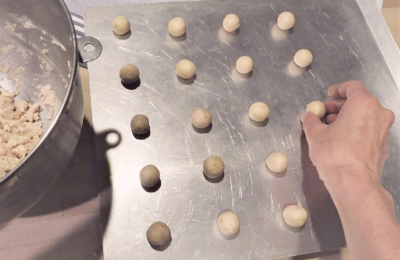 Molded or Shaped
Shaped by hand into different shapes and can be rolled in chopped nuts/other coatings or pressed with a glass/fork before baking. In addition, you will normally chill the dough first because it is easier to work with. Common molded or shaped cookies include peanut butter and ginger snaps.  My favorite Cookies by Bess shaped cookies include Moon Beam Delicious, Butternut Swedish Cookies, and Mint Melt Aways.
Refrigerator Cookies
Starts with dough formed into long, even rolls about one and a half to 2″ in diameter; rolls are then rapped in wax paper, foil, or plastic wrap and then chilled. Common examples of refrigerator cookies are basic sugar cookies and pinwheel cookies.  My favorite Cookies by Bess refrigerator cookies include Pecan Maple Cookies, Chocolate Mint Dreams, and Mexican Christmas Cookies.
Pressed Cookies
Dough forced through a cookie press directly onto a baking sheet. Use different disks to make different shapes. A common example of pressed cookies are spritz cookies.  My favorite Cookies by Bess pressed cookies include Lemon Spritz and Chocolate Logs.
I have found that putting the cookie recipes into categories or types of cookies helps when deciding what cookies to make.  For example, rolled and shaped cookies definitely take longer to make than drop or refrigerator cookies and refrigerator cookies are great when you are short on time. You can roll and leave the dough in the refrigerator (or freezer) for several days and taken out to baked as needed.
I hope you will find these definitions helpful!  I'd love to know if you have different or other cookie type definitions, please send them to me through our Join the Community page!
XXOO,
Janet