For some reason, I'm into coconut cookies right now.  I think there should be a "Coconut Cookie Month" or "Day" at least!  There are so many yummy coconut cookie recipes, there would be no problem finding great recipes to share!  Cookies by Bess has several…including this one, Rich Coconut Macaroons!
When thinking about making a coconut cookie recipe, I wanted to try something traditional like a macaroon.  The Cookies by Bess Rich Coconut Macaroon recipe was perfect! These macaroons are a great combination of crunchy, chewy, and sweet. They aren't as moist as I've had before with store bought macaroons, but they are moist enough and super good!
I rated this recipe as 2-starts only because of the extra step of beating the egg whites and folding them into the dough, otherwise these are an easy and quick cookie to make and bake 🙂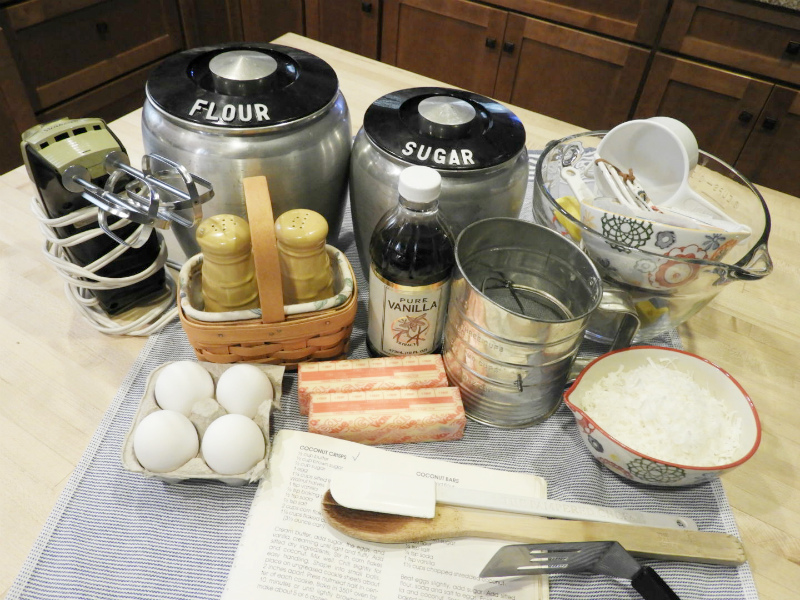 I gathered all my ingredients and utensils together and got started.
The dough was very dry after mixing the butter, sugar, flour, salt, and coconut. The Kitchen Aid did a good job of mixing everything together evenly, but at this point, the dough never completely came together. The vanilla helped a little, but it was still separated, which I figured, is as it should be because the egg whites are coming up next to help out!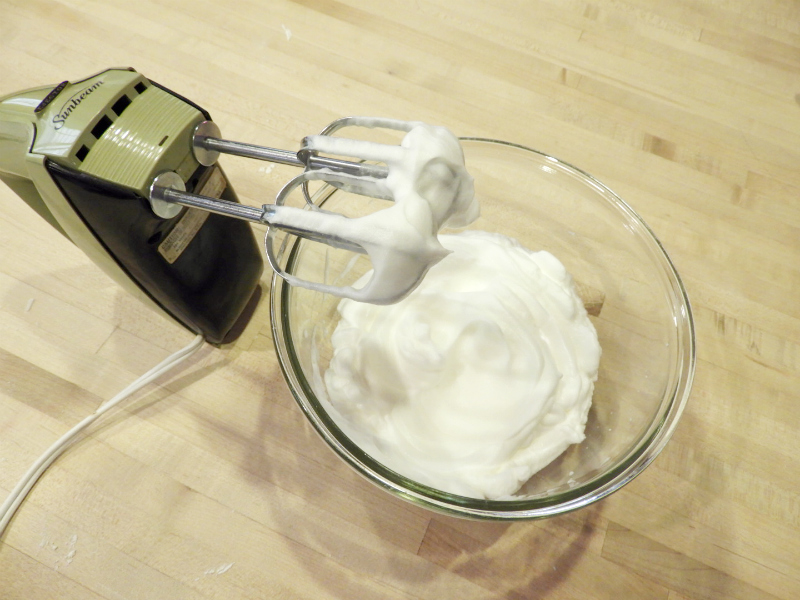 Next, I beat the egg whites until stiff using my Grandma's Sunbeam hand mixer. I just love this thing!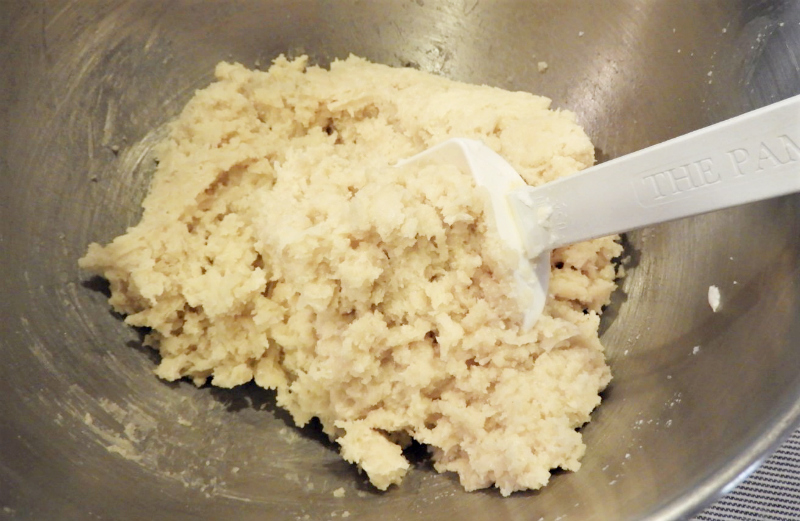 As I expected, the folding in the egg whites added just the right amount of moisture to help the dough come together!  By the way, definitely try this cookie dough…it is really good! 🙂
The recipe calls for brown paper or greased and floured cookie sheets. I opted for the greased/floured sheets as I didn't have the brown paper or parchment paper on hand.  I spooned teaspoons full of the dough onto cookie sheets. The instructions worried me a little, thinking the cookies were going to stick to the bottom of the cookie sheet, so I tested out a small batch to see how much they spread and how difficult it was going to be to remove them from the cookie sheets.
Much to my delight, the greased and floured sheets worked! The cookies didn't stick, and they were actually pretty easy to remove. The cookies didn't stick to the cooling racks either. Much easier that I was thinking it would be.
I baked these cookies for the full 21 minutes. The test batch got a little brown around the edged and on the bottom of the cookie, but the rest of the batches baked without any brown edges.  If you like cookies a little crunchy and with a little brown edge color, just bake them for a minute or two longer.  It shouldn't affect the chewiness.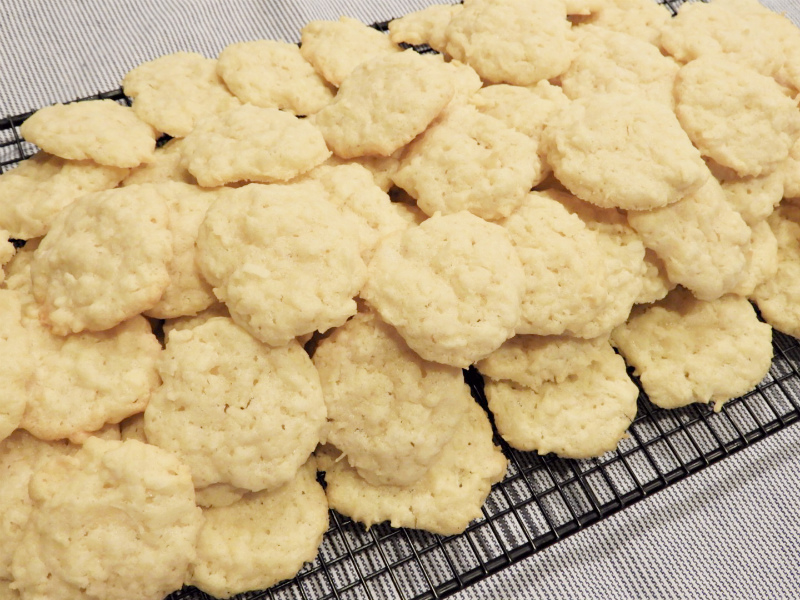 This recipe makes a ton of cookies and have a nice texture and taste.  It's a great recipe to fill your cookie jars and if you love coconut, you won't be able to eat just one, I promise!  I definitely recommend this recipe for the whole family!
Do you have a favorite macaroon or coconut cookie recipe?  If so, please share it with me by going to our Join the Community page.  I'd love to try your recipe and add it to my Coconut Cookie Month list!
Enjoy!
XXOO
Janet
Print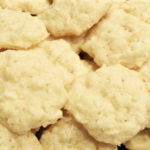 Rich Coconut Macaroons
Ingredients
1 cup butter

2 cups sugar

1 Tbs vanilla

4 egg whites

2 ¼ cups sifted flour

¼ tsp salt

2 cups dry shredded coconut
Instructions
Cream butter and sugar until light and fluffy. Add sifted flour and salt to which the coconut has been added.  Mix well.  Add vanilla.  Mix well. Fold in stiffly beaten egg whites.  Drop by spoonful's on baking sheets covered with brown paper or on greased and floured sheets.  Bake at 325 degrees for about 21 minutes.
Recipe Yield
Makes about 6 - 7 dozen