Rich Flavor Christmas Cookies
An all-time favorite…Rich Flavor Christmas Cookies is a simple butter cookie recipe that is great for holiday cut out cookies! The Juice Frosting we've paired with it adds just the right amount of sweet to the buttery cookie flavor.
I like to make this cookie for my Christmas and Hanukkah holiday cookies, but grandma Bess and my mom have also used this recipe for Valentine's Day, Halloween, and Thanksgiving. All you have to do is change the cookie cutters and the color of your frosting and you are set to go.
After I have all my ingredients and baking tools together, I follow the recipe as written. No adjustments needed for this recipe.
As the dough comes together, you'll notice it's a bit dry which is good and helps with the rolling of the dough.
This time around, I decided to try something new. I decided to take some of the dough and form it into rolls.
Next, I rolled the edges in colored sugar and sliced the roll into cookie disks . This idea came from some old pictures from my Grandma's promotional tour back in 1980.  The cookies looked like they may be the same recipe, so I tried it out.
They turned out great and shows even more variety with the cookie recipe!
The rest of the dough I used for the traditional cut outs.  To make rolling the dough easier, I use lots of flour on the rolling surface underneath the dough, on top of the dough, and on the rolling pin.  This helps you to quickly roll out the dough and easily pick the cut outs up and place on the baking sheet. Once you've rolled the dough a time or two, it becomes very easy to handle.
I use both Christmas and Hanukkah cutters, so I can represent both holidays and mix up the decorating a little.
Baking these guys, is pretty easy once you get the cut outs done. The cookies don't rise or expand much when baking, so what you see with the cut outs is pretty much what you get. You do have to be careful not to over bake…a minute or two too long in the over and the cookies will be brown around the edges. I set the time for one to two minutes early so I can watch to see how the cookies are doing as I like them just done.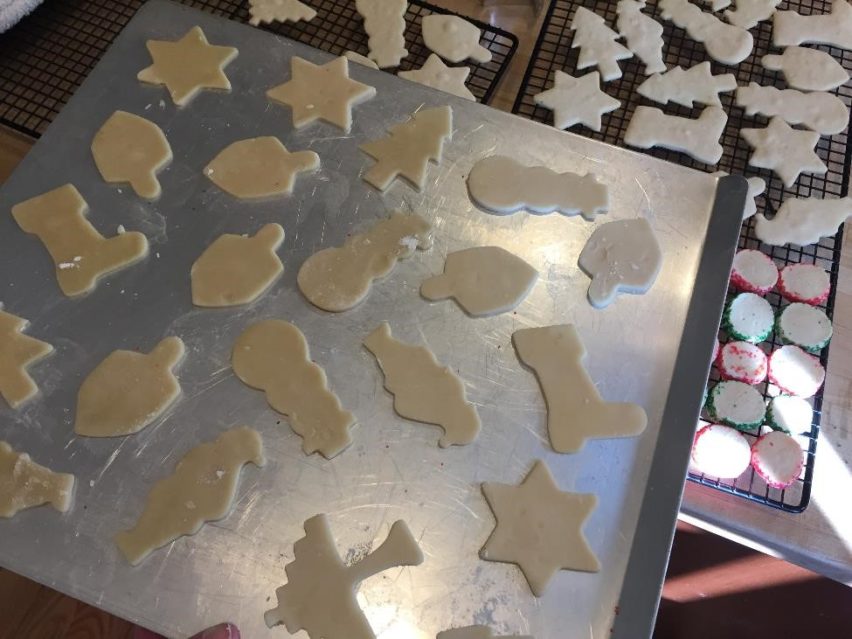 Once out of the oven, the cookies can be a bit fragile so be careful when removing them from the baking sheet. Make sure to use a spatula that can get underneath the entire cookie. Once cooled they are still a fragile, so handle with care as you frost, decorate, and store/freeze.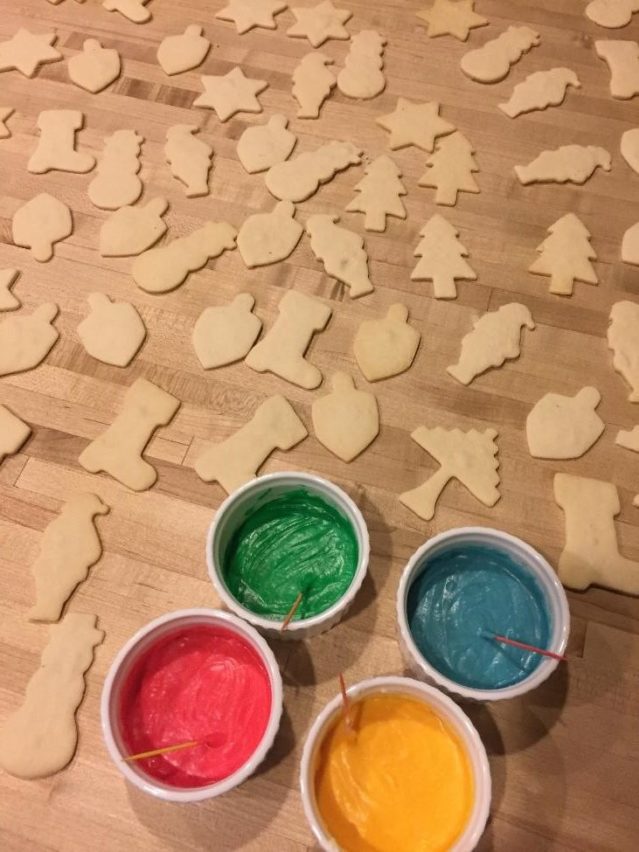 The Juice Frosting easily comes together. The recipe is good and accurate. If you add a bit more liquid than necessary, no worries, just add a bit more sugar until you get the consistency you like. Generally, the frosting should be smooth and relatively loose…so that it drips slowly when held up with a spoon. You don't want it too thick because it will get gloppy and hard to spread. The taste is a light sweet/tart flavor…nothing like a heavy sugar cookie frosting. The juicy/sugary flavor with the butter is simply wonderful…and something delightfully different!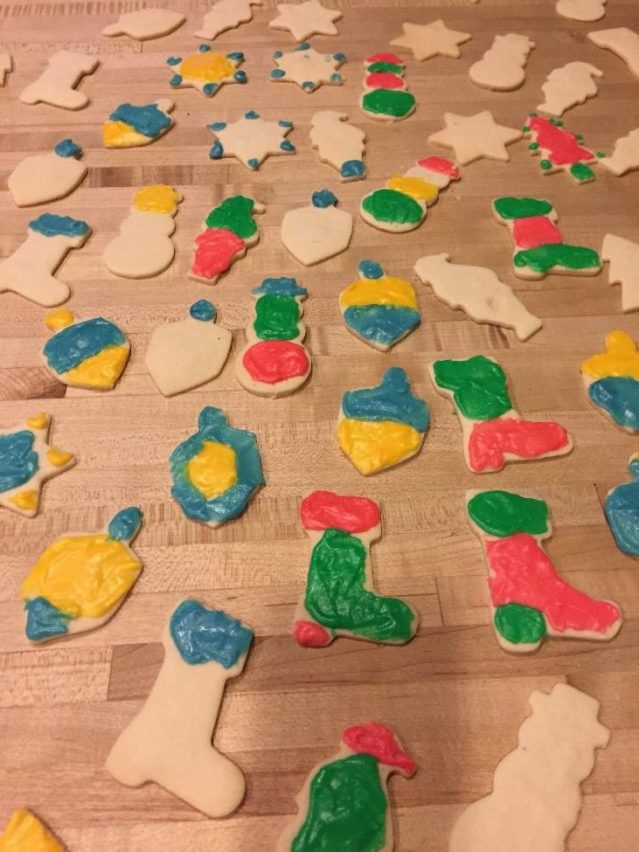 The decorating part is where you can be super creative. My mom likes to decorate the cookies with my niece, it's a fun activity for kids for sure!  I like to use food coloring with the juice frosting. When done mixing, it's a nice while/ivory color. The food coloring takes nicely and you can get some bold or pastel type colors depending on how much color you use. The frosting takes other decorations nicely as well. You can add any of your favorite sprinkles to make them even more festive.
And finally, these cookies freeze great! They taste great frozen and they taste great thawed out.
Definitely schedule some time to make these cookies from start to finish in one day. I have broken it up over two days depending on how much time I have. Take some pictures when you are done decorating so you have memories of the fun and creative afternoon!
Print
Rich Flavor Christmas Cookies
Ingredients
1 cup butter
½ cup sugar
1 egg, unbeaten
2 tsp vanilla
3 cups shifted flour
½ tsp baking powder
1/8 tsp salt
Instructions
Cream butter and sugar thoroughly. Add egg and vanilla. Mix well. Gradually stir in shifted ingredients until well blended. Chill if needed to make dough easier to handle. Roll small amounts of dough 1/8-inch-thick on a floured board. Shape with cookie cutters as desired. Bake on ungreased cookie sheet at 350 degrees for about 10 – 12 minutes or until delicately browned.
Notes
Juice Frosting
2 Tbs melted butter
1 ¾ tsp lemon juice
2 Tbs orange juice
1 ½ cups sifted confectioners' sugar
Add melted butter and juices to sugar and mix well. Separate and mix with food coloring. Spread on cookies and decorate as desired.
Recipe Yield
About 5 dozen 1x