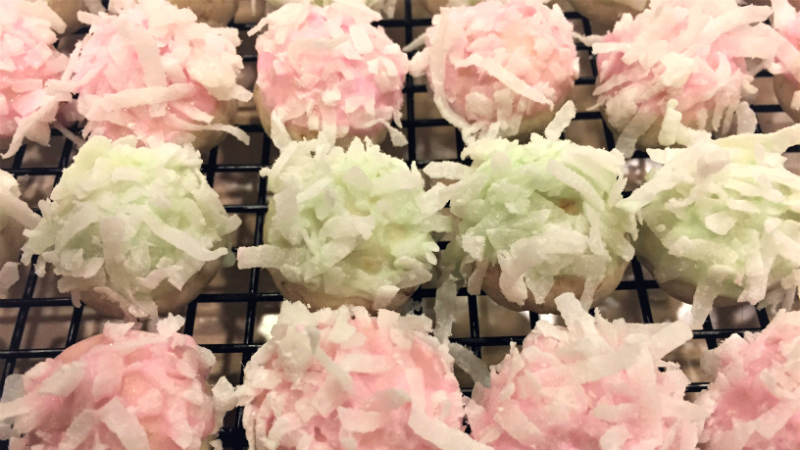 So many Cookies by Bess cookie recipes to choose from!  I decided to make Mint Melt Aways for a couple reasons. First, I've been on an oats and coconut kick the last few weeks. This recipe has both, so fit that requirement easily! Also, I thought this was the recipe my brother and niece have made many times and love…turns out that is a different recipe. Ha! After making these, I'm not surprised…I really can't see my brother wanting to make this recipe. It has lots of steps and it's what I would consider a "dainty" cookie. Not one I would think my brother or niece would like making.  I'm sure glad I made them…I think they are about the prettiest cookies I've ever seen 🙂
I rated this cookie recipe 3-stars. Not because it's difficult, but because there are several steps involved with rolling the cookies, dipping them in frosting, and then again in coconut.  There are a bit time consuming, but the end result is worth it!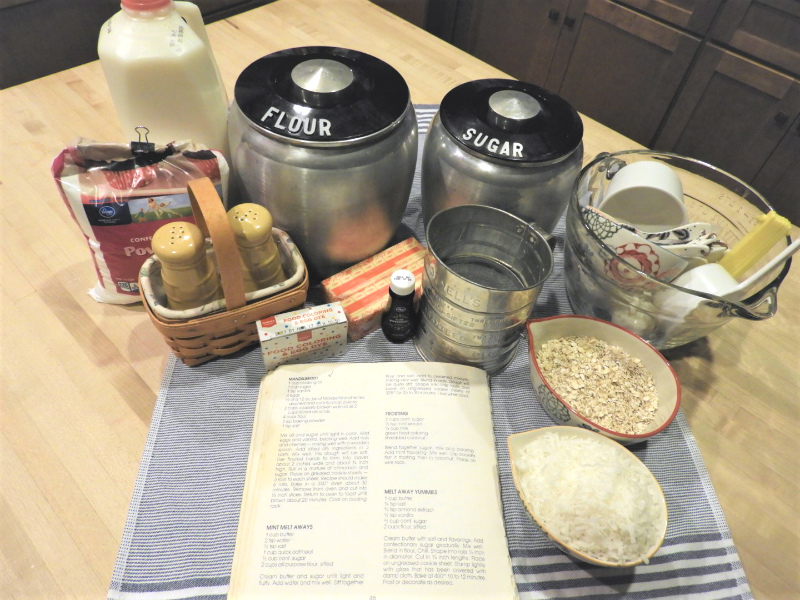 Another reason I decided to make this recipe is because I had all the ingredients in my pantry.  So nice not to have to run to the grocery store!  After getting everything I needed together, I got started.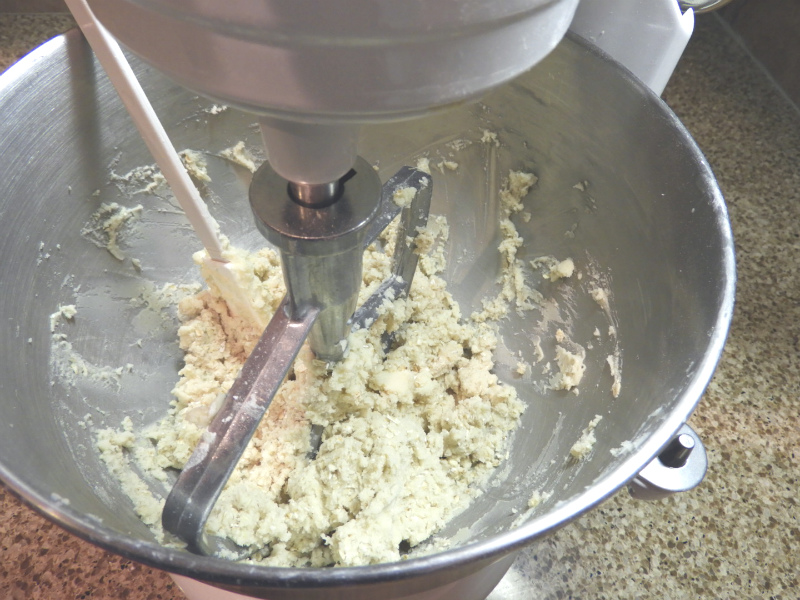 The recipe mentions that the dough will be stiff and dry after mixing the ingredients together.  With only two teaspoons of water for liquid with flour, oats, and coconut, I wasn't surprised!
The dryness of the dough made it easy to roll it into small balls. The dough balls don't expand or change shape while baking, so the size ball you make will be the size of your finished cookie. I decided to make the balls about ½ to 1 inch in diameter. I baked them for 25 minutes.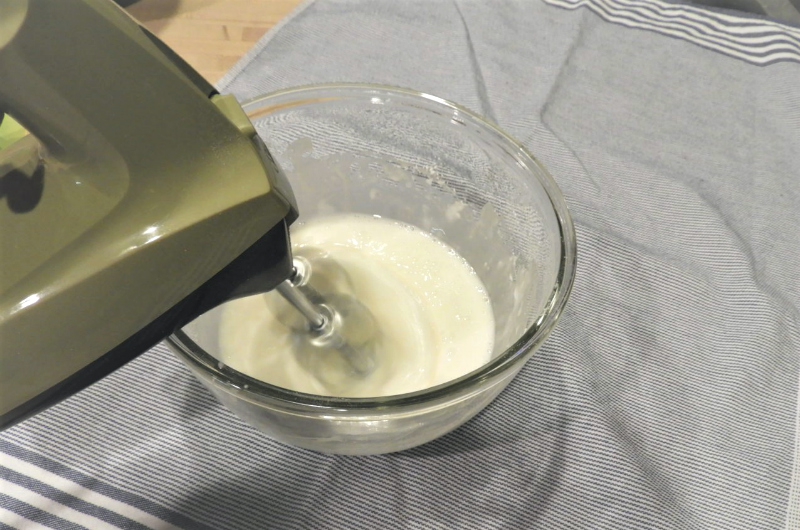 While the cookies were baking, I made the frosting. It's a basic frosting recipe with just confectioner's sugar, milk, and mint extract for flavor. The recipe calls for green food coloring. Of course, you can use any color you like. I decided to go with mint green and light pink colors. Both to represent the mint flavor of the frosting and since Valentine's Day is coming up in a few weeks, I decided to add a little pink.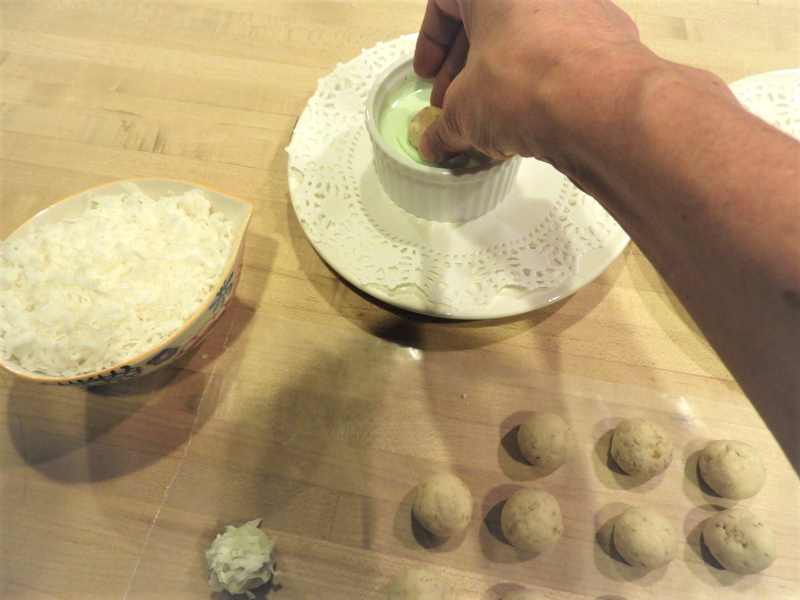 I found the frosting to be very loose. I added another ¼ cup of confectioner's sugar to help thicken it up a bit. Blending with the hand mixer also helped. Next time I will cut the recipe in half as after frosting all the cookies, I still had a lot of frosting left. The other option would be to add quite a bit more sugar to thicken it up which would result in using more frosting on each cookie when dipping.  But I'm not sure how the thicker frosting would look with the coconut.
I actually like the consistency of the frosting more loose for this recipe. It was easy to dip the cookies in and it set up and dried nicely after dipping in the coconut.  I think the looser frosting allows the texture of the coconut really stand out!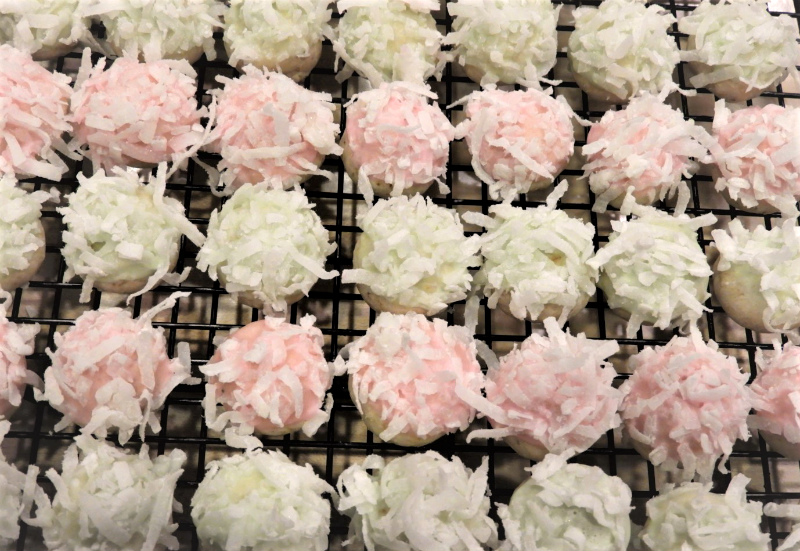 When I was done frosting and dipping all the cookies in coconut, I was amazed at how beautiful these cookies are! I was so excited about them, I send pictures to my parents and girlfriends. The pastel colors of the frosting and the craziness of the coconut give these cookies a beautiful and fancy look…just so pretty!
I haven't make these cookies before, so I didn't know what they tasted like, but the flavor wasn't what I was expecting. The cookie is a bit doughy when chewing and almost bland in flavor.  It's not too sweet, it's actually almost "hearty".  The the mint flavor of the frosting is subtle…next time I think I'll add a bit more mint extract to boost the flavor.  The coconut on top adds just the right amount of extra sweetness to the frosting and cookie. Altogether, the flavor is not too sweet not too bland, but just right! They really taste as great as they look!
I think these Mint Melt Aways would be great for weddings, showers, luncheons, or any other fancy event. It will be a perfect addition to any dessert tray!
Print
Mint Melt Aways
Ingredients
1 cup butter

2 tsp water

½ tsp salt

1 cup quick oatmeal

½ cup confectioner's sugar

2 cups all purpose flour, sifted
Instructions
Cream butter and sugar until light and fluffy.  Add water and mix well.  Sift together flour and salt, add to creamed mixture, mixing very well.  Blend in oats.  Dough will be quite stiff.  Shape into little balls and bake on ungreased cookie sheets at 325 degrees for 25 to 30 minutes.  Frost when cool.
Notes
Frosting
2 cups confectioner's sugar
½ tsp mint extract
¼ cup milk
Green food coloring
Shredded coconut
Blend together sugar, milk and coloring. Add min flavoring. Mex well. Dip cookies first in frosting then in coconut. Place on wire rack.
Recipe Yield
Makes about 6 - 7 dozen
Cookie Category:  Molded or shaped