Hi All!  I am posting this week's blog one day early to celebrate the Super Blue Blood Moon happening before sunrise on January, 31, 2018 (at about 5:15 am mountain time tomorrow morning)! This will be the first time in 150 years that a total lunar eclipse will happen during the second full moon in a month (this is called a blue moon)…and to add even more drama and intrigue, it will also be a "super moon," meaning the moon will appear slightly bigger and brighter than normal. Check out Vox.com to read all about what is happening, why, and when! Depending on where you live and the cloud cover, you might just get to see all this happening right before your eyes!  So cool!!
In honor of all the upcoming moon happenings tomorrow morning, I am posting my blog on Moon Beams Delicious cookies. This cookie recipe is one of the first recipes I made after deciding to take on the Cookies by Bess revitalization. I picked this recipe because of the name…Moon Beam Delicious…doesn't it just sound out of this world yummy!  I hope you enjoy them as much as I did and here's to many many happy Moon Beams Delicious in your future! 😊
Moon Beams Delicious is just such a great name for a cookie and seemed like such a great way to celebrate the great Super Blue Blood Moon!  I had no idea what to expect from this cookie recipe.  I read the recipe several times before making them, and each time I had to stop at "instant whole wheat cereal"…what the heck is that? Is it oatmeal? No because it's whole wheat cereal. Is it Wheaties? No cause it's "instant" not flakes. I actually googled "instant whole wheat cereal" and guess what I got…Cream of Wheat…yes, really!
So I went to the store to find good old Cream of Wheat cereal. It was, of course, in the cereal aisle, but it took me a minute to find it on the top shelf way above the 50 different kinds of instant oatmeal. There was one facing of Cream of Wheat cereal. Just one. There were two other kinds of whole wheat cereal that claim to be "quick", but quick is not instant, so I went for the Cream of Wheat. $3.99 for the box of 12 packs of instant cereal. Kind of pricey I thought since I usually pay about $1.50 for the same size box of instant oatmeal. Oh well, I had to bake these cookies, so it was worth the extra "dough"…I know, I'm sorry!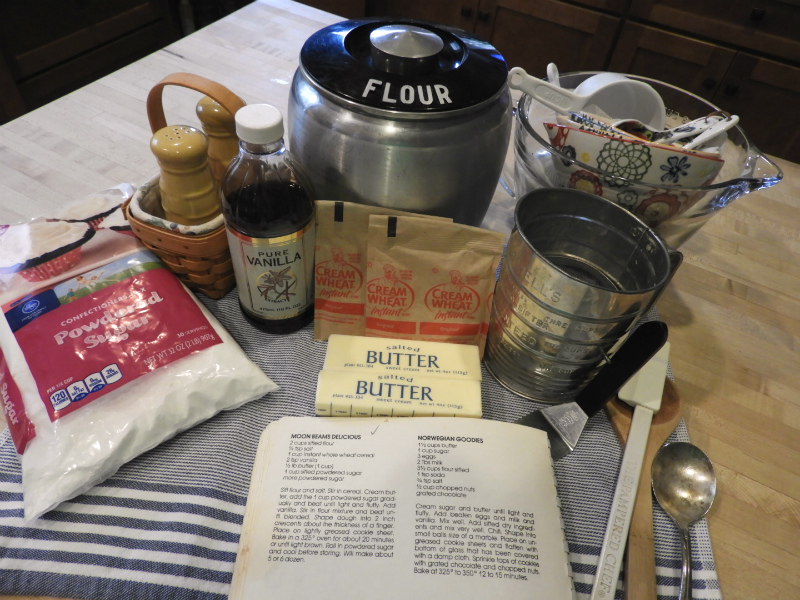 I took my Cream of Wheat cereal home and got started. This was a very easy recipe to follow and quick to put together. Once I got everything all blended together, I noticed right away that the dough was pretty thick and dry…which is the way it's supposed to be. The thickness and dryness makes it easier to form the crescent shapes.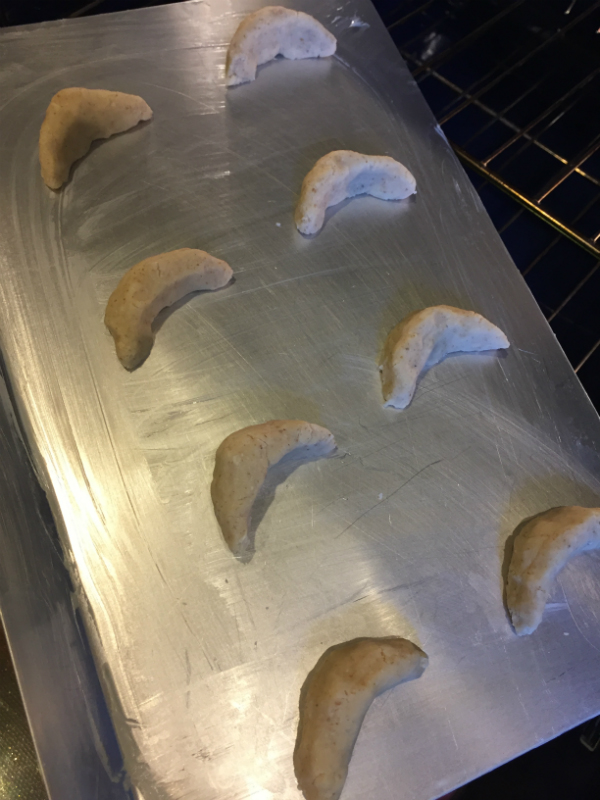 My one issue came when trying to decide just how big the make the crescents. I took the recipe literally and made the crescents two inches long and about the thickness of my index finger. I thought  my crescents were awfully big.  After getting the first batch in the oven, I started on the next batch. I tried the make them a bit smaller.
When I took the first batch out of the oven, it was confirmed! I made the crescents too big (in my opinion)…no problem except that instead of the recipe making 5 – 6 dozen, I made just 3 ½ dozen. Compared to most of Bess's other cookies, these Moon Beams Delicious cookies are HUGE!  But no worries, it's an easy fix. Next time I will make them 1 inch long and the size of my baby finger.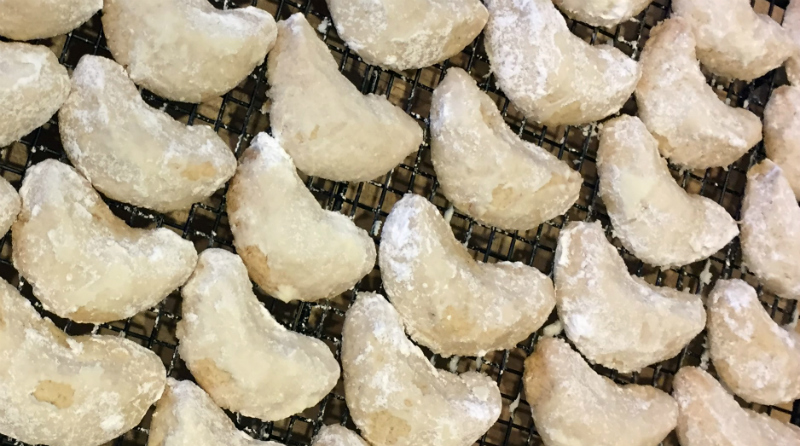 I baked each batch for 20 minutes. They didn't really show the light brown color at this point as mentioned in the recipe, but I didn't want them to get too crispy, so I took them out anyway. Rolling the warm cookies in the powered sugar was easy but a little messy on the cooling rack because the sugar melted quickly. I made sure to put a piece of wax paper underneath the rack so the sugar didn't get all over. I waited for the cookies to cool completely before packing them away…like the recipe says. This also helped to keep the sugar on the cookies versus everywhere else!
When tasting these cookies, I could taste the wheat cereal in each bite.  The cereal gives a flavor I've never tasted before in a cookie.  The "wheaty" flavor really makes this one unique cookie!  Mixed with the powdered sugar, definitely a hearty and sweet cookie that will have your family saying, "Wow, I really like this cookie, what is that flavor I'm tasting?"  Moon Beams Delicious will definitely be a crowd pleaser for those that like a sweet and savory cookie!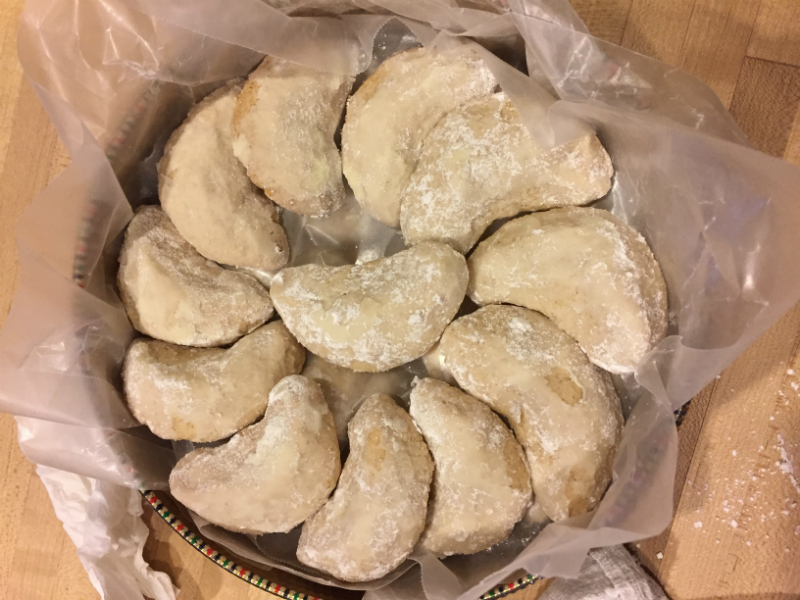 I hope you are  (or were) able to check out the all the moon happenings in the skies on this historic Moon Beams Delicious/Super Blue Blood Moon kind of day!  Here's to gazing at the stars and making crazy good cookies!
XXOO,
Janet
Print
Moon Beams Delicious
Ingredients
2 cups sifted flour

½ tsp salt

1 cup instant whole wheat cereal

2 tsp vanilla

½ lb butter (1 cup)

1 cup sifted powdered sugar

More powdered sugar
Instructions
Sift flour and salt together. Stir in whole wheat cereal with flour/salt and set aside. In a separate bowl, cream butter, then add 1 cup sifted powered sugar gradually. Beat until light and fluffy. Add vanila and continue to mix well. Stir in flour and cereal mixture, mix until blended. Shape dough into 2 inch crescents about the thickness of a finger. Place on lightly greased cookie sheet. Bake at 325 degrees for about 20 minutes or until light brown. Roll in powdered sugar while warm. Cool completely before storing.
Recipe Yield
About 5 - 6 dozen (depending on the size of your crescents!)
Cookie Category:  Molded or Shaped