I wasn't sure which cookie recipe to post between Christmas and New Years this year…fortunately one of our friends/followers came to my rescue and requested Grandma Bess' Bachelor Buttons.  After seeing a picture on our Facebook page, she said she recognized the cookie from her childhood, but didn't have the recipe.  Well, here it is and I hope it's the one you are looking for and I hope to all enjoy these cookies!! 🙂
Before making this recipe, I looked up other Bachelor Button recipes online.   I've never made them before and wanted to see if I could find out the history behind their name.  I also wanted to look and compare the recipes to my Grandma's.  Much to my surprise, the other recipes were quite different from my Grandmother's recipe. Some were like thumbprint cookies and others were like sandwich cookies. None of them had the cherries, coconut or nuts called for in my Grandmother's recipe. I find that very interesting and so wish I could ask Grandma Bess where this recipe came from.
As I was searching around, I found a bit of history about how the cookie recipe got its name. This story says that on December 20, 1820, the state of Missouri placed a $1.00 tax on any bachelors between the ages of 21 and 50 for being unmarried. This story is referring to the thumbprint type Bachelor Button cookie as it looks a bit like a bachelor's button at that time (I guess 😊).
After all this research, I was even more curious about my Grandma's recipe…so I jumped in and got started…
I'd love to hear from all of you on the history of Bachelor Button Cookies, and if you recognize my Grandma Bess' recipe or if you have one of your own, please share it by going to my "Join the Community" page and uploading your recipe and pictures!
The recipe turned out to be super easy to make (which is why I rated it 1-star) and the cookies are super tasty!  I would not suggest adding any jam (like the thumbprint) or frosting (like the sandwich) to this recipe as the chopped cherries give it a nice color and appearance.  Then adding the nuts and coconut make it sweet and tasty.
The recipe calls for cherries and nuts…but isn't specific on the type of cherries and nuts. I hate that! I like to be creative, but usually after I've made them the original or traditional way so I can compare the different options. For this recipe, I decided to use maraschino cherries and pecans.  I really debated between walnuts and pecans. My immediate thought was walnuts, but then I changed my mind and went with pecans. Next time I'll use walnuts as I think it will provide a completely different (but just as good) flavor. The pecans, with the brown sugar and coconut, gave this cookie a bit of a caramelly flavor. Almost like a praline.
I rated this cookie super easy to make because basically you mix all the ingredients together and use a spoon to drop the cookie dough onto a baking sheet. Not much too it. But, I did have to make a couple small adjustments…
I'm beginning to think that my adjustments are all altitude related (I live in Denver, CO). Most of the adjustments I've made so far have been to deal with the cookie dough consistency and the baking time. As with several other recipes, I needed to add more flour to the cookie dough. I added 3 Tsp of flour to get the consistency I wanted and thought would bake up the best. As for baking time, I baked these cookies for 8 minutes rather than 10 because the first few test cookies were too spread out and too brown for my liking.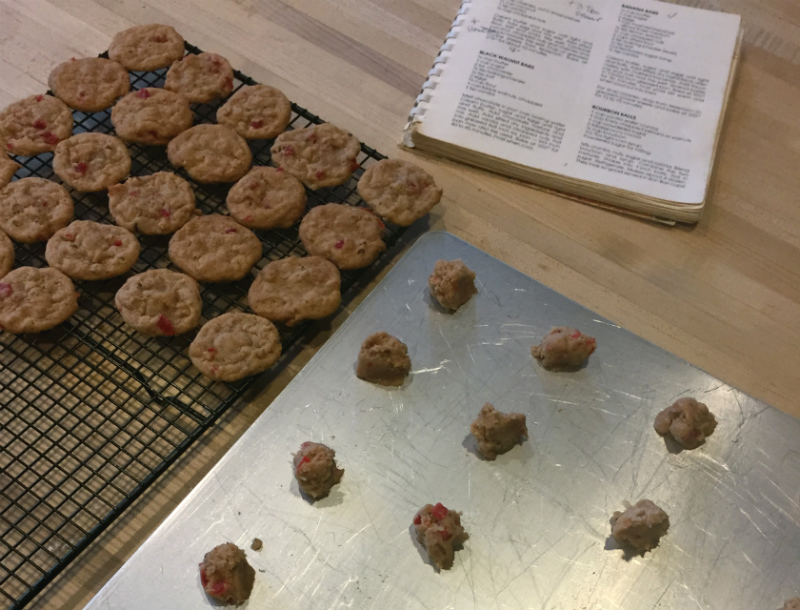 Other than these two adjustments, the recipe worked as written and was easy to mix everything together. I suggest spooning about ½ tsp of dough onto the greased cookie sheet (depending on the size of cookies you are looking for of course) as these cookies will spread a little.
The baking time is also up to you depending on how soft or crunchy you like your cookies. I prefer them a bit softer, so 8 minutes was perfect for me and my oven. Letting them bake too long will change the color, so I suggest starting out with a test batch or two to help you determine the perfect baking time.
These cookies are great for everyone, especially kids. They will love the sweet almost caramelly flavor and the soft, but almost crunchy bite. This is an easy cookie to make and have around for the kids after school or in between weekend events or even after dinner with ice cream! 😊
I hope you enjoy these awesome cookies!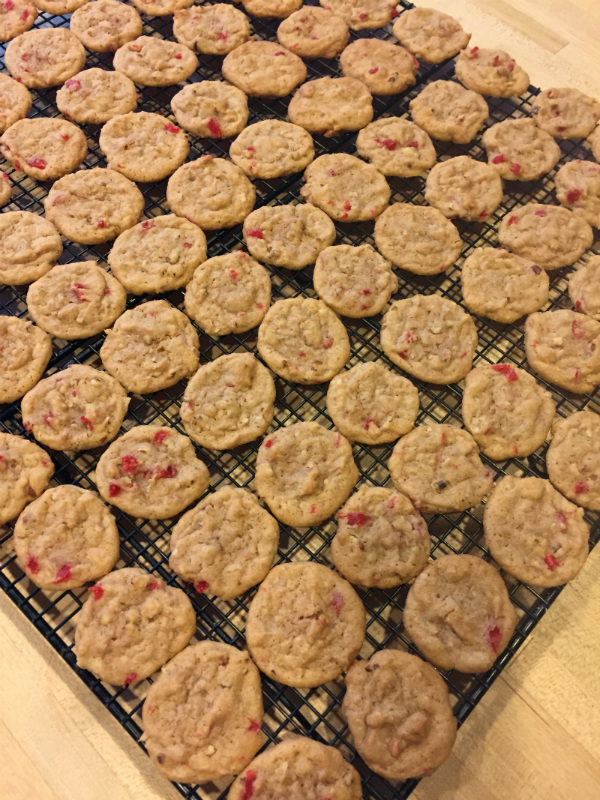 Print
Bachelor Buttons
Ingredients
¾ cup butter

1 cup light brown sugar

1 large egg

1 tsp vanilla

2 cups sifted flour

1 tsp baking soda

¼ tsp salt

½ cup cherries, cut into small pieces

½ cup coconut

½ cup chopped nuts
Instructions
Cream butter and sugar until light and fluffy. Add egg and vanilla, mixing well. Add sifted flour, salt and baking soda. Mix well. Combine coconut, chopped nuts, and cherries. Add to mixture and mix well. Drop on greased cookie sheets from teaspoon. Bake at 375 degrees for 8 – 10 minutes.
Recipe Yield
About 7 - 8 dozen 1 inch cookies