When I started baking Cookies by Bess recipes, I shied away from cookie press recipes because I thought they were more difficult to make. After baking several cookie press recipes (Delicious Chocolate Teas, Chocolate Dips, Cinnamon Swirls, Tea Dainties, Virginia Cookies), I have become a big fan of Cookies by Bess cookie press recipes…and now Spritz Cookies are one of my favorites!
Each of Grandma Bess' press cookie recipes are unique and tasty!  Spritz Cookies are a traditional spritz cookie with a wonderful almond flavor.  A perfect cookie for any occasion fancy for dress up or casual for fun.
Using Grandma Bess' cookie gun is the main reason I love baking cookie press cookies. I just love using Grandma Bess' baking tools! Her cookie gun is easy to fill and the trigger makes it super easy to press the cookies.
Another reason I like making cookie press cookies is that the consistency of the dough for each of these recipes has been perfect for pressing cookies. Not to sticky and not too dry. Simply perfect for the cookie gun which makes it easy and quick!
I am rating Spritz Cookies 2-stars for cookie baking difficulty. This could be a 3-star rating depending on how comfortable you are with pressed cookies and/or what cookie press you are using.  Assuming you have a cookie gun or a cookie press you are comfortable using, the baking process should go smoothly and pressing the cookies should go quickly. If not, you may need a few times to get the cookies to press correctly.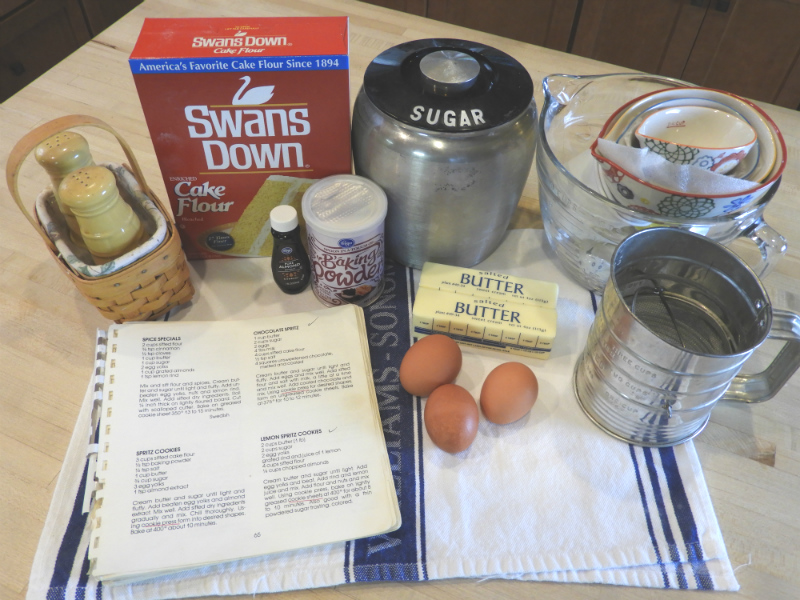 This Spritz Cookies recipe calls for two ingredients that I think make this recipe special…cake flour and almond extract. The cake flour makes the cookies seem more smooth and even creamy. The almond extract blended with the rest of the ingredients adds such a wonderful flavor.
The recipe calls for just egg yolks…something I think adds to the richness of the cookie dough and baked cookies.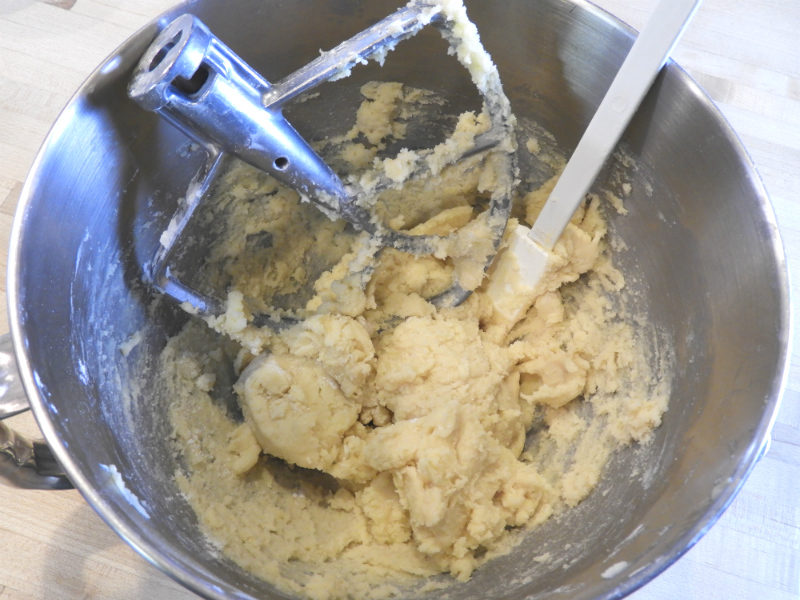 Such a wonderful blond color! I couldn't wait to try the dough…I love the almond flavor! Yum! 😊
The dough seemed perfect for pressing the cookies, but I covered the dough with wax paper and some plastic wrap before sticking it in the refrigerator for a couple hours based on the recipe instructions.
After chilling, I noticed the dough was very hard…actually too hard for pressing cookies. I needed to wait until the dough got closer to room temperature before I was able to press the cookies. Next time, won't chill the dough.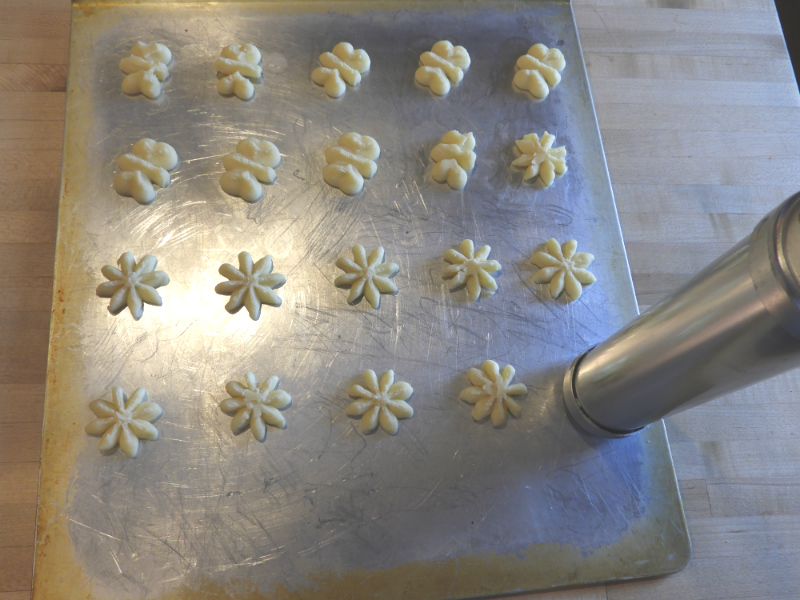 Once the dough was the right consistency, the cookie pressing process was easy and quick.
The cookies were ready to bake in no time!
I baked the cookies about 8 minutes at 400 degrees. Just enough for the edges of the cookies to brown slightly.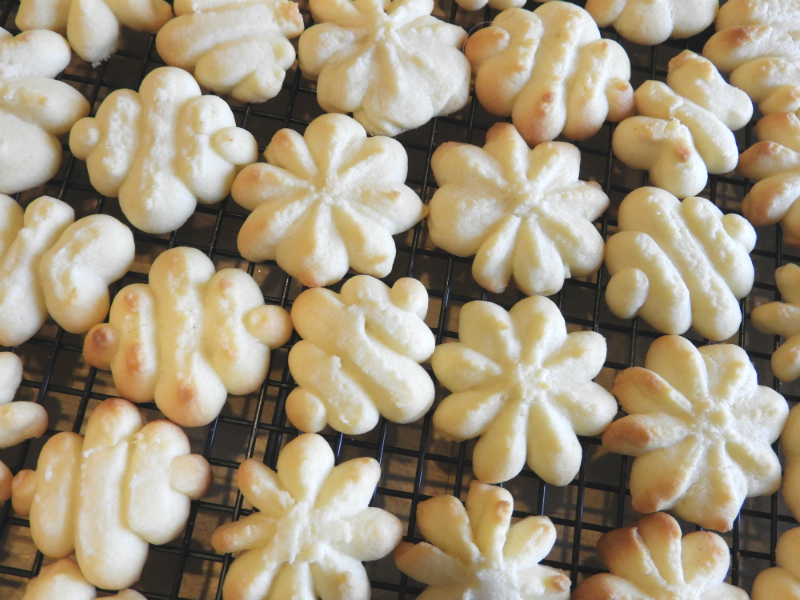 Can't you just see the rich and creaminess of these Spritz Cookies? I love the vanilla color and the slightly browned edges. I so wish you could taste the almond and butter flavors!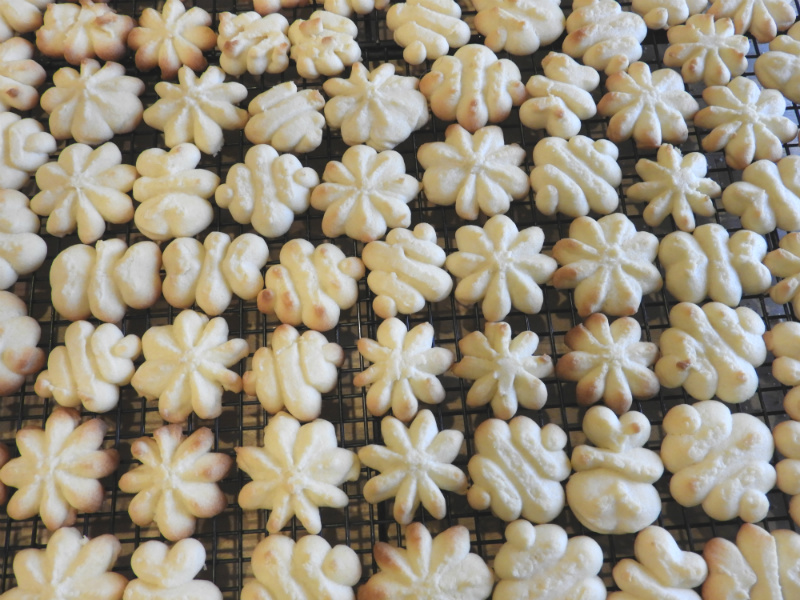 Spritz Cookies by Cookies by Bess are a traditional butter spritz cookie. Baked perfectly, they are a solid cookie that will satisfy all your cookie cravings! A perfect cookie for a fancy luncheon with friends or an afternoon snack for the kids. Simply a cookie everyone will love!
One of Cookies by Bess' best cookies, I hope you will try Spritz Cookies!
XXOO,
Janet
Print
Spritz Cookies
Ingredients
3 cups sifted cake flour
½ tsp baking powder
¼ tsp salt
1 cup butter
¾ cup sugar
3 eggs
1 tsp almond extract
Instructions
Cream butter and sugar until light and fluffy. Add beaten egg yolks and almond extract. Mix well. Add sifted dry ingredients gradually and mix. Chill thoroughly. Using cookie press, form into desired shapes. Bake at 400 degrees about 10 minutes.
Recipe Yield
Makes about 7 - 8 dozen 1x
Cookie Category:  Pressed