Cinnamon Swirls are pictured on the back cover of the Cookies by Bess cookie book. A super sweet looking cookie that has perfectly wonderful flavors!
This picture, which shows Cinnamon Swirls (just left of center) and many other Cookies by Bess cookies, is one of the original pictures taken during the photo shoot way back in 1980. Pictured here are many of Grandma Bess' favorites and all the cookies traveled to Wisconsin from California for the photo shoot and media tour. It was a whirlwind trip around Wisconsin for Grandma Bess and Grandpa Abe and my parents Rich and Toby.
Looking at these old pictures reminds me that a ton of time and effort was put into Cookies by Bess over the decades, I'm so glad to be able to keep baking the cookies and keep the legacy going ?
I'm a little torn on whether to rate this recipe 2 or 3 stars for cookie baking difficulty. 3-stars is where I'm landing because using the cookie press (or gun) isn't hard, but it can be tricky and there is the need for extra time and care when pressing and shaping the cookies (as you'll see below).
It was super easy to pull the ingredients together for this recipe, since only the basic 4 baking ingredients are used. Throw in the cinnamon to make it five and you are ready to go!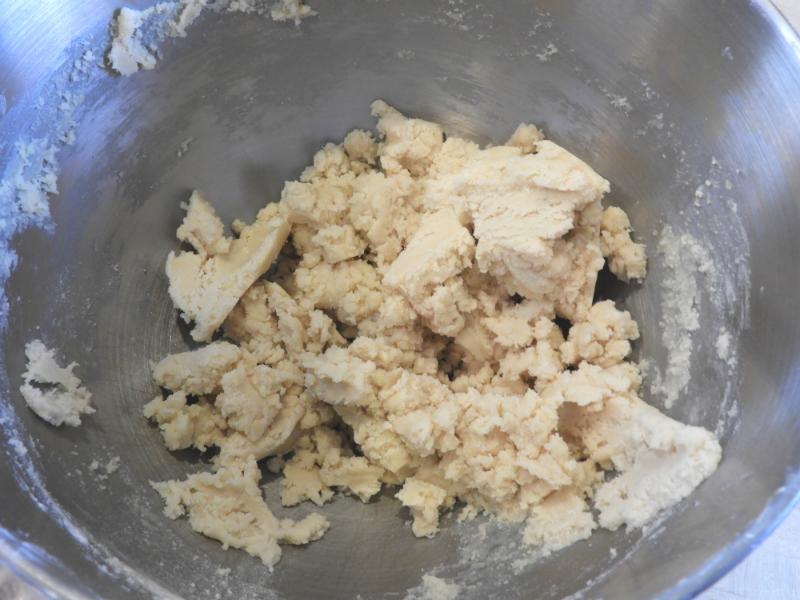 Mixing the dough together was a bit interesting. With only 1 teaspoon of vanilla, the dough was definitely dry. It took some extra time to ensure all the flour was mixed in well enough. If necessary, I would suggest adding another teaspoon of vanilla or even a bit of water to help.
I've come to really enjoy using Grandma Bess' cookie gun. I have it in the original box and everything! So much fun to use Grandma Bess' baking tools when making her recipes!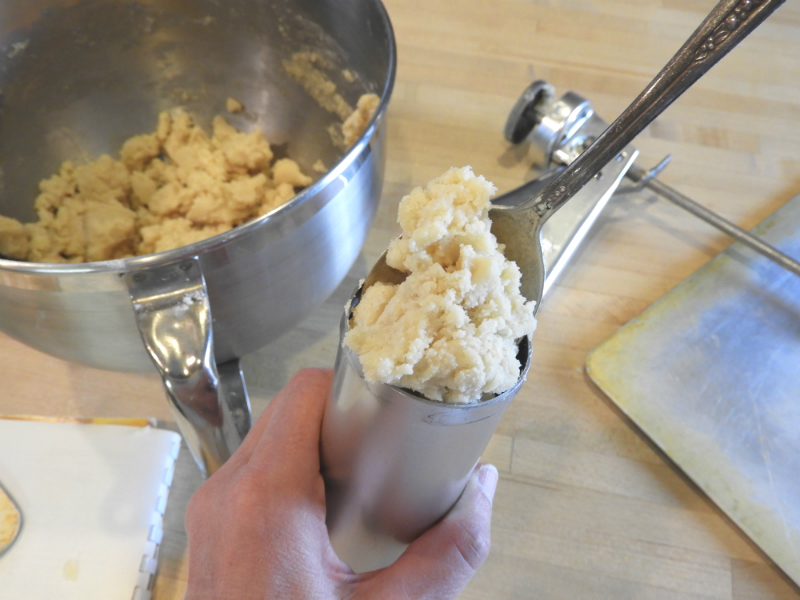 Once the dough was all mixed together, I put a couple heaping spoonful's in the cookie gun tube.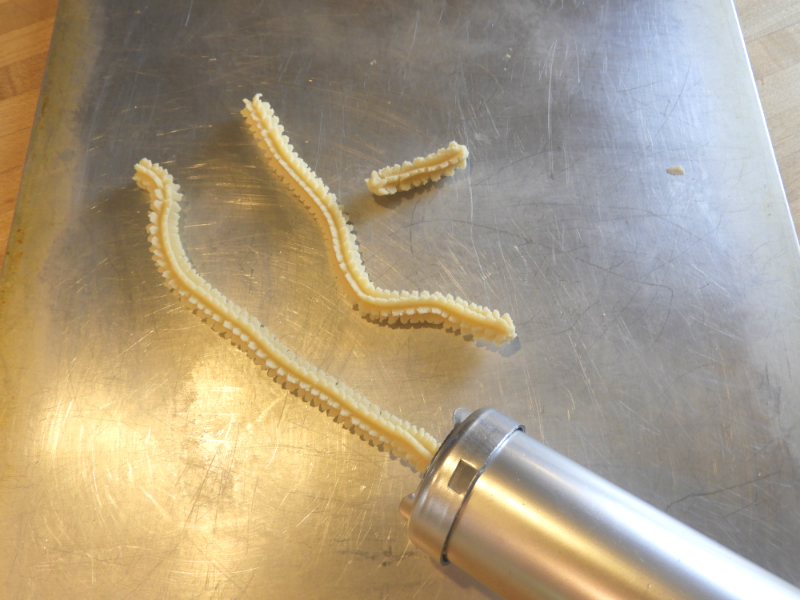 From here it's all about pressing and shaping cookies! I used the small star shape per the recipe and got started.
You may not be able to tell from this picture, but the cookie dough is very dense and it was a bit difficult to press the cookies through the cookie gun. In addition, it was also difficult to shape the cookies into wreaths because the dough was dry and broke when bending into round shapes.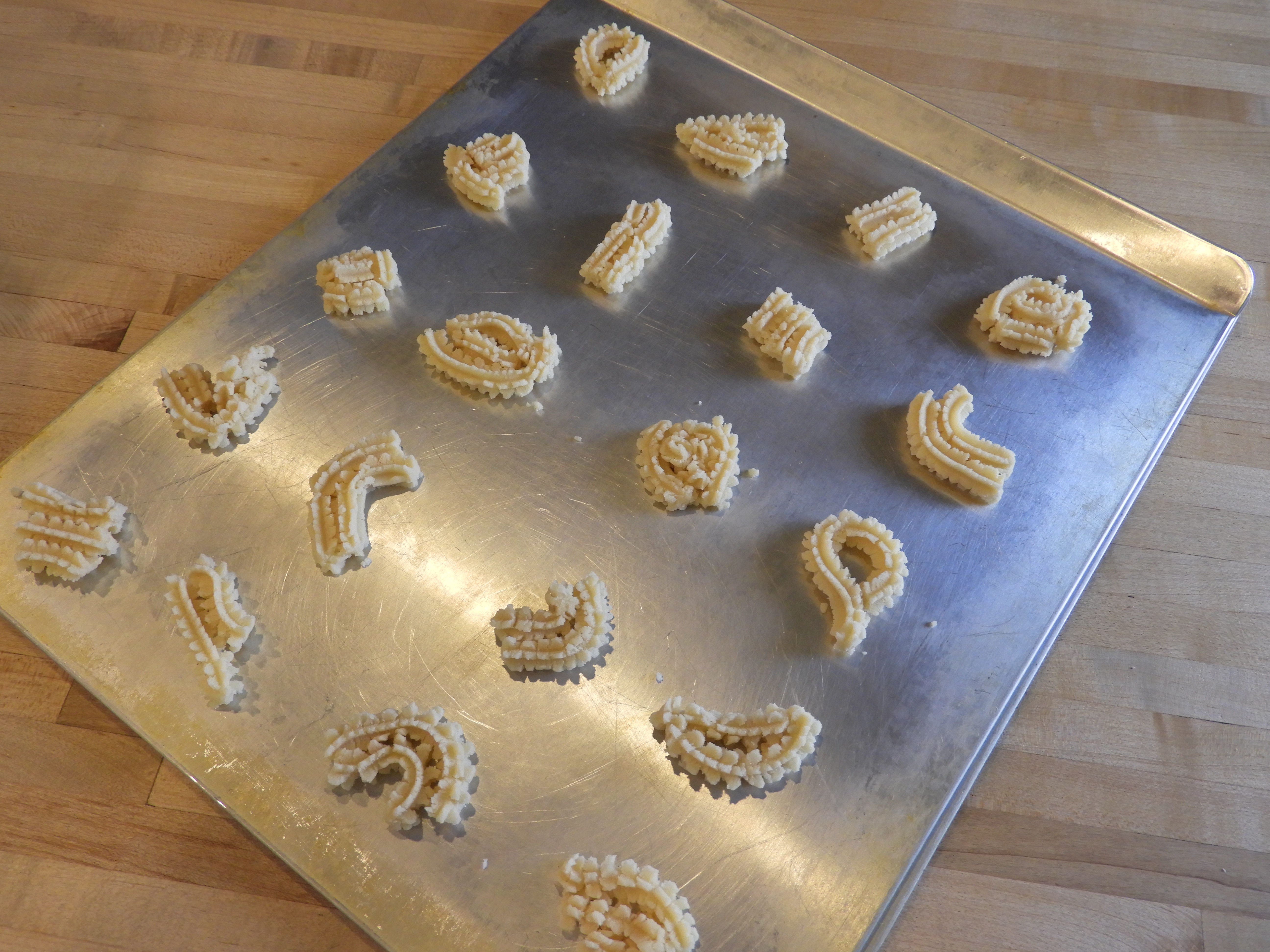 But all that didn't stop me! I decided to make all kinds of shapes and swirls. In the end, I had a bunch of fun shapes and sizes. I just love all the personality and texture on my cookie sheets!
The recipe says to bake the cookies for 15 – 20 minutes. I actually ended up baking them for about 13 minutes to avoid them getting too brown.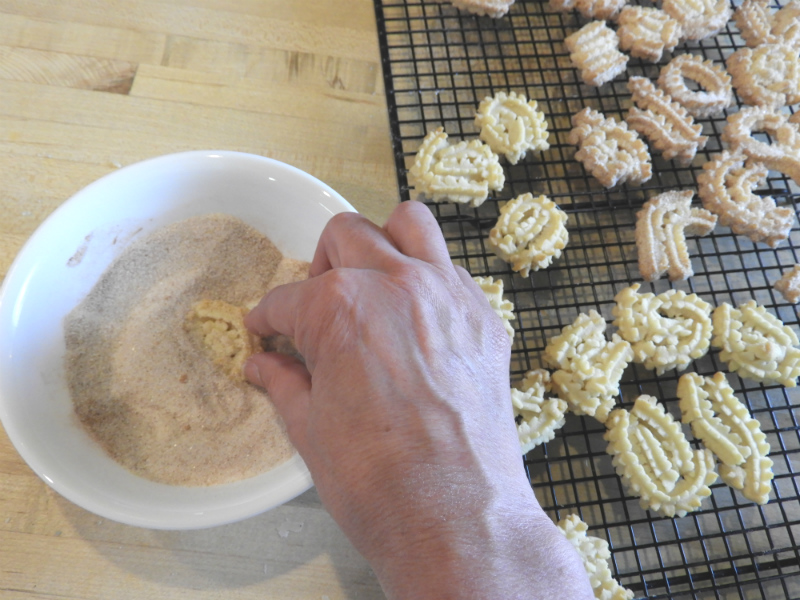 Once out of the oven, I rolled the cookies in the cinnamon sugar mixture.
The cinnamon and sugar stuck to the warm cookies nicely!
I am so pleased with these Cinnamon Swirl cookies! I love the variety of shapes I ended up with and I love the tastes of the cookies even more!
With only 4 ingredients (5 with the cinnamon), I wasn't sure how the cookies were going to taste. I was so pleasantly surprised at how good they were, I couldn't stop eating these them! The cookie itself has a surprisingly sweet flavor. Adding the cinnamon sugar elevates the flavors so much, like me, you won't be able to stop eating them!
I hope you enjoy Cinnamon Swirls as much as I did. They are a wonderful cookie to indulge in yourself or to share with family and friends!
Enjoy!
XXOO,
Janet
Print
Cinnamon Swirls
Ingredients
1 cup butter
1 tsp vanilla
5 Tbs granulated sugar
2 cups flour
Instructions
Mix butter, vanilla, and sugar. Divide flour into three parts, add one part at a time mixing well until all blended in. Using small star cutter of cookie press, make swirls or wreaths on ungreased cookie sheet. Bake at 350 degrees for 15 – 20 minutes. While still hot, roll in the following mixture:
Notes
½ cup sugar
½ tsp cinnamon
Put on cooling rack to cool. Freezes well.
Recipe Yield
Makes about 6 - 7 dozen 1x
Cookie Category:  Molded or Shaped