Virginia Cookies are simple butter type cookie that substitutes a couple main ingredients resulting in a wonderfully flavored cookie! I was curious as to why these cookies are called Virginia Cookies, so Googled it to see what I could find. I found nothing. So, I'm guessing Grandma Bess found this recipe while visiting Virginia or a friend gave it to her. If that is the case, I'm so glad Grandma Bee had so many friends and they were willing to share their best cookie recipes! ?
The two main ingredient substitutes are cake flour for regular baking flour and shortening for butter. I did make the cake flour substitute, but not the shortening. As per my normal preference, I used butter instead of shortening.
One other point to mention with Virginia Cookies…it says to shape the dough into small balls or use a cookie press to form fun cookie shapes. I actually did both!  The balls were nice and dense while the pressed cookies were a more normal consistency. I enjoyed them both!
I'm rating Virginia Cookies 2-stars for cookie baking difficulty. The instructions are easy to follow and the cookies are easy to form. The cookie press adds a few more steps, making this a 2-star difficulty.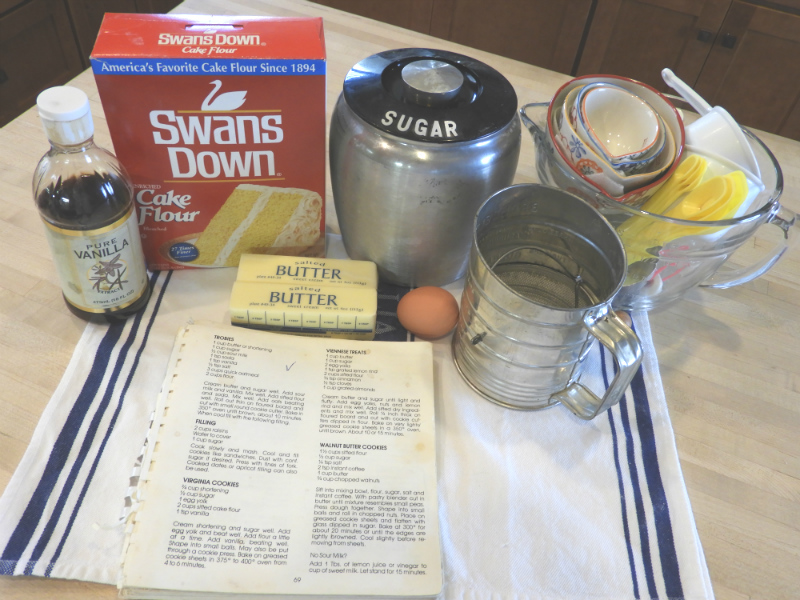 There are only five ingredients in Virginia Cookies…all of which I had in my baking pantry.
Nothing difficult or crazy about mixing the dough.  Once all blended together, the dough was a perfect consistency for rolling the cookies balls and for the cookie press.
I love when I get the opportunity to use Grandma Bess' cookie gun! It's easy to use and produces wonderfully shaped cookies!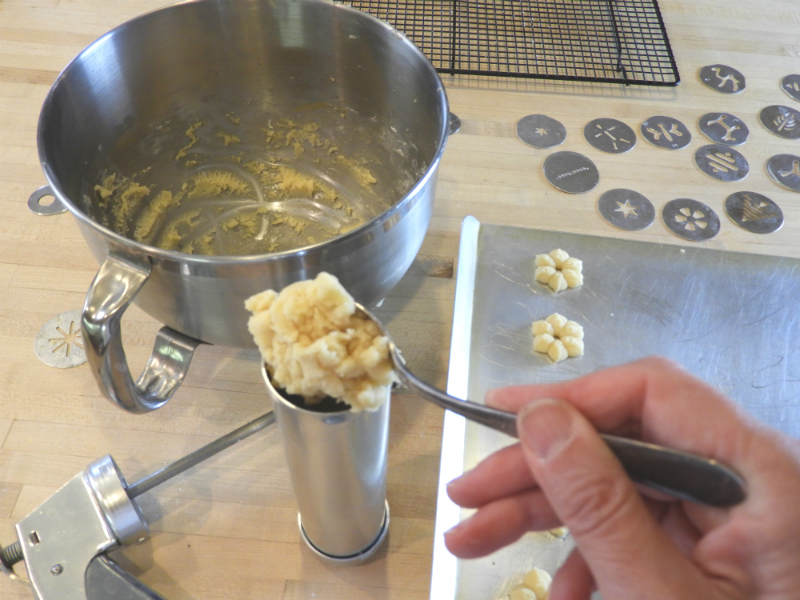 It was easy to spoon the dough in the cookie gun.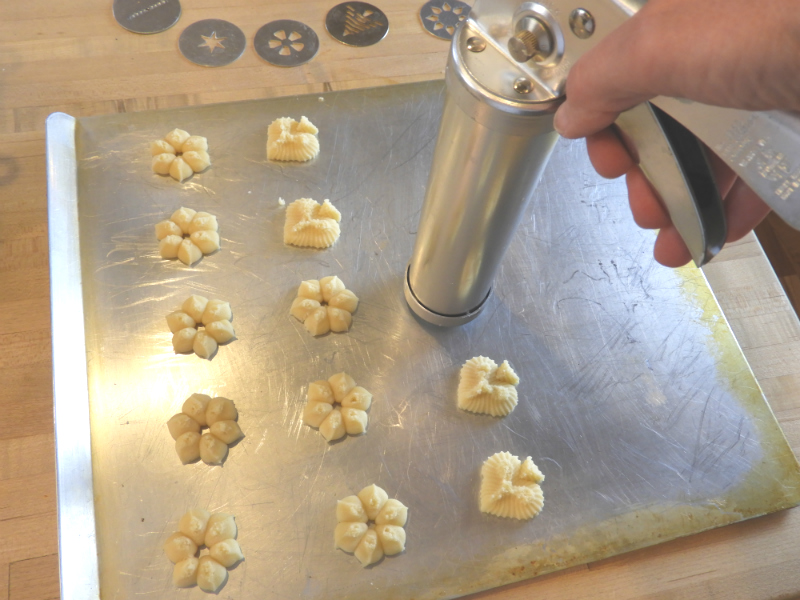 I decided to use a few different cookie shapes. It's fun to mix things up a bit!
In no time, I had a nice mix of balls and fun press shaped cookies ready to bake.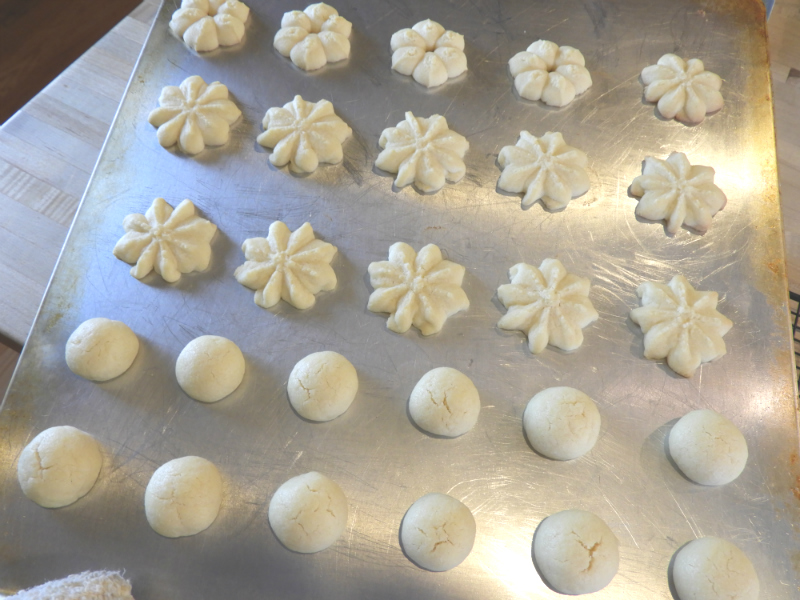 The recipe says to bake for only 4 to 6 minutes which seems like a short baking time for any cookie but the cookies baked up perfectly!
This press cookie almost looks delicate…delicate in a typical butter type cookie way.  Such a pretty cookie!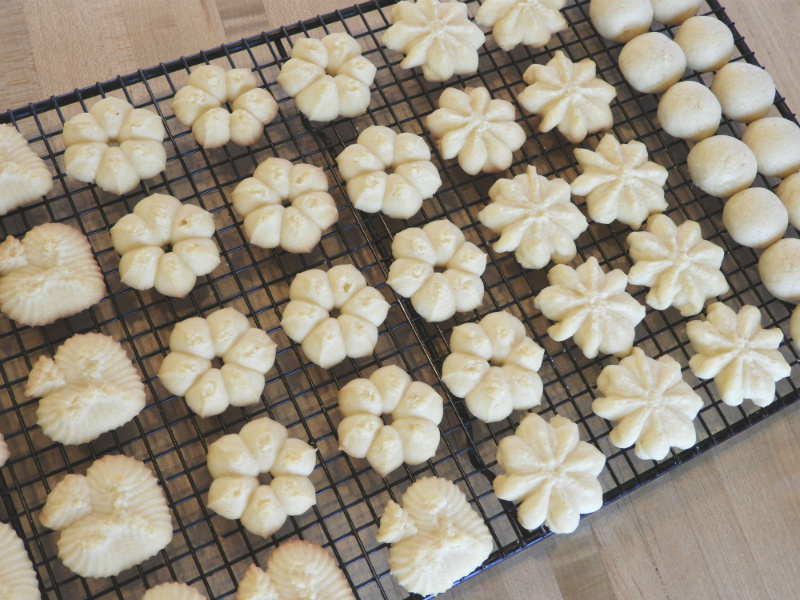 Virginia Cookies have a wonderful buttery flavor! Whether balls or fun cookie press shapes, Virginia Cookies are easy to make and will become a favorite of our family and friends.
The recipe only makes about 4 – 5 cookies, so even thought Grandma Bess doesn't recommend it, you might want to double the recipe…or bake a double batch for sure!
I hope you enjoy Virginia Cookies as much as I did! ?
XXOO,
Janet
Print
Virginia Cookies
Ingredients
¾ cup shortening
½ cup sugar
1 egg yolk
2 cups shifted cake flour
1 tsp vanilla
Instructions
Cream shortening and sugar well. Add egg yolk and beat well. Add flour a little at a time. Add vanilla, beating well. Shape into small balls. May also be put through a cookie press. Bake on greased cookie sheets in 375 degree to 400 degree oven from 4 – 6 minutes.
Recipe Yield
Makes about 4 - 5 dozen cookies 1x
Cookie Category:  Molded or Shaped