Chocolate Dips are a fun cookie to make and tasty cookie to eat! I will admit, every time I see "cookie press" in a recipe, I cringe a bit. For some reason, I'm a bit intimidated by cookie presses. I must have tried using a cookie press unsuccessfully when I was a kid or something.
Fortunately, Grandma Bess figured out the perfect cookie press to use! And even more fortunately, I have two of them! I can't believe how easy this cookie gun is to use…assuming the dough is the right consistency, (which of course is always the case with Grandma Bess' recipes 😊) the cookie gun "shoots" out perfect cookies or cookie dough logs. Even cleanup was easy!  Way to go Wear Ever!
I'm rating Chocolate Dips 3-stars for cookie difficulty. Once again, I have to say, Chocolate Dips are not difficult to make! Bu, the cookie press, along with all the other steps of melting the chocolate, dipping the cookies, and rolling in nuts warrants the 3-star rating.
After pulling all my ingredients together, I got started fluffing the butter and sugar!
I want to mention real quick that the almond extract is sooooooo good in this cookie recipe! I was glad to see a full teaspoon listed in the ingredients. Too many times the almond extract flavors are not pronounced enough for me. The full teaspoon in Chocolate Dips provides the perfect amount of almond flavor in the finished cookies…and paired with the semi-sweet chocolate…OMG!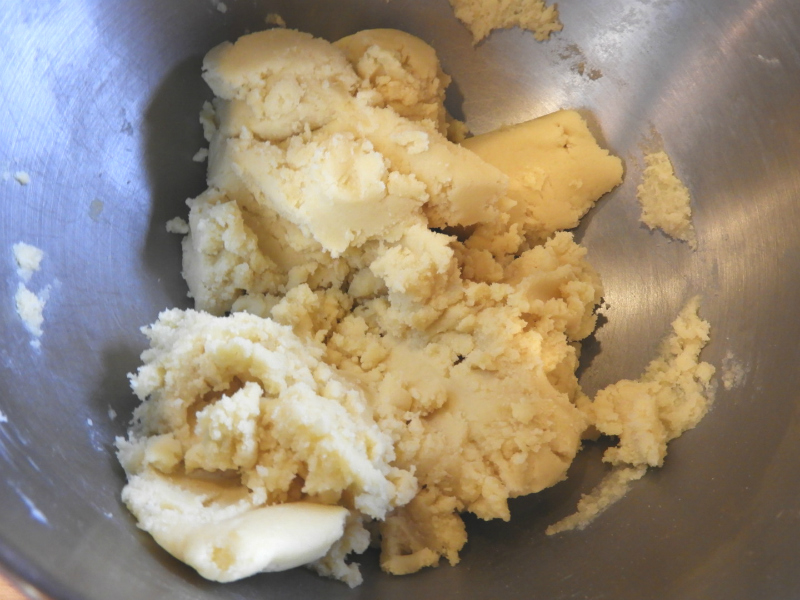 As I mentioned above, when using a cookie press, it's important your cookie dough is the perfect consistency. If not, the dough will stick to the cookie press and it will be difficult to make the cookie shapes.
Of course, the Chocolate Dips dough was perfect! Almost dry, but not crumbly, moist and almost bouncy!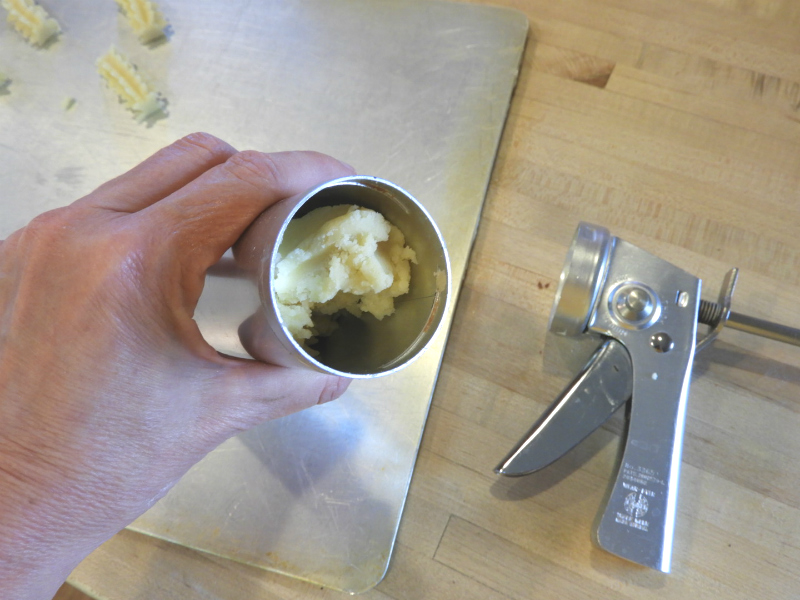 I was surprised the recipe didn't call for putting the cookie dough in the refrigerator for a bit to firm up. No mention of a refrigerator in the recipe, so I got starting filling the cookie gun.
I decided to use the star cookie shape. I've seen cookies that look like this in pictures of Grandma Bess' log cookies, so I figured it was the best option for the "bars" Grandma mentions in this recipe.
Next, I started pumping the gun trigger. Almost immediately, the cookie logs started coming out of the gun! It was amazingly fun and easy!
I cut the cookie logs in to 2-inch-long cookies and placed them on my greased cookie sheets. To me, the 2-inches seemed long. In the end, I think I was right. Next time I make the cookies 1-inch instead of 2-inches long.
The cookies didn't change shape much at all while baking. They puffed up a little bit, but that's about it.
This is when I realized the end result cookies were going to be fairly big…especially for a Cookies by Bess cookie which is usually small and dainty.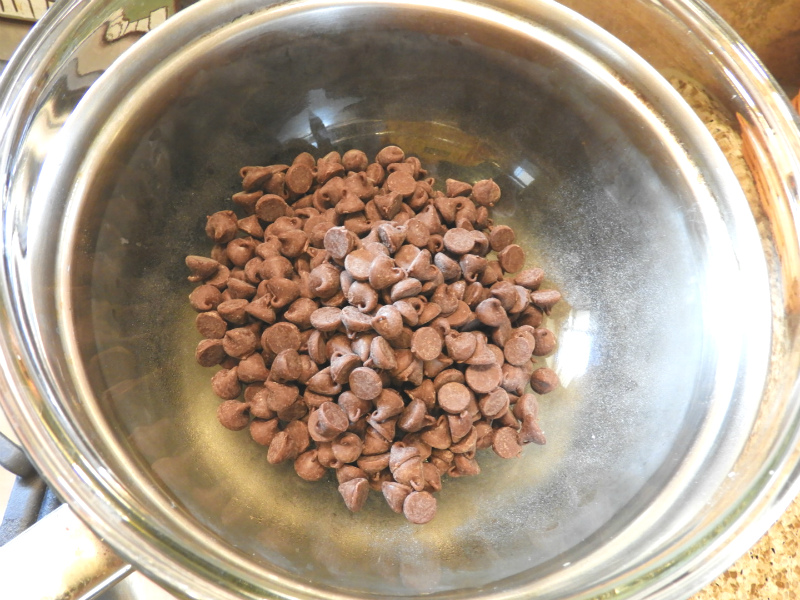 Now I was ready to melt the chocolate bits. I put them in my makeshift double boiler and turned the stove on low.
A makeshift double boiler is simple to put together. First fill a saucepan with a couple inches of water and turn the stove on to high. Next place a glass bowl into the saucepan so the bowl barely touches the water. Then let the water come to a boil.
Stir the chocolate chips continuously until the chocolate is completely melted.  I would also turn the stove burner down a bit.  The water should continue to boil, but it doesn't need to be a raging boil.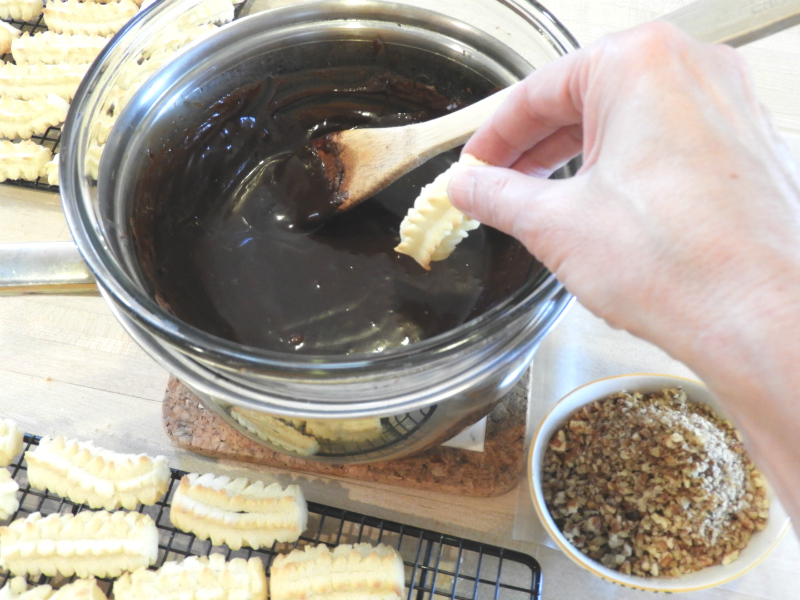 By this point, the cookies were completely cool, so I was now ready to dip the cookie bars.
The recipe says to sprinkle the chocolate with nuts. I decided to actually dip the chocolate into the nuts rather than just sprinkle the nuts. It worked great!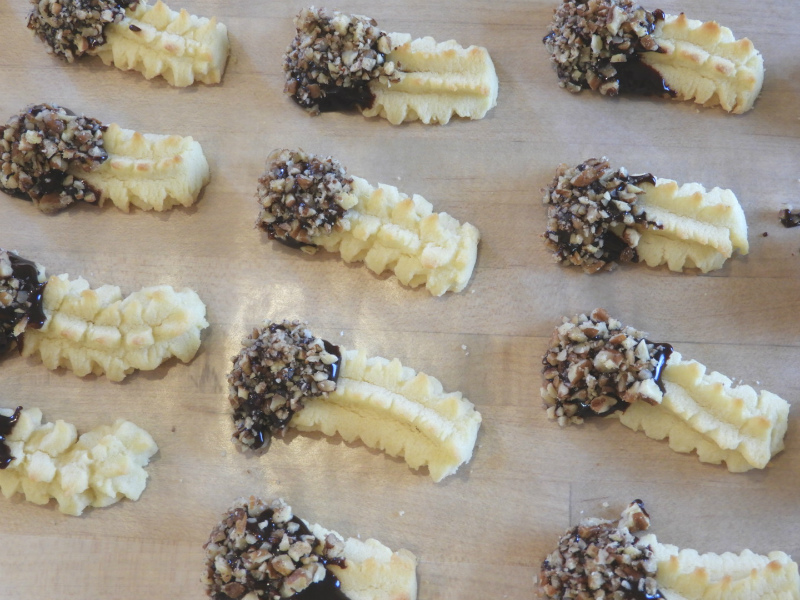 I placed the on wax paper to so the chocolate could set and dry.
Just take a look at these cookies! I'm so glad they are big cookies because they are so awesome I definitely want more than just one bite! My first bite of course was the chocolate and nuts…I followed that up with just the almond cookie. I'll say it again…OMG! YUM!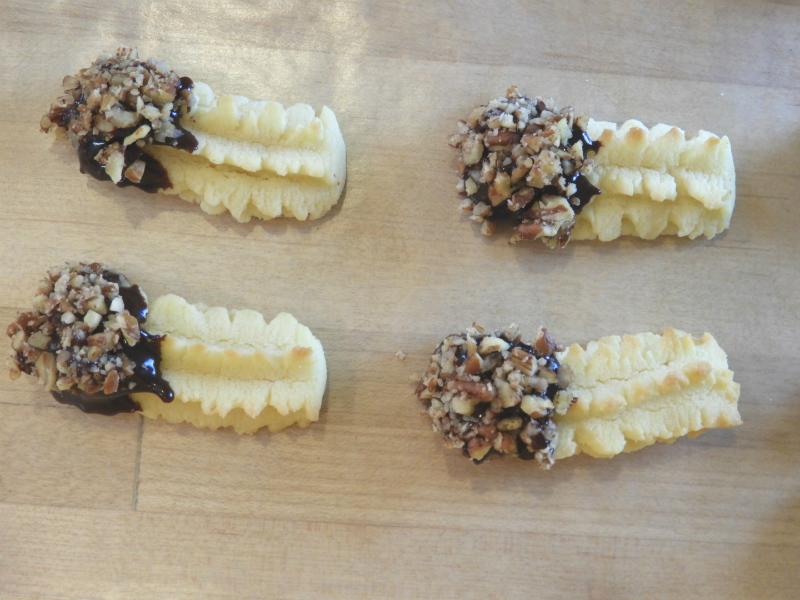 Please don't let the 3-star cookie difficulty rating scare you away from Chocolate Dips! Assuming you have a cookie press (or gun) you like to use, Chocolate Dips are totally worth the effort. I bet your kids will even have fun helping! What's more fun that using a cookie press, dipping cookies in chocolate, and EATING THEM?
Not a thing…😊 I know you are going to love Chocolate Dips!
XXOO,
Janet
Print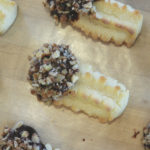 Chocolate Dips
Ingredients
1 cup butter

2/3 cup sugar

2 ½ cups sifted flour

¼ tsp salt

1 tsp almond extract

1 6 oz package semi-sweet chocolate bits

½ cup nuts chopped fine
Instructions
Cream butter and sugar until light and fluffy. Add egg yolks and mix well. Add almond extract. Add sifted dry ingredients and mix well. Using a cookie press, form into bars about two inches long on baking sheets. Bake in 400-degree oven for about 7 to 8 minutes. Cool. Melt chocolate over hot water. Dip ends of cookies into melted chocolate and sprinkle with nuts.

Notes
Note:  Cookie press shape and cookie size will determine the number of cookies made.  My attempt with the star shape and 2 inch bar cookies made 4 – 5 dozen.
Recipe Yield
Makes about 6 - 7 dozen
Cookie Category:  Molded or shaped