So, I made Cookies by Bess' Brownies No. 1 a while ago and they were so good I vowed never to bake boxed brownies again…and I haven't!  I was in the mood for brownies again, so I decided to bake Rich Brownies No. 2. The recipes are somewhat the same and somewhat different. But I figured, brownies are brownies, right?
Wrong! Ah, the joys of baking! Sometimes you just never know what you are going to get…with Rich Brownies No. 2, I was expecting a regular brownie, just like Brownies No. 1. The ingredients in both recipes are basically the same, but the baking and end result brownies are a bit different. I can't wait to find out what the next Cookies by Bess brownie recipe is like!
I'm rating Rich Brownies No. 2 2-stars for cookie baking difficulty. Once again, not a hard recipe, but there are a couple of extra steps like beating the eggs and melting the chocolate that add to the time and effort for making this cookie.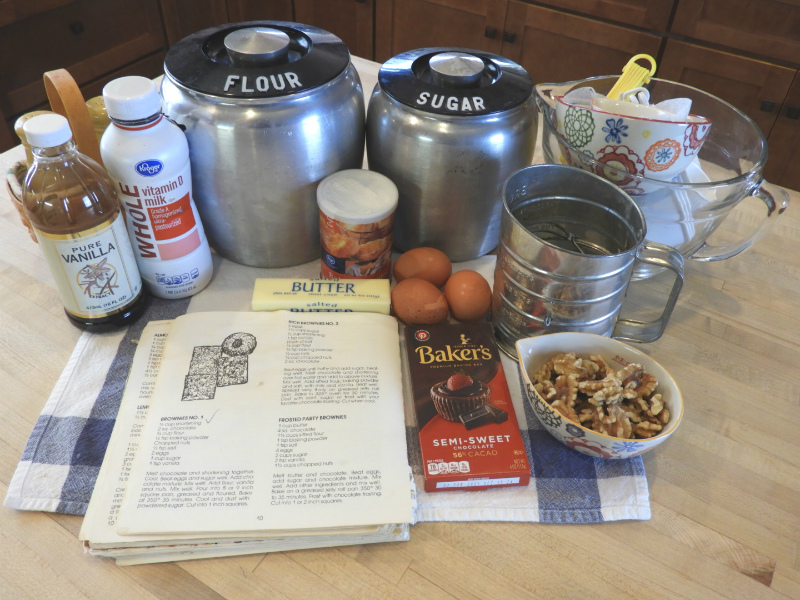 Quite a few ingredients in this recipe, but all were in my baking pantry, so I was quickly ready to get started. As usual, I substituted butter for shortening.
I got started beating the eggs with Grandma Bess' hand mixer. The recipe says to beat until frothy, this take just a minute or so.
I then added the sugar and continued to beat well with the hand mixer.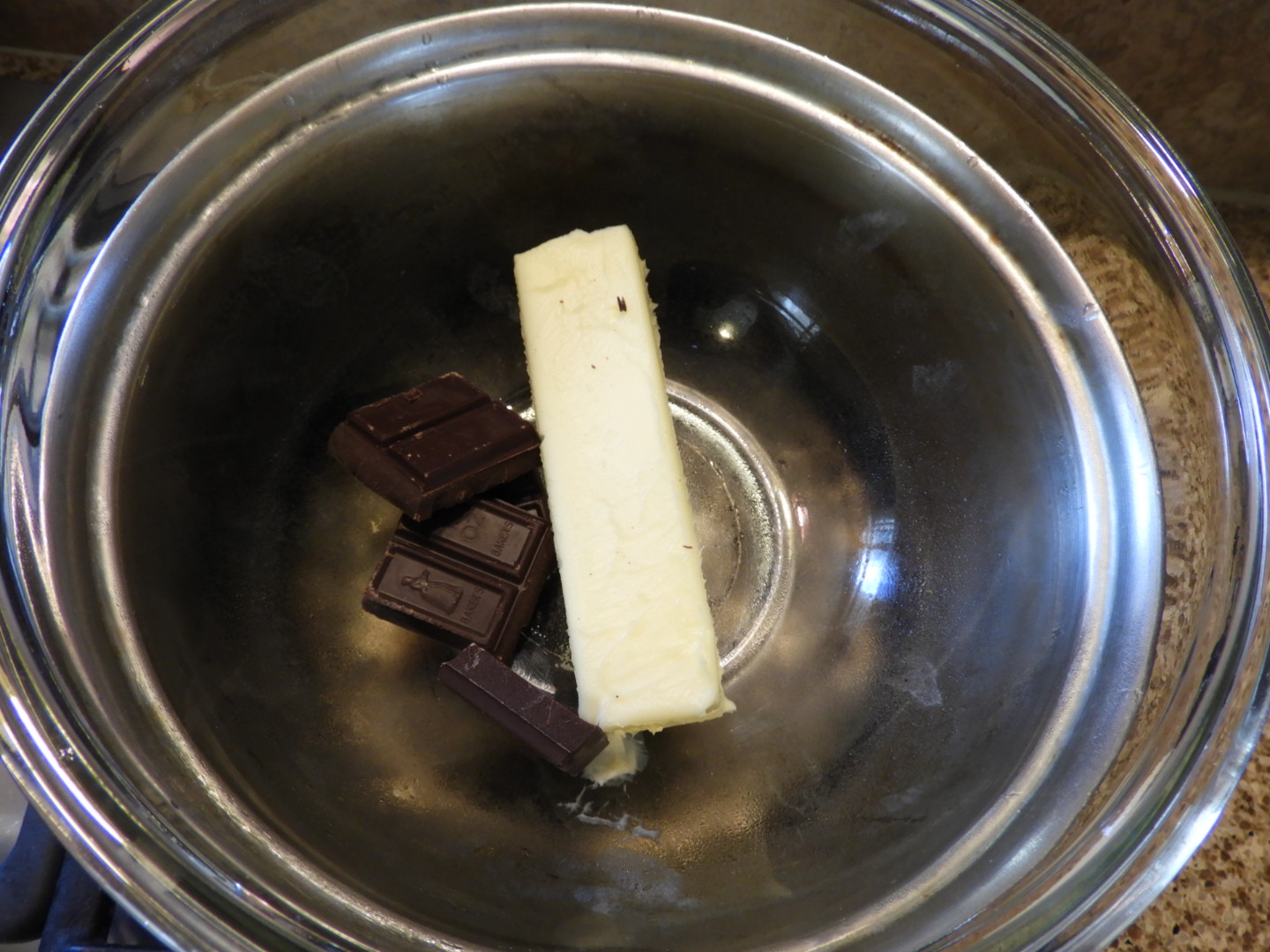 Next, I got started meting the butter and chocolate together over hot water. This is a simple task. I just put water in a saucepan and brought it to a boil. I put the butter and chocolate in my Pyrex mixing bowl and put it in the saucepan. The boiling water should just barely touch the bottom of the bowl.
The butter and chocolate melts nicely within a few minutes.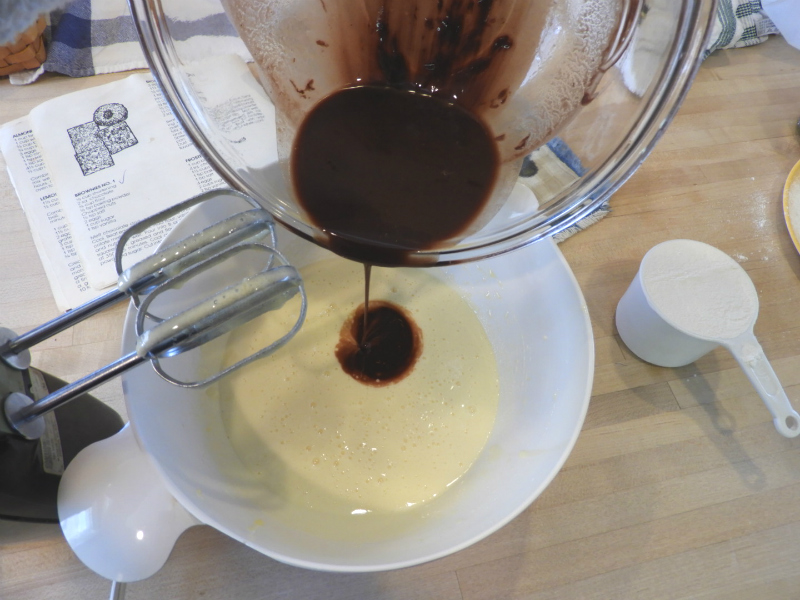 The next step was to add the melted butter and chocolate mixture to the eggs and sugar mixture. I was a bit nervous the chocolate would be to warm and therefore might cook the eggs a bit, but no need to worry.
Next, I continued beating the batter as I added the flour. I had to add the flour gradually, so the mixer didn't send flour flying all over.
Once I had everything mixed together, I remembered that baking brownies at high altitude requires some adjustments to the recipe. So I added 3 more tablespoons of flour and mixed again.
Finally, I was ready to bake. And here's where things got a little tricky. The recipe says to spread very thinly on a greased jelly roll pan, but it doesn't say what size pan! Without specific instructions, I normally error on the side or normalcy, so I pulled out and greased up my 10" x 15" jelly roll pan.
After pouring the batter into the pan, I was nervous the batter would overflow the pan while baking due to the 1 teaspoon of baking powder added per the recipe. So, I decided to use the next size larger pan, 12" x 17". This seemed to make sense because the batter nicely spread a thin layer of batter.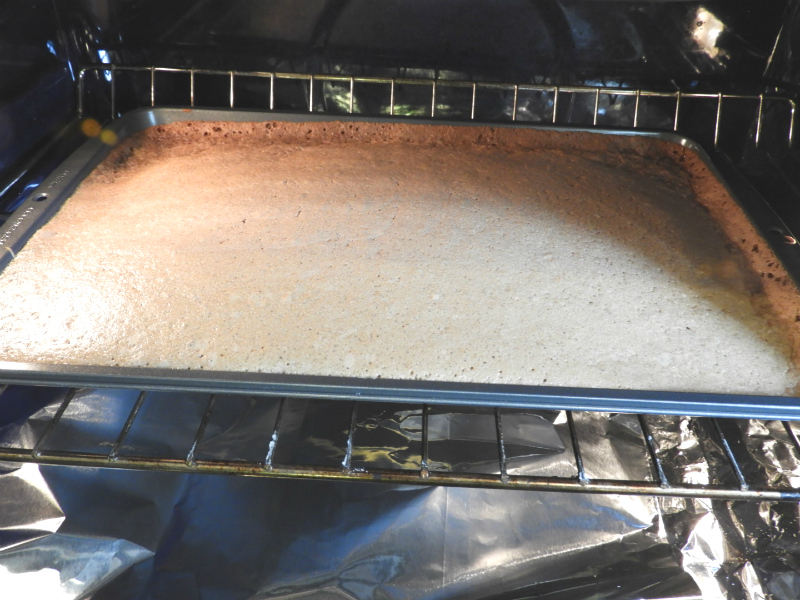 So, I was stuck the pan in the oven and crossed my fingers as I watched it bake. As I expected, the brownies puffed up while baking.  I was feeling pretty good about my pan size decision.
The brownies completely flattened out when I took them out of the oven and let them cool. The brownies were so thin, I wasn't sure I could even get them out of the pan. In hindsight, I'm wondering if I should have used the smaller 10" x 15" pan after all.
The thinness of the brownies helped me make the decision to frost the brownies with chocolate frosting! I figured the best way to fix thin brownies is to double the thickness with chocolate frosting 😊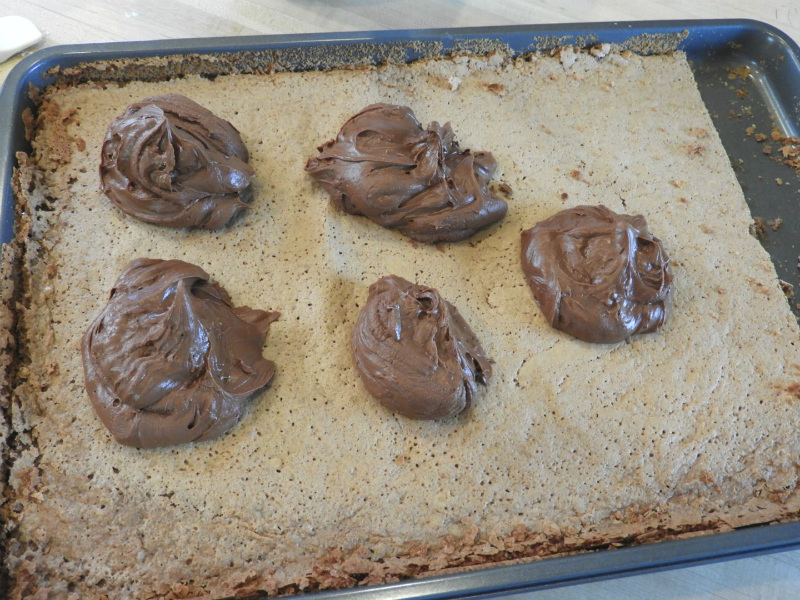 I used the chocolate frosting recipe from the Fudge Bars No. 1 recipe. I think this is the best chocolate frosting I've ever ever had…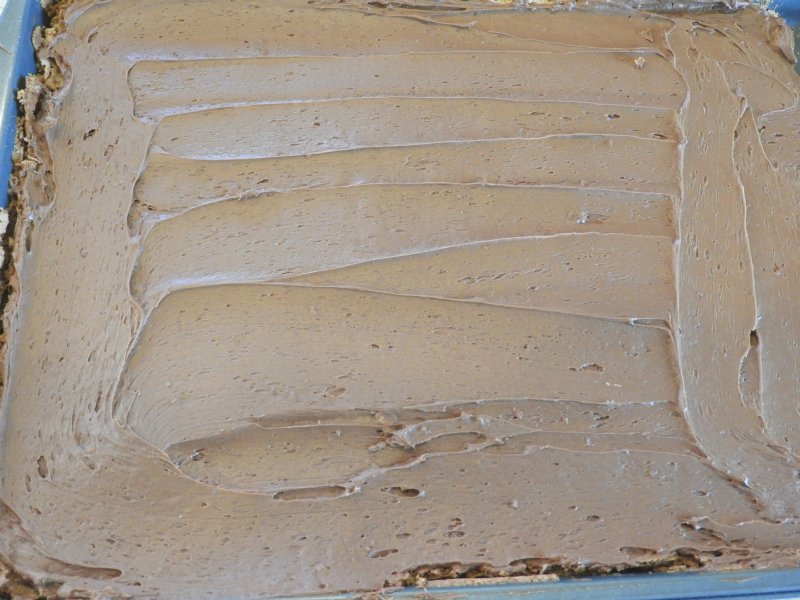 And I am absolutely right! Just look at the smooth and rich frosting…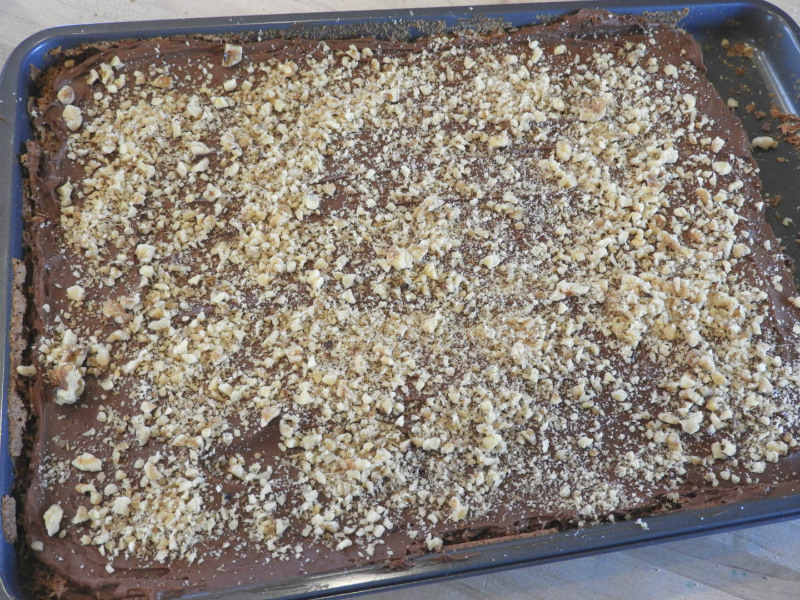 The recipe mentions ½ cup nuts, but it doesn't say what to do with them…so I decided to sprinkle them on top of the awesome frosted brownies to make them even more awesome!
So, I had a couple challenges making Rich Brownies No. 2, but that didn't stop me from figuring out how to make them double AWESOME!
Rich Brownies No. 2 are definitely a rich chocolate brownie…add chocolate frosting and you are floating on cloud 9 of chocolate richness!
Enjoy!
XXOO,
Janet
Print
Rich Brownies No. 2
Ingredients
3 eggs
1 ½ cups sugar
½ cup shortening
1 tsp vanilla
Pinch of salt
¾ cup flour
¾ tsp baking powder
½ cup milk
½ cup chopped nuts
2 sq. chocolate
Instructions
Beat eggs until frothy and add sugar, beating well. Melt chocolate and shortening over hot water and add to above mixture. Mix well. Add sifted flour, baking powder and salt, with milk and vanilla. Beat well. Spread very thinly on greased jelly roll pan. Bake in 325 degree oven for 30 minutes. Dust with confectioner's sugar or frost with your favorite chocolate frosting. Cut when cool.
Recipe Yield
Makes about 6 - 7 dozen 1x