If you've followed my blog to this point, you know that chocolate isn't necessarily my favorite. Don't get me wrong, I like chocolate, but I'm not a chocaholic like some. After making and tasting Cookies by Bess' Fudge Bars No. 1 with chocolate frosting, I think I've changed my mind. Or maybe I've gone out of my mind loving this fudge bar cookie!
Fudge Bars No. 1 is almost like a rich brownie with a rich chocolate fudge frosting. The nuts blend perfectly with the chewy and cakey cookie. The frosting recipe makes so much frosting, it's like adding a full inch of fudgey goodness to an already fudgey goodness cookie. OMG, I love Fudge Bars No. 1!
I'm rating Fudge Bars No. 1 2-stars for cookie difficulty. It's your typical bar cookie recipe. Easy to mix together, easy to bake, and for sure easy to taste when done!  Making the frosting adds just enough to make this 2-stars.
After pulling my ingredients together for both the fudge bars and frosting, I got started mixing everything together.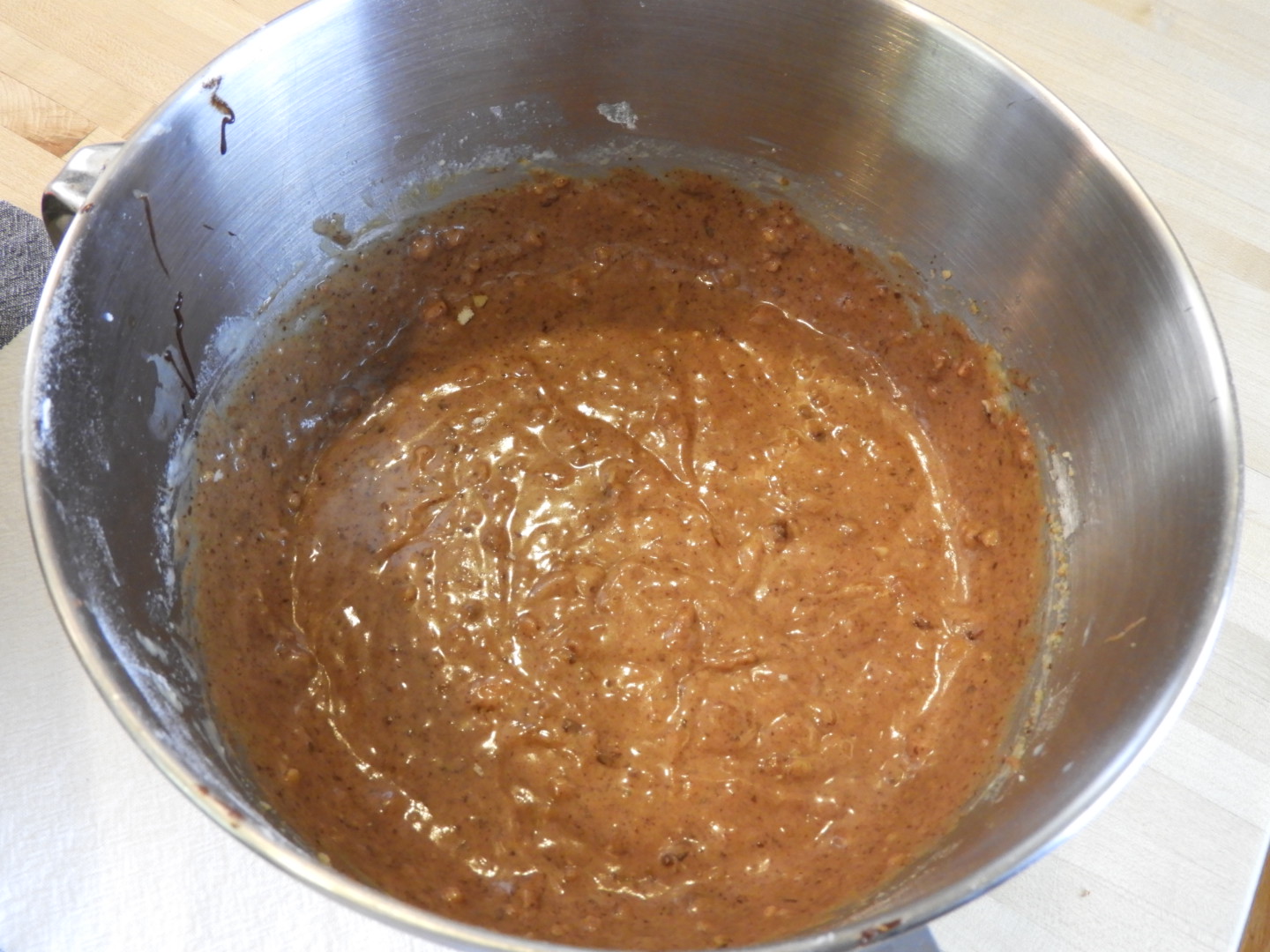 Once all the ingredients were mixed together, you will notice you have more of a cake batter than cookie dough. There is a good amount of liquid in this recipe with all the eggs, melted chocolate, milk and vanilla.
As I'm finding consistent throughout most of Cookies by Bess' recipes, when nuts are listed in the ingredients, it's up to the baker to decide which type of nuts to use. With Fudge Bars No. 1, I decided to use walnuts as that is what I'm use to when I eat fudge.
I poured the batter into the 13x9x2 inch baking pan and started baking.
While the bars were baking, I got started making the frosting. OMG the frosting! I believe I have finally found the perfect chocolate fudge frosting! To be honest, I've struggled a bit over the years to make the perfect frosting…well this time I did it!
This Fudge Frosting recipe is amazing!
The only trouble I had with the frosting recipe was deciding what to do with the butter. My initial thought was to melt it with the chocolate, but the recipe doesn't say to do this. I debated with myself and finally ended up just mixing the butter with the powdered sugar, vanilla, and milk.
This mixture was nice and loose and smooth. Adding the melted chocolate thicken it up into the perfect chocolate fudge frosting. Again I have to say, OMG!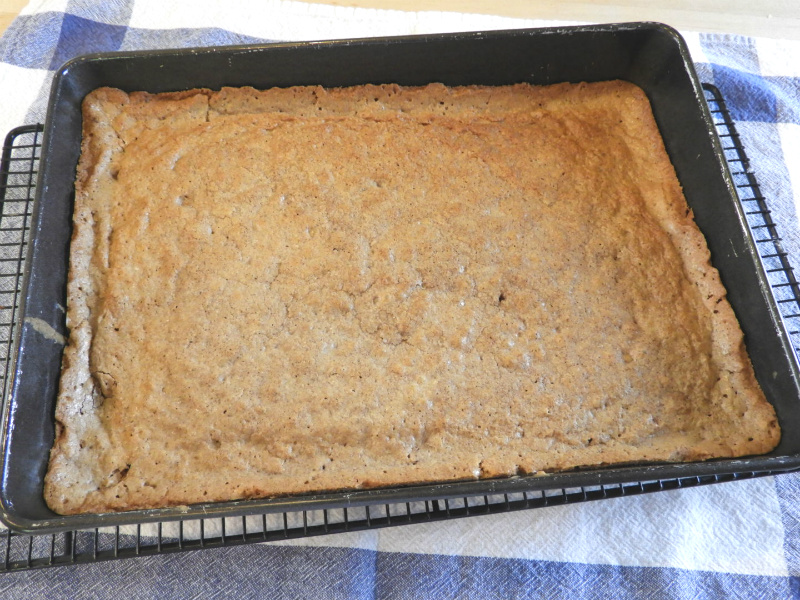 I ended up baking the bars for an extra 5 minutes just to make sure they were completely done.  Using the tooth pick test confirmed my bars were done!
The frosting was easy to spread over the baked bars.
The frosting recipe makes enough frosting to put a nice and thick layer on top of the fudge bars.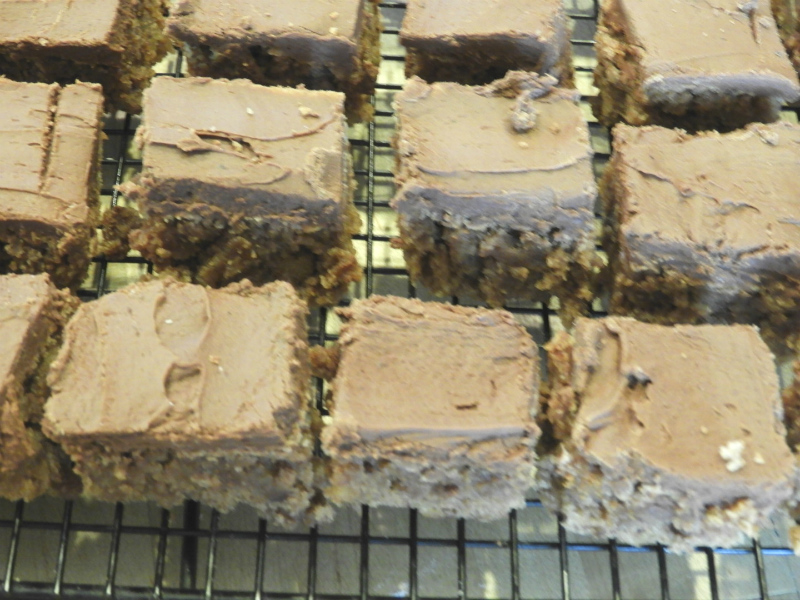 Finally, it was time to cut the bar cookies. Removing the bars from the pan was a little tricky as the cookie wanted to break up a bit, but the moistness helped keep everything together.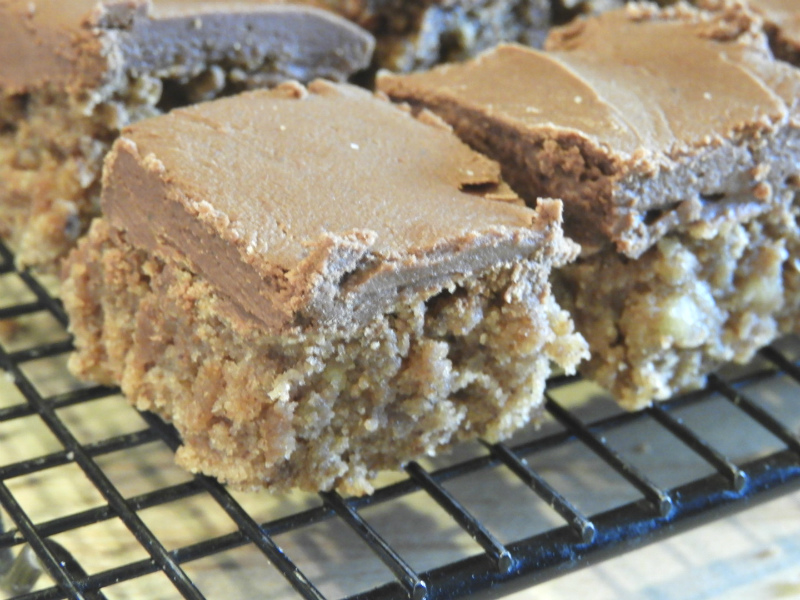 The cakey cookie is moist…the fudge frosting is thick and rich…this is one GOOD fudge cookie!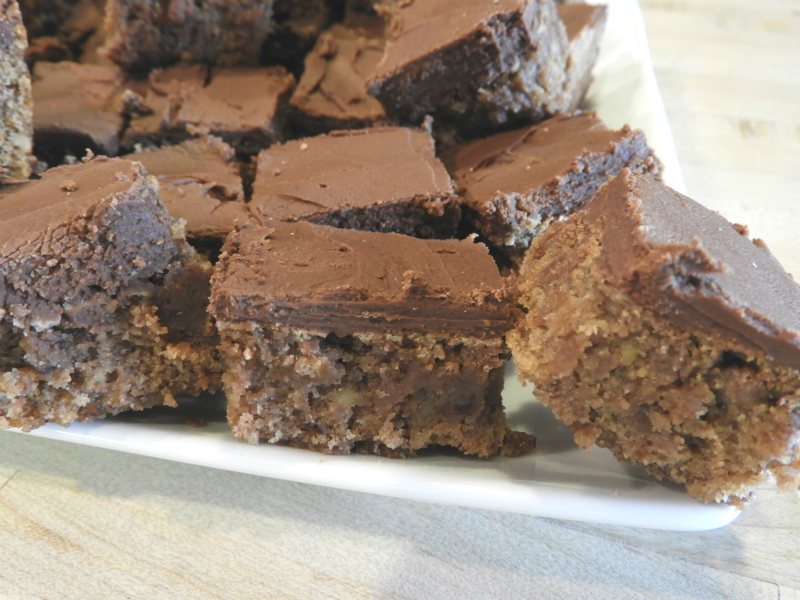 As you can tell, I can't say enough about how good Fudge Bars No. 1 turned out!  Not being a chocaholic to this point, I have to admit that I am addicted to these cookies! I have found myself craving the chocolate goodness several times during the day and after dinner…
If you are a chocaholic, I've found the cookie for you! Fudge Bars No. 1 are simply TO DIE FOR!
Here's to your chocolate addiction!
XXOO,
Janet
Print
Fudge Bars No. 1
Ingredients
2 cups flour
4 eggs
3 squares (ounces) melted chocolate
1 cup grounds nuts
½ cup butter
1 1/3 cup flour
½ cup milk
1 tsp vanilla
Instructions
Cream butter and sugar, add eggs, add flour and milk. Mix well. Add chocolate and nuts and vanilla. Mix well. Bake in well greased 13x9x2 inch pan. Bake at 350 degrees for 35 minutes. Frost if desired. Very good frosted.
Notes
Frosting
4 squares (ounces) melted unsweetened chocolate
4 Tbs butter
2 2/3 cups powdered sugar
½ tsp salt
1 ½ tsp vanilla
6 ½ Tbs milk
Mix well. Should be of spreading consistency.
Recipe Yield
Makes about 3 - 4 dozen bar cookies 1x