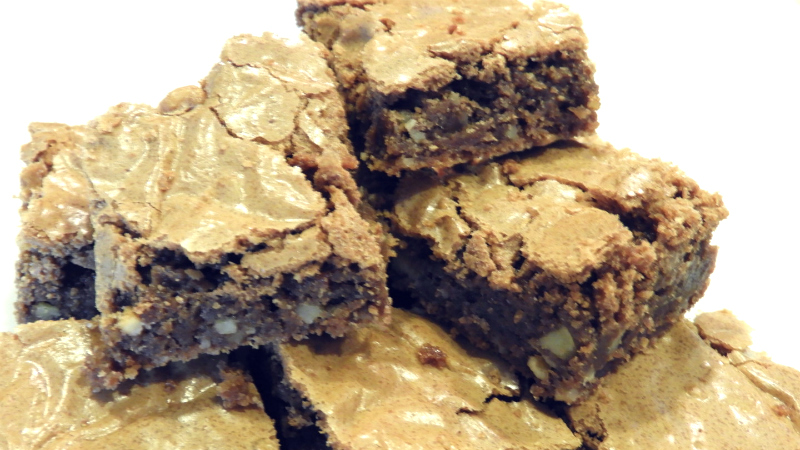 I had a couple hours to spare one afternoon, so I got out my Cookies by Bess cookie book to find a quick and easy recipe to make. I stopped short on the Brownies No. 1 recipe. This recipe was perfect for three reasons. First because they are a bar cookie so shouldn't take too long to make. Second, because I had all the ingredients in my pantry, no grocery shopping needed, and third because I've never made brownies from scratch before! I was excited to try this recipe out, now I'll never go back to box brownie mixes…I'm sure Grandma Bess would be proud! 🙂
Cookies by Bess has three different brownie recipes. I chose Brownies No. 1 because it's a basic recipe that doesn't have any extra steps. For this reason, I'm rating this recipe as 1-star for difficulty. It truly is a quick and easy recipe to make!
After getting organized and pulling all my ingredients and utensils together, I got started blending the eggs and sugar.
The recipe doesn't mention the type of chocolate to use, so I decided to use Baker's German Chocolate, which is a milk chocolate. I prefer milk chocolate in general, but am now curious how different a semi-sweet or unsweetened chocolate would taste. Guess I'll just need to make more brownies to find out! 😊
Once all ingredients were mixed together (except the nuts), I had to take a picture of the brownie batter. It was so smooth and rich looking! So pretty, I just had to try it 😊 It tasted super chocolatey and had a creamy-rich texture. This batter is so good, I was getting very excited to taste the brownies when they were done!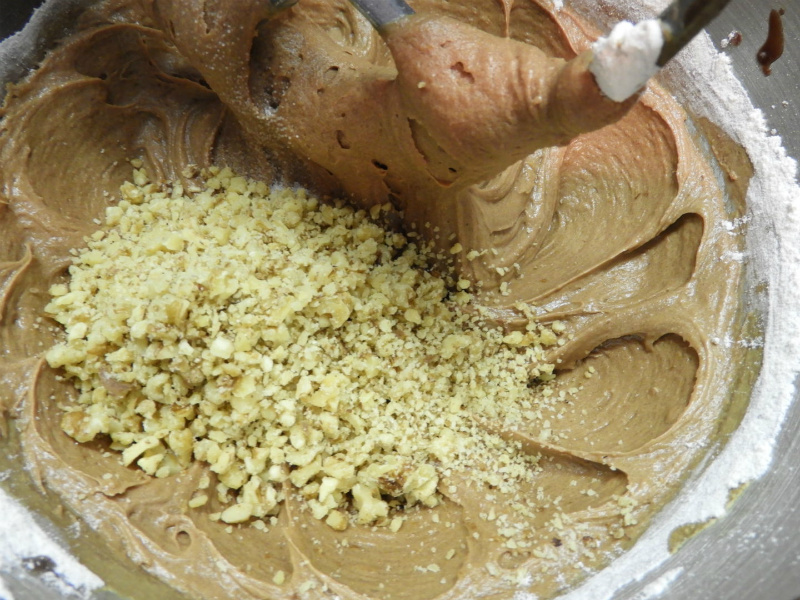 Next, I added the nuts.  The recipe didn't call for a specific type of nuts, so I went with walnuts. I don't think I've ever made brownies with pecans or almonds. Keeping with tradition, walnuts it was!  Maybe I'll try pecans or almonds next time with the semi-sweet and unsweetened chocolates.  Also missing from the recipe was the amount of chopped nuts.  I decided on 1/2 cup because I was using a smaller pan.  If these brownies were baking in a 13 x 9 inch pan I would have added a full cup.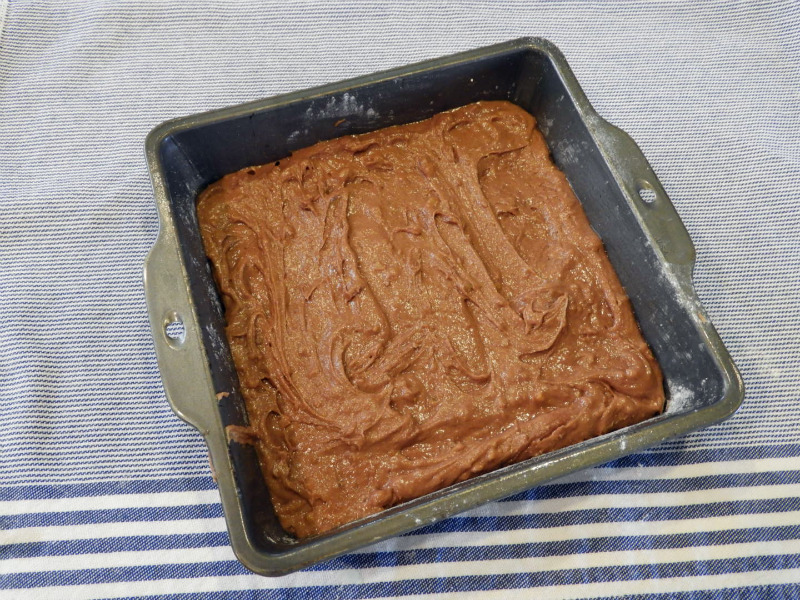 I have two 8 x 8 pans, one a aluminum/non-stick and one glass. I've read before that it's best to bake in dark colored aluminum/non-stick pans, so that's the one I used. The recipe says to grease and flour the pan, so did and poured in the yummy batter.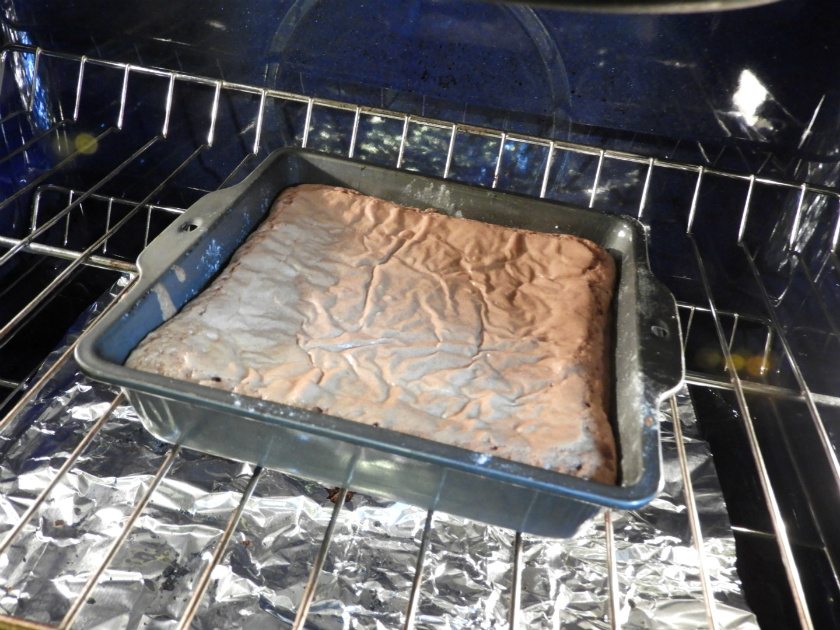 I baked the brownies for the full 35 minutes as it says in the recipe and then for 5 minutes more.  I did this because I've had troubles baking brownies from a box before. A few times, the brownies didn't bake fully in the center of the pan. I think this is because of the high-altitude baking required in Colorado. To remedy this, I generally add another tablespoon of flour and bake the brownies a little longer.  To make sure this didn't happen with Grandma Bess' recipe, I just baked the brownies for an extra 5 minutes.
Before taking them out of the oven, I did the "toothpick test" to make sure they were done.  Basically, the toothpick test works by sticking a wooden toothpick into the center of the brownies.  If the toothpick comes out dry, they are done.  If the toothpick comes out with batter sticking to it, you should bake a little longer.  For these brownies, the toothpick came out almost completely dry, and most importantly with no brownie batter on it. So, I took them out of the oven and let them cool fully in the pan before cutting them into squares.
Right out of the oven, the brownies looked awesome! They had that thin layer of crispy chocolate on top that so awesomely crumbles a little when you cut them. This crispy layer adds such a great look and texture to the brownies! I think it makes them look so tempting!
I was so pleasantly surprised the brownies cut perfectly! The crispy top layer crumbled just enough, but not too much. The knife cut through the brownies easily and sure enough, the center of the brownies were done just right. The brownies didn't stick to the knife while I was cutting which resulted in (just about) perfect brownie squares! Each brownie has that great texture of the crispy top layer and the dense and rich texture of the chewy brownie center.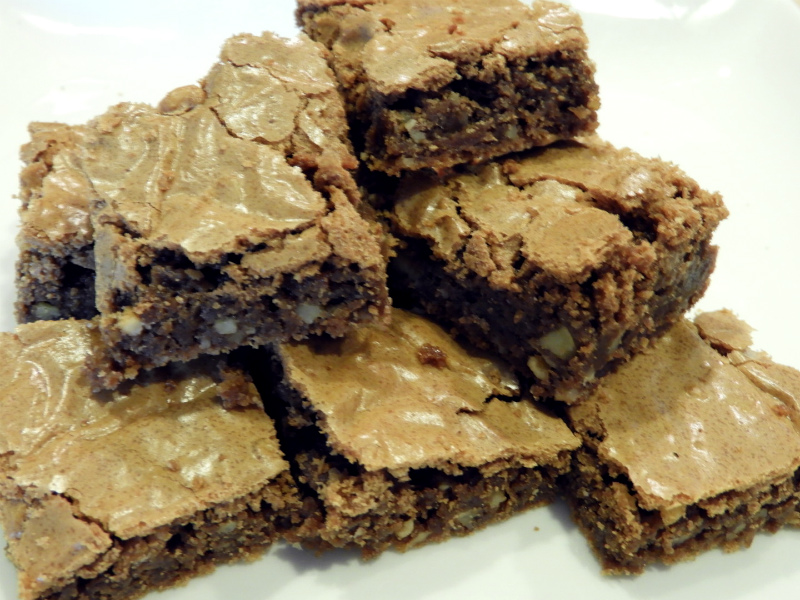 Oh boy! If you like chewy, almost squenchy brownies, this is a perfect brownie recipe for you!!
Like I said in the beginning of this blog, I'll never go back to boxed brownies again.  I will admit, that I've enjoyed many a boxed brownie in my day, but I just love the idea of baking from scratch.  This recipe makes brownies just how I like them, so why go back?
I hope you like the Brownie No. 1 recipe as much as I do!!
XXOO,
Janet
Print
Brownies No.1
Ingredients
½ cup shortening (butter)
2 sq chocolate
¾ cup flour
½ tsp baking powder
Chopped nuts
½ tsp salt
2 eggs
1 cup sugar
1 tsp vanilla
Instructions
Melt chocolate and shortening together. Cool. Beat eggs and sugar well. Add chocolate mixture. Mix well. Add dry ingredients, vanilla, and nuts. Mix well. Pour into 8 or 9 inch square pan, greased and floured. Bake at 350 degrees for 35 minutes. Cool and dust with powdered sugar. Cut into 1 inch squares.
Recipe Yield
Makes about 2 dozen 1 inch brownies 1x