Cookies by Bess has five wonderful date cookie recipes and now I've made them all! Date Bars No. 1 are on my all time list of favorite Cookies by Bess recipes! The oatmeal crust paired with the sweetened dates and crumble topping are simply awesome! Date Bars No. 2 and Date and Nut Bars are similar but also unique bar cookies with dates, nuts, and a more cake like finish.  Finally, Date Filled Pin Wheel Cookies, were a challenging cookie to make, but not to eat 🙂
Date Surprises are a completely different type of date cookie. Different from Cookies by Bess' other date cookies and different from most other cookie recipes as well! Date Surprises hide a date filled with a nutmeat inside a sweet bread like dough. The result is a most unique cookie that is truly full of surprises!
I've been looking at this Date Surprises recipe for a while now. I've read it over and over many times, not quite understanding the instructions. This time I decided to just follow the recipe as written. I hoped what seemed to not make sense, would in fact make sense as I worked through the recipe. And it did! I had a blast making Date Surprises! It was fun figuring out all the steps and it was fun making such a unique cookie!
I'm rating Date Surprises 3-stars for cookie baking difficulty. Don't be afraid of this 3-star rating…as usual, the recipe isn't hard, it's just a bit more complicated and time consuming. There haven't been too many 3-star cookies recipes as most of Grandma Bess' cookie recipes are full of a lot of steps, but aren't too difficult to bake. Date Surprises in one of these recipes, but with even more steps.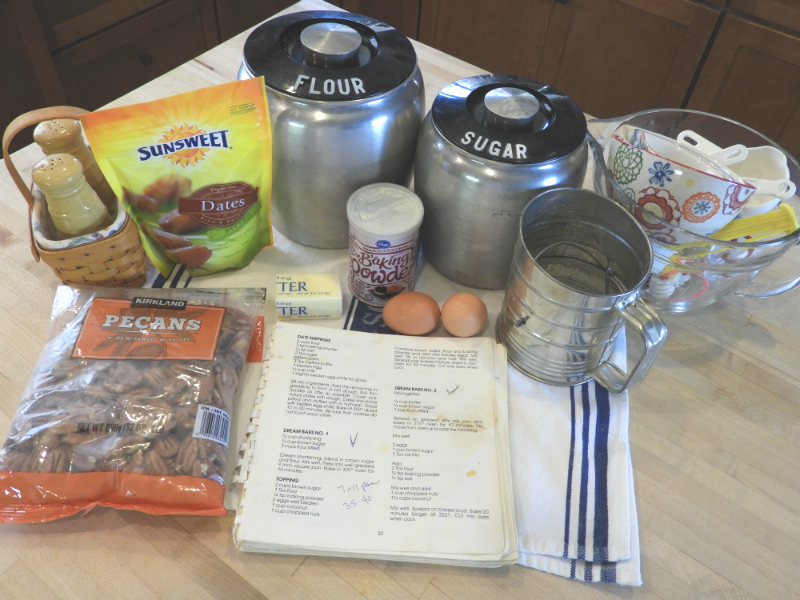 After pulling my ingredients together (all in my baking pantry!). I think I've used my Kitchen Aid to make most of Cookies by Bess' cookies.  Date Surprises doesn't require to Kitchen Aid to blend the dough.  I realized later this was because the dough is more like a bread dough than a cookie dough.
Next, I added the remaining ingredients.  First the milk and beaten egg…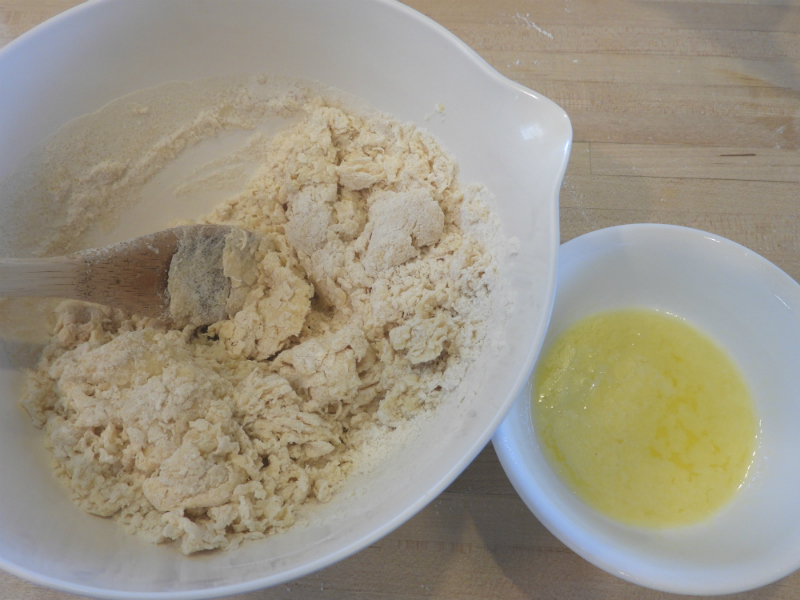 And then the melted butter.
As the dough came together, it seemed more like a bread dough than a cookie dough. The recipe said "form into a soft dough". I hadn't seen this before in a cookie recipe, so I wasn't quite sure what this looked like.
Rolling this dough was different than other cookie dough I've rolled for cut out cookies. The dough was a bit rough and dense.  I only needed to use a slight bit of flour to help roll it out.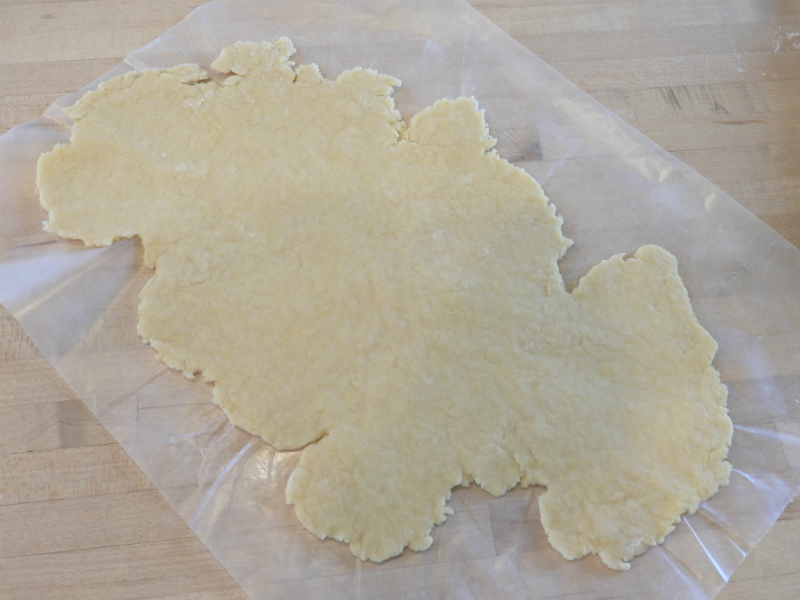 The recipe says to roll as thin as possible, again I wasn't sure how thin this should be, so I rolled the dough as thin as I could.  You can see from this picture that the dough is still a bit rough looking and dense.  Again, it seemed more like a bread dough.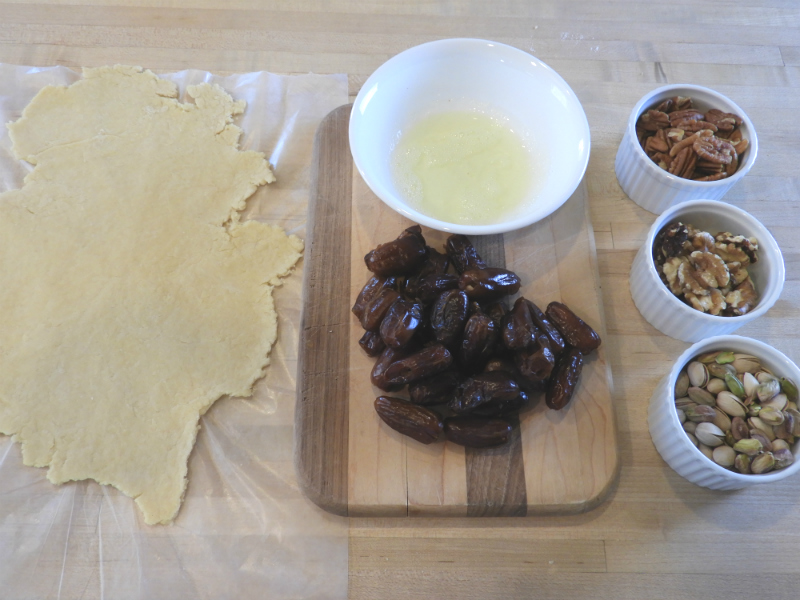 Next, I pulled nutmeats together. I decided to use an assortment of nuts! I had pecans, walnuts, and pistachios.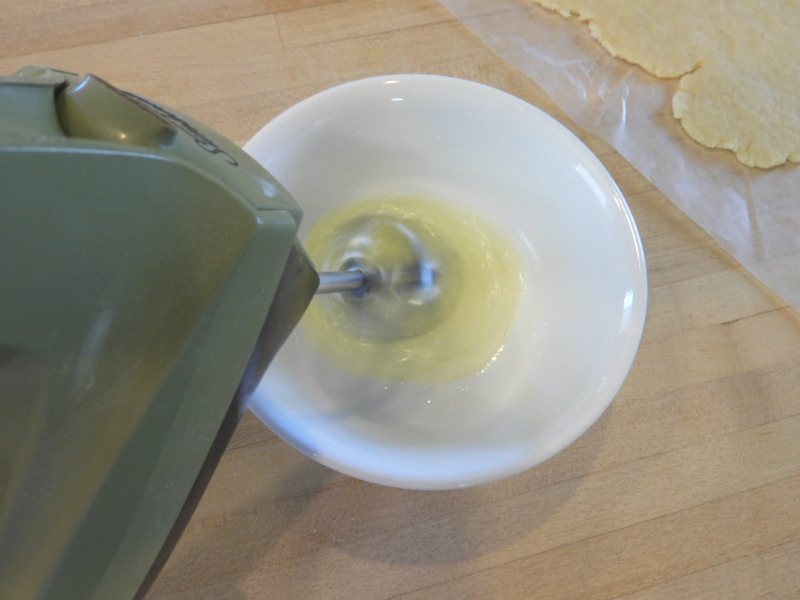 Before beginning to stuff the nutmeats into the dates, I used Grandma Bess' hand mixer to lightly beat the egg white.
I realized I needed to break the pecans and walnuts in half so they would fit into the pitted dates.
Next, I realized I needed to cut the dates in half (with the nutmeat inside) or the cookies were going to be too big.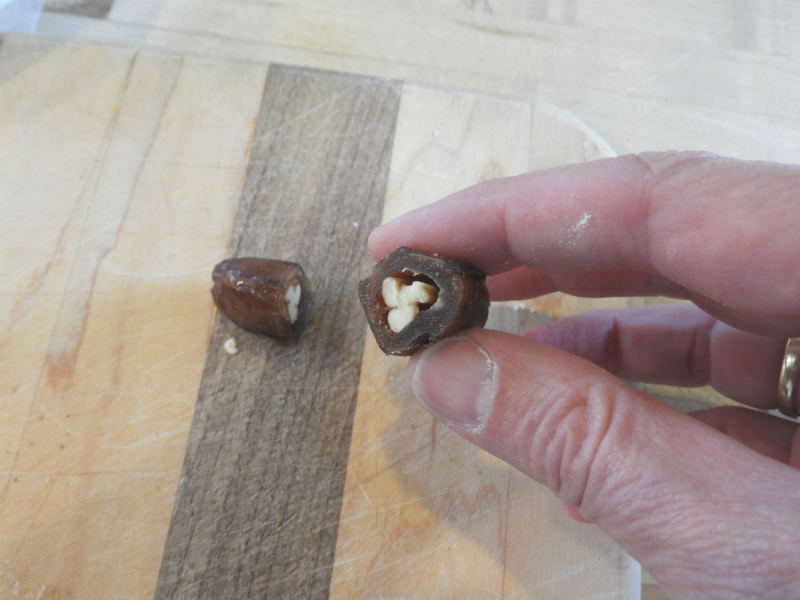 Doing this helped me understand better what I needed to do with the cookie dough.  I was finally ready to try rolling the cookies!
The recipe says to "cover individual dates with dough". So, I took a half date, filled with the nutmeat, and began to roll it in dough.
I then tore off just enough dough to wrap around the half date and rolled it into a ball.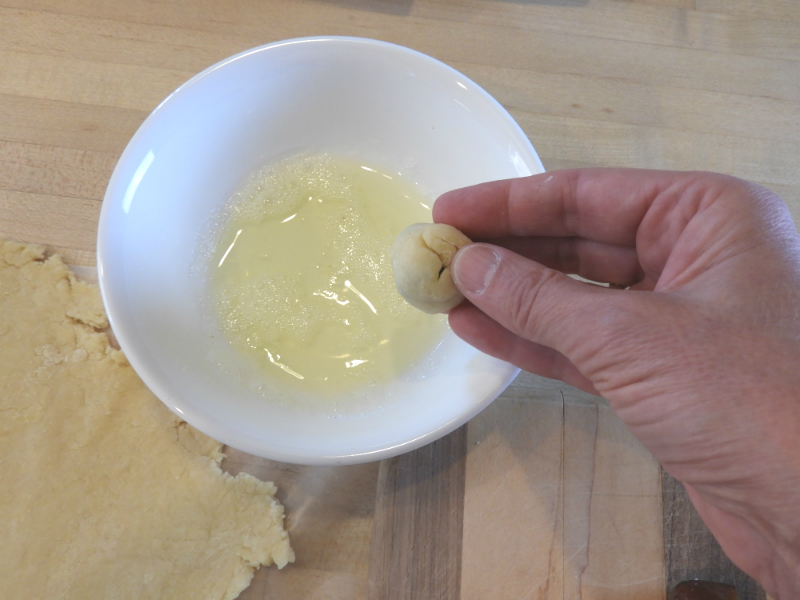 The last step was to roll the cookie ball in the egg white.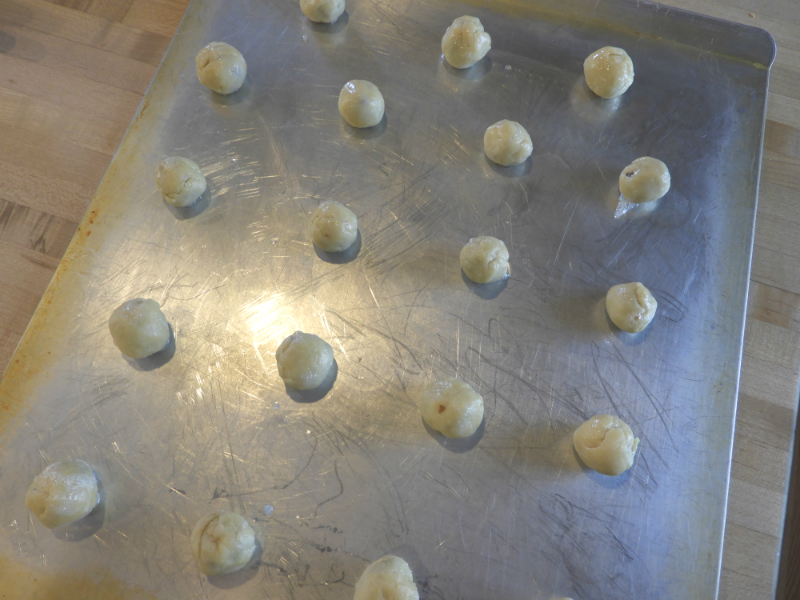 I repeated all of these steps, using my three different nutmeats, to fill up my cookie sheets. The recipe says to make sure the cookies don't touch each other. I assumed this mean to spread the cookies out on the baking sheet before baking, but I'm not completely sure?!?
The cookies puffed up quite a bit while baking!
I wondered if the egg whites would stick, but the recipe didn't call for greasing the baking sheets. The cookies did stick a bit, but not too much and the cookies were relatively easy to remove from and move to the cooling racks.
Don't these cookies look like a nice dinner roll you might serve at Thanksgiving?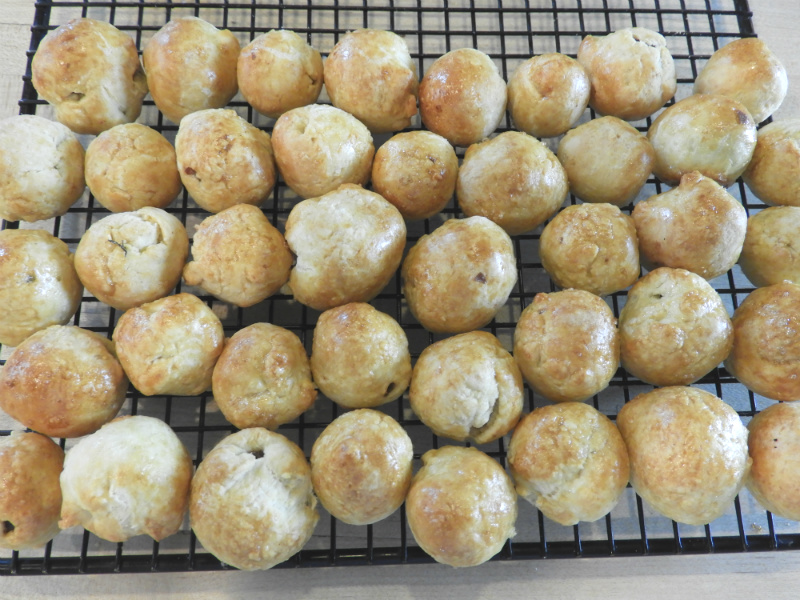 So, not dinner rolls but Date Surprises!  I think the cookies turned out great!
I love the egg white glaze and the nice golden brown color. All different sizes due to the different types of nuts. The cookies with walnuts are the biggest, the cookies with the pecans are normal sized, and the cookies with the pistachios are the smaller ones.
I was so curious what the cookies looked like inside and how they tasted, I had to cut one in half to see the date and nut surprise! The cookie crust is pretty dense and it crumbled a bit. The cookie crust taste is a bit doughy and bland, but there is also a nice sweetness to it. Almost like a sweet bread.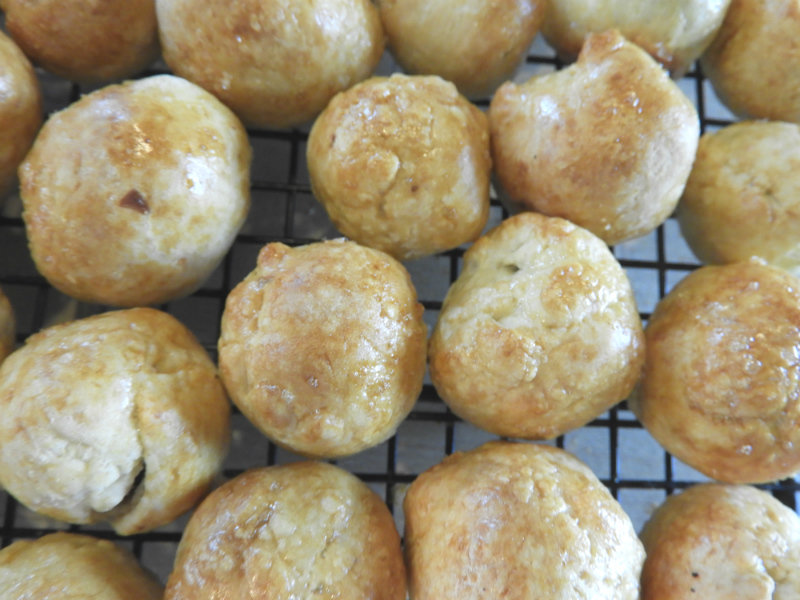 Date Surprises are a savory cookie that will certainly surprise your family and friends with the date and nut filling and sweet bread crust! Add different nutmeat like I did to mix it up and keep your guests guessing!
Date Surprises are sweet and savory cookie that will compliment any meal or dessert tray whether for Thanksgiving 🙂 or any day thought out the year!
XXOO,
Janet
Print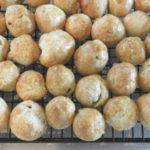 Date Surprises
Ingredients
2 cups flour
3 tsp baking powder
½ tsp salt
2 Tbs sugar
Pitted dates
3 Tbs melted butter
1 beaten egg
1/3 cup milk
1 slightly beaten egg white for glaze
Instructions
Sift dry ingredients. Add the remaining ingredients to form a soft dough. Roll thin. Handle as little as possible. Cover individual dates with dough. Dates should be pitted and stuffed with a nutmeat. Glaze with beaten egg white. Bake at 350 degrees about 15 – 20 minutes. Be sure that cookies do not touch each other.
Recipe Yield
Makes about 4 - 5 dozen cookies 1x
Cookie Category:  Molded or Shaped/Rolled