Date Bars No. 1 are in my top 10 favorite Cookie by Bess recipes! For me, there is just something about dates that make cookies super yummy! With a nice thick oatmeal crust and a sweet date topping, Date Bars No. 1 are a perfect and healthy bar cookie!
Maybe its that dates are sweet but not too sweet. Their chewy texture along with the crispy cookie crust is the perfect combination! Crumbling the oatmeal mixture on the top is the perfect finishing touch…making Date Bars No. 1 like a date bar crumble cookie.
So many wonderful things about Date Bars No. 1…not least, they are easy to make. I'm rating Date Bars No. 1 2-stars for cookie baking difficulty. There are several steps in the process including chopping and cooking the dates, mixing the dough by hand, and the different cookie layers. All in all, totally worth the effort every step of the way!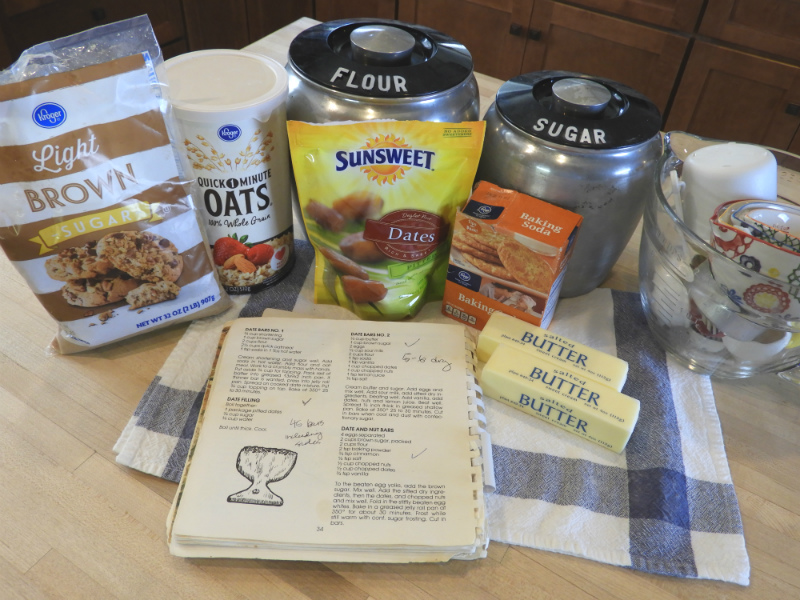 Nothing out of the ordinary pulling the ingredients together. I've started keeping dates in my baking pantry, so I even had them on hand!
I do want to mention, the recipe calls for 1 package of pitted dates. The normal size package in the grocery store these days is 12 ounces which I don't think is enough. My guess is, way back when Grandma Bess was baking, pitted dates came in 16-ounce size packages. Going forward, I'm planning to add the additional fruit.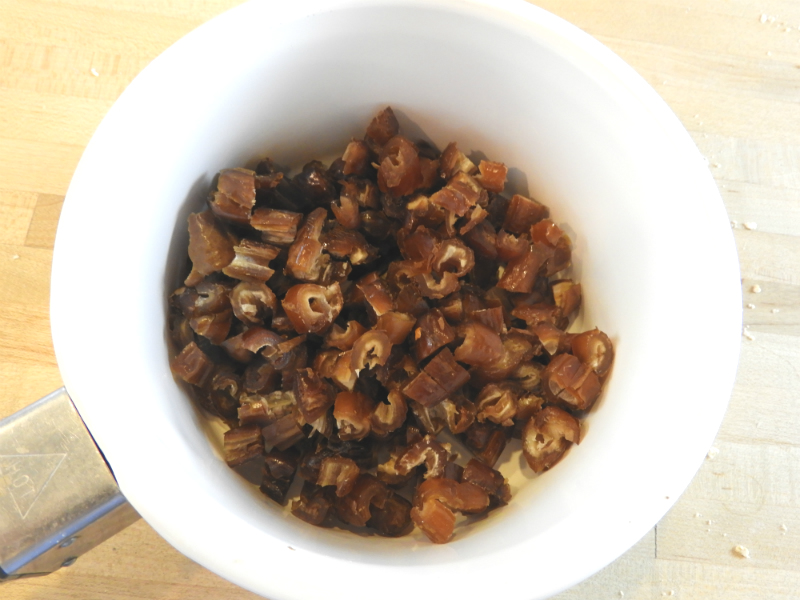 The first step was to chop the dates…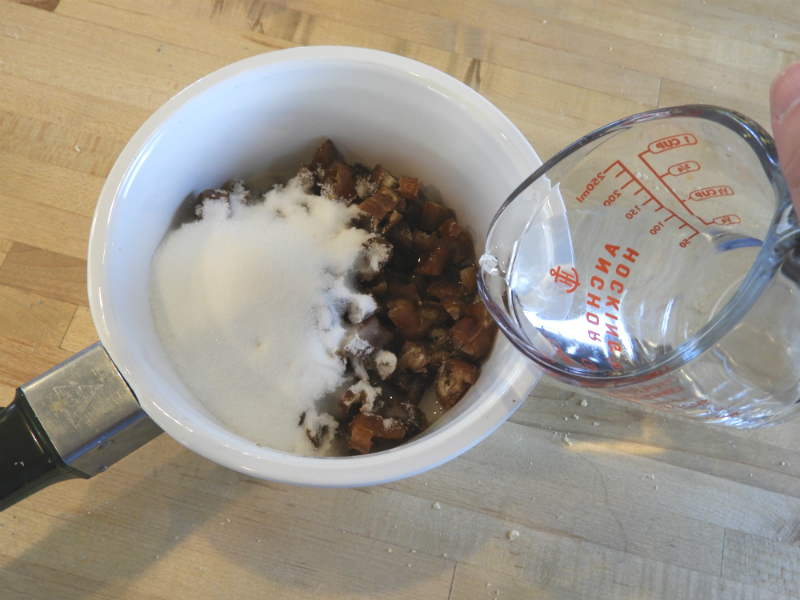 And begin simmering them on the stove with sugar and water.
It took about 30 minutes to cook the dates until thick.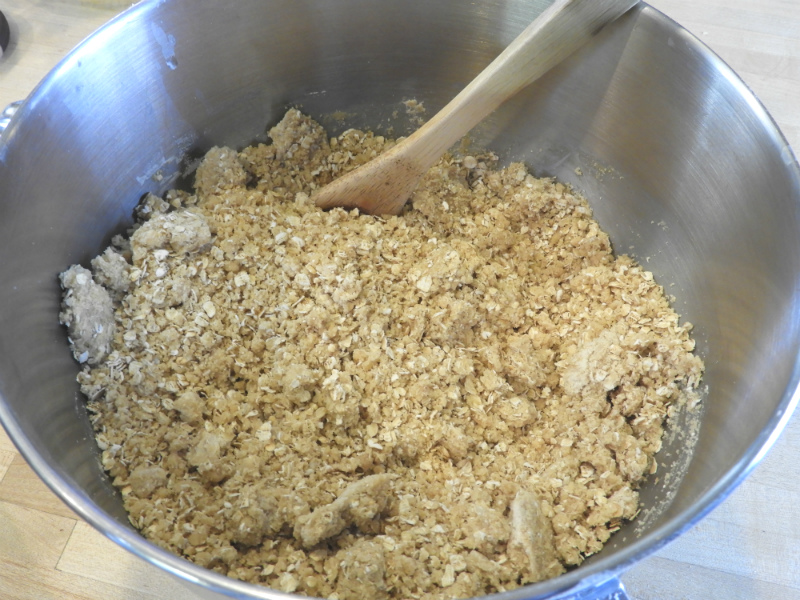 While the cooked dates were cooling, I began mixing the cookie crust which turned into a "crumbly mass" just like the recipe says.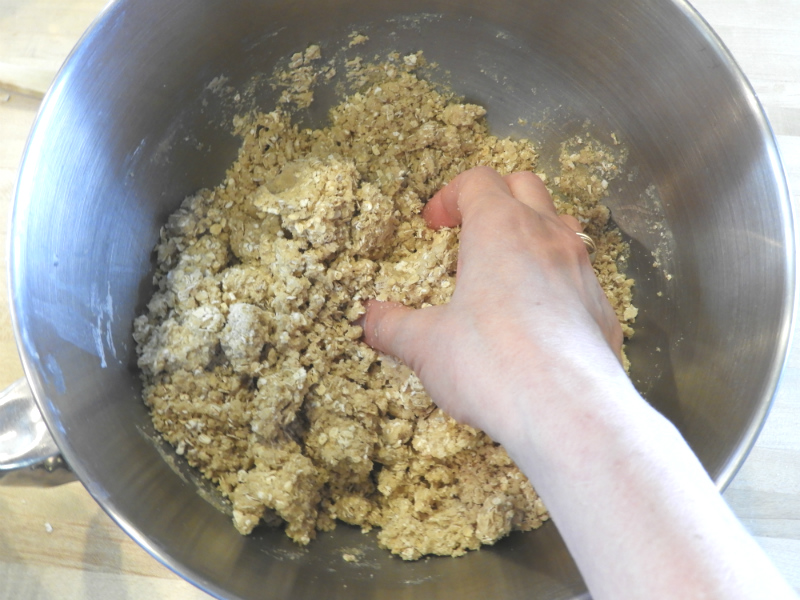 To help bring the dough together, per the recipe, I used my hands.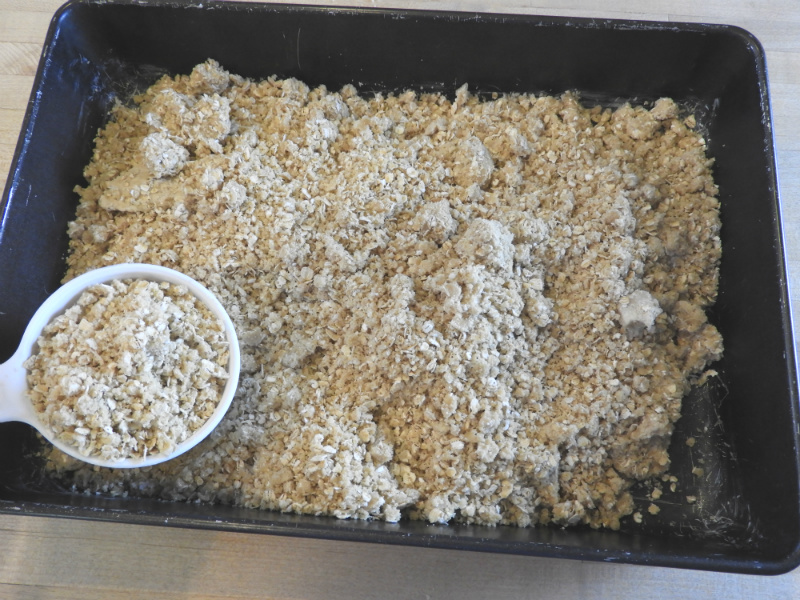 Next, I was ready to pat the cookie crust in the baking pan.
I removed ¾ of the mixture to sprinkle on top of the dates.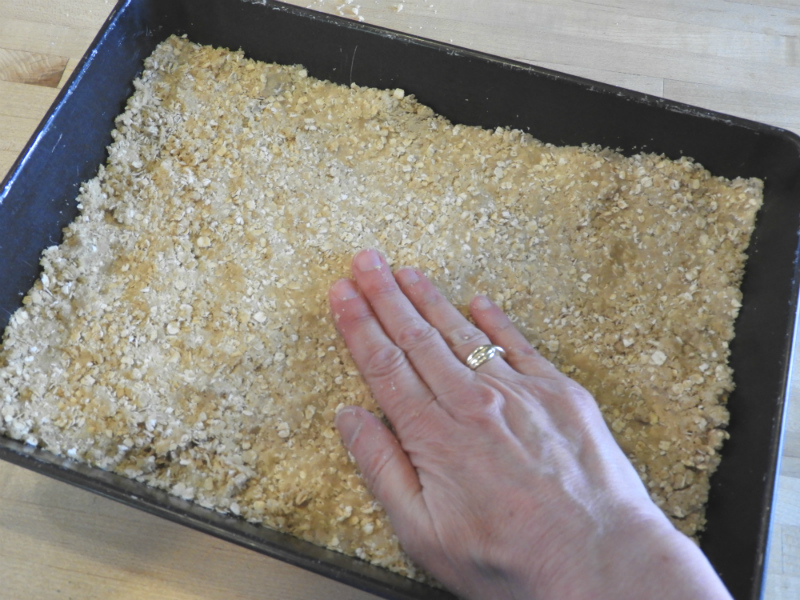 It was easy to use my hands/fingers to pat the crust until it was firm in the pan.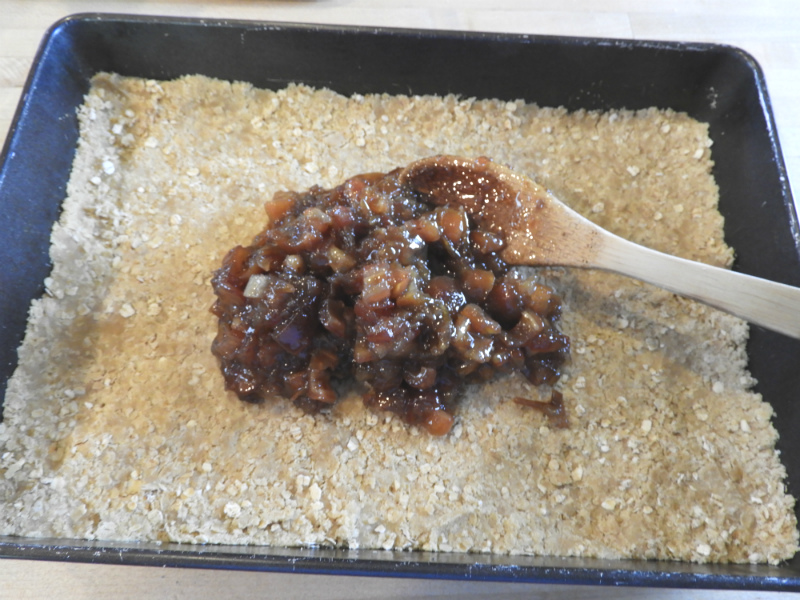 Now I was ready to spread the dates on top of the cookie crust.
You can see from this picture, there was just enough of the cooked dates to cover the cookie crust.  As I mentioned above, next time I'll add a good 4 or more ounces.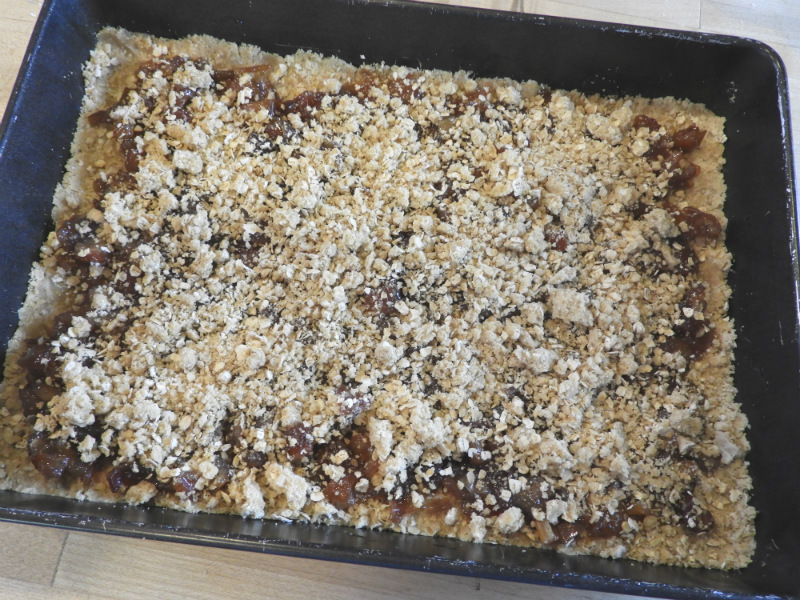 Finally, I sprinkled the oatmeal mixture on top and I was ready to bake!
The cookies didn't change shape or even color while baking, just a little browning of the mixture on top and the crust edges.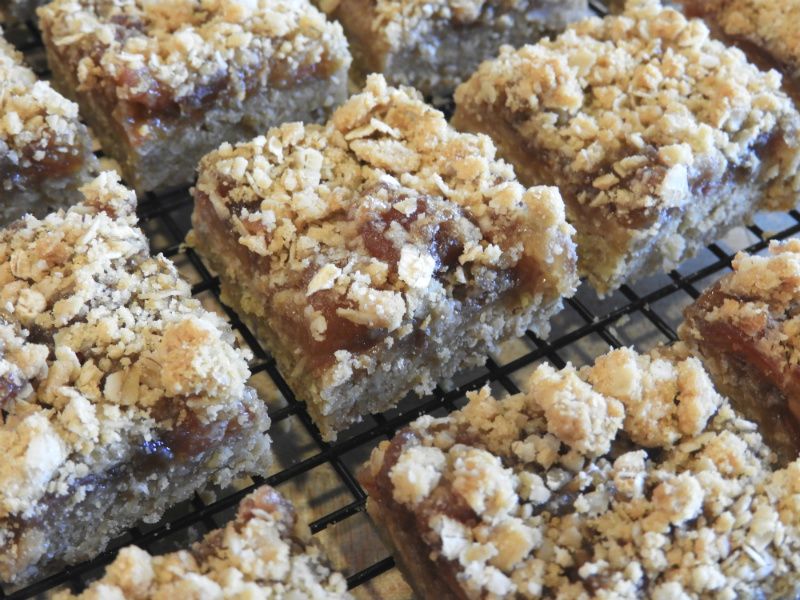 The finished Date Bars No. 1 are perfect! I love the texture of the oatmeal mixture on top, the chewy dates in the middle, and the crispy oatmeal crust. Just perfect!
Date Bars No. 1 are a hearty and earthy bar cookie that will satisfy all your cravings! Sweet, chewy, crispy, and oaty. I can see having a couple Date Bars No.1 cookies for breakfast, dessert after lunch or dinner, or at anytime for a quick and healthy snack!
I hope you love Date Bars No. 1 as much as I do!
XXOO,
Janet
Print
Date Bars No. 1
Ingredients
¾ cup shortening

1 cup brown sugar

2 cups flour

2 ½ cups quick oatmeal

1 tsp soda in 1 Tbs hot water
Instructions
Cream shortening and sugar well. Add soda in hot water. Add flour and oatmeal. Work to a crumbly mass with hands. Put aside ¾ cup for topping. Pack rest of batter into greased 13x9x2 inch pan. If thinner bar is wanted, press into jelly roll pan. Spread on cooked date mixture. Put ¾ cup topping on top. Bake at 350 degrees 25 to 30 minutes.
Notes
Date Filling
Boil together:
1 package pitted dates
¾ cup sugar
¾ cup water
Boil until thick. Cool.