Love love love date cookies! Lucky for me Cookies by Bess has 4 date recipes, and now, after making Date and Nut Bars, I've made 3 of them (other date recipes: Date Bars No. 1, Date Bars No. 2). Each of these recipes are so different and unique in their own way.
Date Bars No. 1 have a yummy oatmeal cookie bar topped with sweetened dates. Date Bars No. 2 mix the dates into a cake like bar cookie. Date and Nut Bars are like Date Bars No. 2 with the dates and nuts mixed into the bar, but they are a more traditional bar cookie with an added confectioner's sugar frosting.
I have to mention one interesting fact about this Date and Nut Bars recipe…there is no butter or shortening used! The recipe calls for stiffly beaten egg whites to be folded in after all the other ingredients are mixed together. This was a first for me! I wasn't sure how this was going to affect the end result cookies, but I certainly was excited to find out!
I'm rating Date and Nut Bars 2-stars for baking difficulty. I'm really torn between 2 and 3 stars…there are several steps in the process along with making the frosting…but nothing is too hard or time consuming, so I'm sticking with 2-stars.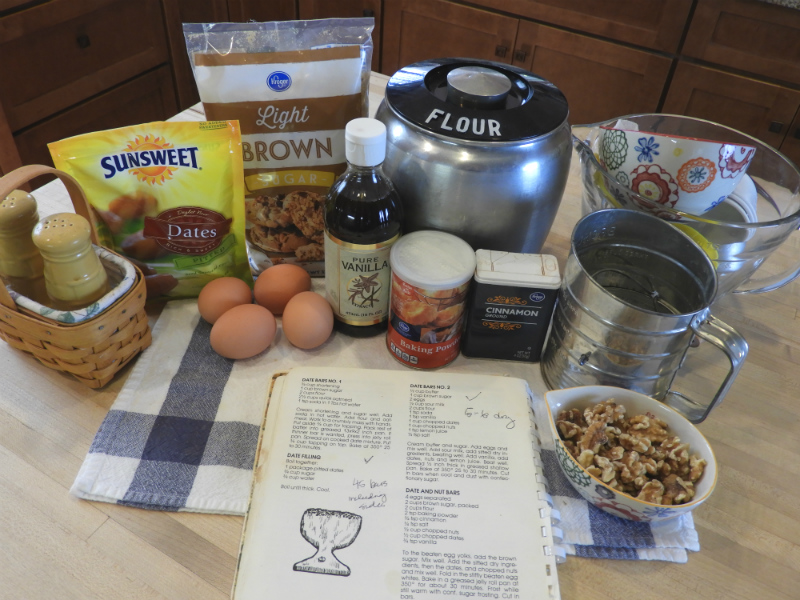 I already had dates in my baking pantry, so it was easy to pull together all the ingredients.
The initial step in most cookie recipes is to blend butter and sugar together…since there is no butter in this recipe, it starts with beating the egg yolks with the brown sugar. I did this in a separate bowl and set it aside while I mixed the dry ingredients together.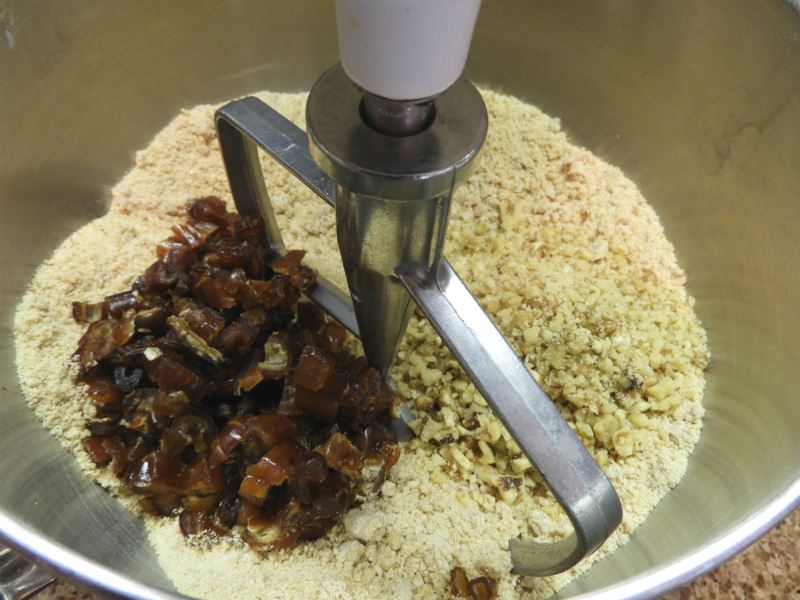 I used the Kitchen Aid bowl to mix the dry ingredients.  The recipe doesn't say when to add the vanilla, so I decided to add it to the dry ingredients.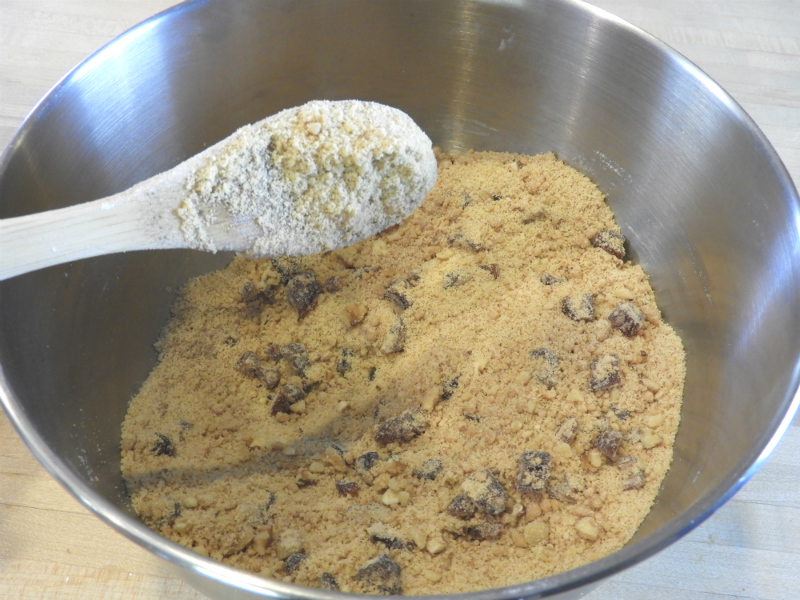 The results was a bowl full of dry ingredients.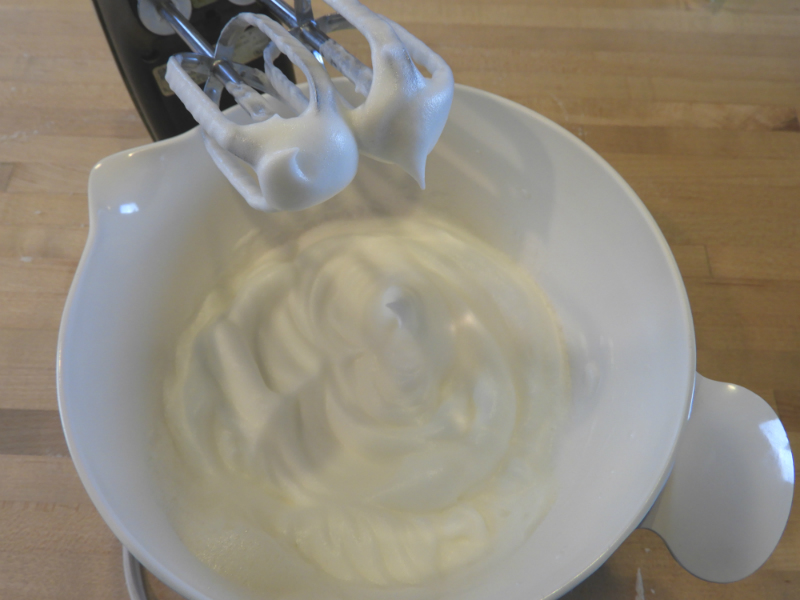 Next, I beat my egg whites until nice and stiff.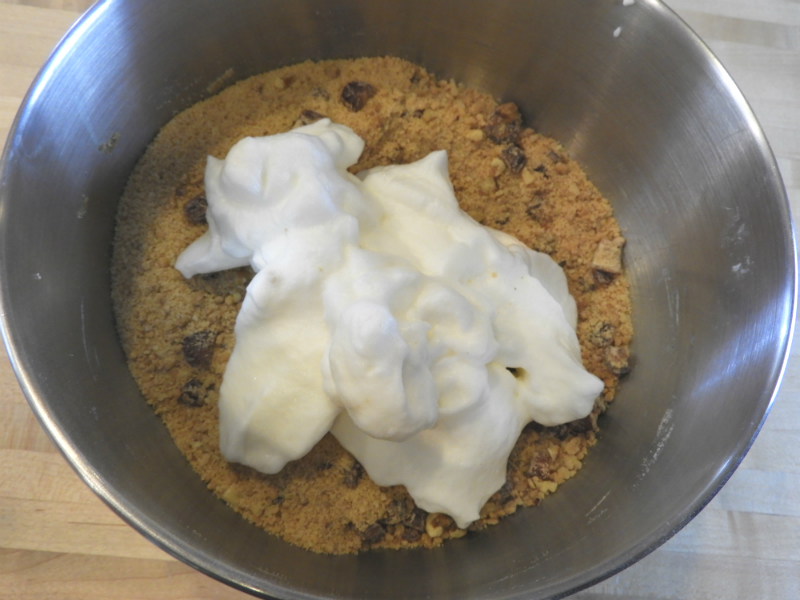 Finally, I added the egg yolks and brown sugar mixture to the dry ingredients and then folded in the stiffened egg whites.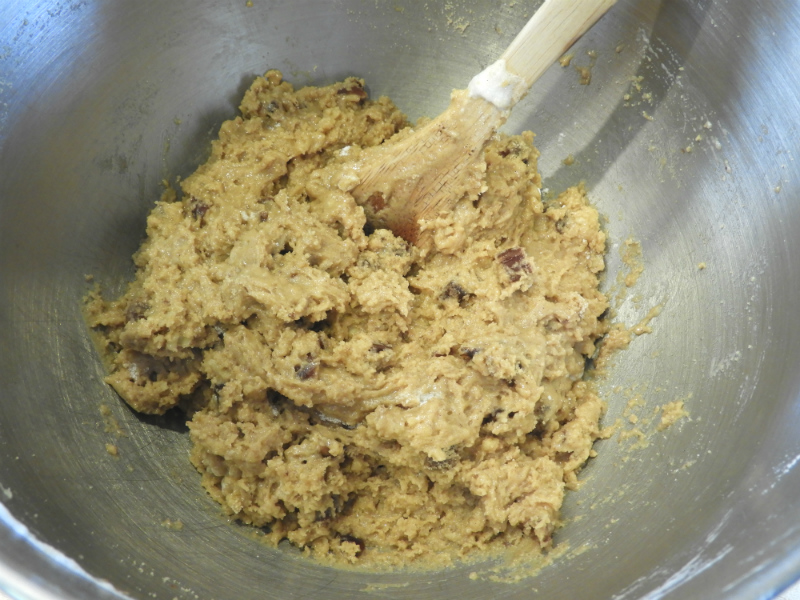 The dough was a bit sticky but was ready to go.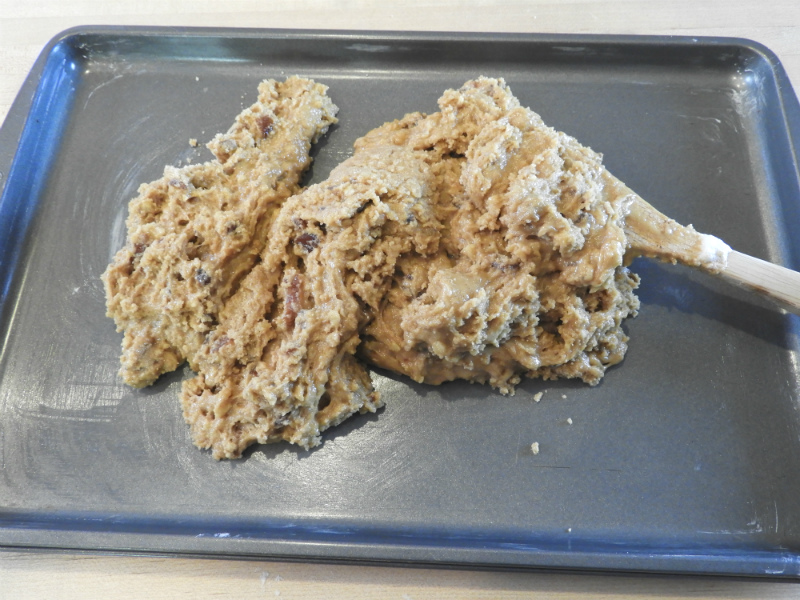 I scooped the mixture onto the jelly roll pan.
The recipe doesn't specify the size of jelly roll pan. Based on the amount of dough, I decided to use the normal size (10 ½" x 15 ½"). It seemed to fit perfectly, although I wasn't completely sure as expected the cookie dough to rise while baking.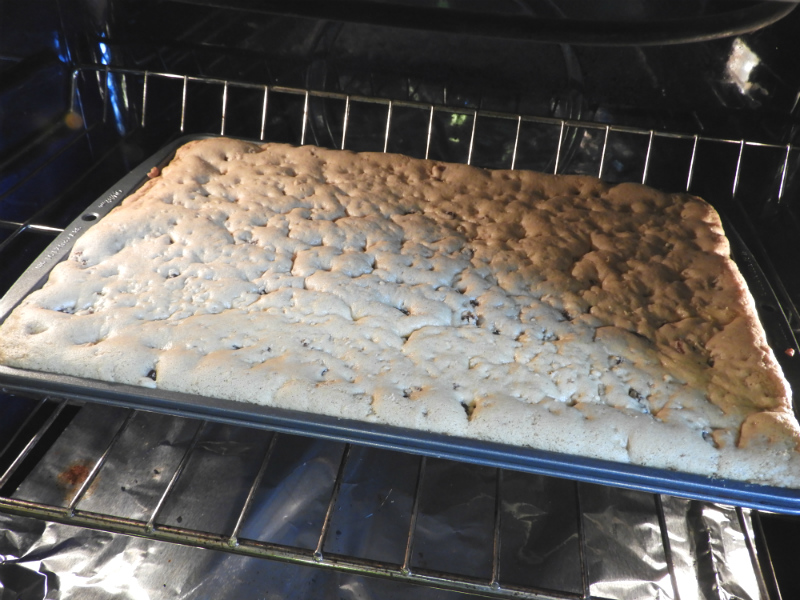 And I was right! The dough did rise up a bit, but thankfully, not too much to overflow the baking pan!
While the bars where baking, I whipped up the Confectioner's Frosting. Super easy with confectioner's sugar, butter, milk, and vanilla.
I let the bars bake for the full 30 minutes, which I will admit, was about 5 minutes too long. When I took the bars out of the oven, they were (in my opinion) a bit too brown. I'm not sure if this is due to the egg whites versus butter, but next time I'll make sure to watch the baking a bit closer.
Once the Date and Nut Bars cooled, I started spreading the frosting.
There was just enough frosting to cover the Date and Nut Bars. Don't they look awesome!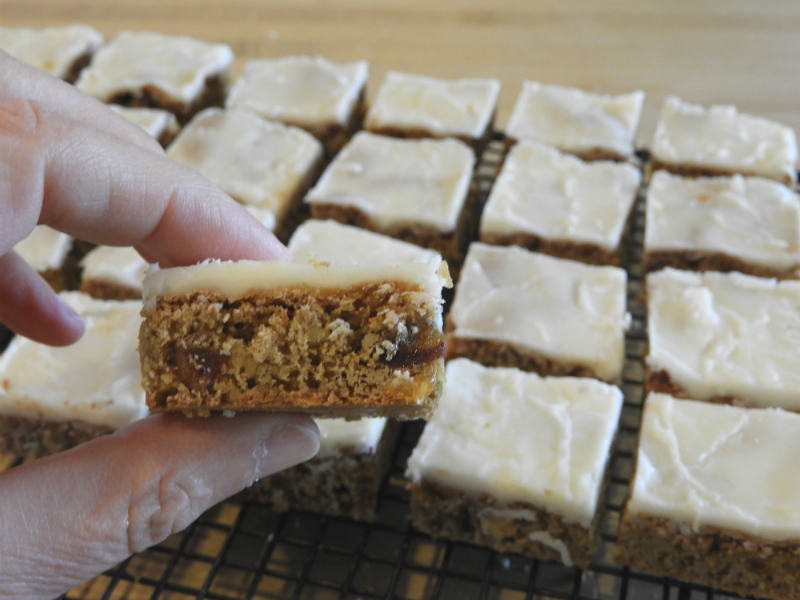 The bars turned out great! The dates and nuts spread throughout the cookie with a nice layer of frosting on top!
The texture of these cookies is a little drier and crisper that you might think. I believe that is due to the egg whites versus butter in the cookie. Another reason to watch the baking time as I believe over baking will make these cookies super dry and crunchy.
I also want to mention that the Confectioner's Sugar Frosting hardens up once it sets and dries. This makes for a nice crunch when biting into the bar cookie!
Luckily my Date and Nut Bars turned out awesome! ?  Tons of dates, tons of nuts, and a sweet and sugary frosting on top! Sure can't beat that!  Especially if you love love love date cookies!
Enjoy!
XXOO,
Janet
Print
Date and Nut Bars
Ingredients
4 eggs separated
2 cups brown sugar, packed
2 cups flour
2 tsp baking powder
¾ tsp cinnamon
¼ tsp salt
½ cup chopped nuts
½ cup chopped dates
¾ tsp vanilla
Instructions
To the beaten egg yolks, add the brown sugar. Mix well. Add the sifted dry ingredients, then the dates, and chopped nuts and mix well. Fold I the stiffly beaten egg whites. Bake in a greased jelly roll pan at 350 degrees for about 30 minutes. Frost while still warm with confectioner's sugar frosting. Cut in bars.
Notes
Confectioner's Sugar Frosting 
1 Tbs & 1 tsp butter
¼ cup hot milk
About 3 to 3 ½ cups confectioner's sugar
1 tsp vanilla extract
Foot coloring (optional)
Add butter to the milk. Add sugar gradually to make frosting right for spreading. Add extract and mix well. Add food coloring as desired.
Recipe Yield
Make about 5 - 6 dozen bar cookies 1x