Bess Hoffman: 'Baked with Love'
This week I decided to post another article from Cookies by Bess' promotional tour back in 1980.  This article, Bess Hoffman: 'Baked with Love',  was written in The Post Crescent (newspaper serving Appleton-Neenah-Menasha, Wis.) on Tuesday, June 3, 1980.
The article once again introduces Grandma Bess Hoffman and how she began baking cookies. her Cookies by Bess cookie book, and how much she loved baking cookies for her family and friends.  As with all of these articles, Bess shared some of her favorite cookie recipes.  She always did this because she wanted to share her love of baking with everyone.  This time she shared:
Mandlebrodt
Lemon Flavored Cheese Cookies
Swedish Delights
The article also provides baking tips and tricks Bess used and shared with friends and family.
Below is the Bess Hoffman: 'Baked with Love' as written by Carol Hanson, Post-Crescent Lifestyle Editor.  The article was published on page C-1 of the Lifestyle section.
I'd also like to mention, the pictures featured here were the same pictures shown in the original article!  I found them in my Cookies by Bess archives…
I hope you enjoy!
Since the 1930's when her four children were youngsters, Bess Hoffman has been baking cookies. While many mothers keep the cookie jar filled for their kids, it is an exceptional mother indeed who has five cookie jars on the kitchen counter, always filled to capacity and ready for her children and their friends to devour after school, work or play. But that's the way it always was at the Hoffman's home in Wausau.
Bess turned to baking cookies, to perfection old and new recipes as a hobby during those Depression years when most family activities were home centered. According to her husband, Abe, with whom she will celebrate 54 years of marriage the end of this month, Bess has read cook books as many of us read novels and can't resist the cook book sections in any book store she enters. As a result, the shelves in the Hoffman household are straining from the weight of her collections.
This week, the second edition of her own cook book, "Cookies by Bess" will be coming off the presses. It became reality because her son Rich and his wife Toby didn't want Bess' cook book to die. The younger Hoffman's got expert help from Mary Beth Keuster who they learned in a story in the Post Crescent had been instrumental in the revival of a cook book for the Wisconsin Home Economics Association.
The popular first editions was published 20 years ago at the urging of her family and friends and sold 40,000 copies. It was a standard at Marshall Fields in Chicago for many years and also was featured in a kitchen equipment catalog. To this day, Bess has an order from the department store for more copies, an order she was unable to fill because she "went out of the cook book" business when she and Abe moved after his retirement from their home in Wausau to a house in California's West Los Angeles.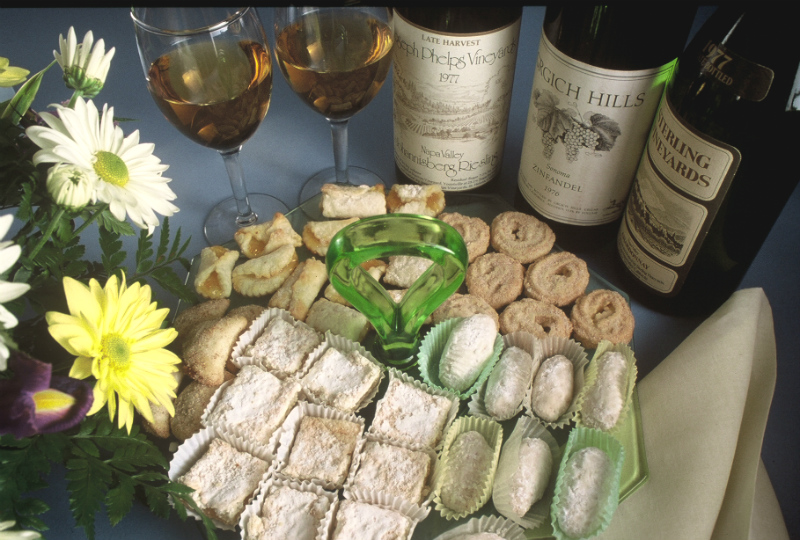 During the years when she was promoting her first edition which she had put together with the help of friends, she also taught a "Holiday House" class at the vocational school in Wausau. "I was never so happy," Bess says. "I had the opportunity to show women how they could do so many recipes a day and still have time to do other things…go to luncheons, do community work."
Bess believes that cookies should be mixed in batches…that several recipes should be made during an evening but that no recipe should be doubled while mixing. The results, she says, will never be the same. To accomplish as many as a 1,000 cookies in one session she readies her supplies and kitchen tools first. Usually this means bringing "real" butter…preferably Wisconsin butter which she says is the superior…and eggs to room temperature to get optimum results. She warns against using anything but butter in most of her recipes, saying the taste and consistency wil not be the same…especially for the rich tidbits that are traditional at holiday time.
Often she will store the dough in the refrigerator to bake the next day. When she is baking she always has four sheets going at once, never putting any into the oven until two or more are filled. She never bakes more than one tray at a time, since it is her contention that cookies will not bake properly otherwise. Thus while one tray is baking, others are cooling for being filled.
When her twin sons, Rich and Ron opened their drug store in Appleton in 1963, Bess was on hand with coffee and 10,000 homemade cookies. She greeted customers during that opening, handing them sweet treats and beverage. To this day, Rich says people ask him, "How's the cookie lady?"
Cookie lady was a title she earned n Wausau. Not only did she gain a reputation for having those full cookie jars and as a teacher, but she helped many of her friends with holiday baking and preparation of trays for special occasions. She believes that cookies should be well presented since they are not only good to eat but pretty.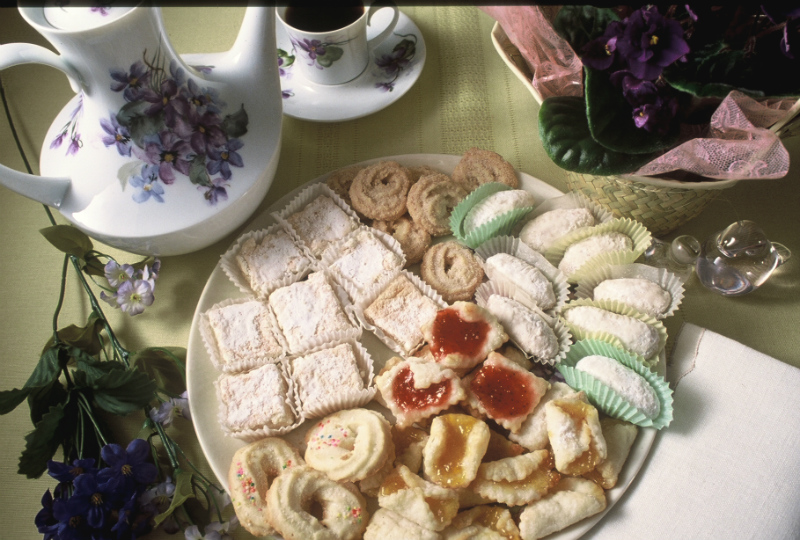 A woman in love with life and with people, Bess has always been willing to share her baking secrets with everyone. One recipe not included in the early edition is Mandelbrodt. Working with only the vague directions she got from her mother…a bit of this and a bit of that…Bess tested and tested before the results were what she thought they should be. Another cookie, Cinnamon Logs, brought her a prize in a recipe contest.
Intermingled with a multitude of easy-to-follow recipes throughout the second edition are may helpful hints for successful baking…hints that explain such things as freezing, storing, and shipping. The 98-page volume has a bright cookie plate cover and an introduction written by the cookie lady. If you would like to meet Bess, she will be at Conkey's Book Sore from 12:30 to 3:00 p.m. Friday. The new edition will be available there we well s her sons' drug store.
Each of the articles written are different and the same.  They are different in how each journalist uses his/her talents to describe the best of Bess Hoffman and Cookies by Bess.  They are the same as they outline the Cookies by Bess story and how Bess and Abe published the first edition of Cookies by Bess in 1960 and they how my parents Rich and Toby Hoffman published the second edition in 1980.
It's a great family story…I'm proud to be telling the story again now almost 40 years later!
XXOO,
Janet