Of all my grandma's cookies recipes, I think cinnamon logs was her favorite.  Probably because she created this recipe with her mother.  Yes, this is a Grandma Bess original cookie recipe!  My great grandmother would bake these cookies when my grandma was a little girl.  When Bess was baking cookies for her own children (my father and aunts and uncles), she perfected the recipe to make it just how she liked it.  Once you try these little gems, I think you will agree that the recipe is perfect!  A cinnamon log that just about melts in your mouth!
Another thing that is special about this recipe is that it is also a favorite of my mother (Toby). She loves making this recipe and bringing it to family events.  She had made them for bar and bat mitzvahs, weddings, birthday celebrations, holiday meals, and just about every other occasion.  I think she likes these cookies because she loves cinnamon and sugar.  When I was growing up, we had "cinnamon toast" just about every morning (toast with butter, sprinkled with a mixture of cinnamon and sugar)!  It was simple and quick to make and helped start our days off with the sweet love of our mom ?
The recipe is very simple with just five ingredients.  I love that the instructions simply say, "mix together ingredients in the order listed."  How much simpler can you get!?!  Once you have all the ingredients mixed together, you'll notice that the dough is pretty dry.  Not surprising since the only liquid is the teaspoon of almond extract.  Don't worry about the dough consistency, it will come together nicely as you begin to roll out and shape your logs.
To form your logs, take a small handful of the dough and mash it together with your hands until the dough is smooth.  Form the dough into a cylinder and place it on a flat surface.  Roll out the cylinder into a long log about ½ inch thick.  You don't have to be precise on this part as the cookies will bake the same if you have a thin or thick log. I would suggest deciding the thickness you want and then being consistent on the size of the rest of the batch.
Once you have the long log rolled out, take a knife and cut the long log into smaller logs about 1 – 1 ½ inch long.  Then shape the end of each small log and place them onto the ungreased cookie sheet and repeat the process.  You can place the logs close together on the cookie sheets as they will not expand much during baking.   They should bake for at least 25 minutes. To determine if they are done, touch one of the cookies.  If they are a bit firm to the touch, they are done.
Once out of the oven, let the cookies cool for a few minutes.  Then roll each cookie in sugar before placing on a cooling rack.  The cooling is really just so that you don't burn your fingers when taking the cookies from the pan to the sugar.  If you can stand it, you can roll the cookies in sugar right away.   Depending on the thickness and length of your logs, you should get about 5 dozen cookies from this recipe.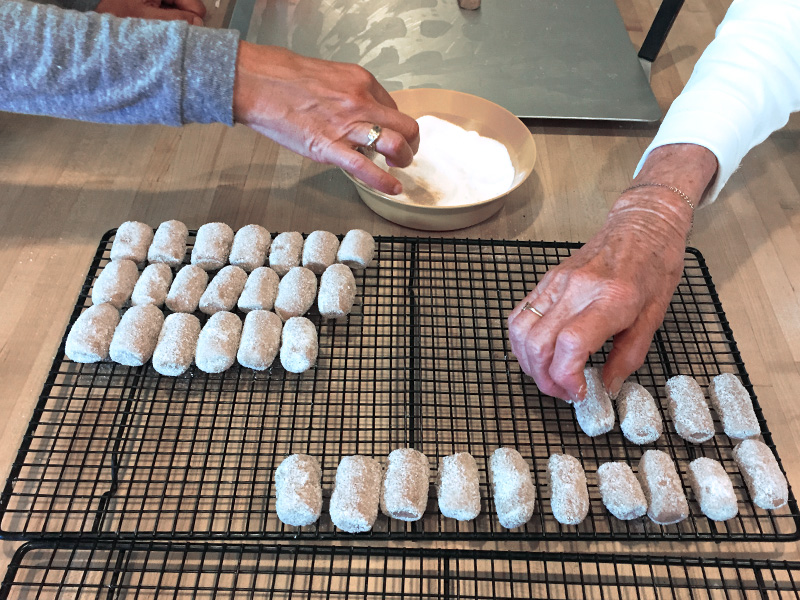 These cookies are outstanding while still warm, so make sure to sample one before they cool down.  They are easy to store and keep in a cookie jar.  They also freeze really well!
Cinnamon logs are a fun cookie to make and will definitely please your family and friends!  They are great with coffee, ice cream, or by themselves.  A great all occasion cookie!
Thank you, Grandma and Mom, for making sure this cookie is part of our baking traditions!
XXOO!
Janet
Print
Cinnamon Logs
Ingredients
1 cup butter
1 tsp almond extract
1 Tbs cinnamon
3 Tbs sugar (plus sugar for rolling)
2 cups flour
Instructions
Mix together ingredients in order listed. Shape dough into rolls (logs) about ½ inch in diameter. Cut in little logs about 1 ½ inch long. Bake on ungreased cookie sheets at 300 degrees for 25 – 30 minutes. Cool slightly. Roll in sugar.
Recipe Yield
makes about 5 dozen 1x
Cookie Category: Molded or Shaped