Another super unique cookie recipe from Cookies by Bess, Walnut Butter Cookies combine a ton of butter with a surprise ingredient, instant coffee…along with all the other normal cookie ingredients. The coffee flavor in Walnut Butter Cookies is subtle. You can definitely taste the flavor, but it's perfectly blended with all the other ingredients to create a wonderful flavor.
I don't ever have instant coffee in my pantry. I happen to have it now because I recently baked up another recipe that called for instant coffee, Coffee Walnut Bars, which I just loved. Past tense, because I ate them all quickly!
It surprises me a bit that I like cookies with coffee because I don't like to drink coffee. My husband is an avid coffee drinker. He uses fresh ground gourmet coffee beans to make individual cups of coffee though out the day. Not sure if using fresh ground coffee would work as well as instant coffee…I'll have to try it out next time!
I'm rating Walnut Butter Cookies 2-stars for cookie baking difficulty. Just a couple added steps, but nothing difficult or time consuming.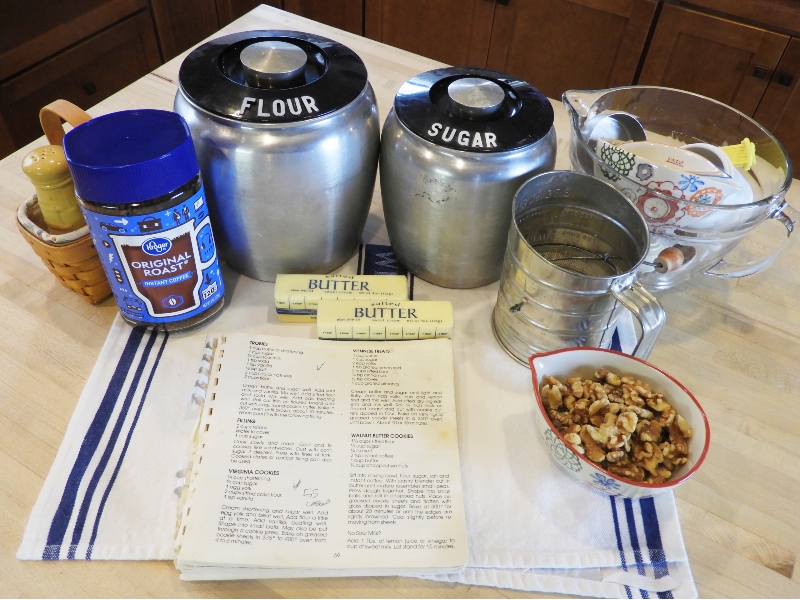 After pulling all the ingredients together, including the instant coffee, I got started.

I started by putting all the measured dry ingredients together into a mixing bowl…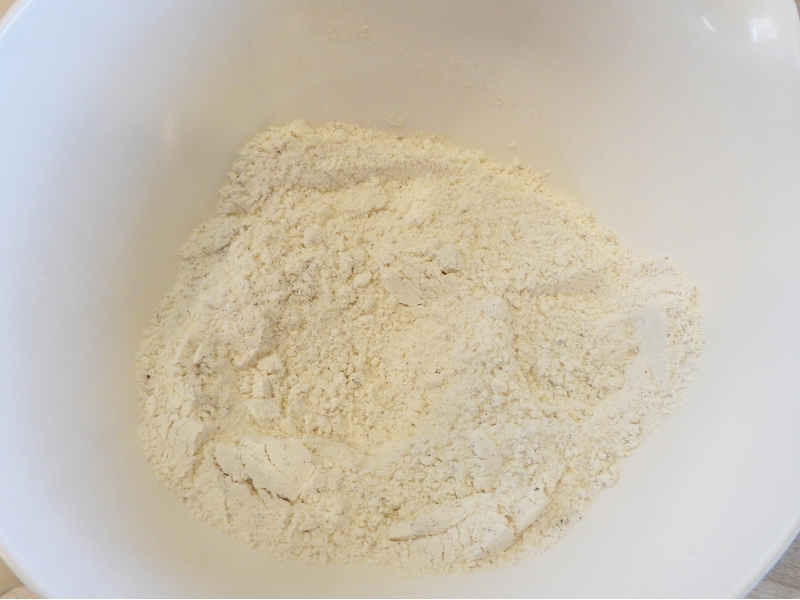 Then, I sifted all the dry ingredients together. You can see how the coffee bits blended nicely together.

The next step was to add the butter to begin the cutting in process.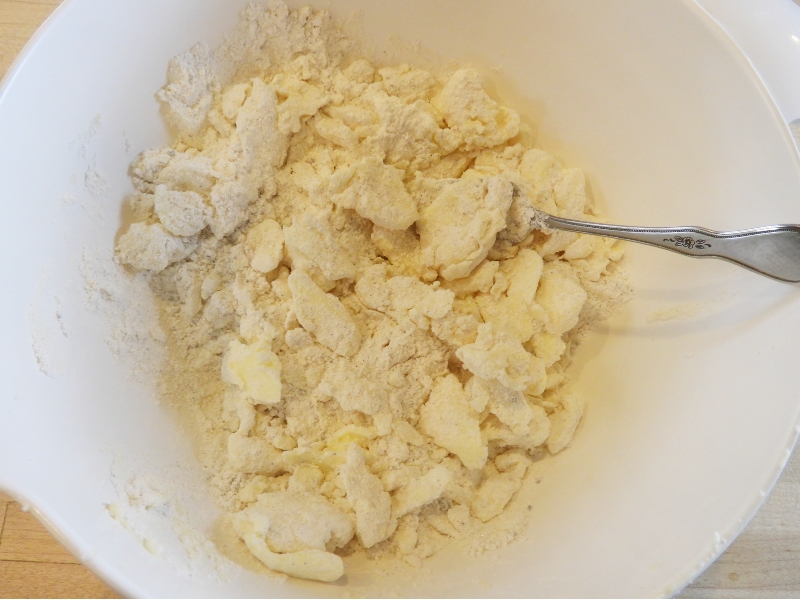 Once again, I am cutting in butter with my fork. I still haven't invested in a pastry blender.
The butter was the perfect softness for the cutting process. Soft enough to blend with the fork and flour mixture, but not too soft to become creamed.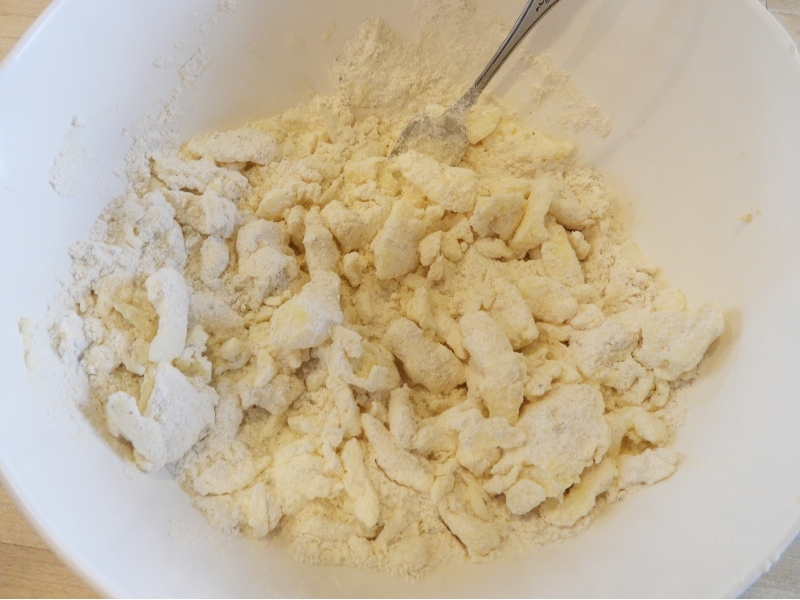 But the process takes a bit of time blend to the appropriate consistency.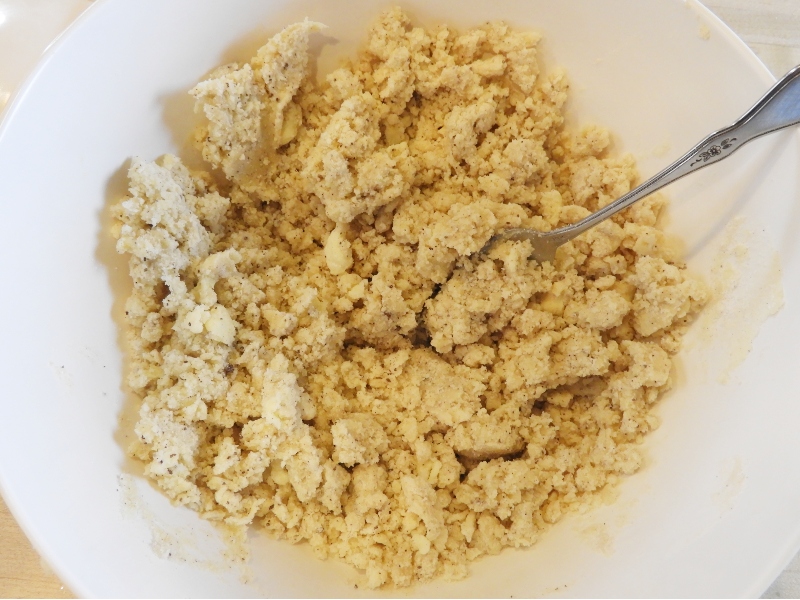 The recipe says to blend until the mixture resembles small peas. I was finally there!

I then continued blending a bit more to press the dough together.

Next, I chopped my nuts and poured sugar into a small blow. I was ready for rolling the cookie balls.

The dough was a good consistency for rolling. I was thinking it might be a bit more difficult to work with the dough due to the full cup of butter, but the rolling went well!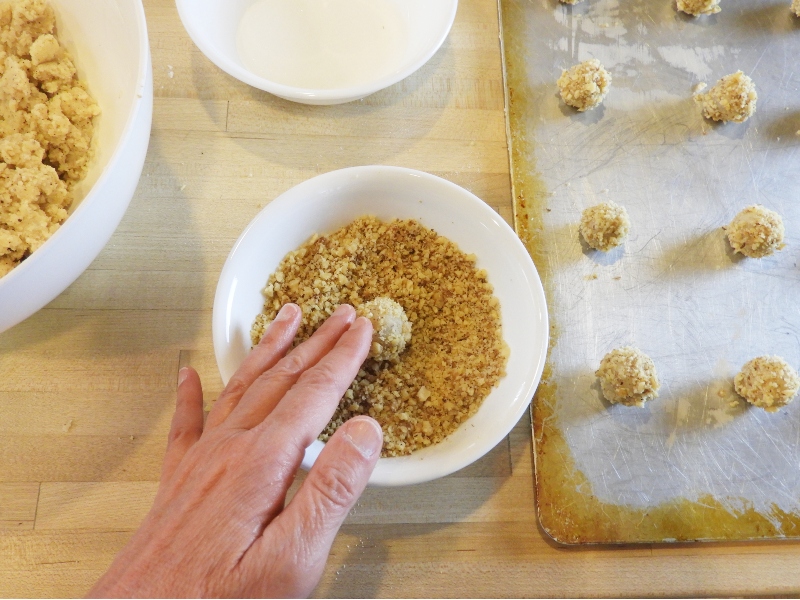 The chopped walnuts attached to the cookie balls easily. Must be the sticky butter!

In no time, my cookie sheet was full of walnut cookie balls, so I was ready to flatten them.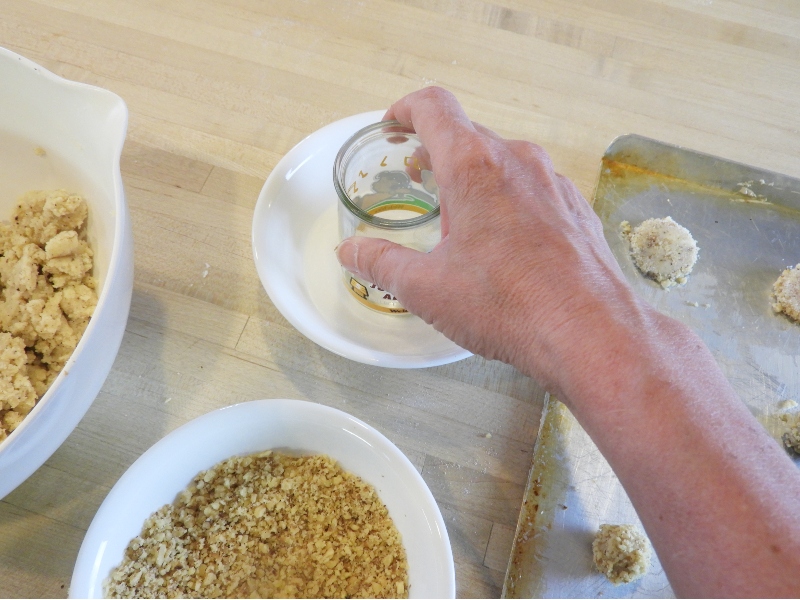 Per the recipe, I grabbed one of my small juice glasses and dipped it into the sugar…

And then flattened each of the cookies.

Finally, I was ready to bake!

I baked the cookies for the full 20 minutes. They didn't change shape while baking, they just baked and browned a bit.

Check out the wonderful texture of the baked cookies!  You can see the bits of instant coffee, the nuts, and the crystals of sugar.

The cookies baked up nicely and look so nice on the cooling rack!
Walnut Butter Cookies are a wonderful butter nut cookie with a surprise ingredient that blends perfectly all the other flavors. The walnuts and coffee are perfect together. Add the bit of sugar to sweeten and butter for richness and you've got one awesome cookie!
I hope you enjoy Walnut Butter Cookies, perfect with a cup of coffee or a glass of milk!
Enjoy!
XXOO,
Janet
Print
Walnut Butter Cookies
Ingredients
1 ½ cups sifted flour
½ cup sugar
¼ tsp salt
2 tsp instant coffee
1 cup butter
¾ cup chopped walnuts
Instructions
Sift into mixing bowl, flour, sugar, salt, and instant coffee. With pastry blender, cut in butter until mixture resembles small peas. Press dough together. Shape into small balls and roll in chopped nuts. Place on greased cookie sheets and flatten with glass dipped in sugar. Bade at 300 degrees for about 20 minutes or until the edges are lightly browned. Cool slightly before removing from sheets.
Recipe Yield
Makes about 5 - 6 dozen cookies 1x
Cookie Category:  Molded or Shaped