Vienna Chocolate Party Cakes
I was so excited to make Cookies by Bess Vienna Chocolate Party Cakes! After all, what could be better than a chocolate cake cookie? Vienna Chocolate Party Cakes are a mini muffin type cookie filled with a dab of apricot jam. A small cake filled with big cookie flavors!
I've gotten in the habit of "Googling" all of Grandma Bess' international cookie recipes when I bake them to learn about their history and traditions.  My search for Vienna chocolate cake introduced me to the famous Austian Sachertorte.  Seems, Chocolate Party Cakes are a fun mini muffin type cookie version of the famous Sachertorte which was created in 1832 by an apprentice baker for a Prince in Vienna, Austria. Vienna is still  famous for it's spongy chocolate cake with a thin layer of apricot jam. You can read the history of the famous Sachertorte here.
I just love that Grandma Bess added so many traditional cookie recipes from around the world to the Cookies by Bess recipe collection! Not only do I get to bake such wonderful cookies, I get to learn about their traditions and history from years and generations of the past!  Thank you Grandma Bess!
I'm rating Vienna Chocolate Party Cakes 3-stars for cookie baking difficulty. Not a hard recipe to make, but there are some added steps that require some additional time and patience.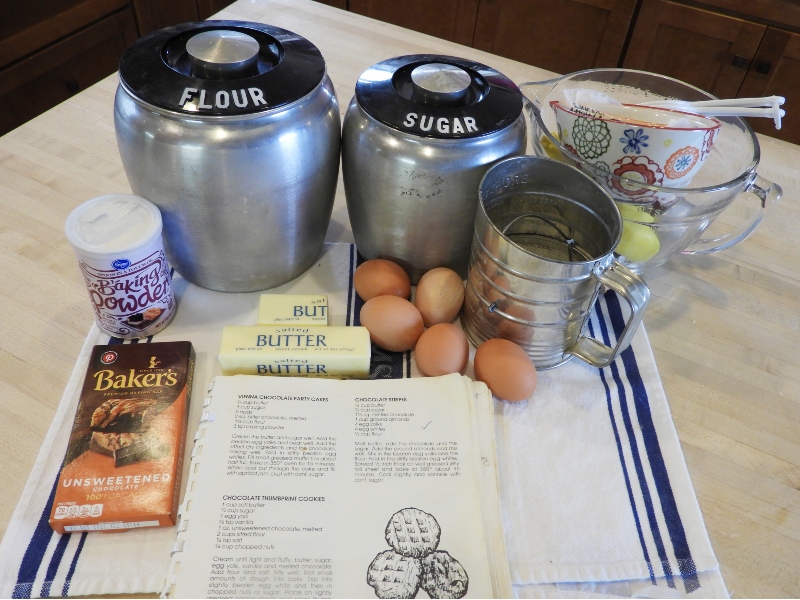 After pulling all my ingredients together, I got started creaming the butter and sugar.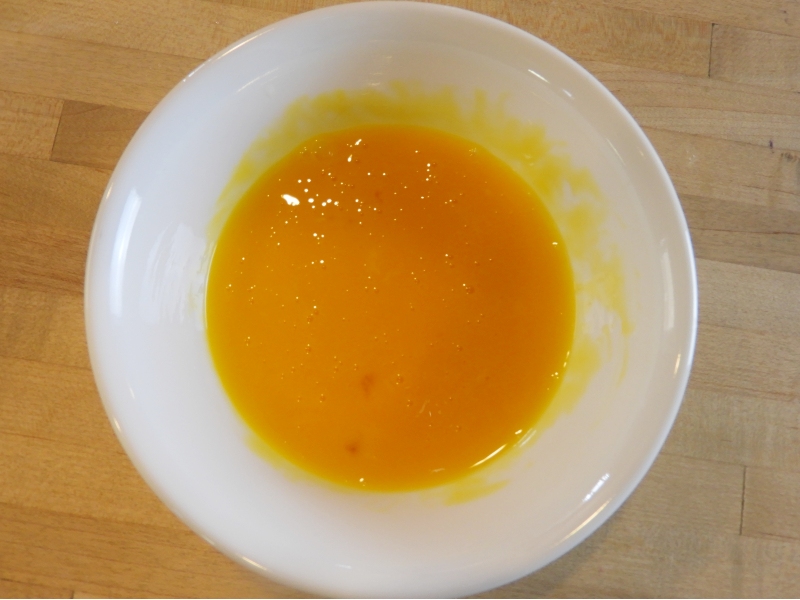 Next, I split the eggs and beat the egg yolks.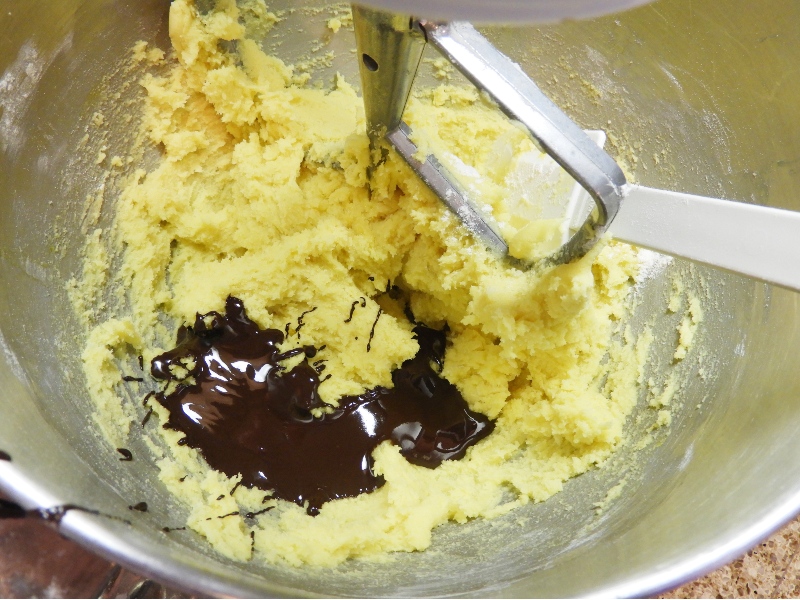 After blending in the egg yolks, I added the melted chocolate.

Then the dry ingredients. After mixing, I had a dense chocolate cookie dough, nice and thick and chocolatey!

Per the recipe, I beat the egg whites until firm.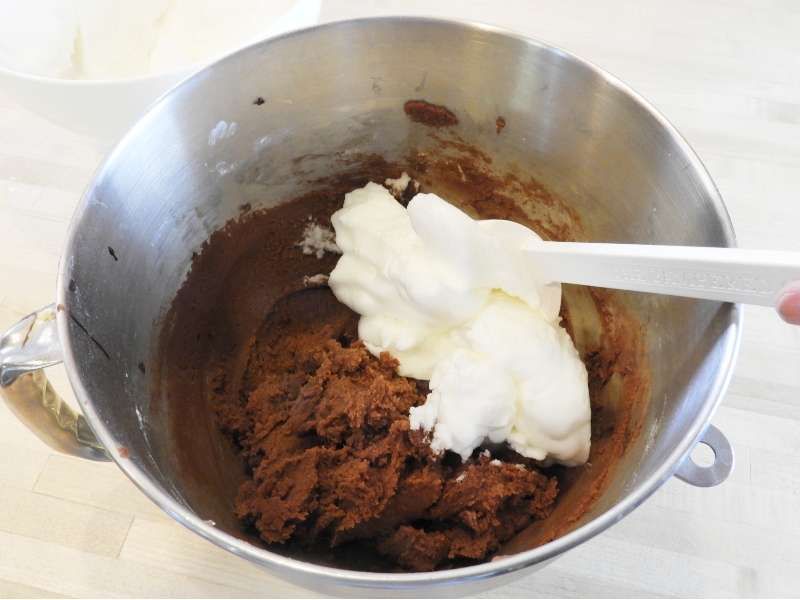 I added the egg whites to the chocolate cookie dough…

…then began folding them into the dough.

I honestly didn't know what to expect once the egg whites were completely blended with the chocolate cookie dough. Much to my surprise and delight, I had a light, smooth, and creamy chocolate batter. More like a cake than a cookie dough.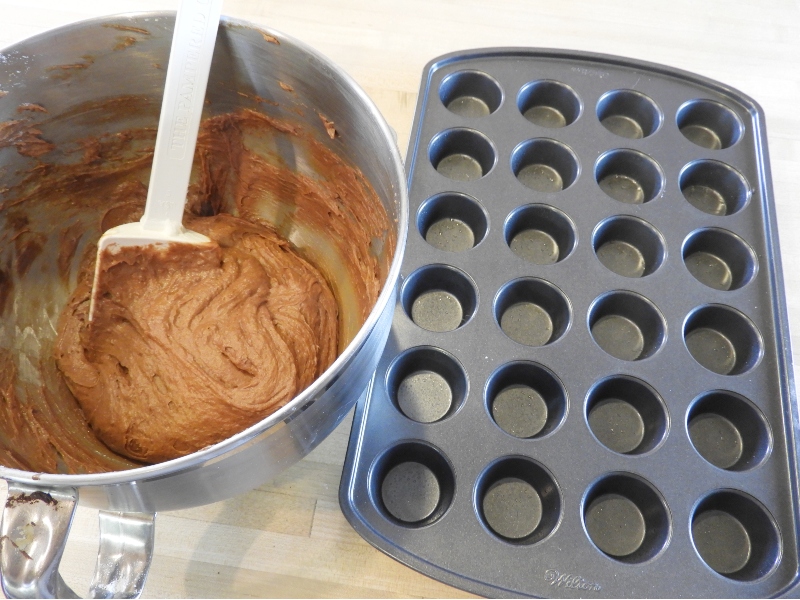 Next, I lightly greased my mini muffin tins and got ready to fill the cups half full with the batter.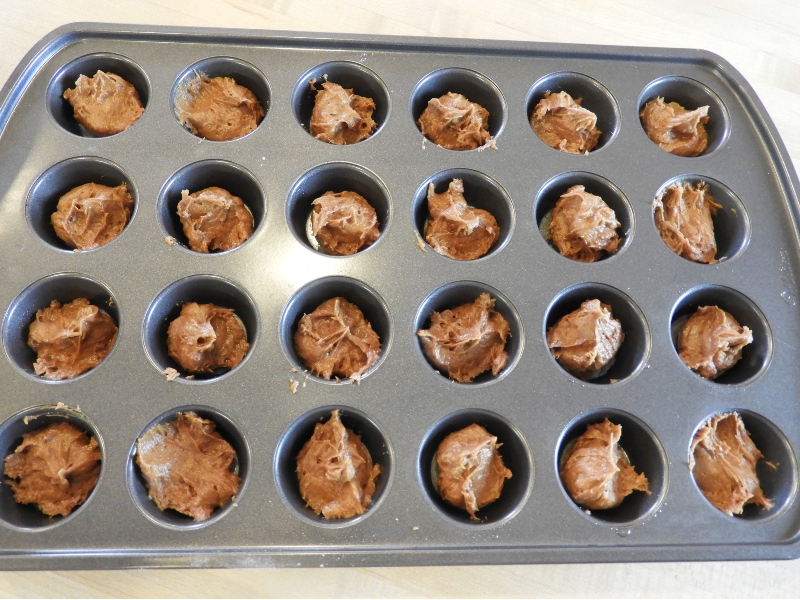 After filling the muffin cups, I was ready to bake!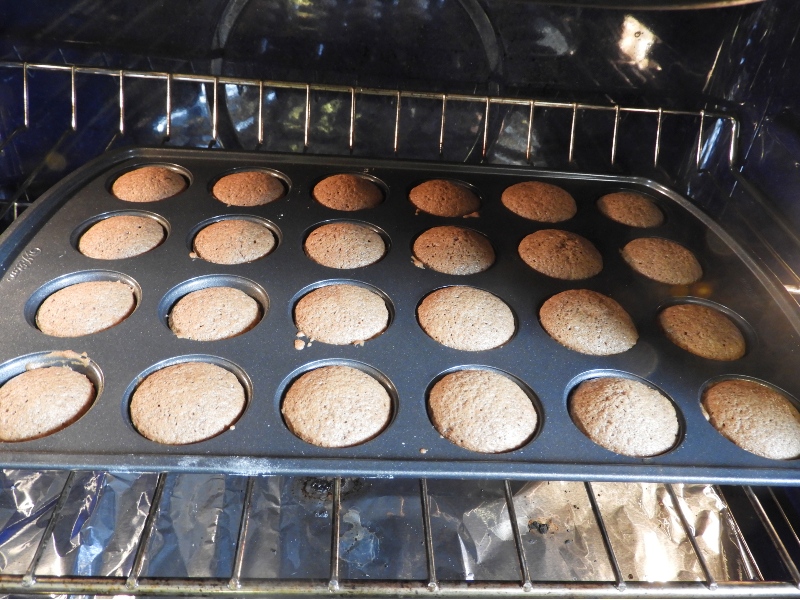 The mini muffins baked up perfectly in the oven.

The muffins maintained their shape after they cooled in the baking pan.

I had to read the instructions a few times to understand how to add the apricot jam. The recipe says to "cut through the cake and fill with apricot jam". This direction didn't quite resonate with me, so I decided to cut small holes in the top of the cakes.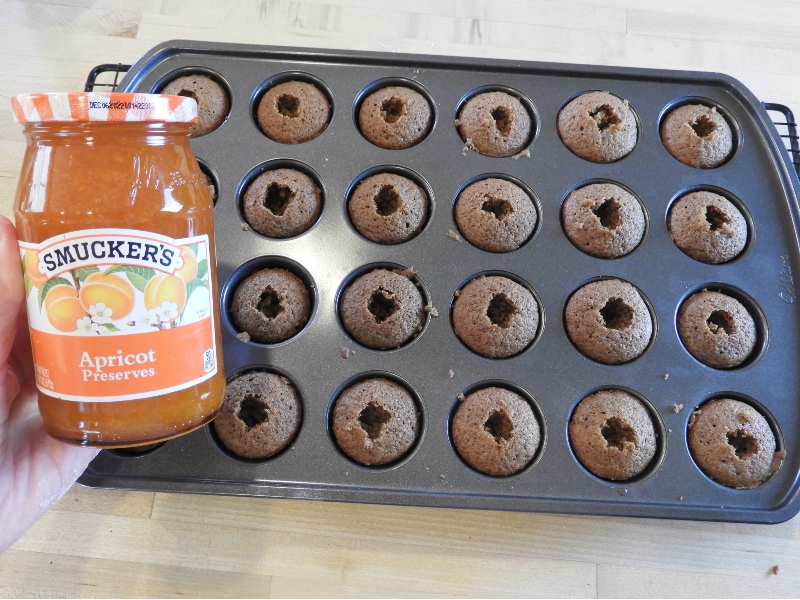 I pulled out my Smucker's Apricot Preserves from my pantry.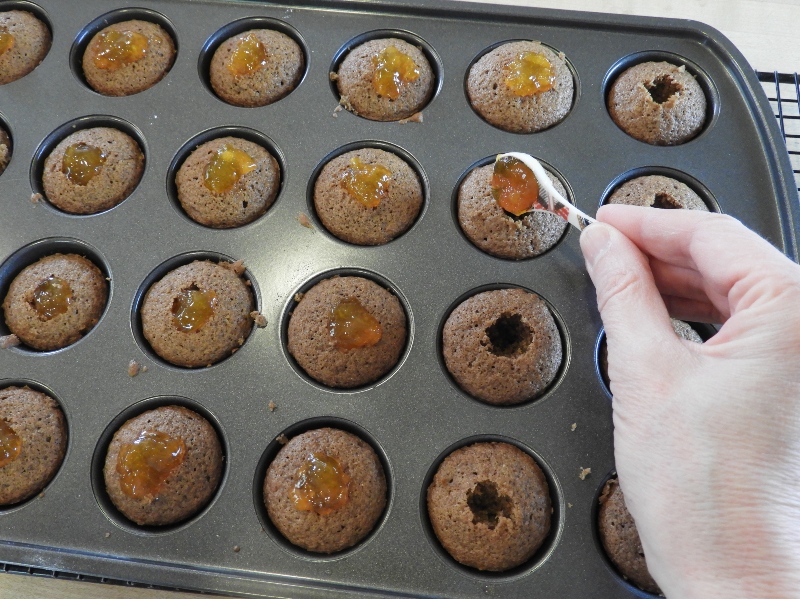 I used about a quarter teaspoon to full the hole with the apricot jam.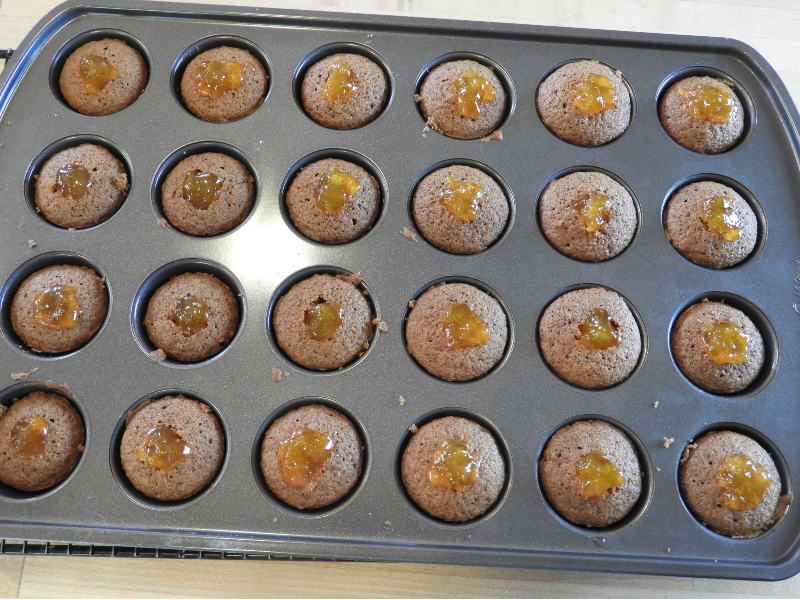 When I was done, I had something like a apricot jam filled mini cupcake!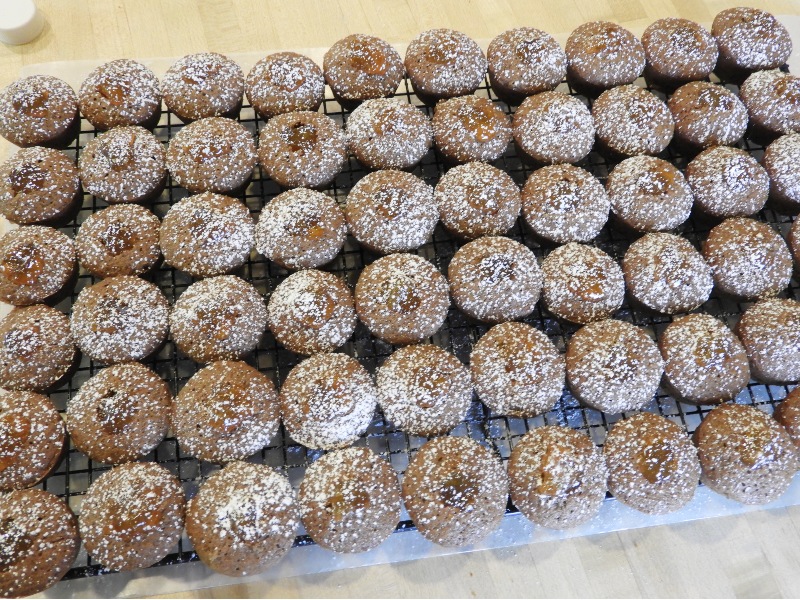 Next, I moved the mini cakes to my cooling rack and sprinkled the top with confectioner's sugar.

The sugar adds the perfect touch and gave my Vienna Chocolate Party Cakes the perfect personality for entertaining!

Vienna Chocolate Party Cakes are a fun variation of the traditional Sachertort! A light and airy chocolate cake with apricot jam added, in this case, as a filling. No wonder the Sachertort is famous and still served all over Vienna…who can resist the combination!
I really hope you try Vienna Chocolate Party Cakes from Cookies by Bess!  Why not add a little Austrian tradition to your next party!
Enjoy!
XXOO!
Janet
Print
Vienna Chocolate Party Cakes
Ingredients
¾ cup butter
1 cup sugar
5 eggs
2 sq bitter chocolate, melted
1 ½ cups flour
3 tsp baking powder
Apricot Jam
Instructions
Cream the butter and sugar well. Add the beaten egg yolks and beat well. Add the sifted dry ingredients and the chocolate, mixing well. Fold in stiffly beaten egg whites. Fill small, greased muffin tins about half full. Bake in 350 degree oven for 15 minutes. When cool but through the cake and fill with apricot jam. Dust with confectioner's sugar.
Recipe Yield
Makes about 5 dozen cakes 1x
Cookie Category:  Molded or Shaped, Drop