Tiny Toffee Bars are very similar to English Toffee Bars No. 1, both by Cookies by Bess of course. English Toffee Bars No. 1 are an all time favorite of every singles family member and friend. I haven't posted the recipe for English Toffee Bars No. 1 yet; my plan is to post the 4 or 5 all time favorite Cookies By Bess recipes last…believe me they are worth waiting for!
Tiny Toffee Bars will give you a really good taste of what's to come.  Like English Toffee Bars No. 1, Tiny Toffee Bars have a wonderful cookie crust and are topped with melted chocolate and nuts. Very similar, but also different in subtle ways.
Regardless of the subtle differences, Tiny Toffee Bars are wonderful!  My three favorite ingredients in cookies, brown sugar, butter, and vanilla, make the cookie sooooooo gooooood! The sweet German chocolate and chopped nuts (I used walnuts this time) are simply awesome!
I am rating Tiny Toffee Bars 2-stars for cookie recipe difficulty because of the extra steps in spreading the cookie dough in the pan and melting the chocolate. Being a bar type cookie, this recipe is easy and relatively easy to make.
Believe it or not, I actually had ½ pound of German sweet chocolate in my pantry! I knew I was destine to make Tiny Toffee Bars when I saw this! I did have to make a trip to the grocery store for the dark brown sugar, but I've got it now, ready for the next recipe!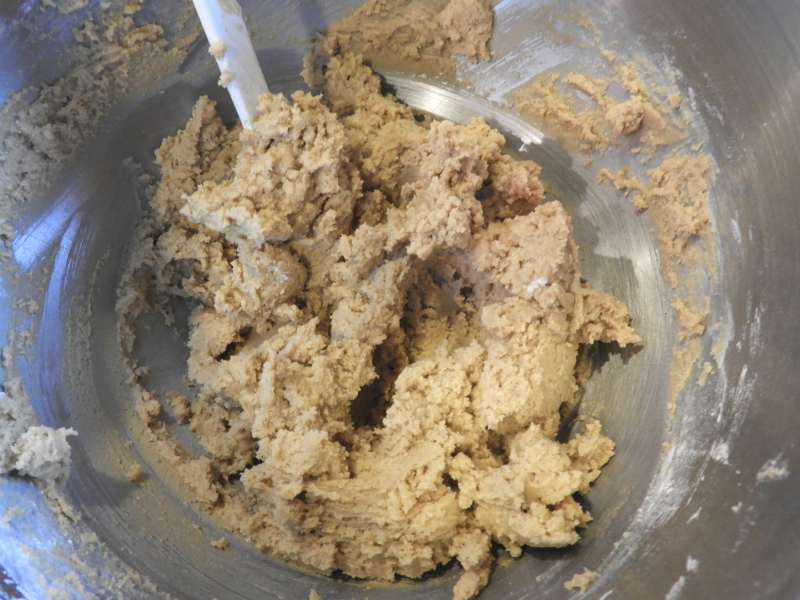 Mixing together the dark brown sugar, butter and then well beaten egg and vanilla was easy. I will say that I did not sift the dark brown sugar. Last time a recipe called for doing this, I looked it up on Google to find the purpose. I couldn't find much other than it's recommended to eliminate hard chunks of sugar. Sifting brown sugar takes for ever, at least with my sifter, and in my opinion, doesn't provide a significantly different result. So, I vowed to skip this step in the future…which I did 😊
Once the dough was all mixed together, I spread it in the 10×15 inch baking pan. It was easiest to use the palm of my hand to spread the dough. I ended up with a good ½ inch cookie layer…I was ready to stick it in the oven.
BTW, there was enough dough to save a bit for tasting…this cookie dough is absolutely the BEST!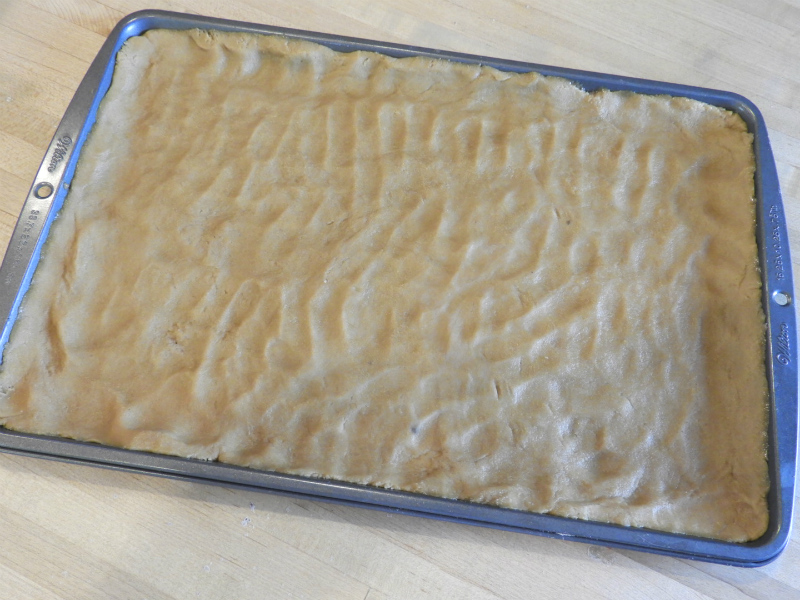 I was ready to bake!
While the cookie crust was baking, I melted the German sweet chocolate. This only takes a few minutes.
Once melted, the chocolate turns into a rich and creamy chocolate sauce.
The cookie dough baked for 20 minutes.  Make sure it is fully baked because you won't be baking again.
The recipe says to spread the melted chocolate on the cookie crust while warm. I waiting about 10 minutes before pouring the chocolate onto the cookie.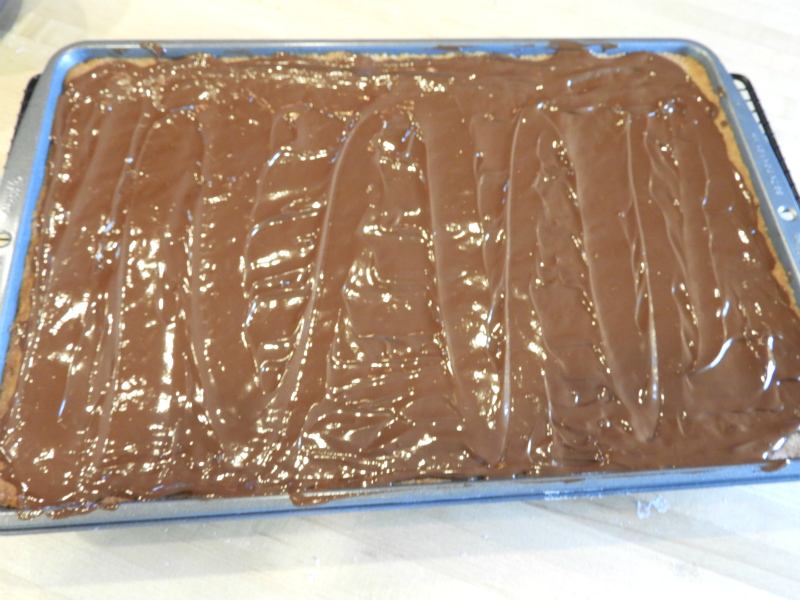 I used a small spatula to spread the chocolate nice and evenly over the cookie crust.
Then I sprinkled the nuts on top. Once again, the recipe doesn't call for a specific nut type to use. This time I decided on walnuts. Pecans would also work really well!
I cut the cookies in to squares about 1 inch x 1 inch before they cooled completely. This allowed the chocolate to set a bit and take advantage of the soft cookie to make it easier to cut. I now had my Tiny Toffee Bars!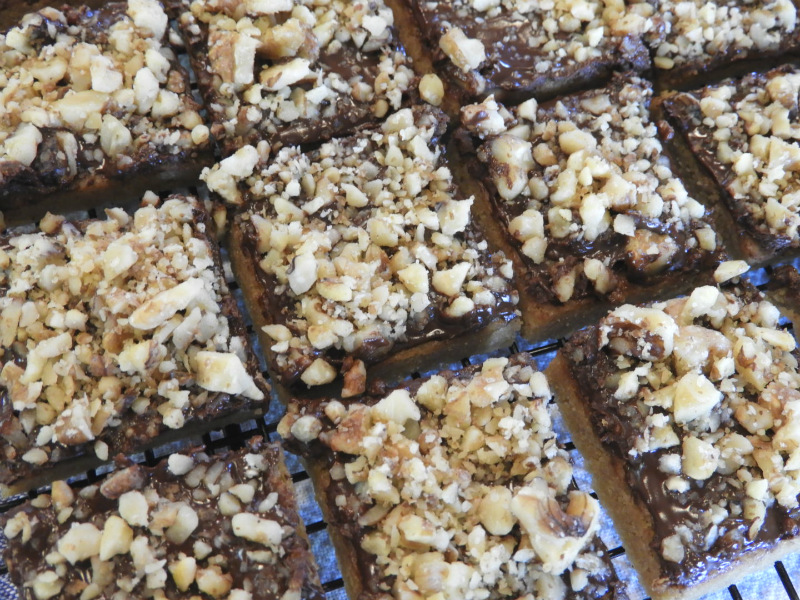 Just look at how wonderful these cookies turned out! Can't you just taste the brown sugar cookie with the sweet melted chocolate and nuts? Oh boy…these cookies are awesome!
And they look awesome on my Great Aunt Etta's hand painted China
Tiny Toffee Squares are very similar to their cousin English Toffee Bars No. 1…both are amazingly good!
I hope you try them…I promise they will become a favorite you bake over and over again!
XXOO,
Janet
Print
Tiny Toffee Bars
Ingredients
2 cups flour

½ tsp salt

1 cup butter

1 tsp vanilla

1 cup dark brown sugar sifted and packed

1 egg
Instructions
Cream butter and sugar until light and fluffy. Add well beaten egg and vanilla and mix well. Add sifted ingredients gradually and mix well. Spread batter in a shallow pan about 10×15 inches. Bake at 350 degree for 20 minutes. Spread with following while warm:
½ pound German sweet chocolate, melted. Sprinkle with nuts.
Recipe Yield
Makes about 5 - 6 dozen