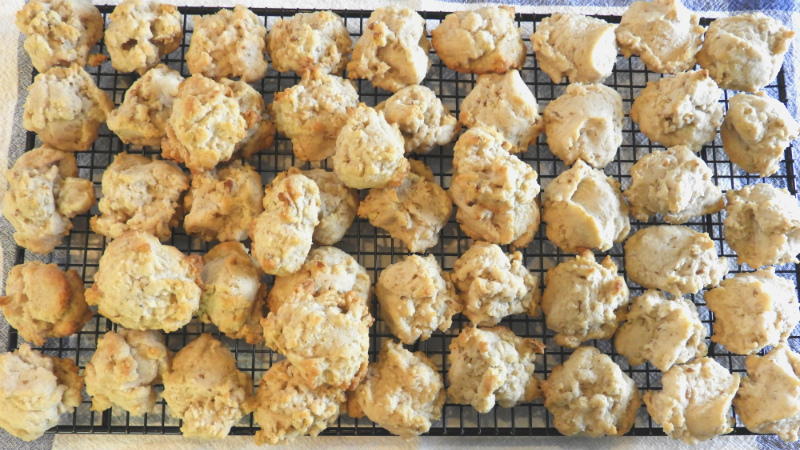 Before Cookies by Bess's Sherry Nut Drop Cookies, I hadn't tasted sherry wine before.  So, I didn't have any in my liquor cabinet and I had to pick some up at the liquor store. There was quite a selection! And I learned there is quite a bit to learn about the different types of sherry. In the end, I was told that cream sherry is generally sweet sherry and the best for baking/cooking. So, that's what I went home with.
Sherry Nut Drop Cookies are a basic drop cookie but are not really basic at all. Sherry Nut Drop Cookies are amazing! The sherry adds such a wonderful and unique flavor…I was really amazed at how great these cookies taste and how easy they are to make. You did it again Grandma Bess! Thank you so much for introducing me to sherry wine and Sherry Nut drop Cookies!
I'm rating Sherry Nut Drop Cookies 1-star for cookie baking difficulty. Simply said, this is a wonderful cookie that is easy to make…one you can keep on hand in your cookie jar that will satisfy all your family and guests!
I gathered all the ingredients together, I had everything in my baking pantry, except the sherry.
Can you imagine 1 ½ cups of butter? That's a lot of butter! With this much butter, I was expecting a lot of cookies…
I sifted the confectioner's sugar and blended it with the butter until fluffy.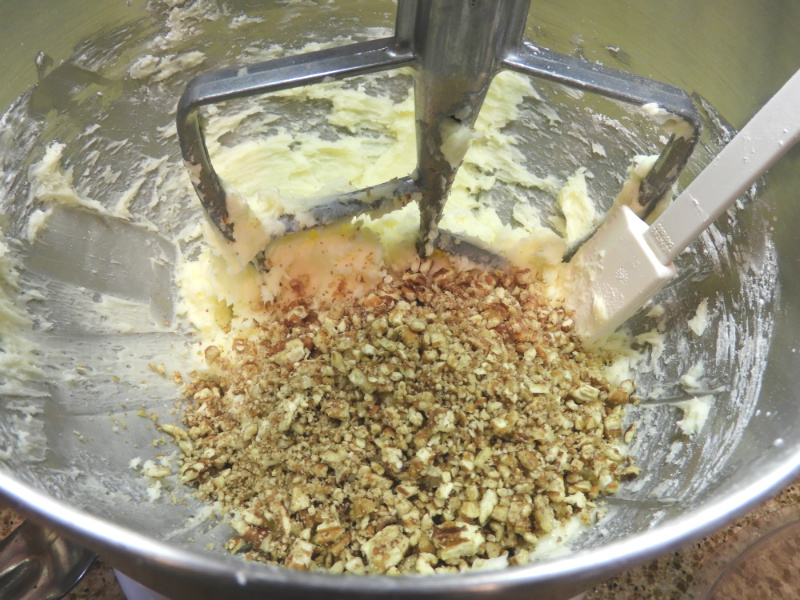 Next, per the recipe, I added the chopped pecans.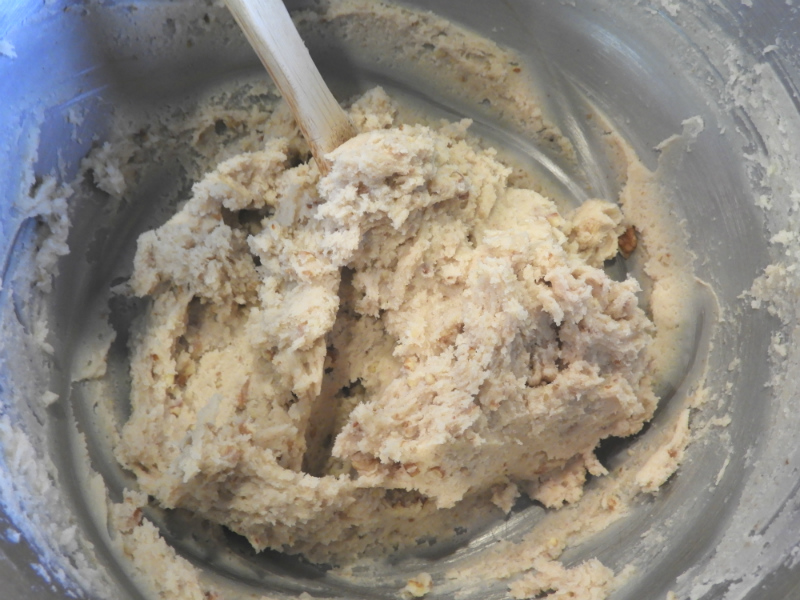 Then I mixed in the sifted flour alternately with the sherry until the dough was fully blended.
The recipe calls for 3 ½ cups sifted flour! That with the 1 ½ cups butter, again I thought I was there was going to be a ton of cookies.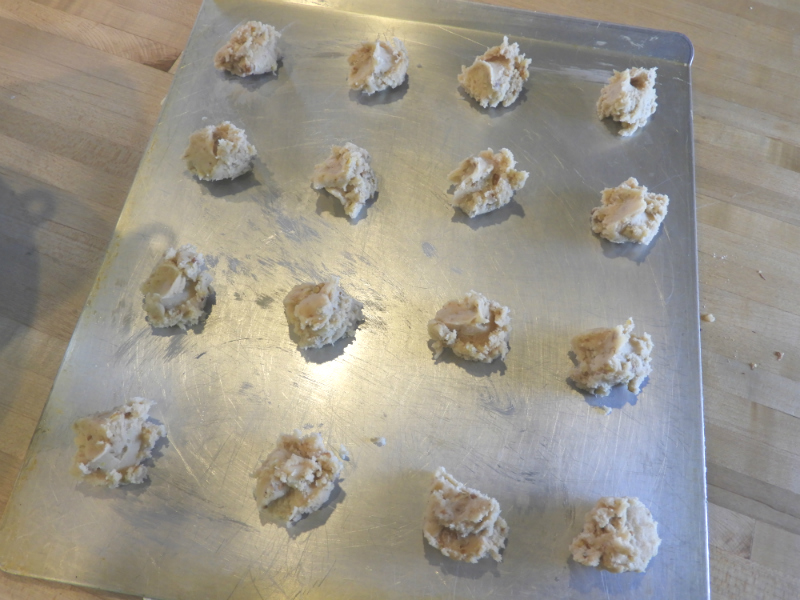 The dough was a bit dense, which made it was super easy to drop from teaspoons onto the lightly greased cookie sheets.  The denseness of the dough definitely made a different in the number of cookies.  I actually didn't get as many as I thought I would.
As quick as I put the cookies in the oven to bake, they were done and easy to remove from the cookie sheets.
I baked the cookies 18 minutes. Just enough for a light brown color on the edges.
After baking, I ended up with 4-5 dozen cookies.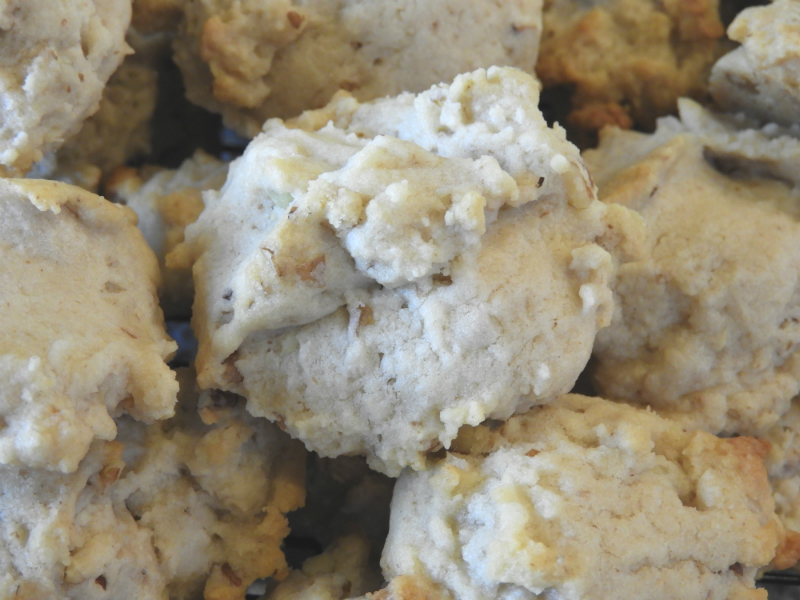 Just look at that texture!
I love these cookies! The pecans and sherry give Sherry Nut Drop Cookies an amazing flavor!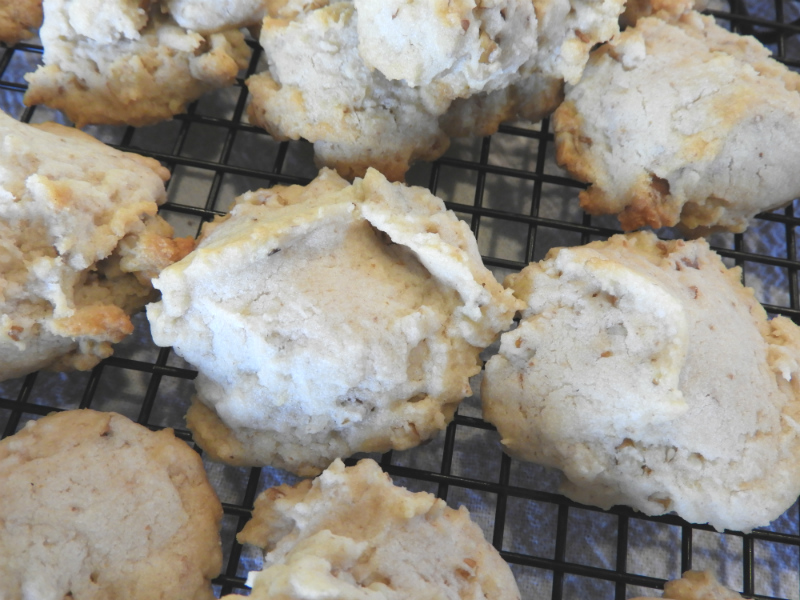 Sherry Nut Drop Cookies are a perfect cookie for any and all occasions…easy to make, easy to eat, easy to share! I hope you make them and I hope you enjoy them!
XXOO,
Janet
Print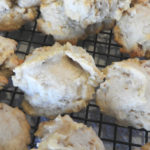 Sherry Nut Drop Cookies
Ingredients
1 ½ cups butter

1 ¾ cups sifted confectioner's sugar

1 cup chopped pecans

3 ½ cups flour, sifted

¼ tsp salt

½ cup sweet sherry wine
Instructions
Cream butter and sugar until light and fluffy. Add chopped nuts and mix well. Add sifted dry ingredients with wine and mix well. Drop by spoonful's on lightly greased cookie sheets and bake at 350 degrees for about 18 – 20 mins.
Recipe Yield
Makes about 4 - 5 cookies