I decided to make Scotch Oatmeal Cookies because I had a new container of quick oats in my pantry. It was an added surprise when I realized this recipe was so easy to make! Drop cookies tend to be easier and quicker to make than other types of cookies. This is always helpful when I am short on time.
Scotch Oatmeal Cookies are a wonderful oatmeal cookie that is a little lighter in texture and appearance then a regular oatmeal cookie. The two types of sugars give a nice sweet flavor to the combination of butter, flour, and quick oats. I think this is the first oatmeal cookie I've make that doesn't call for raisins, nuts or both. I will admit I thought about adding some coconut to the recipe…for some reason, that just seemed like a nice variation. I'll try that next time!
I'm rating Scotch Oatmeal Cookies 1-star for cookie difficultly. This is the cookie you'll want to make when you are short on time and you want to fill your cookie jar with a great snack for the kids, big and small!
I gathered my ingredients together. The recipe calls for 1 cup butter or ½ cup shortening. As per my norm, I used the cup of butter.
The dough was easy to mix together. The only extra step was mixing the baking soda with warm water. No biggie at all!  The taste…AWESOME! 🙂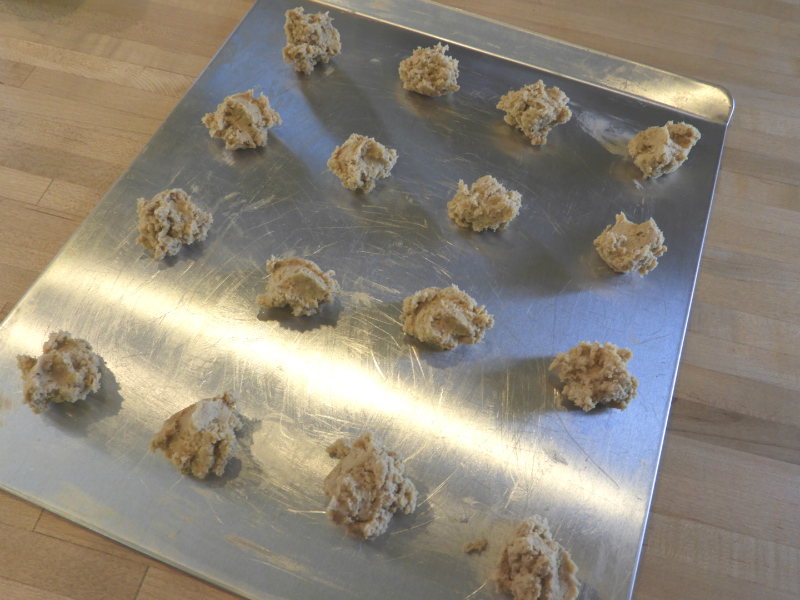 The dough was a great consistency once all the ingredients were mixed together. I was wondering if I'd need to add a bit more flour or oats, but my test batch baked up just fine. No extra anything needed!
The cookies spread out and puffed up a bit in the oven. I baked them for the full 15 minutes at 350 degrees per the recipe.
Scotch Oatmeal Cookies baked up like you would expect from an oatmeal cookie. The baked cookies were easy to remove from the greased cookie sheets. and cooled nicely on the cooling racks.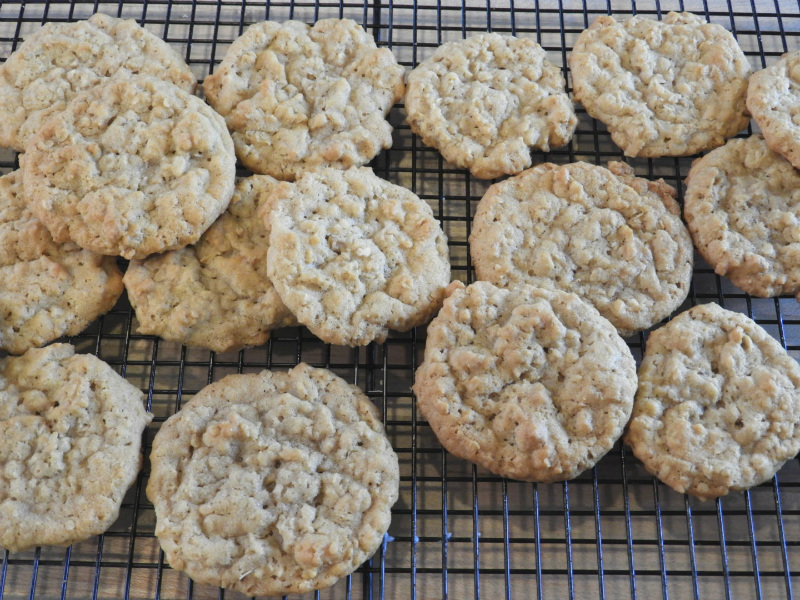 The cookies flattened out a bit once they cooled down.  They also stayed a bit soft, just how I like them!
I just love the texture of oatmeal cookies! The Scotch Oatmeal Cookies golden color with the oatmeal texture almost make my mouth water wanting to try them!
This isn't a huge recipe, so I ended up with about 5 dozen cookies when I was done baking. Just enough to stack them on the cooling rack and fill my cookie jar!
Scotch Oatmeal Cookies are a light textured oaty cookie…perfect for an after school (or work) snack. The recipe doesn't call for it, but I am sure these cookies will taste great if you add raisins, nuts or even coconut! 😊
I hope you enjoy them as much as I do (did)!!
XXOO,
Janet
Print
Scotch Oatmeal Cookies
Ingredients
1 cup cutter or ½ cup shortening

1 cup light brown sugar, packed

½ cup white sugar

1 tsp vanilla

1/3 cup warm water mixed with 1 tsp soda

2 cups sifted flour

2 cups quick oatmeal, raw
Instructions
Cream butter with sugars until light and fluffy. Add vanilla and soda with warm water and mix well. Add flour and oatmeal a little at a time and mix well. Drop from teaspoon on greased cookie sheets and bake at 350 degrees for about 15 minutes.