I love that this recipe is called Mom's Butter Cookies!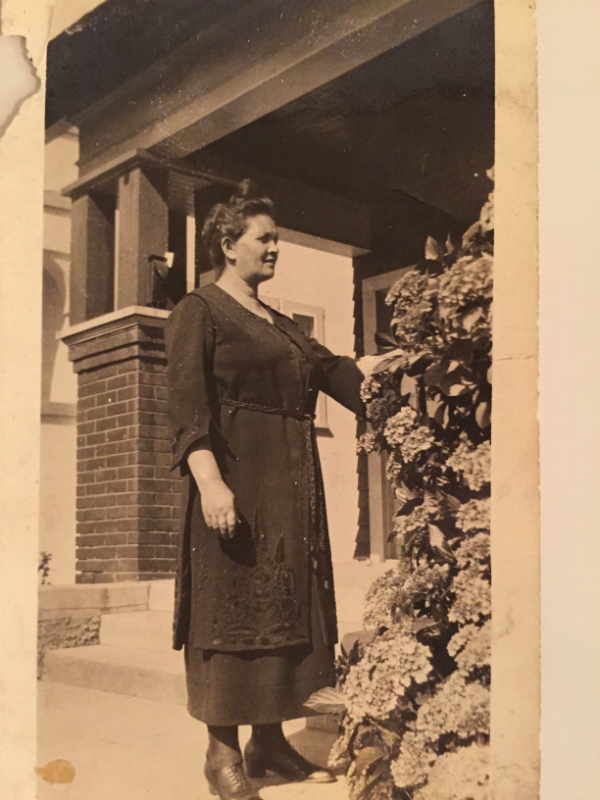 It makes me think this may be one of my Great Grandmother, Anna Lazar's recipes!
I don't remember meeting my Great Grandmother, Anna Lazar…but, I do remember meeting all my great aunts and uncle (Lillian, Lee, Fanny, Bess [my Grandmother], Molly, Harriet and uncle Sam)! Each had a great spark and great style. I can only imagine what it was like growing up in that home! Great Grandma Lazar must have been a wonderful mom and woman!
There are a few other recipes in Cookies by Bess that start with "Mom's" (Mom's Old Fashioned Sugar Cookies, Mom's Poppy Seed Cookies). Each recipe has an old fashion look and feel to them. I just love the idea of making cookies my Grandma Bess grew up with and enjoyed baking enough to put in her very own cookie book!
Mom's Butter Cookies is a really nice recipe. Not exactly a traditional butter cookie because of the jam, but they do have a traditional butter flavor! I think the jam gives them a bit of personality! ?
The recipe is true as written. I didn't make any adjustments or additions. I am rating this recipe as 2-stars, only because of the multiple steps in rolling the dough balls, making the indentation and adding the jam. Otherwise, this is an easy cookie to make!
It is a bit time consuming, but only because of the large amount of dough the recipe makes. Making small, ½ inch round dough balls made it seem like the dough would last forever! And that's where the 9 dozen cookies come from!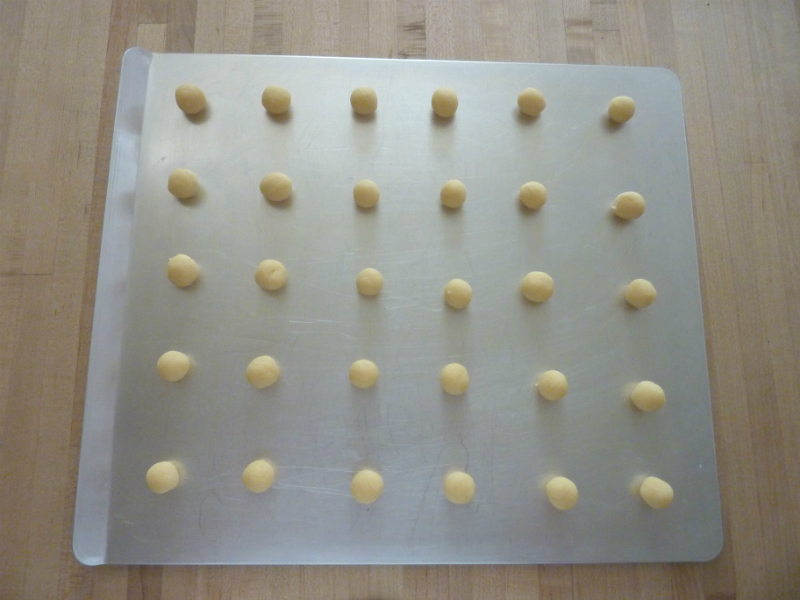 The dough was a good consistency for forming the balls. I kept them small (1/2 inch) because they spread out a bit while baking. I did try to make larger cookies but found that it was more difficult to keep the jam in the center of the cookie while baking. The smaller cookie came out much more consistent with the jam in the center.
I used the top of a pen to make the indentation in the center of the dough ball.
I made the depressions as deep as I could so the jam could sink into the little hole. Allowing space for this made sure the jam didn't over flow down the sides of the dough ball.
You can see that I actually over filled the depression. I thought this might cause the jam to spread out too much, but it didn't. It spread appropriately with the cookies, again give me a nice round, jam centered cookie!
I set the oven to 400 degrees as the recipe says, but baked the cookies for only 9 minutes. Baking for the full 10 minutes was just long enough to start browning the edges.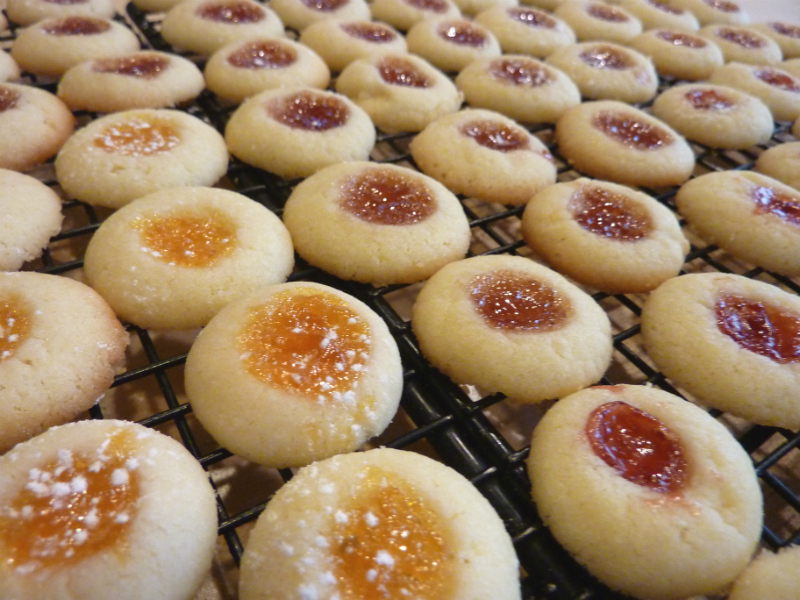 The recipe calls for peach or apricot jam. I used the apricot jam for the first few batches, but then decided to see what else I had in the refrigerator. I had strawberry and grape jam just waiting to be used. They both worked great! Having the different colored jam makes for some nice variety and a nice display.
At some point during the baking process, I decided to try a variation on the dough balls. I figured I was going to have enough balls, so I tried a pocket cookie! Instead of rolling the dough into a small ball with the jam on top, I rolled out the dough and used a small cookie cutter to cut out a star shape. I put a small about of jam in the center and squeezed the sides together like a little cookie dumpling.
The baked cookie didn't turn out so great, but it was fun to try something different. And oh, by the way, the cookies still tasted great!
If you don't have time to bake all the cookies at once you can easily chill the dough in the refrigerator and bake a batch at a time, or you can split the dough into sections and freeze, pulling out one section at a time for baking.
Mom's Butter Cookies is a great versatile cookie recipe. The butter flavor along with the added subtle sweetness of the jam really make Mom's Butter Cookies a great recipe! And they look so beautiful on this china dish hand painted by my Great Aunt Etta!
XXOO,
Janet
Print
Mom's Butter Cookies
Ingredients
1 ½ cups butter
1 cup sugar
3 egg yolks
1 tsp vanilla
3 cups sifted flour
½ tsp salt
Thick peach or apricot jam
Instructions
Cream butter and sugar until light and fluffy. Add yolks one at a time beating after each addition. Add vanilla. Add sifted dry ingredients and blend well. Form into small balls and place on ungreased cookie sheets. Make depression in center of dough ball and place a little jam in the center. Bake at 400 degrees about 10 minutes. Dust with powdered sugar while still warm.
Recipe Yield
Makes about 9 dozen 1-inch cookies 1x
Cookie Category:  Molded or Shaped