Mom's Old Fashioned Sugar Cookies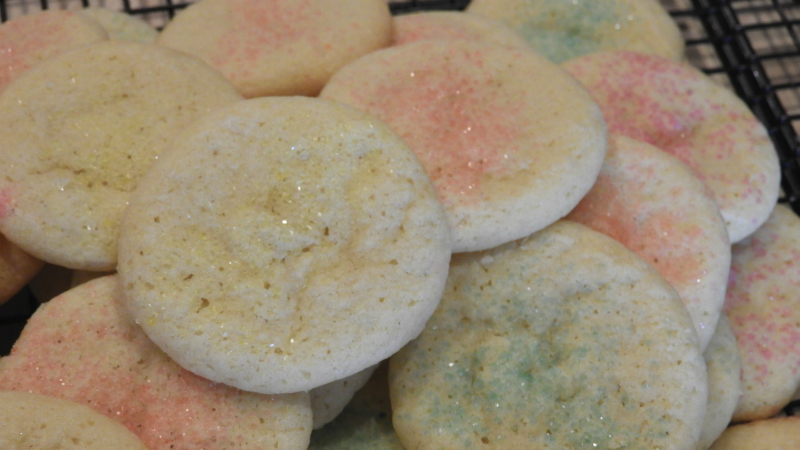 July 9th is National Sugar Cookie Day! So of course, I had to make sugar cookies to celebrate. Cookies by Bess has a lot of sugar type cookies recipes, but only one actual sugar cookie recipe…Mom's Old Fashioned Sugar Cookies. There are a few "Mom's" recipes in Cookies by Bess…I assume these recipes are from Bess' mom, my great-grandma Anna Lazar.  Two that I've baked so far are Mom's Poppy Seed Cookies and Mom's Butter Cookies.  Both recipes seem like a blast from the past old fashioned cookies!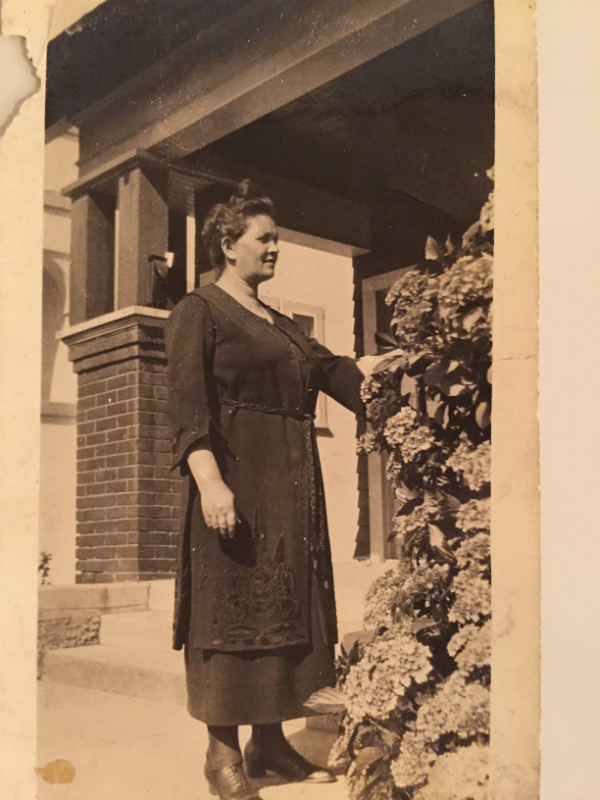 This picture of Anna was taken in the 1920's, probably at the time she was making cookies for all of her 8 children!
Sugar cookies have always been a favorite of mine, but I don't remember ever actually making sugar cookies. It makes it even more fun for me to make something new when I'm baking all these cookies! I love trying new recipes and seeing how they turn out and taste after all my hard work ?
I'm rating Mom's Old Fashioned Sugar Cookies recipe 3-stars for cookie baking difficulty. I rate it this way because it's a rolled cookie type, or a "cut-out" cookie. These types of recipes always required additional steps and time. In this case, with this recipe, the dough was also a bit difficult to work with. The instructions say to roll out small amounts of dough at a time and keep the rest in the refrigerator. This was really important as the dough softened up very quickly and started sticking almost right away!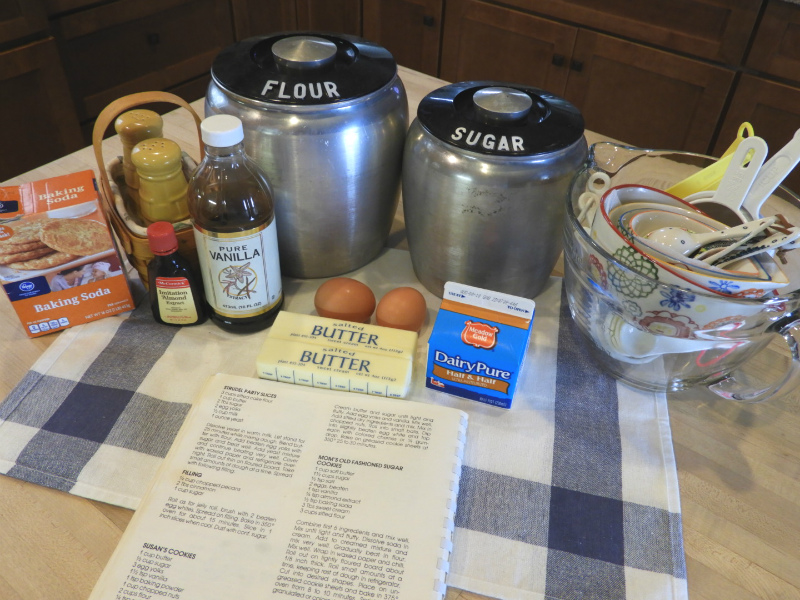 So, let's get started! I pulled all my ingredients together and started mixing.
I combined the first 6 ingredients together as the recipe said. The butter was nice and soft, so everything mixed together nicely and produced a smooth start to the cookie batter.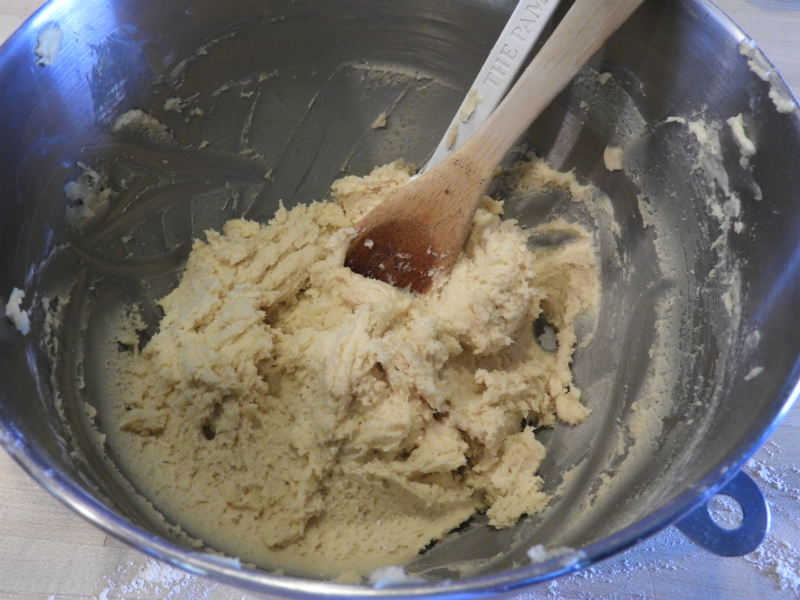 After adding the 3 cups of sifted flour, the dough really took shape. Of course, I had to try this cookie dough. What a great flavor! The little bit of almond extract gives this recipe the sugar cookie flavor I remember as a kid. I didn't realize it was almond extract…now I know the secret!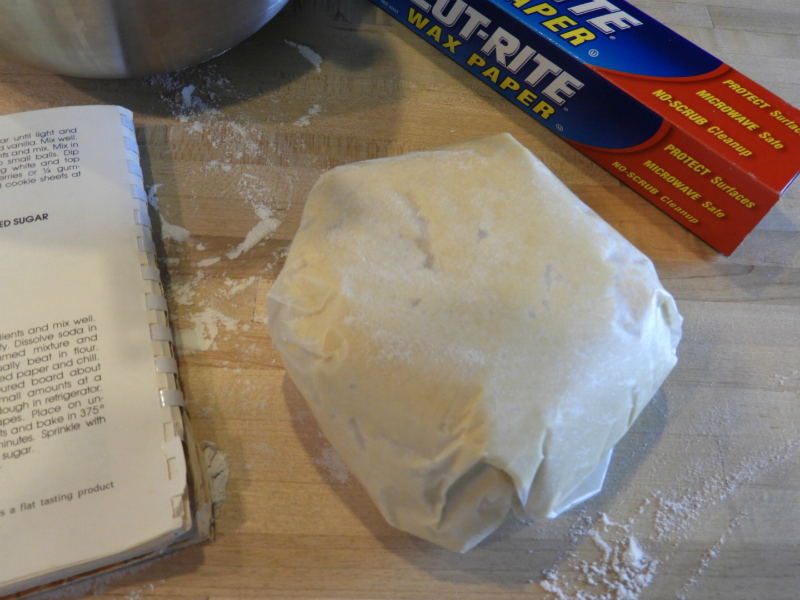 For most rolled cookie recipes, I've added a bit more flour to help the dough firm up a little. I didn't do that with this recipe, really because I forgot!  I just wrapped the dough in wax paper and put it right in the refrigerator to firm up before rolling it out.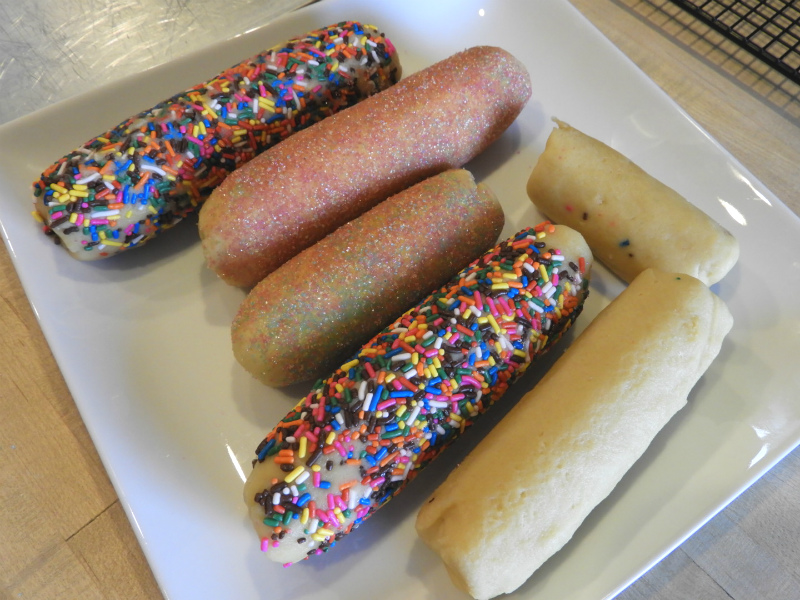 Okay, so I have to admit something. It's not like a confession, but I do have to admit that rolled cookies are not my favorite to make. I love the way they look when their done, with all the shapes and colors…but, for me, they take too long to make. Lately, my time has been more limited since I started back to work full time. I still want to bake cookies but spending 3 – 4 hours baking and then frosting or decorating after that is a bit to much time for me right now.
Having said all that, I decided to get creative and instead of rolling out the dough and cutting out shapes, I made rolls out of the dough and sliced them into rounds!  This still took some time, but certainly not as much as if I rolled and cut out the dough. I thought it was a good compromise.  In the end, I still got shaped sugar cookies, they were just all the same shape ?
As for the decorating, you can see from the picture that I rolled the rolls of dough in colored sugar and multi-colored sprinkles. I also kept a couple rolls bare and sprinkled sugar on top of the rounds like the recipe says to do.
I sliced the dough rolls into about 1/8 inch thick rounds and placed them on the ungreased cookie sheets. The dough rounds looked so pretty with the sprinkles and sugar decorating the edges. I was excited to see what they look like after they baked.
It was fun to watch these cookies bake! They got all puffed up and spread out in size.  With my oven, 8 – 9 minutes was the right baking time. The longer they bake, the crispier your cookies will be. So, that's a preference thing. I prefer soft cookies, but my husband prefers crispy cookies…8 ½ minutes it is for us!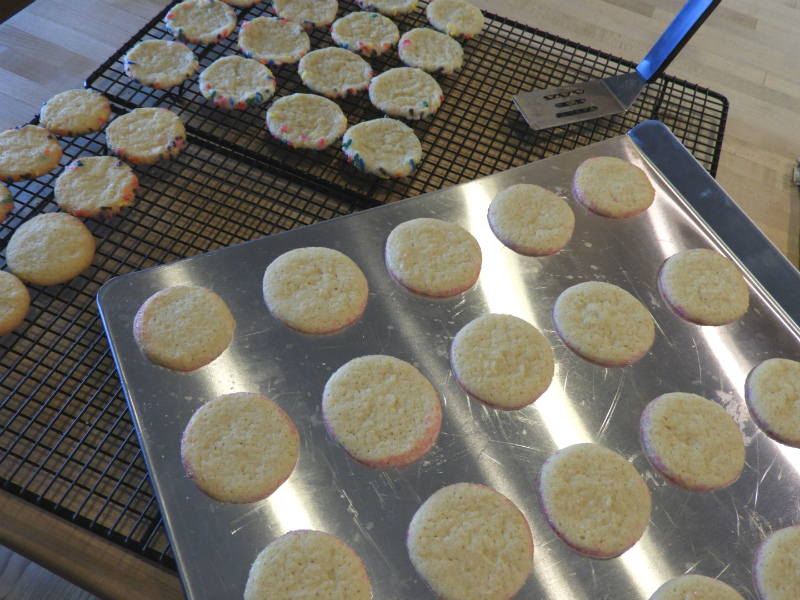 I am a little disappointed the finished cookies didn't show the sprinkles and sugar more. Turns out as the cookies puffed up and spread, the sprinkles and sugar moved underneath the cookie. Oh well, you can still see the colors a bit.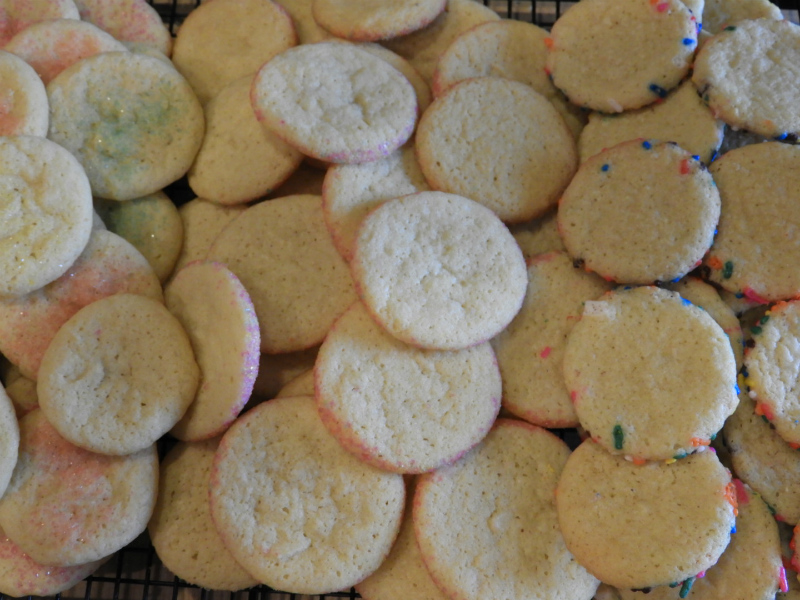 My cookies were small, bite sized cookies. You can also make these larger for a more traditional sugar cookie! Either way these cookies taste just like you would think an old fashioned sugar cookie should taste. The ¼ teaspoon of almond extract with the sugar adds just the right amount of flavor. These cookies bring me back to my childhood, when my mom would take us to Tasty Bakery in Appleton, WI for all kinds of baked goods! When I think I sugar cookies from back then, I remember them tasting just like these cookies.
So, if you are into baking and nostalgia, bake yourself a batch of Mom's Old Fashioned Sugar Cookies…you will quickly be brought back to the good old days!  Enjoy!
XXOO,
Janet
Print
Mom's Old Fashioned Sugar Cookies
Ingredients
1 cup butter
1 ½ cups sugar
½ tsp salt
2 eggs, beaten
1 tsp vanilla
¼ tsp almond extract
½ tsp baking soda
3 Tbs sweet cream
3 cups flour
Instructions
Combine first 6 ingredients and mix well. Mix until light and fluffy. Dissolve soda in cream. Add to creamed mixture and mix well. Gradually beat in flour. Mix well. Wrap in waxed paper and chill. Roll out on lightly floured board about 1/8 inch thick. Roll small amounts at a time, keeping rest of dough in refrigerator. Cut into desired shapes. Place on ungreased cookie sheets and bake at 375 degree oven for 8 to 10 minutes. Sprinkle with graduated or colored sugar.
Recipe Yield
Makes about 6 - 7 dozen 1x
Cookie Category:  Rolled, Refrigerator