Cookies by Bess' Lemon Spritz cookies are full of wonderful fresh lemon flavors!  Top the cookies with a sweet confectioner's sugar frosting infused with more fresh lemon rind and juice and you've got cookie screaming lemon!
This is my second time making Lemon Spritz cookies.  As I was reviewing the recipe, I almost fell over (again) when I saw a whole pound of butter listed in the ingredients. Once again, just couldn't take all four sticks of butter out and use them for just one recipe…just couldn't do it. So, luckily the recipe can easily be split in two. I halved everything and the recipe still makes almost 100 cookies!
I was also surprised to see chopped almonds as an ingredient. Only ¼ cup, but I was worried about them getting stuck in the cookie press. The first time I made this recipe, I didn't add the almonds, but I did this time. I just made sure the almonds were finely chopped so I had almost no issues pressing the cookies.
I'm rating Lemon Spritz cookies 3-stars for cookie baking difficulty. In general, using a cookie press adds a level of difficulty to the baking process. I've gotten used to using my Grandma Bess' cookie gun which works great if the cookie dough is the right consistency. But, there can be all kinds of problems if the dough is too moist or you aren't familiar with using a cookie press.
Also, frosting the cookies adds more effort and time to the process. But, just for the record, all the steps and effort needed to make Lemon Spritz cookies is well worth it!  These cookies are so good, you'll want the make the full batch!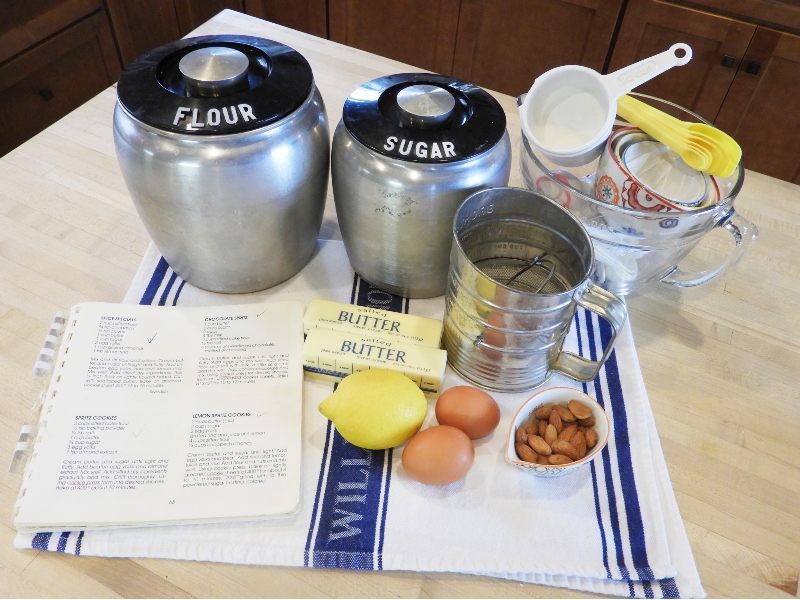 I gathered all the ingredients together and got started mixing the butter and sugar together.

Next, I grated half the rind of a medium size lemon and then cut it in half to add the lemon juice.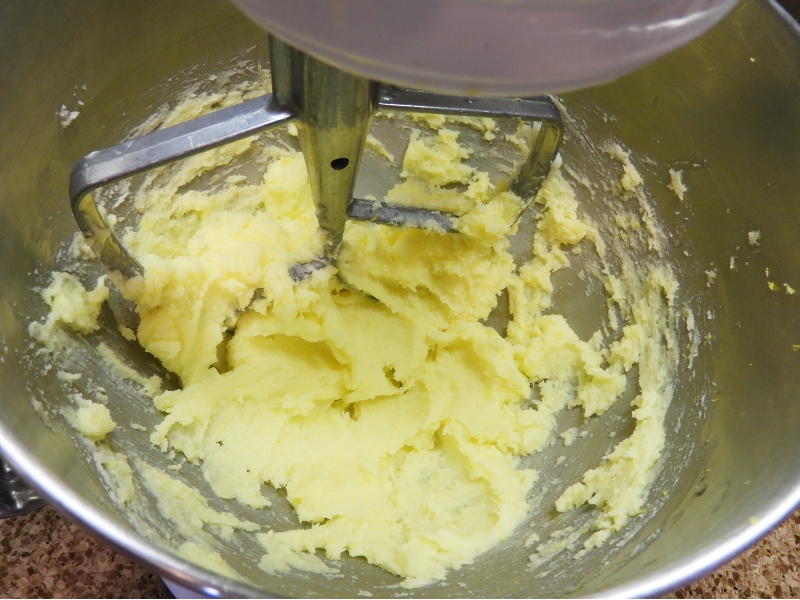 You can almost see all the lemon flavors!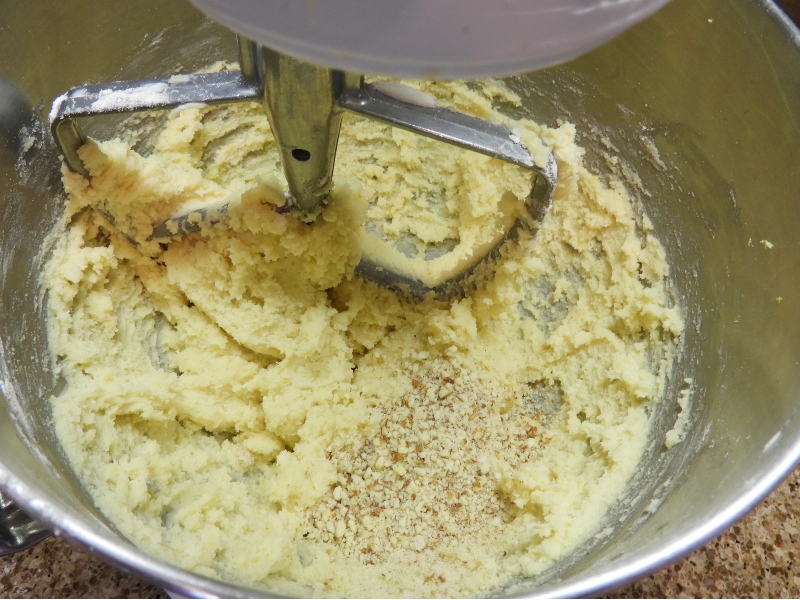 After blending in the dry ingredients, I finely chopped the almonds and blended them into the dough.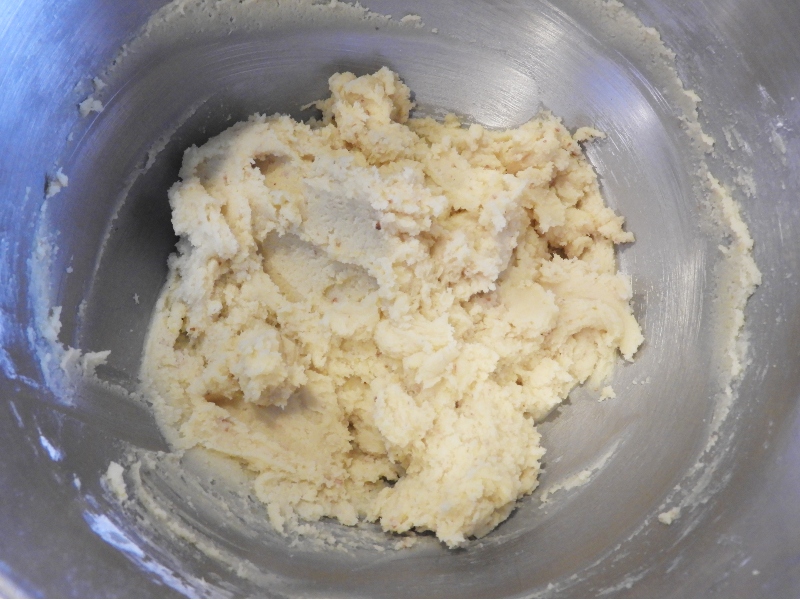 After mixing all the ingredients, the cookie dough was the perfect consistency for pressing the cookies.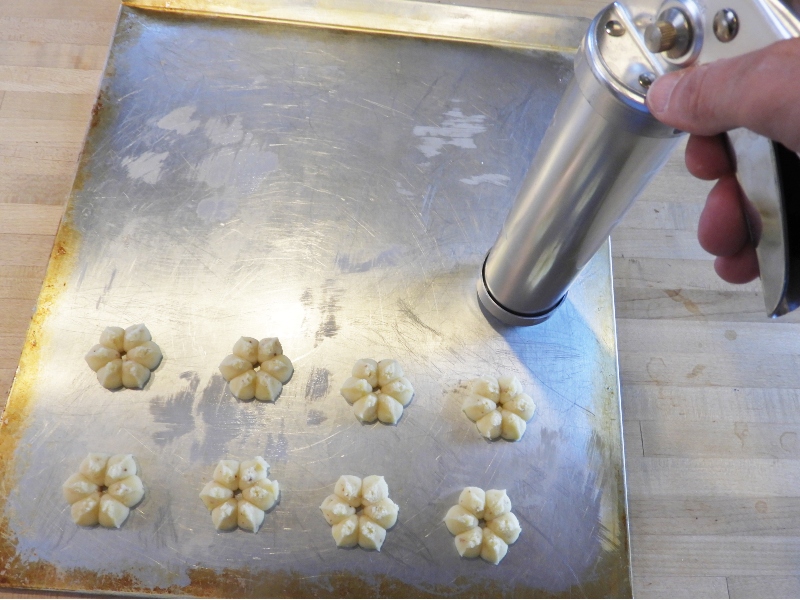 The cookies pressed out perfectly on the greased cookie sheets.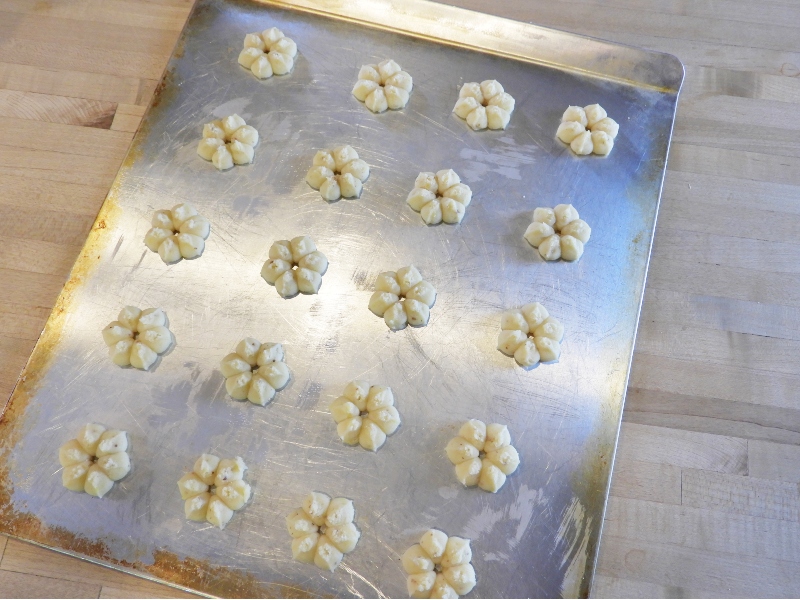 In no time, I was ready to bake!

I baked the cookies at 400 degrees for 8 minutes. Any longer and the cookies started to brown too much. The last batch or two I watched closely to make sure they didn't get too brown. I also tried to get them off the cookies sheets quickly as the continued to brown as they cooled. This was a bit tricky as they were still soft from the heat.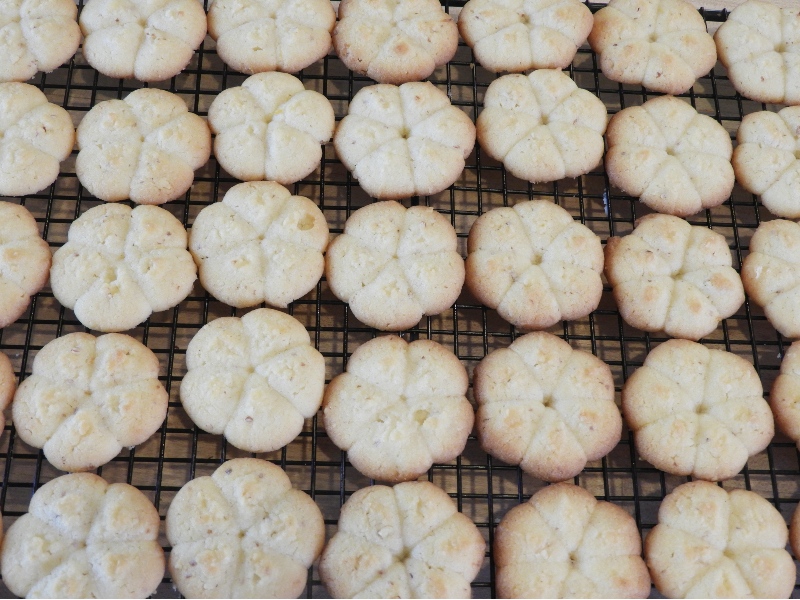 The cookies spread out as they baked…my stars ended up looking like flowers. This was just fine as it added to the springy look of the cookies. Even thought I only used 1/2 a lemon, the lemon flavors are just bursting with every bite!

You can see the flecks of lemon and nuts.  The lemon juice helps make the cookies a golden yellow color!  So pretty!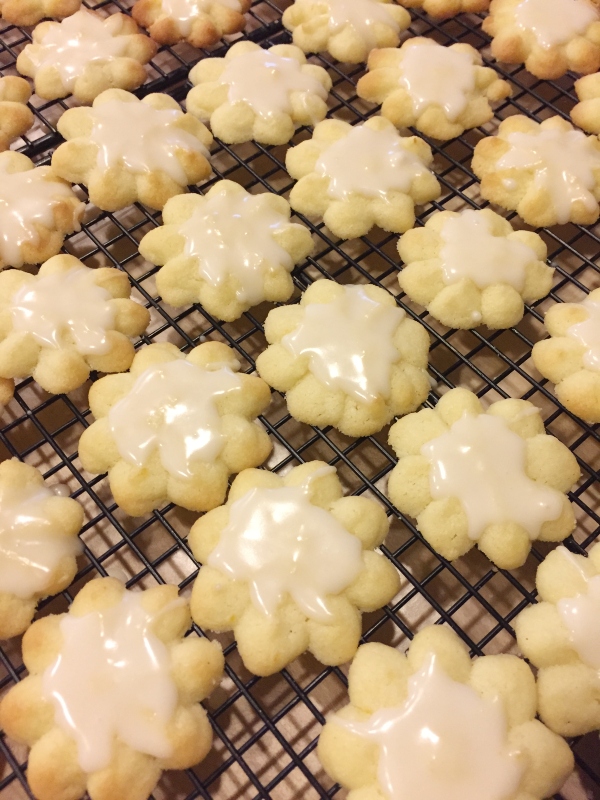 The recipe mentions using a powdered sugar frosting, which I thought was a great idea and would again add to the springy look of the flower shapes. I decided to use Cookies by Bess' "Confectioners Sugar Frosting" because I wanted a frosting that was light and more like a glaze.
The Confectioners Sugar Frosting worked and gave me what I was looking for, but I think the recipe needs a little adjusting. First, I wasn't sure if the butter should melt in with the milk. I melted it, which seemed to work fine but with the milk, butter, and vanilla there was quite a bit of liquid. The 3 ¼ cups confectioners sugar wasn't nearly enough to offset the liquid. I probably added another ½ cup, but you could add a lot more depending on the consistency you are looking for.
For these Lemon Spritz cookies, I wanted the consistency to be thin like a glaze, so about 3 ¾ to 4 cups of sugar worked. I added a little more lemon rind and juice to add even more lemon flavor!
To frost the cookies, I dropped/drizzled the frosting in the center of the cookie and let it expand out. The frosting set and hardened up before packing these puppies up and sticking them in the freezer.
I just love this Lemon Spritz recipe! It's not too hard if you've got the cookies press thing down. There are a few steps with the frosting, but it's well worth it! Making the full recipe would take a lot of time, but you will be rewarded with a lot of yummy springy lemony cookies! You'll have enough for now and you can keep a tin full in the freezer to pull out when friends and family come to visit. The cookie tastes great and look great too! Lemon Spritz cookies will become one of your favorites for sure!
Enjoy!
XXOO,
Janet
Print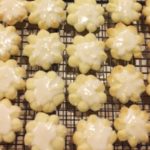 Lemon Spritz
Ingredients
2 cups butter (1 lb)
2 cups sugar
2 egg yolks
Grated rind and juice of one lemon
4 cups flour
¼ cups chopped almonds
Instructions
Cream butter and sugar until light. Add egg yolk and beat. Add lemon rind and juice, continue to mix well. Add flour and nuts, continue to mix well. Using cookie press, bake on lightly greased cookie sheet at 400 degrees for about 8 – 10 minutes. Also good with a thin powdered sugar frosting, colored.
Notes
Confectioner Sugar Frosting
1 Tbs & 1 tsp butter
¼ cup hot milk
About 3 – 3 ¼ cups sifted confectioner sugar
1 tsp vanilla
Food coloring (optional)
Add butter to the milk. Add sugar gradually to make frosting right for spreading. Add vanilla extract and mix well. Add food coloring as desired.
Recipe Yield
Makes many many cookies
Cookie Category:  Pressed