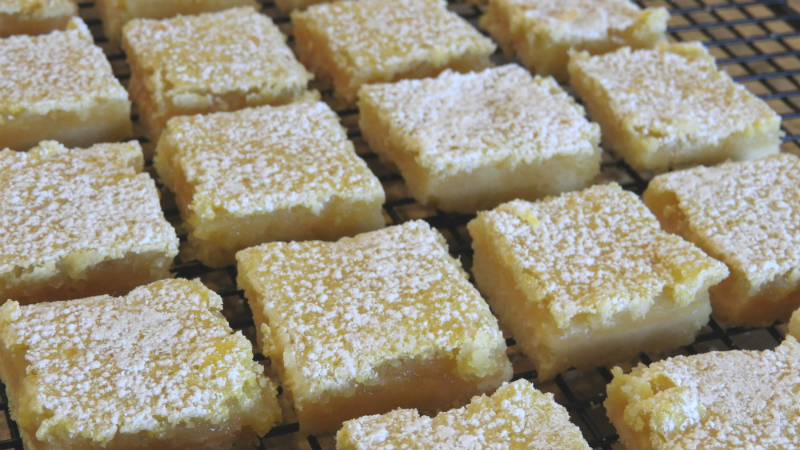 I remember Cookies by Bess' Lemon Bars from my childhood. Lemon Bars by Cookies by Bess is one of my Mother's favorite cookie recipes! These yummy bar cookies were present at all our family and friends' events, get togethers, and parties. I wonder why it took me so long to make this recipe?
Maybe because I always expected my Mom to make them? As I got ready to make Lemon Bars, I tried to think when and I actually made them before.  After making the recipe, I honestly have no memory of ever making Lemon Bars before. It's funny to me that I haven't…I love lemon, I love cookies, I love baking…oh well, I finally made them and I'm so glad I did!
Lemon Bars are a wonderfully tart, sweet cookie that just about melts in your mouth! The little bit crispy and buttery crust with the almost custard like lemon topping are the perfect combination…the powdered sugar on top adds the perfect touch of extra sweetness, it also give these Lemon Bars a fancy look.  Lemon Bars are a complete "show stopper" for cookie lovers in taste and presentation!
I'm rating Lemon Bars 2-stars for cookie baking difficulty. As with most of Grandma Bess' recipes, there are several steps involved, but none are difficult. The end result is so worth the extra effort!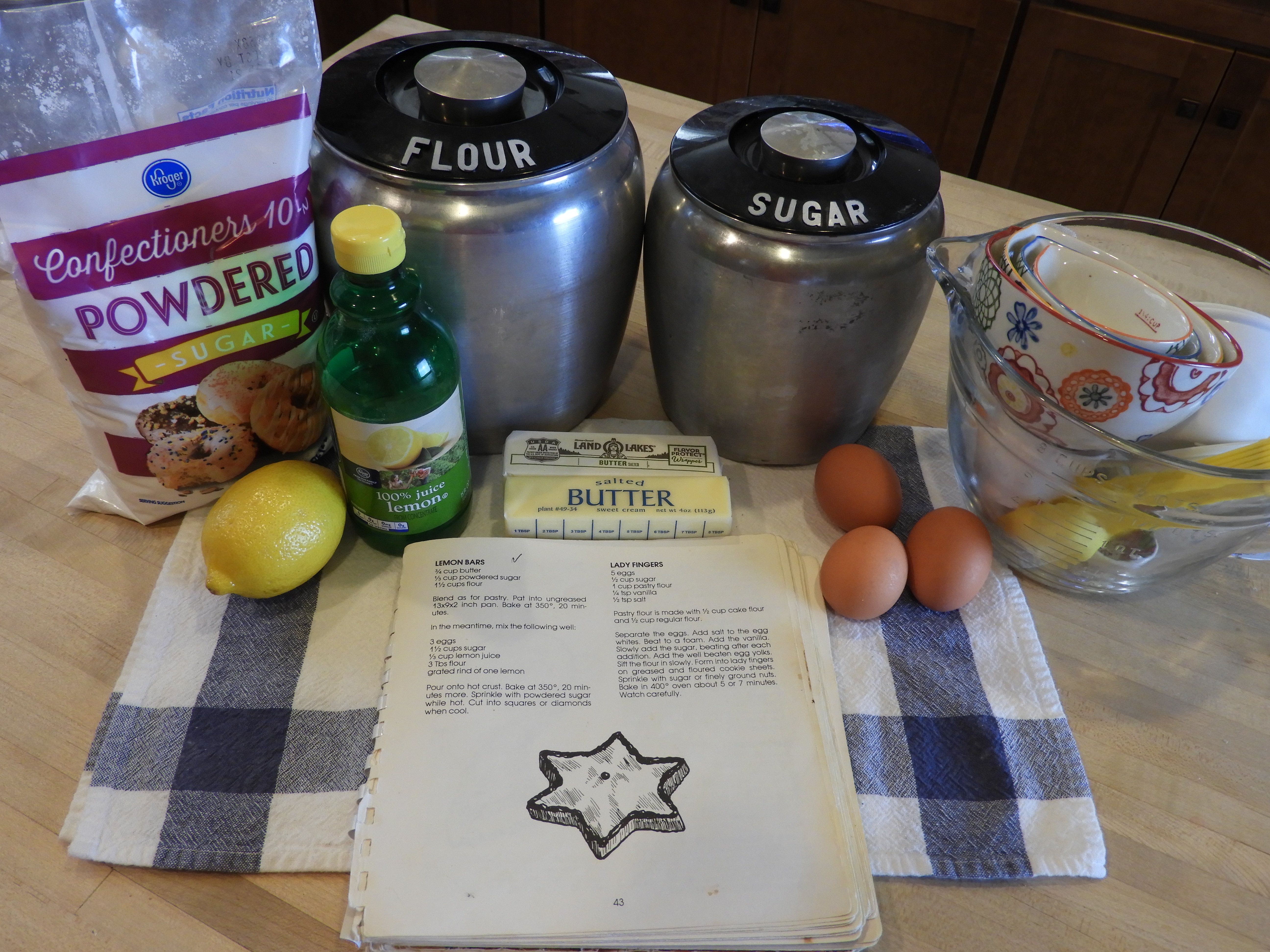 I got started by pulling my ingredients together. As I mentioned, I love lemons, so I had plenty of lemon rind available! The rest of the ingredients are basics in my baking pantry.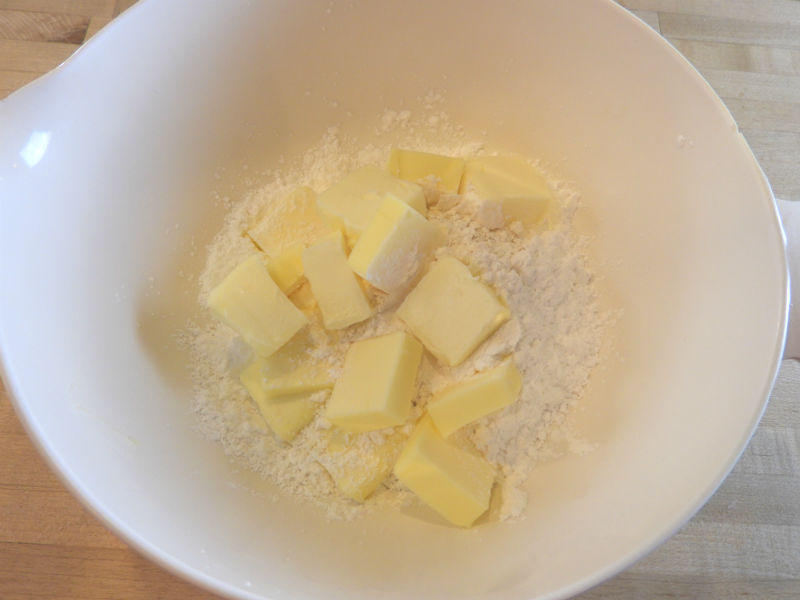 I do have to admit I wasn't really excited about the first step,"blend as for pastry".  Cutting in butter is not my favorite thing to do. Maybe that's because I have yet to purchase a pastry blender. If I had one, I probably would like the task much better…
Instead of a pastry blender, I pulled out my trusty fork and got started breaking up the butter and blending it with the powdered sugar and flour.
After a good 10 minutes, I realized the dough wasn't going to come together. I assumed what I had was the intended consistency, so I finished up blending and got by 13×9 inch pan.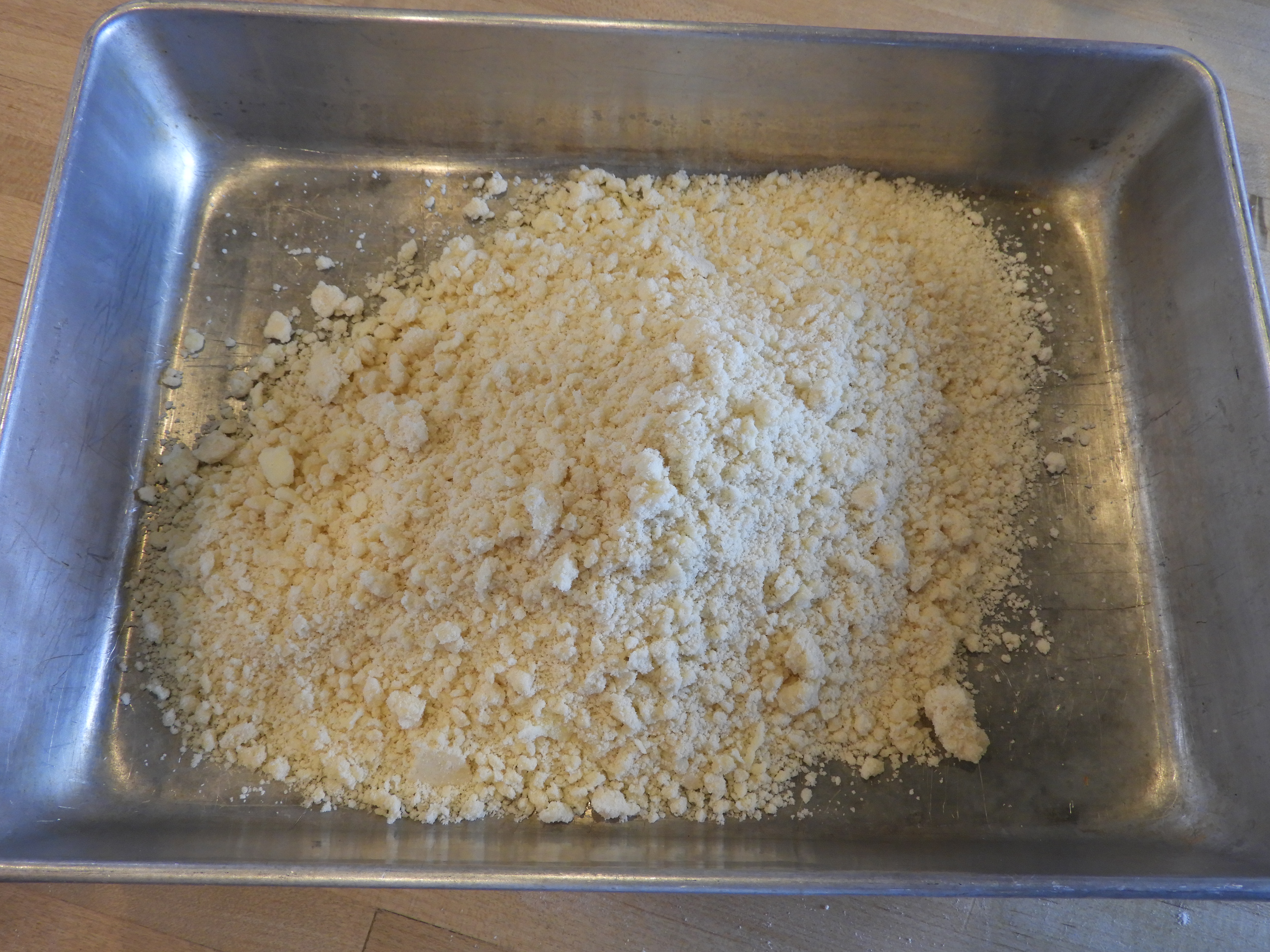 The recipe doesn't call for a greased pan, so I just poured the butter/flour/sugar mixture in the baking pan.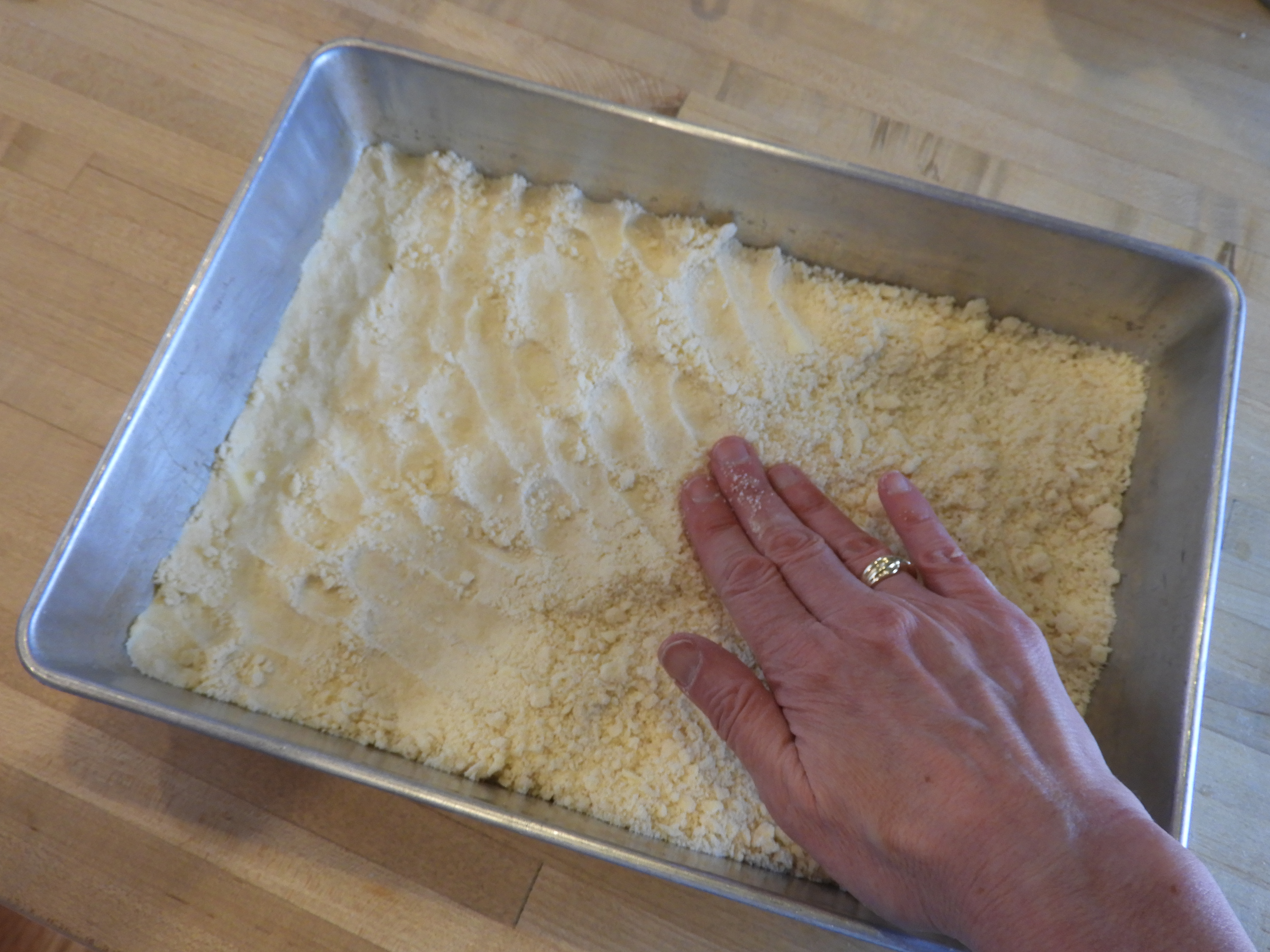 Next, I used my fingers and the palm of my hand to pat the mixture together. Much to my surprise, it came together nicely! There was the perfect amount to cover the 13×9 inch pan about ¼ – ½ inch thick.
I placed the crust in the oven to bake.
While the cookie crust was baking, I grated my lemon. Super easy and quick with my small hand grater.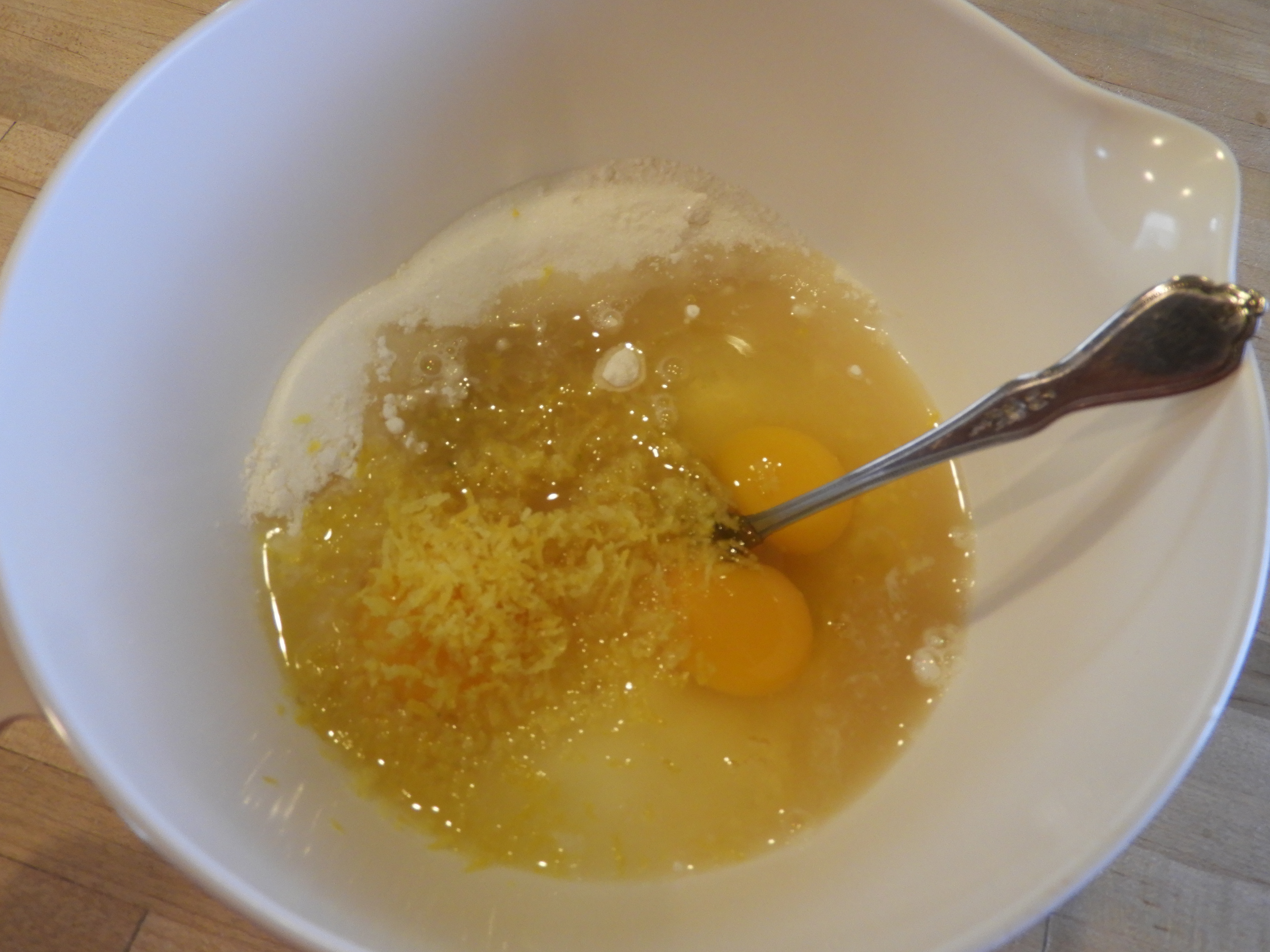 Next, I mixed together all the ingredients for the lemon topping.
This was super easy! I ended up with a sweet and lemony liquid mixture.
When I pulled the crust out of the oven, I realized I over baked the crust just a bit. Fortunately, this didn't make any difference with the finished cookies!
The topping was easy to pour over the crust.
I ensured it was spread evenly over the crust and stuck the baking pan back in the oven.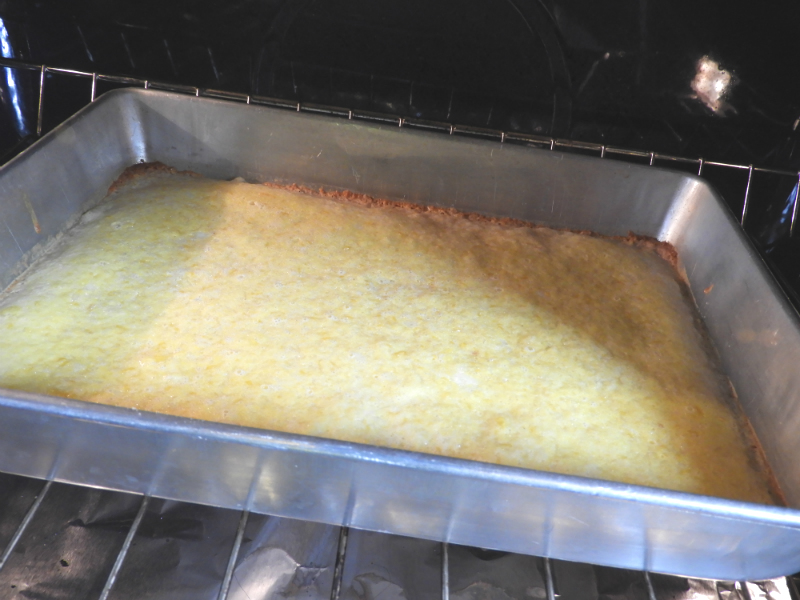 The lemon topping set up nicely while it baked.
I baked the Lemon Bars 20 minutes per the recipe. They looked awesome when I took them out of the oven.
The recipe says to sprinkle powdered sugar on top of the Lemon Bars while hot, so I did!
I then let the bars cool completely before cutting them into bars.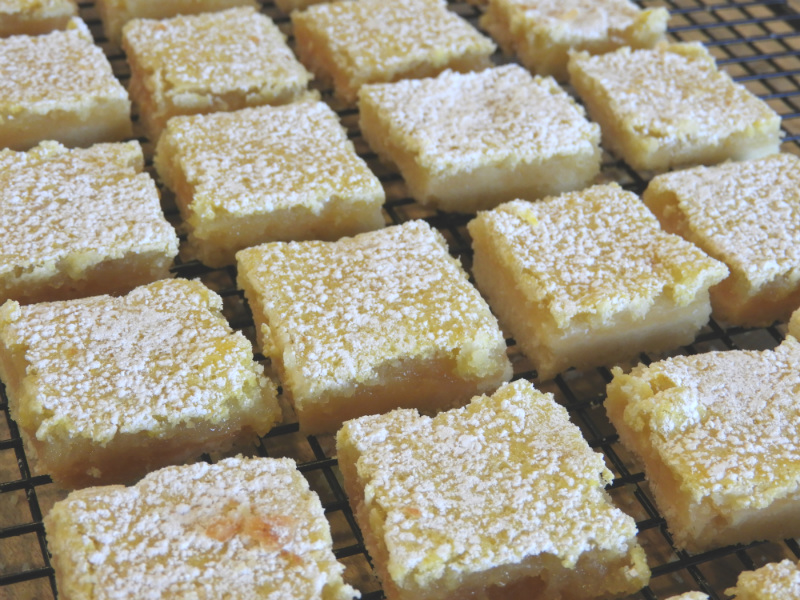 Cutting the Lemon Bars was easy. I will say, my crust was a little dry and crumbly and the lemon topping broke a bit here/there from the knife, but after removing them from the baking pan, I was thrilled!
I not only love the taste of Cookies by Bess' Lemon Bars, I love the way they look! The flaky crust, topped with the custardy lemon topping, then sprinkled with powdered sugar…I don't think there is a prettier cookie!
I hope you will try this Lemon Bars recipe. It's one of my family's very favorite! The recipe is easy to make and the cookies truly are truly melt in your mouth good!
XXOO,
Janet
Print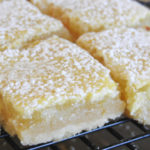 Lemon Bars
Ingredients
Crust
¾ cup butter
1/3 cup powdered sugar
1 ½ cups flour
Topping
3 eggs
1 ½ cups sugar
1/3 cup lemon juice
3 Tbs flour
Grated rind of one lemon
Instructions
Crust
Blend as for pastry. Pat into ungreased 13x9x2 inch pan. Bake at 350 degrees for 20 minutes.
In the meantime, mix the topping ingredients together well.
Topping
Pour onto hot crust. Bake at 350 degrees for 20 minutes more. Sprinkle with powdered sugar while hot. Cut into squares or diamonds when cool.
Recipe Yield
Makes about 5 - 6 dozen 1x