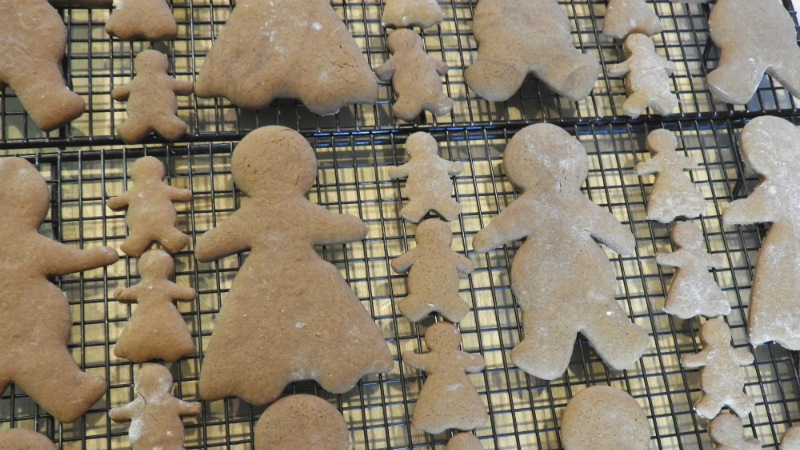 Who wouldn't like a gingerbread cookie? Especially when cut into little gingerbread boys and girls! That's what I was thinking when I decided to make Cookies by Bess' Ginger Creams. A wonderful gingerbread cookie cut into any shapes you want and frosted with any frosting you want. Gotta love Cookies by Bess recipes…easy recipes to make and often flexible with ingredients and extras.
I am a big fan of gingerbread cookies, which is great because Cookies by Bess has two traditional gingerbread recipes, Soft Ginger Cookies and these Ginger Creams.  Different recipes that have ginger and molasses in common.
Both are rolled cookie recipes, meaning you roll out the dough and cut out cookies with different shaped cookie cutters. I used large traditional shapes for the Soft Ginger Cookies and traditional gingerbread boys and girl cookie cutters for these Ginger Creams. Any way you cut them, both recipes are gingerbread awesome!
I'm rating Ginger Creams 3-stars for cookie baking difficulty. 3-stars is what I rate all rolled cookie recipes because of the amount of time and effort required to roll the dough, cut out and bake the cookies, and generally frost the baked cookies warrant the 3-star rating.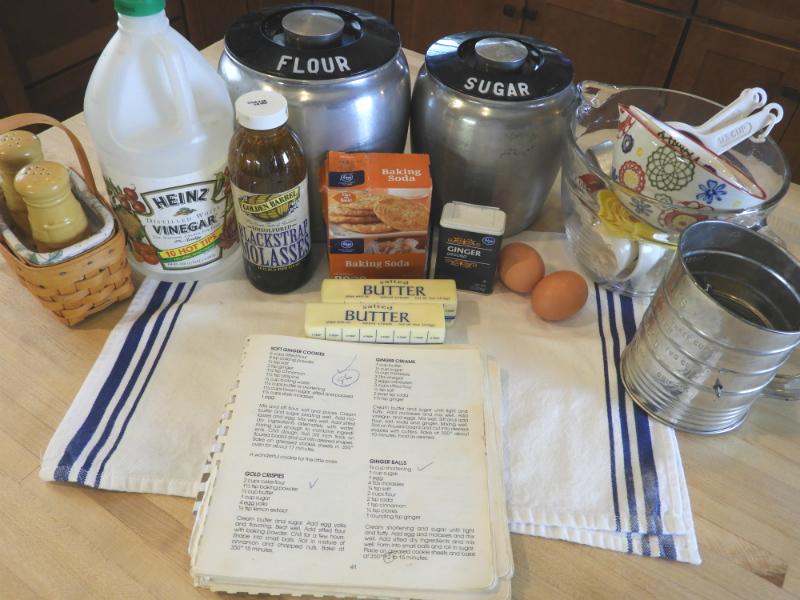 Luckily, I had all the ingredients in my baking pantry! Even the molasses!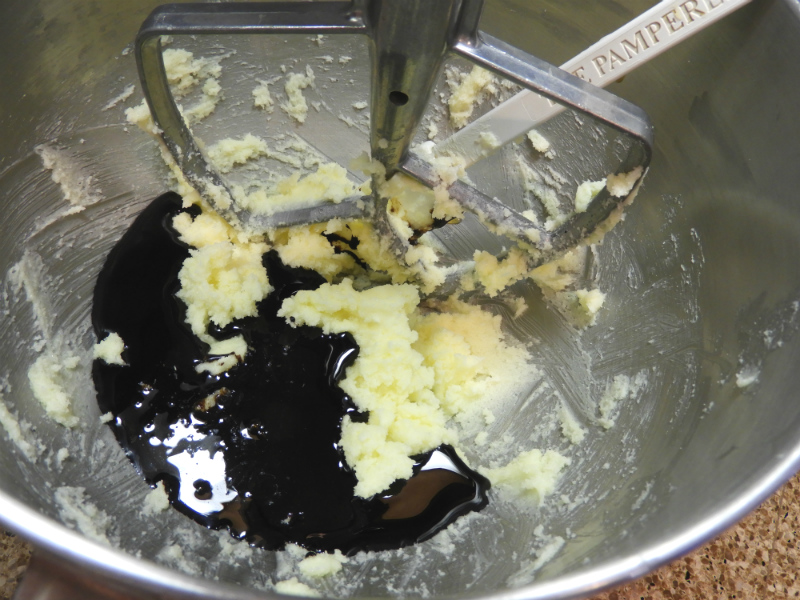 The butter and sugar whipped up nicely! The molasses almost looks like melted chocolate!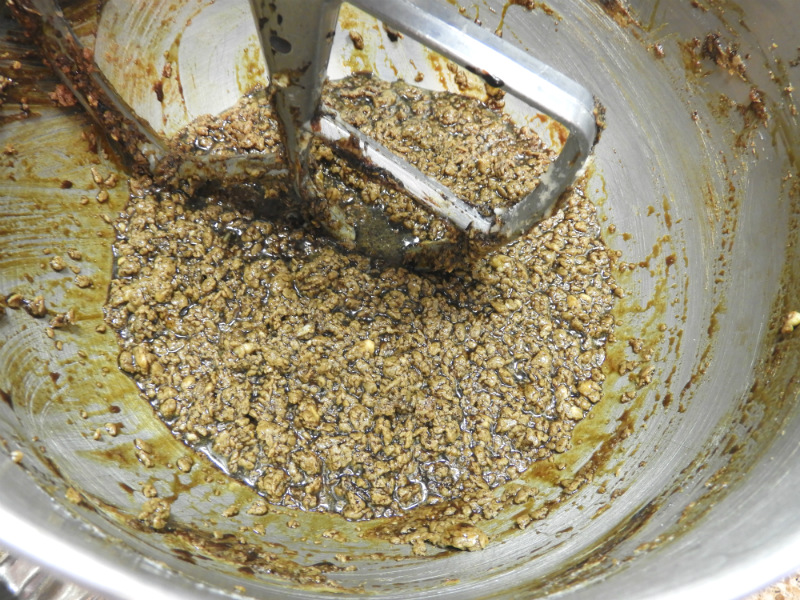 After adding the molasses and vinegar, I just had to pause and take a picture at the mixture. A lot of cookie recipes tend to have a good amount of dry ingredients and often not enough liquid ingredients. Well, not Ginger Creams! So far, this was the complete opposite. I was a bit worried the dough was going to be too loose or sticky or rolling!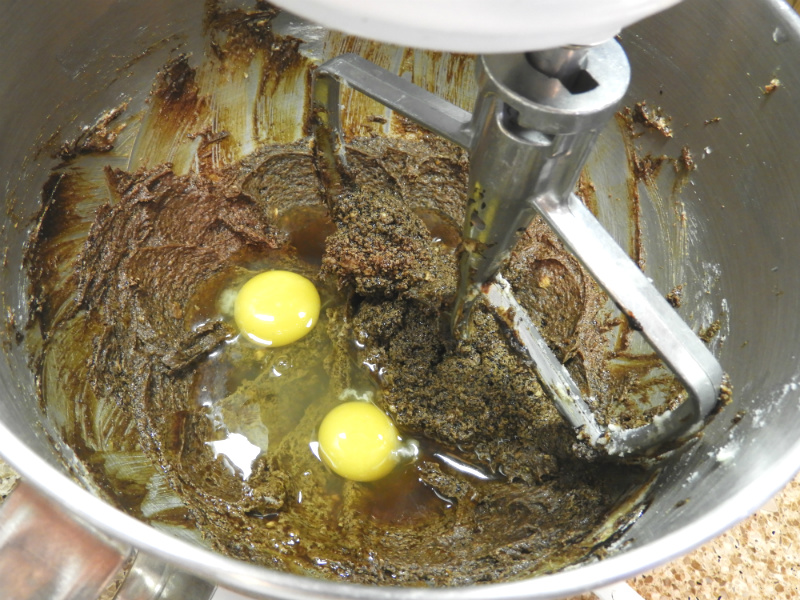 Assuming all would be okay, I added the unbeaten eggs and kept mixing.  Check out that rich dark color of the molasses!
Once the sifted dry ingredients were added and mixed in, I felt better about the rolling and cookie cutting possibilities.
I will admit, I did add about ¼ cup flour, a little at a time, to ensure the dough didn't stick to my hands as I started the rolling and cutting process.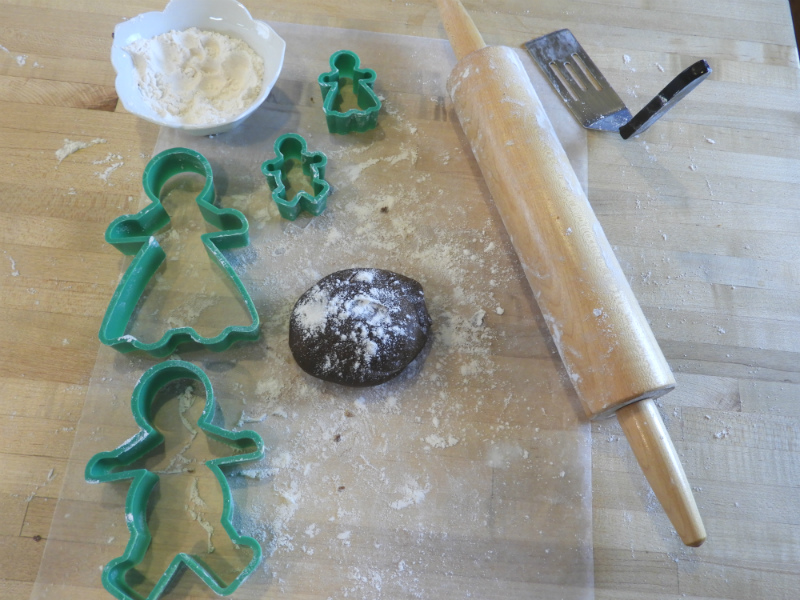 Finally, I was ready to roll!
To get started, I scooped out a handful of dough. I've gotten in the habit of rolling dough on a piece of wax paper. I've found it's saved my wood counter top and helped keep the cookie dough from sticking.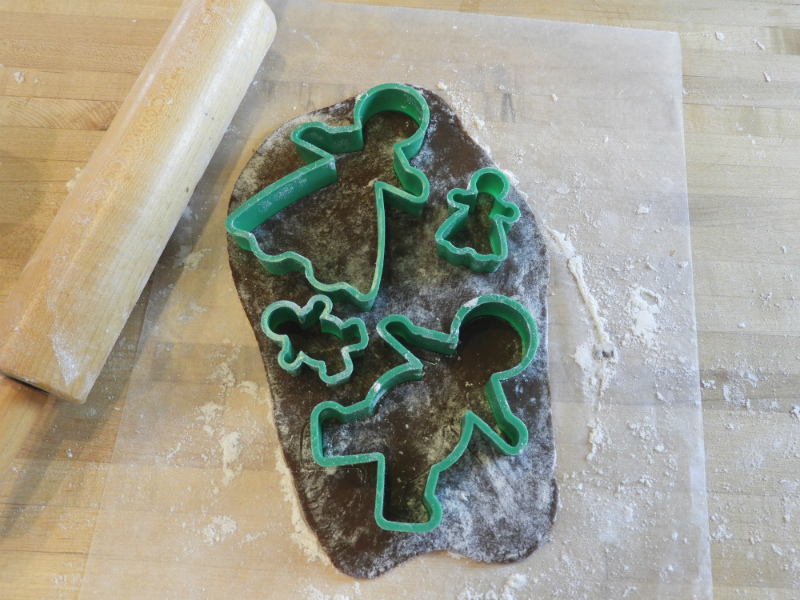 The recipe didn't mention how thin to roll the dough, so I roll it until it naturally felt enough., this ended up being about 1/8 to ¼ inch thick. To help keep the dough from sticking, I used a good amount of flour under and on top of the dough as well as on the rolling pin.
As I gathered my gingerbread cookie cutters, I realized I hadn't used them before. I know I've had these green cutters forever. Glad I'm finally putting them to use ?
The rolled cookies were a bit fragile, so I had to take my time moving the cookies from the wax paper to the cookie sheet. After not too long, I had a full cookie sheet and was ready to stick them in the oven.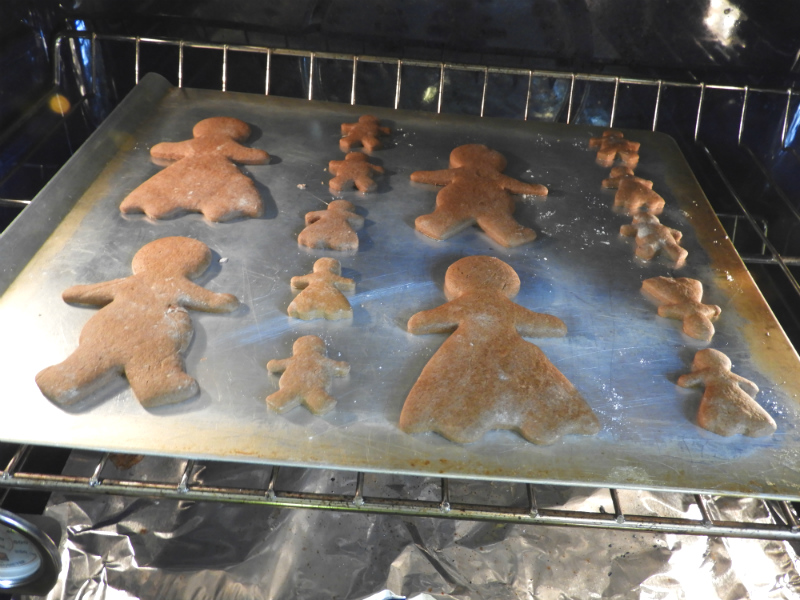 The recipe says to bake for 10 minutes. I started the timer at 7 minutes and ended up baking the cookies for about 8 minutes. The cookies were definitely done, but ended up being soft even after they cooled. I'm a fan of soft cookies, so I was excited. I'm sure baking them the full 10 minutes would result in a crisper cookie.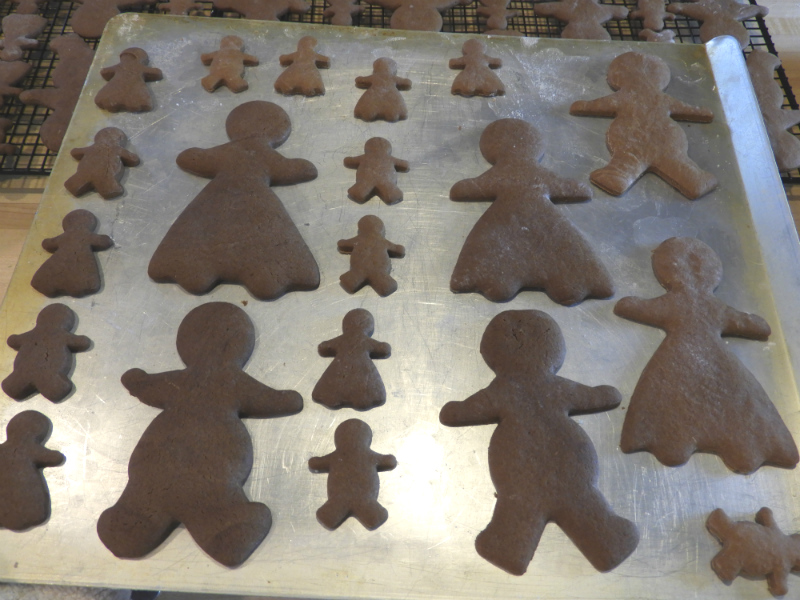 As you can see, the cookies rose a bit while baking. They kept their gingerbread shapes, but I could certainly tell if a leg was turned an arm was bent while moving the cookies to the cookie sheet. Kind of funny to see the minor differences as they baked up.
I moved the cookies to the cooling rack right out of the oven to make sure they didn't continue baking or stick. As long as I was careful, nothing broke!
This Ginger Creams recipe makes a ton of cookies! Of course, it depends on the size of your cookie cutters, but regardless, plan on having enough cookies to share!
The end of the recipe says to "frost as desired" …so I did! For the first time ever since making all these Cookies by Bess cookies, I bought frosting from the grocery store. I feel a bit guilty about it, but the recipe said, "as desired", so I thought this would be okay.
Ginger Creams are a lightly spiced ginger cookie. Not too sweet, but just sweet enough. The texture of the cookie is exactly what I think of when I think of gingerbread cookies, a bit soft and a bit chewy.  As I mentioned, mine turned out a bit soft, which was perfect for me…you might like gingerbread cookies a bit crispier, if so make sure to bake these guys the full 10 minutes.
I hope you will try Ginger Creams! A fun cookie your entire family and neighborhood will love!
Enjoy!
XXOO,
Janet
Print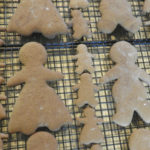 Ginger Creams
Ingredients
1 cup butter
½ cup sugar
½ cup molasses
3 Tbs vinegar
2 eggs, unbeaten
3 cups sifted flour
½ tsp salt
2 level tsp soda
1 ½ tsp ginger
Instructions
Cream butter and sugar until light and fluffy. Add molasses and mix well. Add vinegar and eggs. Mix well. Sift and add flour, salt, soda, and ginger. Mixing well. Roll on floured board and cut into desired shapes with cutters. Bake at 350 degrees abut 10 minutes. Frost as desired.
Recipe Yield
Makes about 7 - 8 dozen 1x