Chocolate Oatmeal Goodies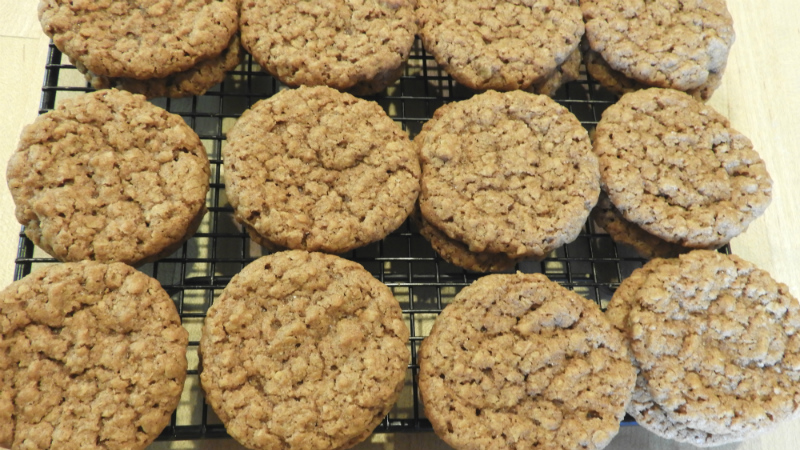 Not sure what is it about oatmeal, but I just love it in cookies! I think it's the earthy and sometime chewy texture. And the oats go so well with all your traditional cookie ingredients. Chocolate Oatmeal Goodies have the texture I love and the perfect amount of chocolate to make these cookies a certain favorite!
When I think of chocolate in oatmeal cookies, I tend to think about chocolate chips or bits, not melted chocolate. I have seen melted chocolate once before with Cookies by Bess' Chocolate Oatmeal Drops, another amazing example of how chocolate can up the game of any cookie.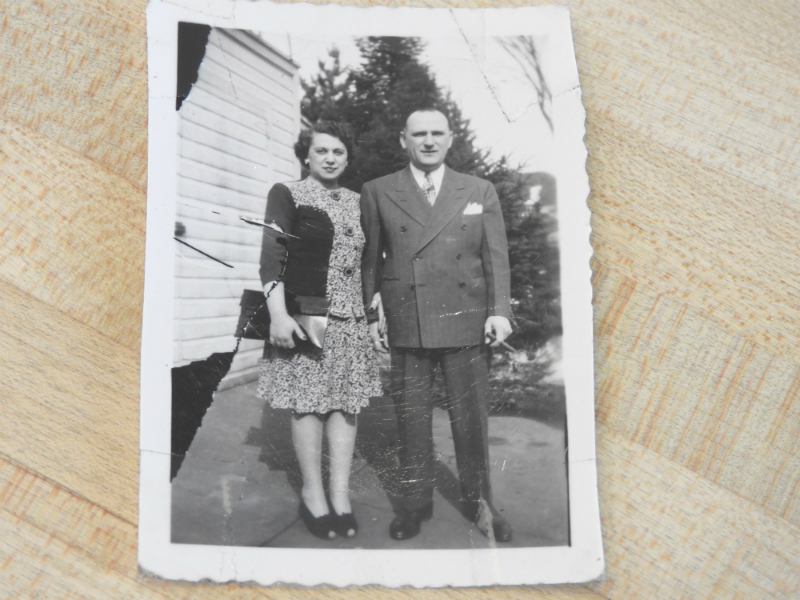 One point to call your attention to, the end of the recipe instructions say "Dad's favorite." I am assuming "Dad" is my Grandpa Abe. As far as I've seen, this is the only reference to my Grandpa Abe in Cookies by Bess. Of all the 200+ cookie recipes, it's really nice to know which was his favorite! Good choice Grandpa Abe!
From what I remember and what I'm told, Grandma Bess and Grandpa Abe were inseparable since they were teenagers.  Grandpa Abe was Grandma Bess' biggest fan and supported her in all her projects, especially cooking and baking.  I'm sure he had his fill of scrumptious Cookies by Bess cookies, even though he used to say he was only allowed to taste the burnt ones. 😊
Chocolate Oatmeal Goodies are a simple oatmeal cookie. No nuts or raisins, but a ton of quick oats and chocolate. I'm rating Chocolate Oatmeal Goodies 2-stars for cookie baking difficulty only because of the couple extra baking steps. Melting the chocolate, shaping the cookie balls and pressing the cookie balls with a fork are not difficult but add just a bit of extra time and effort.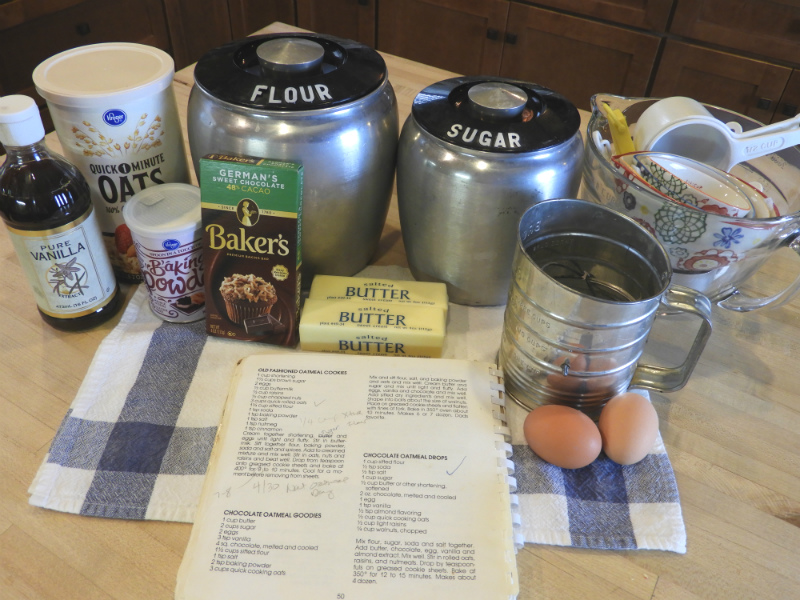 3 cups of quick oats is a decent amount! Luckily, I had a whole new container in by baking pantry.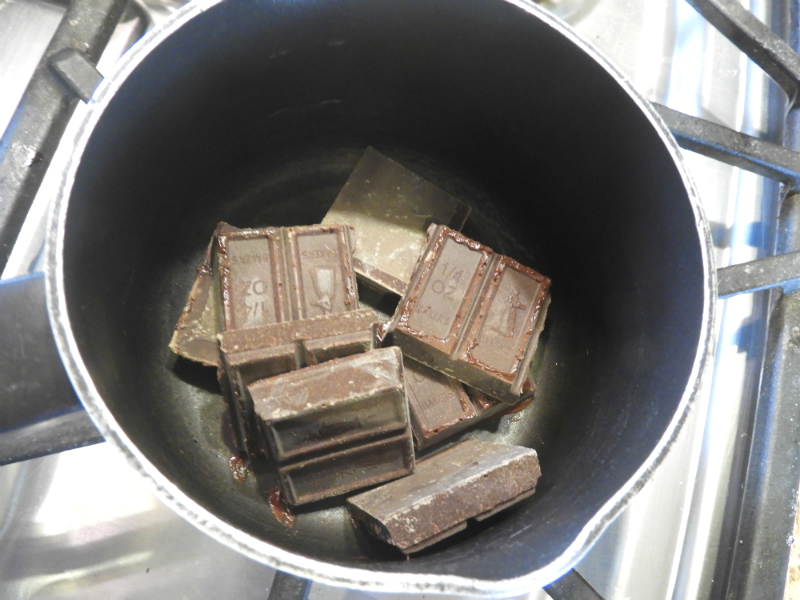 I decided to use German milk chocolate and got started melting the chocolate so it could cool down some before adding to the butter and eggs.
I'm including this picture, because I think its one of the only times I've actually gotten butter and sugar to be "light and fluffy". This recipe doesn't mention to "blend until light and fluffy", but I just had to capture what it looks like! 😊
To my "light and fluffy" butter mixture, I added the cooled melted chocolate and egg.
After blending everything together, I ended up with a rich and creamy chocolatey mixture…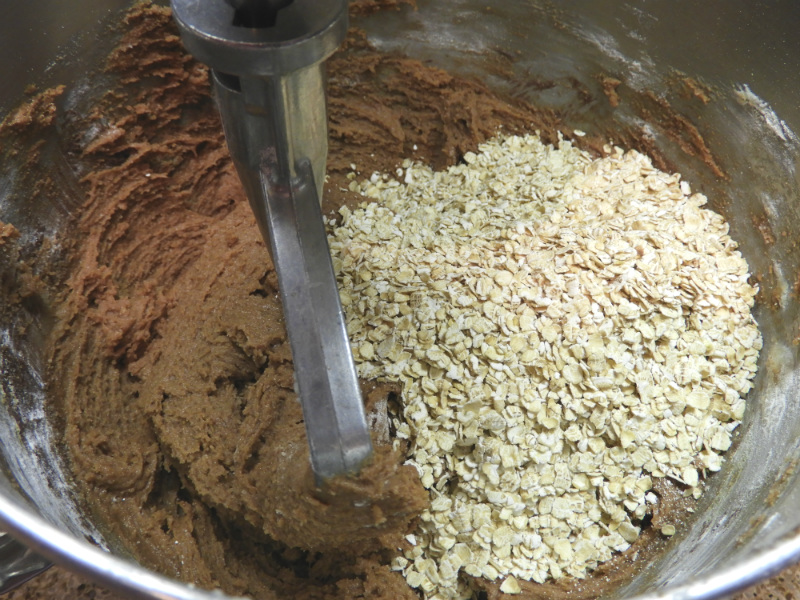 To which I added the sifted flour and 3 cups of quick oats.
And finally, I had my Chocolate Oatmeal Goodies cookie dough…which I just had to try. Oh boy! YUMMY!
No chilling of the dough needed, so I got started rolling my cookie balls. This went quick and easy.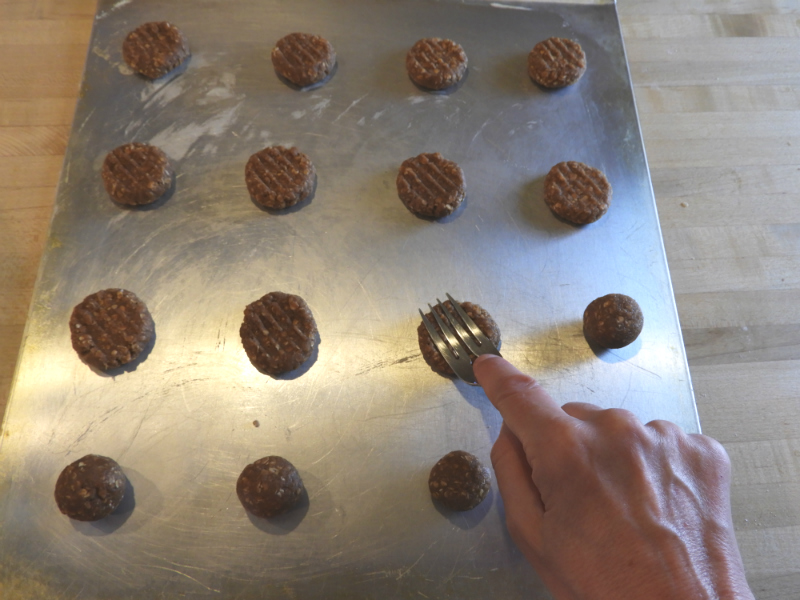 The next step was to press the cookies with the tines of a fork. Super easy and quick.
Okay, ready to bake!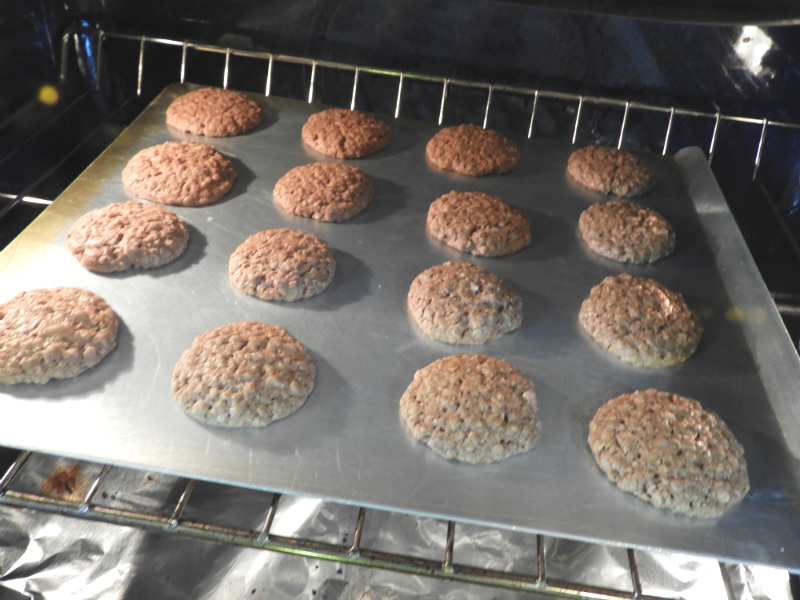 The cookies puffed up a bit while baking…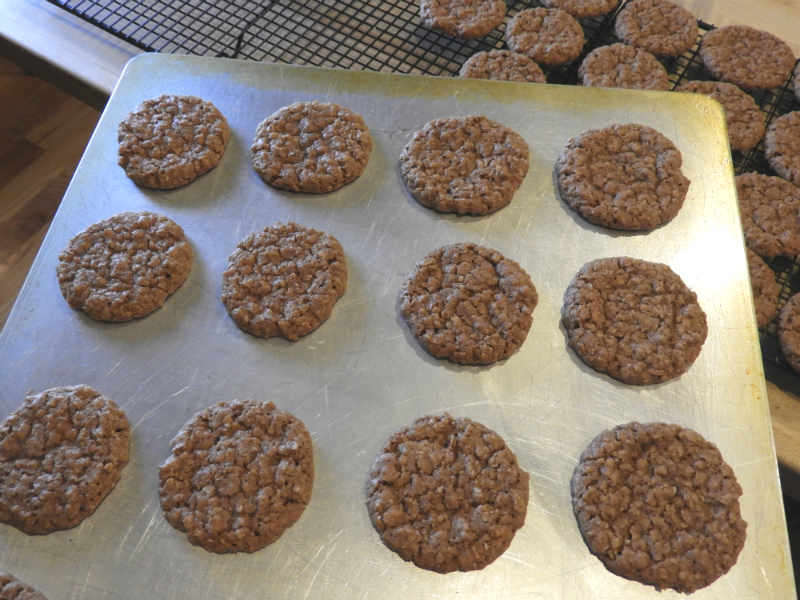 But settled down when I pulled them out of the oven. I baked the cookies for about 9 minutes to ensure they weren't too crispy.
Can you all that oaty texture and chocolate flavor?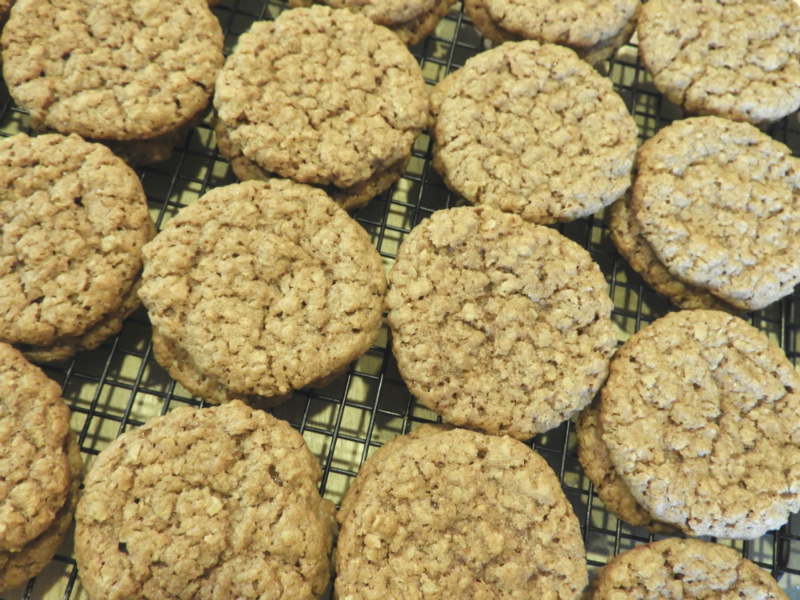 Chocolate Oatmeal Goodies are a wonderful, simple oatmeal cookie that will surprise everyone. They are a bit chewy in the middle, a bit crunchy around the sides. The all over oatmeal and chocolate flavors together are hard to resist!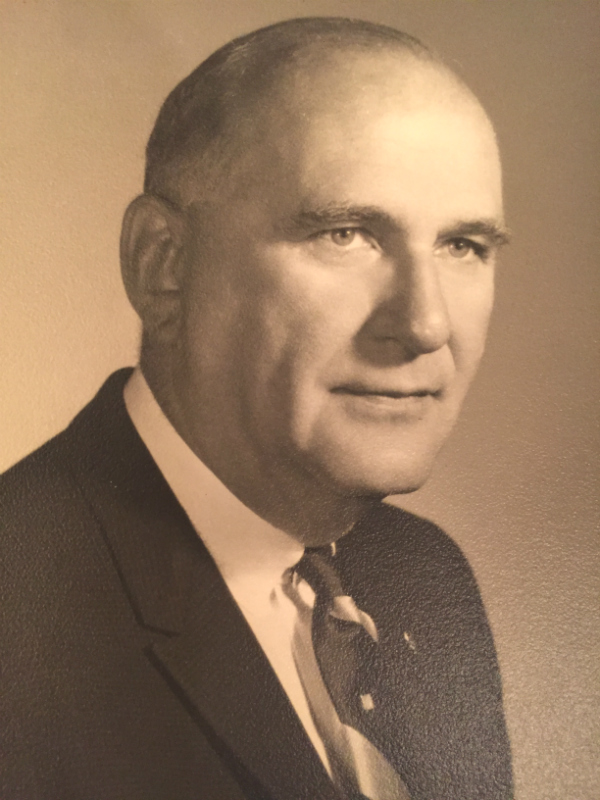 No wonder Grandpa Abe loved them!
Here's to you Grandpa Abe! I miss you and love you!
XXOO,
Janet
Print
Chocolate Oatmeal Goodies
Ingredients
1 cup butter

2 cups sugar

2 eggs

3 tsp vanilla

4 sq. chocolate, melted and cooled

1 ½ cups sifted flour

1 tsp salt

2 tsp baking powder

3 cups quick cookies oats
Instructions
Mix and sift flour, salt, and baking powder and oats and mix well. Cream butter and sugar and mix until light and fluffy. Add eggs, vanilla, and chocolate mix well. Shape into balls about the size of walnuts. Place on greased cookie sheets and flatten with tines of fork. Bake in 350-degree oven about 10 minutes. Makes 6 or 7 dozen. Dads favorite.
Recipe Yield
Makes about 6 - 7 dozen cookies
Cookie Category:  Molded or Shaped