Check out this list of ingredients! Chocolate Oatmeal Drops are filled with so much amazing goodness in every bite! I don't remember ever having a chocolate oatmeal cookie before, so I was excited to try something new…I was also excited about how all the different ingredients in one cookie were going to taste!
After trying the baked cookies, it's the almond flavoring that really stands out in these cookies! Although subtle, the almond extract adds a flavor you aren't expecting…and the almond flavoring combined with the oats, raisins, walnuts and chocolate really make Chocolate Oatmeal Drops a wonderfully unique and yummy cookie everyone will love!
I'm rating Chocolate Oatmeal Drops 1-star for cookie baking difficulty. Simple drop cookies with lots of ingredients…easy to mix together and easy to drop onto the greased cookie sheets.
I actually had all the ingredients in my baking pantry except the light raisins. I had just bought regular Sun-Maid Raisins…so decided to use them. Sorry Grandma Bess…hopefully it won't make to big a difference.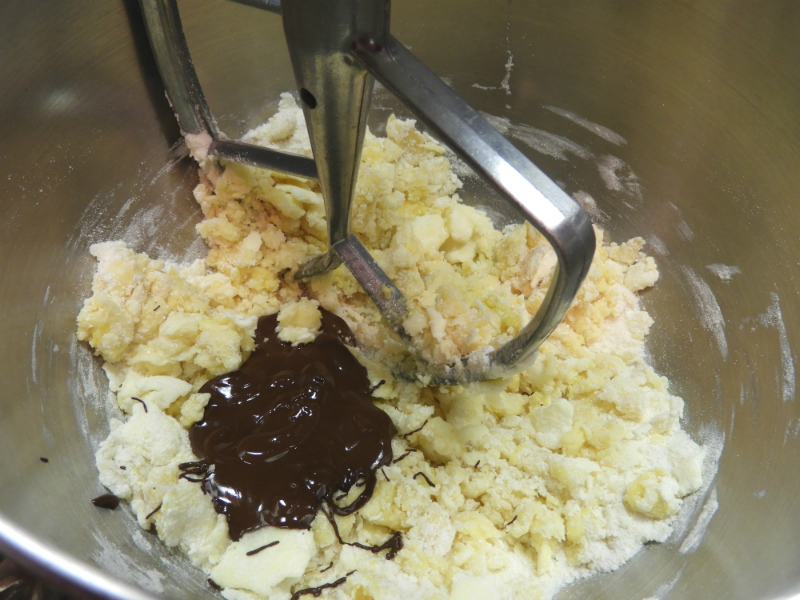 The first step is to melt the 2 ounces of chocolate. I used Baker's German Chocolate for a nice milk chocolate flavor. After it cooled a bit, I added it to the dough.
After mixing the chocolate into the dough, I added the oats, raisins, and walnuts.  So much goodness!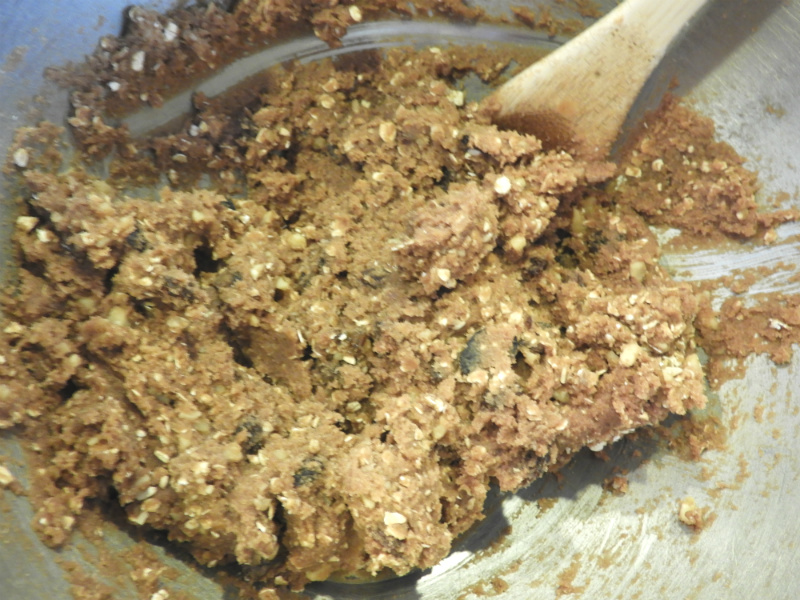 All mixed together, this cookie dough looks awesome! It tastes awesome too! The subtle almond flavor with the sweet raisins…YUM!
The best part about making Chocolate Oatmeal Drops is how easy it is to get the cookies in the oven! Just drop a teaspoon full on the greased cookie sheet and stick them I the oven.
I used a heaping teaspoonfuls of cookie dough and ended up with big round cookies!  Make sure to grease your cookie sheets as the baked cookies wanted to stick a bit.
Check out the wonderful texture in these cookies! You can see the raisins, walnuts, and oats. All combined with the chocolate cookie dough.
The cookies stack up nicely and tastes awesome! All my friends and family couldn't say enough about Chocolate Oatmeal Drops!  The whole batch was literally gone in no time!
I guess there is just something about chocolate cookies…add in other goodies like oats, raisins, walnuts and you've got an amazing, hard to resist amazing cookie!
XXOO,
Janet
Print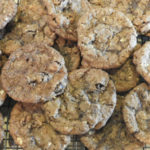 Chocolate Oatmeal Drops
Ingredients
1 cup sifted flour

½ tsp baking soda

½ tsp salt

1 cup sugar

½ cup butter or other shortening, softened

2 oz. chocolate, melted and cooled

1 egg

1 tsp vanilla

1 tsp almond flavoring

½ cup quick cooking oats

½ cup light raisins

¼ cup walnuts, chopped
Instructions
Mix flour, sugar, soda, and salt together. Add butter, chocolate, egg, vanilla and almond extract. Mix well. Stir in rolled oats, raisins, and nutmeats. Drop by teaspoonfuls on greased cookie sheets. Bake at 350 degrees for 12 to 15 minutes. Makes about 4 dozen.
Recipe Yield
Makes about 4 dozen cookies