Chocolate Devils! What a great name! No idea why this awesome brownie is called Chocolate Devils!?!?
Chocolate Devils are a wonderfully rich and moist yet cakey chocolate brownie. Moist enough to easily cut into squares, cakey enough to be light and almost fluffy!  If you love chocolate, you'll love Chocolate Devils!
I have to mention, because it doesn't happen very often…the instructions for this recipe aren't the best. There are a couple ingredients listed that are not mentioned in the instructions. For example, the recipe lists ¼ cup milk…but the instructions don't tell you what to do with it. ☹ Also, there are no instructions for what to do with the flour or nuts.
But not to worry! I was able to use my "vast cookie baking experience" 😊 to improvise and make good decisions on how to handle each situation! Fortunately, all my thoughts worked great! The Chocolate Devils turned out awesome, milk, flour, nuts and all!
I'm rating Chocolate Devils 2-stars for cookie recipe difficulty just because of the need to melt chocolate and the different steps of adding ingredients and figuring out the recipe. But, this recipe could easily be a 1 ½ – star recipe…if we had that rating. 😊
I gathered all my ingredients together and got started mixing the butter and sugar in my Kitchen Aid. Then added the eggs and vanilla per the instruction.
Next I started melting the chocolate…and here is where my first instructions question came up. When I originally read this recipe, I assumed the ¼ cup milk would be mixed with the melted chocolate. The instructions didn't say what to do with the milk. So, I mixed it with the melted chocolate anyway. This made for a rich and creamy milk chocolate!
Once the chocolate was ready, I added it to the batter.  I did wait just a bit to let the chocolate mixture cool down some.
This thinned out the batter quite a bit, so I was assuming the flour would come next.
Again, the instructions didn't call for adding the dry ingredients, but I knew this was the next step. Since Chocolate Devils are a brownie type recipe, I also decided to add 3 more tablespoons of flour to compensate for the Denver altitude.
The flour did a nice job of thickening up the batter…so rich and smooth!
Next, I added the nuts. Once again, not listed in the recipe, so I decided to mix the nuts in the batter rather than just pour them on top.  I decided to use walnuts…I think they go best with chocolate brownies!
Doesn't this brownie batter look awesome! Wow!
The recipe does call for a 9×9 inch baking pan. Unfortunately, I only have an 8×8 inch square baking pan. But luckily, I also have a 7×11 inch pan! So, that's what I used to bake these puppies!
These little "Devils" baked up nicely! No issues or concerns. I ended up baking them about 5 minutes longer just to make sure there weren't any "wet" spots.
All of my guesses with the instructions seems to be correct! The brownies came out of the oven just about perfect!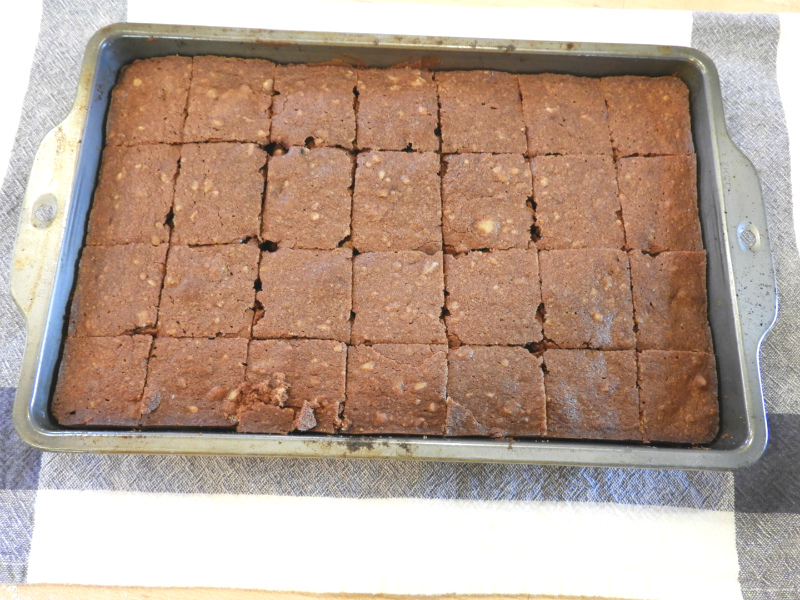 I let the Devils cool and then cut them into squares.  The consistency of the brownies was perfect for cutting.  The nuts bumped into the knife here and there, but for the most part these brownies cut nicely!
Finally, I sprinkled confectioner's sugar.  This little details adds so much!
Chocolate Devils are an AWESOME brownie cookie! Oh man, the chocolate, the nuts, the moist and cakey! This is an awesome brownie recipe!
I guarantee you will LOVE Chocolate Devils! Honestly, try them!
XXOO,
Janet
Print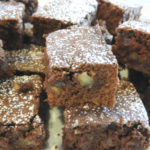 Chocolate Devils
Ingredients
½ cup butter

1 cup sugar

2 eggs

1 tsp vanilla

¾ cup flour, sifted

¼ tsp salt

2 sq. unsweetened chocolate, melted

1 cup chopped nuts
Instructions
Cream butter and sugar until light and fluffy. Add eggs one at a time and mix well. Add vanilla. (Melt chocolate over low heat. Add milk and stir until smooth.) Add melted chocolate to batter and mix well. (Add sifted dry ingredients and mix well). (Add nuts and mix well.) Pour into greased 9×9 inch pan. Bake about 25 minutes at 350 degrees. Cut into squares while still warm. Dust with confectioner's sugar if desired.
Recipe Yield
Makes about 2 - 3 dozen brownies