Cereal Delights are asweet and crunchy cookies that are very similar to Ranch Cookies except with corn flakes instead of rice crispies. The sweetness comes from a full cup of granulated sugar AND a full cup of brown sugar…coupled with corn flakes, nuts, and all the other regular cookie ingredients make these Cereal Delights simply delightful!
Cereal Delights are a great for those that like a crispy and crunchy cookie! There is crunch from the corn flakes and nuts; after baking, they also become even crispier. I generally prefer a soft cookie, so I decided to make the cookies bigger and thicker that the recipe called for, this resulted in a bigger and thicker crispy cookie! 😊 I am learning to love crispy and crunchy cookies, starting with Cereal Delights!
I'm rating Cereal Delights 2-stars for baking difficulty, only due to the extra steps of rolling the cookie balls and using the fork to press the cookies before baking.
There are quite a few ingredients in Cereal Delights! All the normal baking pantry ingredients a long with corn flakes, quick oats, and nuts. Maybe next time I'll also add coconut!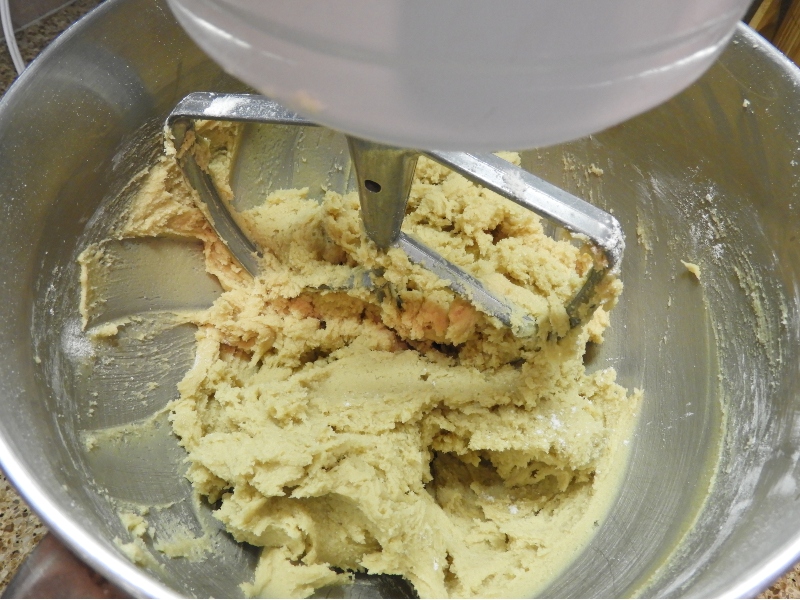 Mixing the ingredients together was easy and quick and resulted in a creamy base for the dough.

Next, I added the corn flakes, oats, and chopped nuts. I decided on walnuts this time around. Pecans would also work great!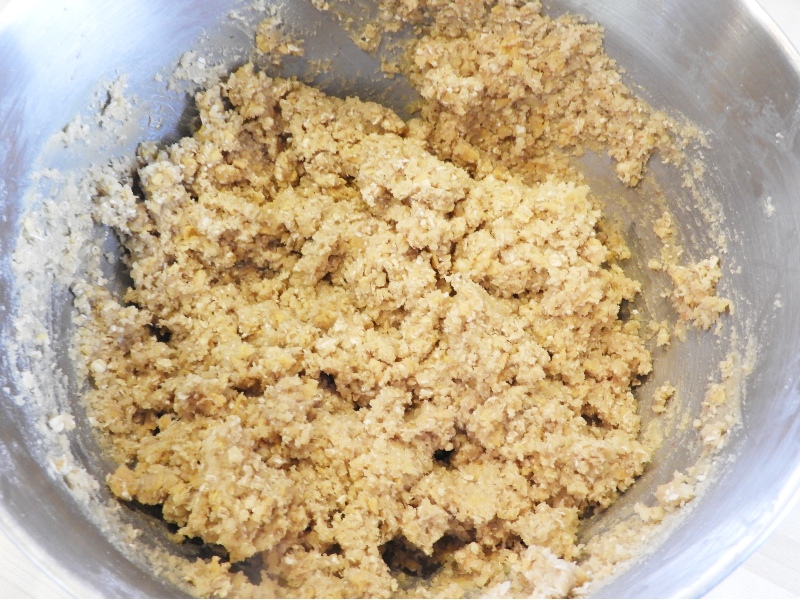 The recipe says to mix the corn flakes, oats, and nuts very well. This helps to break up with corn flakes into small pieces and incorporate the oats and nuts equally.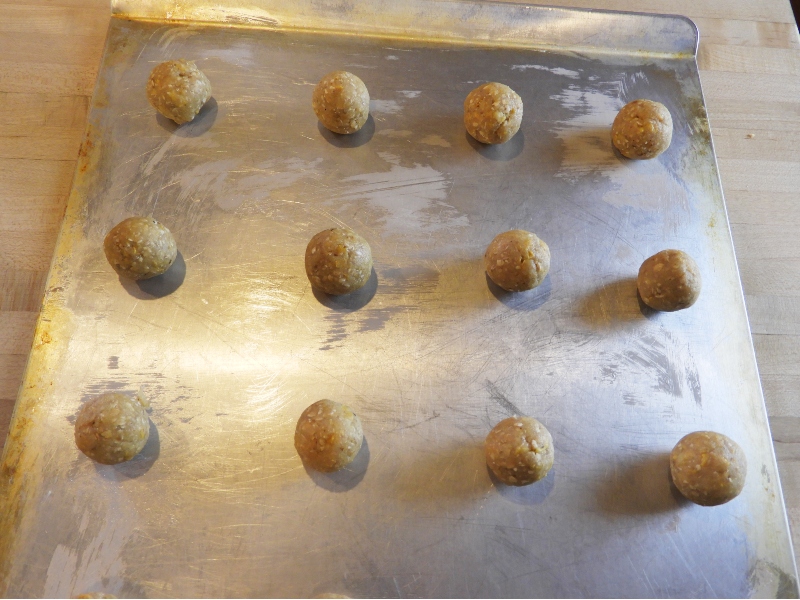 The recipe says to form the dough into small balls. I decided to go with medium size cookie balls because it just seemed like Cereal Delights should be a big cookie.  I expected the cookies to spread, so I placed them about 2 inches apart on the greased cookie sheets.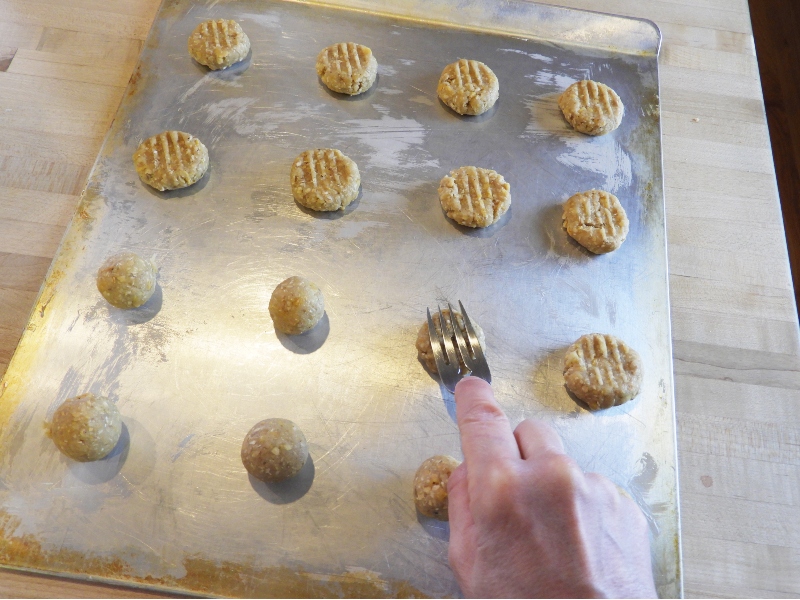 The recipe also says to press the cookie with the tines of a fork before baking. I believe this helps the cookies spread out evenly when baking.

After pressing the cookie balls with my fork, I was ready to bake!

As you can see, the cookies spread out a bit while baking, but not too much. After seeing this, I was glad I had made the cookies bigger than the recipe called for. If the recipes were smaller, they would have been even crunchier. I baked them until just before they started to turn brown. This was about 10 – 12 minutes.

I love the way the cookies spread into similar size round cookies. The larger cookies resulted in a nice size that wasn't too flat.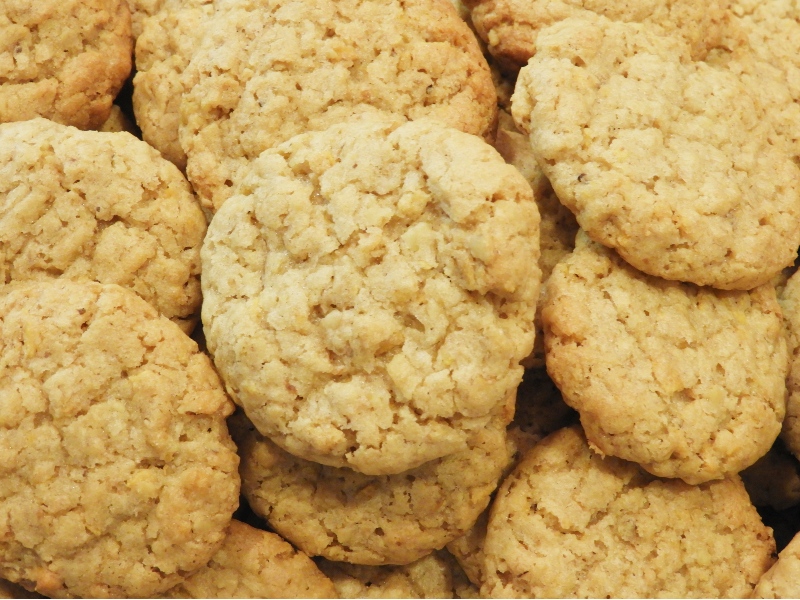 Just look at all the texture in these cookies! You can almost see how crunchy they are. Hard to make out the corn flakes, oats, and nuts, but they are definitely there!

Rolling the dough into medium instead of small cookie balls ends up making about 5 – 6 dozen cookies. If you make small balls, I'm sure you would end up with a couple more dozen. Or you can just double the recipe and continue to make bigger cookies 😊
Cereal Delights are a wonderful cookie everyone will love! They are sweet, oaty, nutty, and of course crunchy. I suggest filling your cookie car with Cereal Delights! They won't last long, so make sure to buy the large box of corn flakes!
Enjoy!
XXOO,
Janet
Print
Cereal Delights
Ingredients
1 cup butter or shortening
1 cup granulated sugar
1 cup light brown sugar
2 eggs
1 ½ tsp vanilla
2 cups sifted flour
1 tsp salt
½ tsp baking powder
2 cups corn flakes
2 cups oat meal (quick)
1 cup chopped nuts
Instructions
Cream butter and sugars until light and fluffy. Add eggs and vanilla and mix well. Add sifted flour, salt and baking powder and mix well. Add cereal and oats and mix very well. Chill if necessary for easier handling. Form into small balls and place on greased cookie sheets and bake at 350 degrees for about 12 to 13 minutes. Press with forks before baking.
Recipe Yield
Makes about 5 - 6 dozen cookies 1x
Cookie Category:  Molded or Shaped