Ranch Cookies are my kind of cookies! Oatmeal, rice krispies, coconut…just add the basics and you've got a cookie that won't last long in the cookie jar! 🙂  A cookie that is crunchy and chewy, sweet and buttery, and just darn good!  I will say, these Ranch Cookies remind me of a cookie I've bought at the grocery store.  It is much better of course, but the crunch of the krispies is very familiar.  I know I've tried them somewhere before…or maybe they just remind me of a cookie I loved when I was a kid?  Either and anyway, these cookies have that nostalgic flavor and feel.  Yummy!
The recipe for this crowd pleaser cookie is easy to follow and the cookies are easy to make. I didn't have to make any adjustments to the cookie dough. I did think I might need to add a little flour, as is the case with a lot of the drop cookies I've made, but that wasn't the case with these Ranch Cookies. The oatmeal, coconut, and rice krispies along with the flour made for the perfect consistency.
I am rating this Ranch Cookie recipe 2-star for cookie difficulty. It's a basic drop cookie, but the need for shaping the dough and the extra step of pressing the cookie dough with fork tines dipped in milk adds just enough to make this a 2-star difficulty.
I pulled all my ingredients together and started mixing.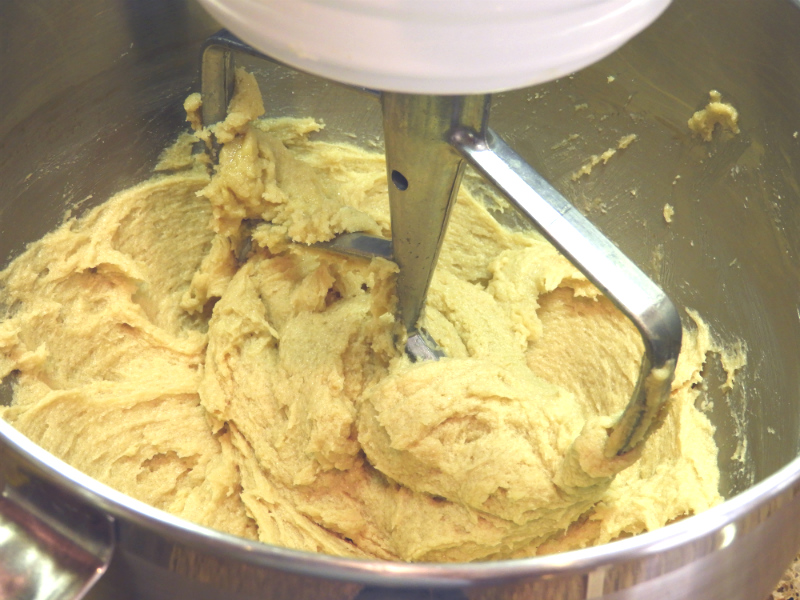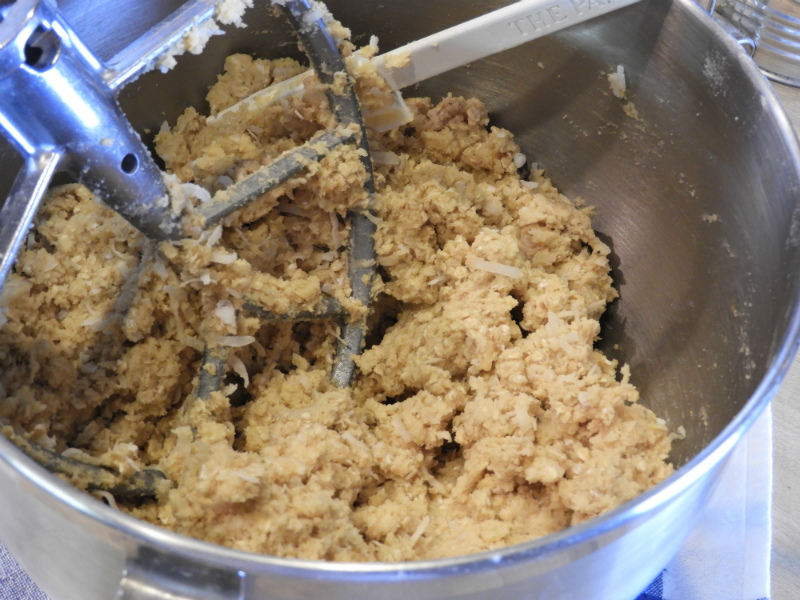 This cookie is the tale of two doughs ? Before and after the oatmeal, rice krispies, and coconut. Of course, I had to try both! I love the creamy dough before and I love the crunchy, chewy dough after. To be honest, I was expecting a really sweet cookie dough with a full cup of both white and brown sugars, but after all was mixed together, the dough was just perfect. Not too anything, except perfect!
Most of the recipes in Cookies by Bess are meant to be small, even dainty cookies. In my opinion, the Ranch Cookie recipe is not a dainty cookie. I think it's meant to be one of the large cookies that take two hands to eat! I didn't make my cookies that big, but I wanted to! Instead I used a heaping teaspoon of dough for each cookie.
Because the cookie dough has the oatmeal, rice krispies, and coconut, it got a little dry as I worked through the baking process. So, after dropping the dough on the cookie sheet, I pressed the cookie dough together to make sure it didn't break apart while baking.  Even though I shaped the cookies a bit, I wouldn't call this a shaped/molded cookie.  I just really pressed the dough together.  I still consider Ranch Cookies a drop cookie.
Before we stick these in the oven, I want you to notice that I spaced the cookies pretty wide apart on the cookie sheets. My test batch showed that the cookies spread quite a bit while baking.  Always good to bake a test batch!
Next it was time to press the dough with a fork dipped in milk. I'm not sure what the milk is for, but I liked seeing it seep into the cookie dough.  Maybe it was to add a bit of liquid, I wish Grandma Bess was here so I could ask!  This extra step was a simple process, super easy and quick.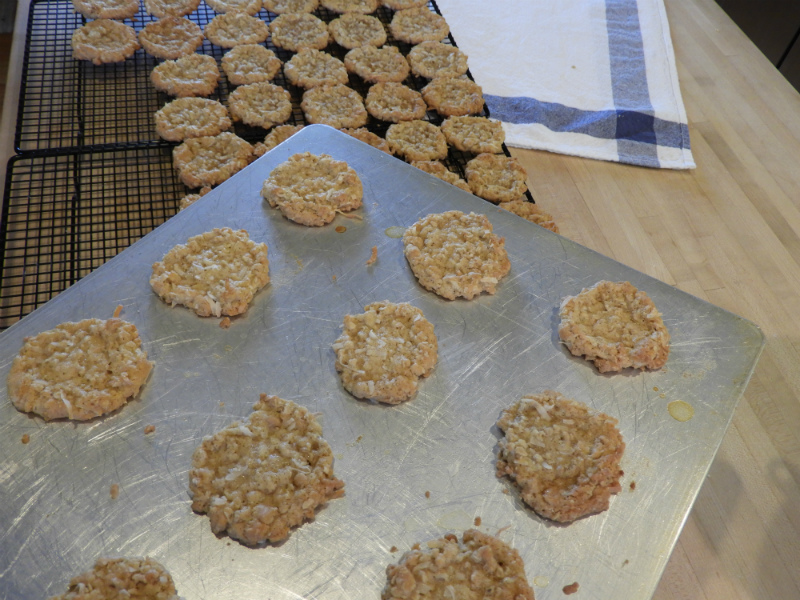 I baked the cookies for 10 minutes. This was just enough time for them to spread and to turn a golden brown. The finished cookies were chewy in he middle and crunchy around the edges. If you like a totally crunchy cookie, I suggest baking them the full 12 minutes.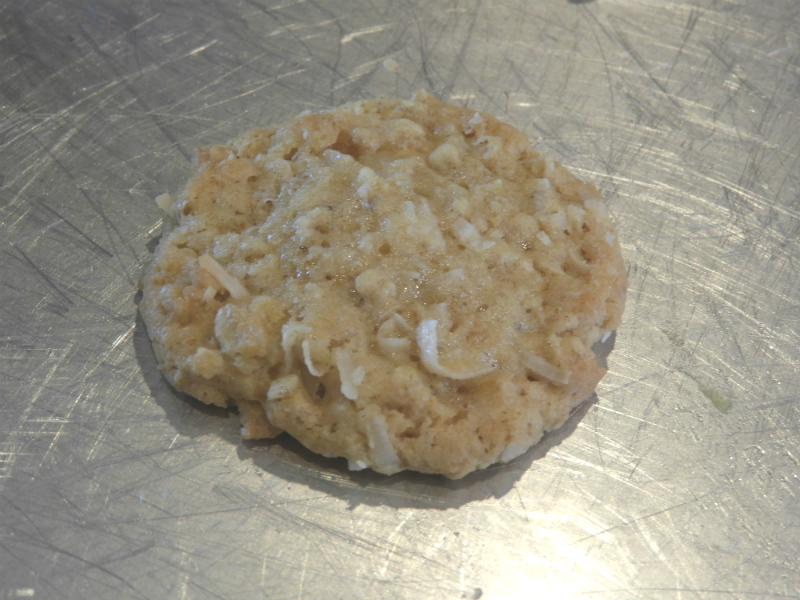 Just check out this Ranch Cookie! Texture, flavor, crunchy and chewy. This cookie has everything!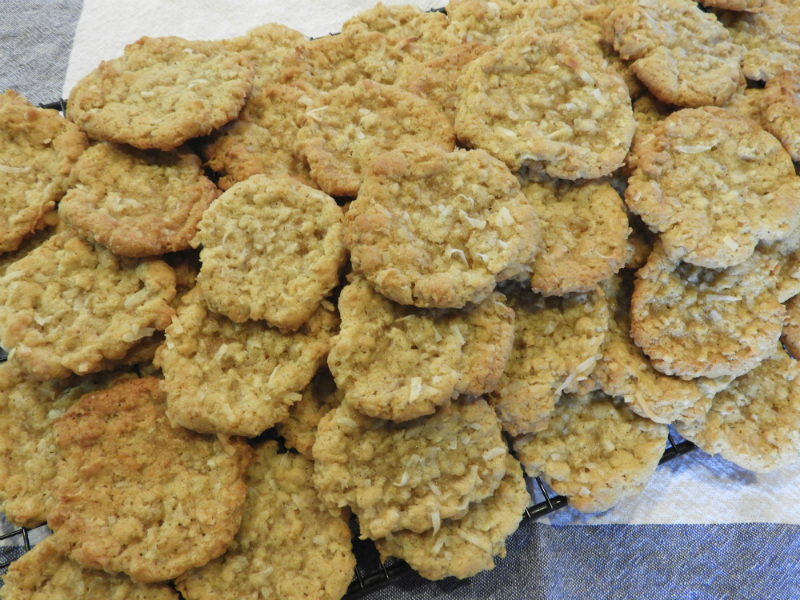 Like I said earlier, these Ranch Cookies are my kind of cookie! Full of my favorite ingredients, this cookie has everything I could every want in a cookie!
I have to mention that I ate about 2 of the 7 dozen cookies myself! It wasn't hard to do and it didn't take as long as you might think ?
These Ranch Cookies are a great cookie for kids of all ages. You can't go wrong…I promise!
Enjoy!
XXOO,
Janet
Print
Ranch Cookies
Ingredients
1 cup butter (1/2 shortening)
1 cup white sugar
1 cup brown sugar
1 tsp vanilla
2 eggs
1 cup coconut or 1 cup chopped nuts
2 cups sifted flour
1 tsp baking powder
1 tsp baking soda
½ tsp salt
2 cups quick oatmeal
2 cups rice krispies
Instructions
Cream butter and sugar until light and fluffy. Add eggs and vanilla and mix well. Add sifted flour, salt, baking soda and baking powder and mix well. Add oatmeal, rice krispies, coconut or nuts and mix well. Drop by spoonful onto greased cookie sheets. Dip tines of fork in milk and flatten cookies with fork. Bake at 375 degrees for about 10 to 12 minutes.
Recipe Yield
Makes about 6 - 7 dozen 1x