Butter Nut Swedish Cookies
At this time of year, I would usually post a blog about a Cookies by Bess holiday cookie recipe. This year, instead of a holiday cookie, I'm posting a very special Cookies by Bess cookie recipe that may not be a Christmas cookie per se, but like in my family, it certainly can become a holiday family tradition…Butter Nut Swedish Cookies.
Those of you who have followed this blog over the years know that I've mentioned cookies being in my top 10 best Cookies by Bess cookies. Honestly, I haven't counted the actual number of top 10 cookies, but I do know that the #1 Cookies by Bess cookie recipes is this one…Butter Nut Swedish Cookies.  I can honestly say that everyone that tries Butter Nut Swedish Cookies agree, this is the #1 cookie of all time!
My original plan was to save my favorite Cookies by Bess cookies recipes for the very the very last blog posts. I was going to bake and post the blogs for all the other cookie recipes before I post my top favorites. Well, since I've taken a break from baking and blogging, I am changing that plan today and posting my #1 favorite Cookies by Bess Cookie…Butter Nut Swedish Cookies!
I have already posted one of my other favorite Cookies by Bess cookie recipes, Rich Flavored Christmas Cookies. This blog was posted the first year of this blog…way back in December 2017. There are two other favorite recipes I will post in the coming months, so stay tuned!
As I mentioned above, Butter Nut Swedish Cookies are my favorite of all Grandma Bess's cookies! Not only my favorite but just about everyone else's favorite too! The cookies are small, fancy and very tasty with the butter, pecans, and candy.
My Mom and I have made these cookies for the holidays for as long as I can remember. Once in a while, I'll make a batch just for my husband who will ration them out to himself from the freezer two at a time. If he doesn't, he says he'll eat the whole cookie tin full! Everyone in my family loves Butter Nut Swedish Cookies!
Swedish Butter Nut Cookies are a 3-star cookie. As with other 3-star cookies, they are not hard to bake but there are several steps and can be time consuming to make. Just make sure you are prepared and organized before you begin…it will help you steam line the process and reduce the baking time.
Before we get into the step-by-step baking process, I have just a few tips to share when baking these cookies. Frist, I like to use the sugar-coated fruit slice candies to add color and different flavors. I use fruit slice candies like typical Orange Slices. You can pick them up in any grocery store in the bagged candy section. I cut them into small chunks with a sharp paring knife and stick one piece in each cookie before baking. Another option is to use candied cherries.
Another tip is to pull all the pieces of this cookie puzzle together before you begin to build and bake the cookies. Being organized will go a long way in helping you save time with the baking process.
One final tip…your hands are going to get messy as you build the cookies, so it's best to be ready to build the cookies from start to finish, otherwise you will need to wash your hands multiple times as you stop/start the building process.  So, as you will read below, pull together all pieces of the process together before you get started.
Okay, let's get started building our Butter Nut Swedish Nut Cookies!
All ingredients should be in your baking pantry, except probably the candy fruit slices. One note, I tend to substitute milk for cream as I don't normally have cream in my refrigerator. Also, this recipe specifically calls for pecans, so make sure you have a enough!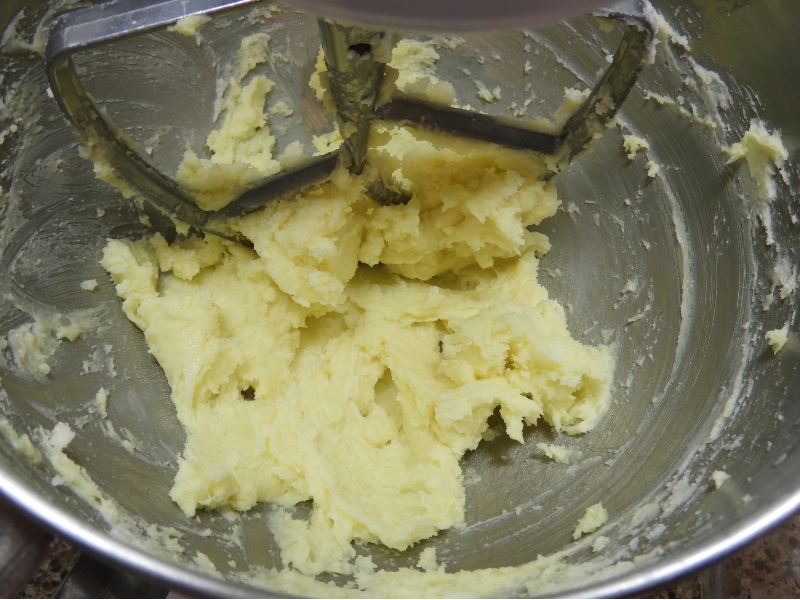 I began mixing the butter, sugar, egg yolk and cream (milk) together. Remember to save the egg white…you will need it later in the process!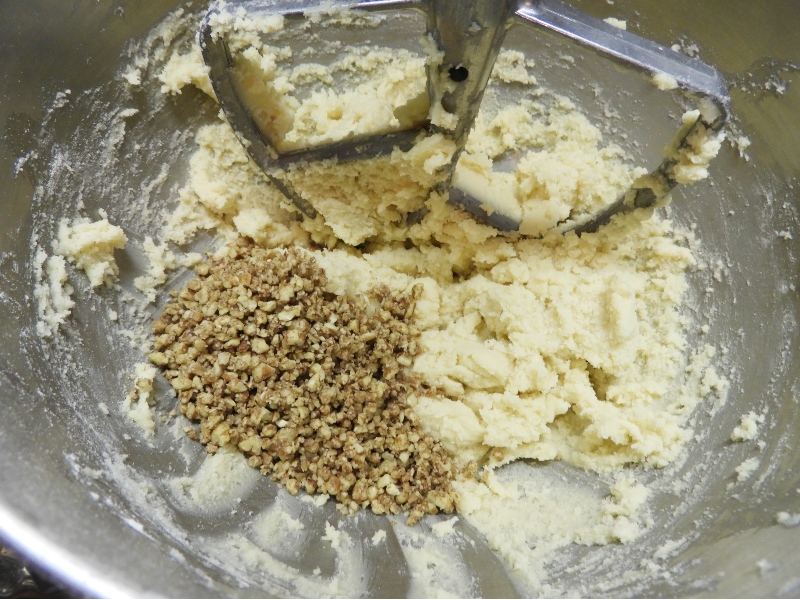 Next, I added the chopped pecans.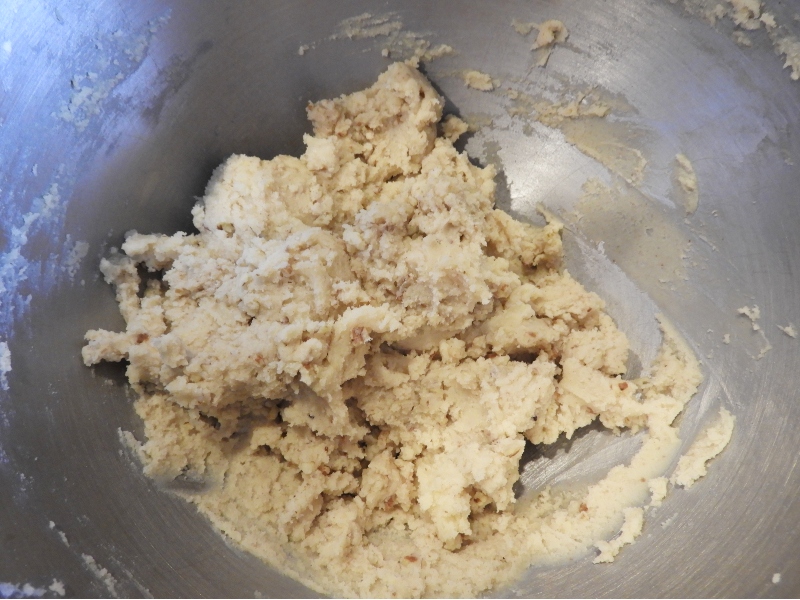 Finally, I added the sifted dry ingredients and mixed all together. It's hard to tell from this picture, but the chopped pecans are there! Step aside chocolate chip cookie dough, Butter Nut Swedish Cookie dough his is the best tasting cookie dough of all time! Definitely try it and you'll see why these cookies are the best!

Take a few minutes to chop up your candy slices into small pieces.
Once the dough is mixed and ready, get yourself set up in a comfortable chair (I like to sit at my kitchen island so I can watch TV). Have a baking sheet close by/within reach. Organize your cookie dough, egg whites (in a small bowl), and finely chopped pecans (in a bowl with a flat bottom) next to each other.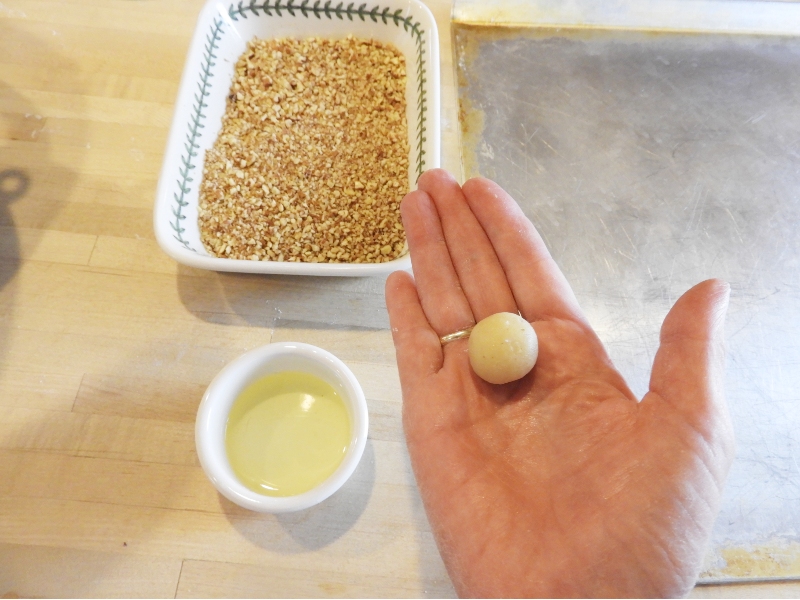 When you are ready and all set up, take a small bit of cookie dough (I like to make them a bit petit so they are bite sized and you can extend the batch) and roll it between your palms to create a little ball.

Next, roll the ball into the egg whites…

…then quickly move the ball to the pecans and roll until pecans cover the entire ball.

Place the balls on your ungreased cookie sheet. Repeat this until your sheet is full. I place the cookie balls about ½ to 1 inch a part as the cookie will expand a bit while baking.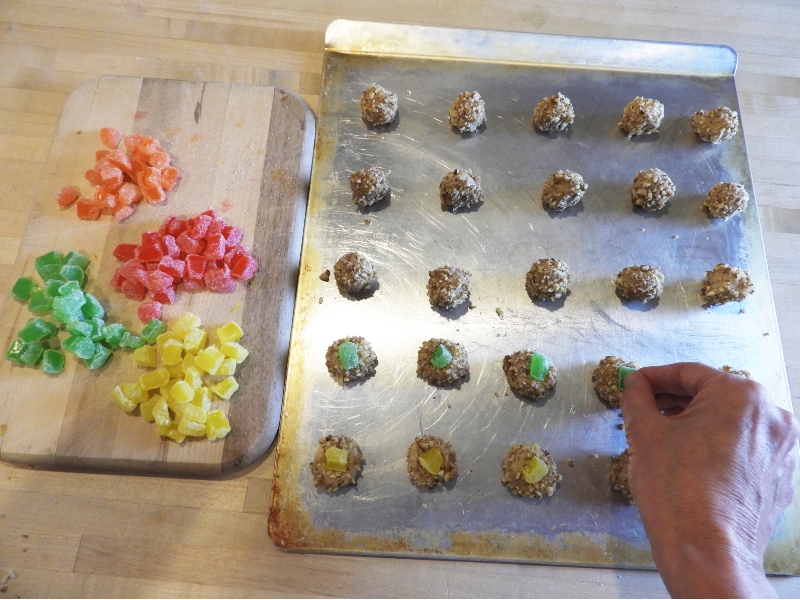 You will now want to wash your hands before you place a piece of candy (or cherries) into the center of each cookie ball. The recipe instructions say to make a small depression in the center of the cookie ball. Rather than depress the ball first, I stick the candy right into the center of the ball and press a bit until it's stuck in the cookie dough.

Now you are ready to bake!

The cookies will take the full 20 minutes to bake. The cookies are done when you see a slight browning of the cookie bottom. Remove them from the oven and then to a cooling rack. You can see from my picture that they will grow a bit with the baking. You can gauge the size cookie you want and roll the cookie balls accordingly.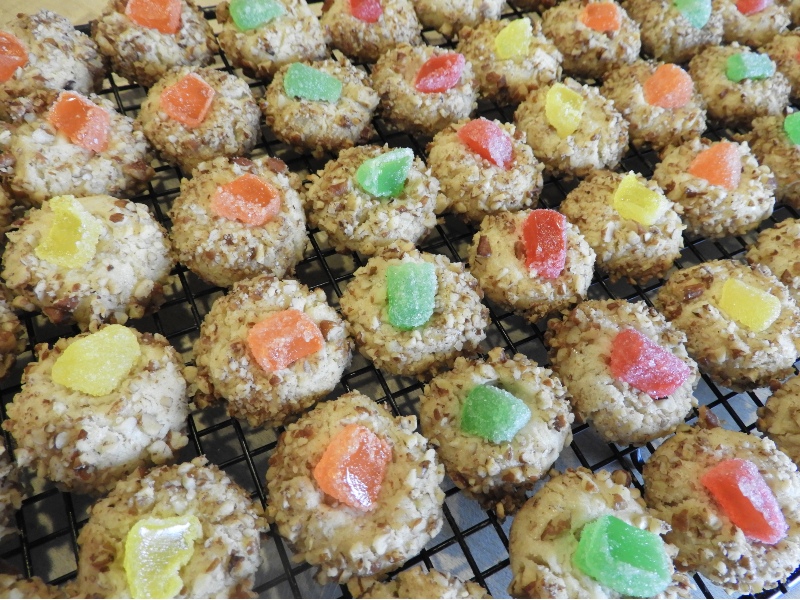 Butter Nut Swedish Cookies have to be one of the prettiest cookies ever! I just love the different colors of the candy center. The egg whites add a bit of shine and the nuts add the perfect texture.

Just look at all the yummy goodness of these cookies!
While there are a few steps to building this wonderful cookie, if you get yourself all set up in an "assembly line" you can actually get them done pretty quickly and within just a couple cookie sheets full.
No matter how long they take to make, Butter Nut Swedish Cookies are definitely worth the time and effort to make. I am sure your family and friends will love them as much as my family.
I'm very excited to finally share this wonderful cookie recipe with you. From my family and kitchen to yours, I hope you love Butter Nut Swedish Cookies as much as we do!
XXOO,
Janet
Print
Butter Nut Swedish Cookies
Ingredients
1 cup butter
½ cup sugar
1 egg yolk
1 Tbs cream
1 tsp vanilla
2 cups sifted flour
½ tsp baking powder
½ cup chopped pecans (additional 1 – 2 cups chopped pecans needed)
Fruit slice candy, maraschino cherries, or favorite trimming.
Instructions
Cream butter and sugar. Add egg yolk, cream and vanilla. Mix well. Add sifted flour with baking powder. Mix well. Add ½ cup chopped pecans. Form dough into small balls the size of a walnut or penny and dip/roll in egg white and then chopped pecans. Place on ungreased cookie sheet. Make a small depression in center of cookie. Put a piece of candy or cherry in center of cookie. Bake at 350 degrees for 20 minutes. Remove from baking sheet and place on cooling rack.
Recipe Yield
Makes about 5 - 6 dozen cookies 1x
Cookie Category:  Molded or Shaped