Another awesome recipe from Cookies by Bess! Sue's Apricot Strudel is a wonderfully flakey cookie that is sweet and savory at the same time. The light and fluffy strudel crust blends perfectly with the apricot and coconut mixture!
When reading the recipe for Sue's Apricot Strudel, you might get a bit intimidated. I know I did! All the different steps like cutting, mixing, rolling, slicing…I was a bit nervous when I took on the challenge. But, much to my pleasant surprise, Sue's Apricot Strudel cookies are not at all hard to make, but you do need to take your time and pay attention to what you are doing to ensure your end result cookies are as amazing as Bess' 😊
I have to admit, I didn't know who "Sue" is. There are two possibilities in my family, my Aunt Suzie, Grandma Bess' youngest daughter and my Aunt Susan, my Mother's big sister. I guess Sue could also be a good friend of Bess'.
Doing my research, I asked my Mom…she confirmed that Sue's Apricot Strudel is a recipe Grandma Bess picked up from my Aunt Susan.  I'm not surprised…my Aunt Susan always had great and fancy recipes!  So here's to you Aunt Susan!  I loved baking your cookies and love them even more knowing the recipe came from you!
I'm rating Sue's Apricot Strudel 3-stars for cookie baking difficulty. All the steps and potential for error elevates this recipe's difficulty. But, Grandma Bess did it again! She took found a relatively difficult cookie recipe and made it almost easy. You Go Grandma Bess!
Just a few ingredients in this recipe. I did have to run to the store for the sour cream…but most of you probably have it already in your refrigerator. I'm not a big fan of sour cream in general, so I never keep it on hand.
I tend to sigh every time I see "cut butter into flour as for pie crust" in cookie recipes. The cutting in process takes a bit of time and "elbow grease". I realized this time, the key is to make sure your butter is the perfect consistency. Room temperature or relatively soft, but not too soft, works the best for me.  Luckily, my ½ pound (or 1 cup) of butter was perfect for cutting!
If you've read my blogs, you will know that I don't have a proper tool for cutting in butter and flour. Each time I make a recipe that requires cutting in butter, I say I'm going to go get the proper tool. Well, I still haven't…so I got my lucky fork out and started the process.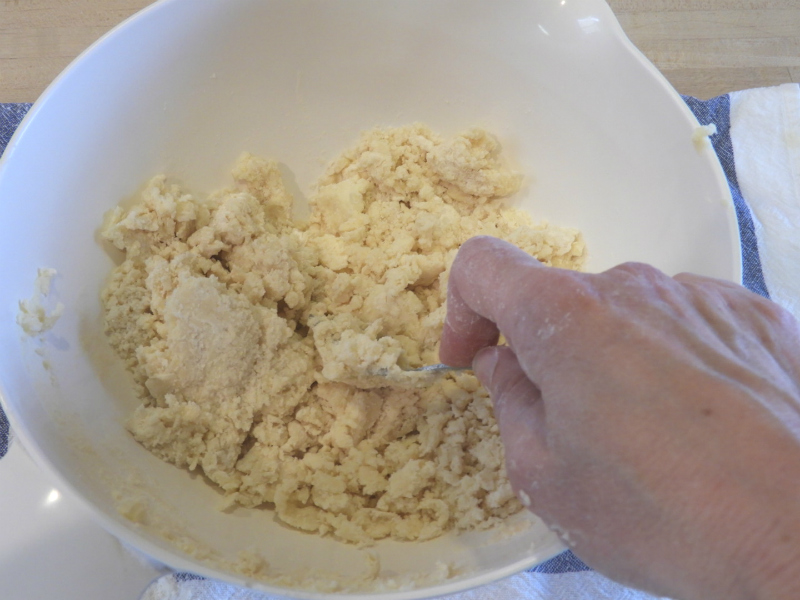 You can see how the fork blends the butter and flour…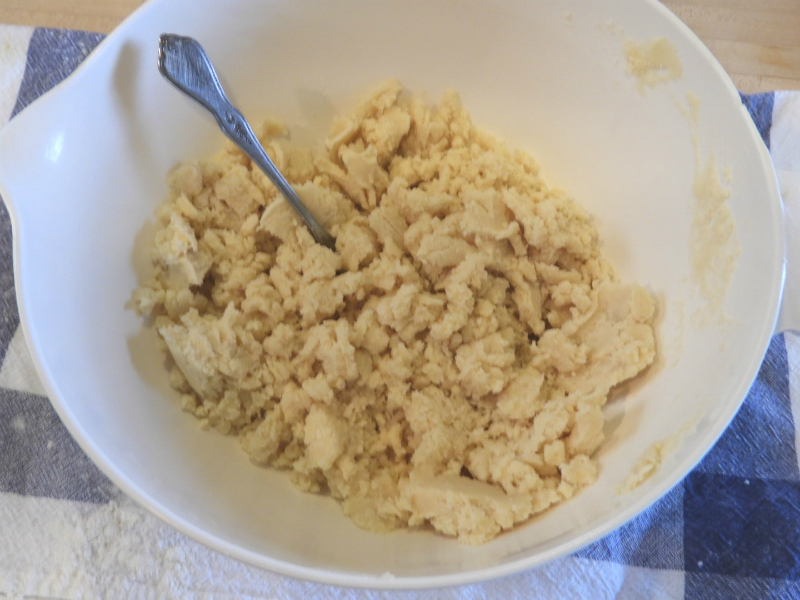 Finally, after about 10 minutes, you can see how the butter and flour are mostly blended. The recipe calls for 1 ½ to 2 cups of flour. I ended up adding the extra ½ cup flour just to make sure the Denver altitude baking didn't cause an issue.
Now it was time to add the ½ pint or 1 cup of sour cream.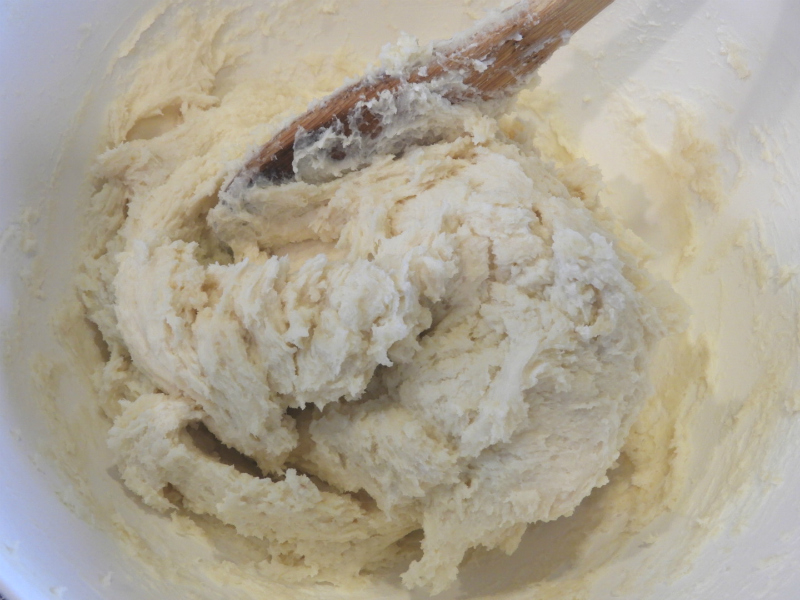 The sour cream helped to blend the butter and flour together into a nice and smooth dough.
I was a bit worried the dough was going to be sticky and difficult to form into a call for chilling in the refrigerator. But, no worry necessary! The dough was the perfect consistency and easily formed in to a nice round ball.
I wrapped the dough ball in wax paper and stuck it in the refrigerator for overnight chilling.
Per the recipe, I pulled he dough out of the refrigerator about 30 minutes before I was ready to get started on the baking process.
The dough cut easily into 6 sections.
At this point, I mixed together the apricot preserves and coconut.  Next I was ready to spread the filling after rolling out the dough.
To help with the dough rolling process and to save my wood counter top from absorbing the oils from the dough, I pulled out was paper to place down. I floured the wax paper and the dough.
I was once again pleasantly surprised! The dough was easy to roll out! Per the recipe, I rolled the dough as thinly as I could.
I then spread a thin layer of the apricot and coconut mixture on the dough.
I believe the wax paper help with the rolling process. The dough separated from the wax paper easily and rolled up nicely!
Once all rolled up, I made sure the edges were tight and sealed.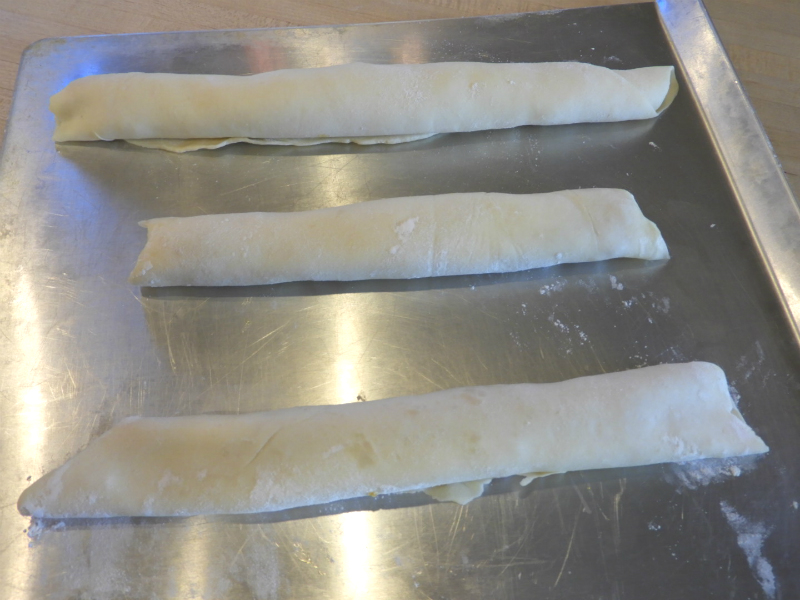 I placed the strudel rolls on the baking sheet and stuck them in the oven.
The rolls didn't puff up too much in the oven, but I did notice some of the filling leaked out of the ends.
I decided to close up the ends on the next three rolls to see if that would keep the filling from leaking. It did to a point, but you should expect a bit of filling to leak out.
The strudels were easy to remove from the baking sheets…the baked apricot preserves where much more difficult to remove!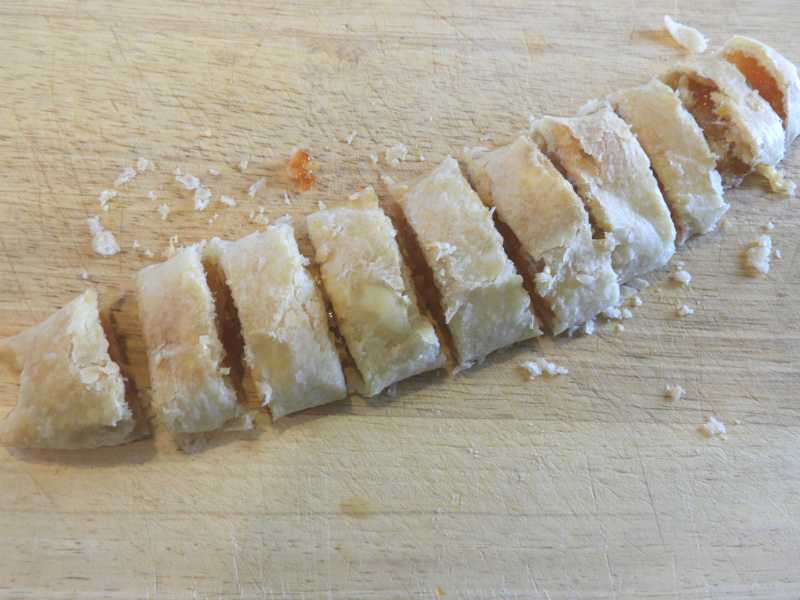 I let the strudel's cool almost completely before I attempted to slice them. They cut easily, but the flaky crust required me to be careful and deliberate with my knife.
I was a bit surprised the instructions said to cut the strudel in to 1-inch slices. That seemed large to me. So, I ended up somewhere between ½ and 1 inch.
Sprinkling the strudel's with powdered sugar is such as nice touch! And just take a look at how nice the strudel cut into slices…so luscious!
You can see the dough rolls and the texture of the coconut, flaky crust and apricot preserves.
After baking Sue's Apricot Strudel, I realized I've never baked strudel before! Probably because it seems difficult and time consuming. After baking Grandma Bess's strudel recipe, I'm not afraid anymore!
I can't say enough about Sue's Apricot Strudel cookies! Definitely a strudel, but somehow Grandma Bess and Aunt Susan figured out how to make the recipe easy to follow and one one anyone can bake!
I hope you will try Sue's Apricot Strudel! A perfect cookie for any gathering with friends and family!
XXOO,
Janet
Print
Sue's Apricot Strudel
Instructions
1 ½ to 2 cups flour

½ pound butter

½ pint sour cream

Cut butter into flour as for pie crust. Add sour cream. Mix well. Roll dough into a ball. Wrap in waxed paper and refrigerate overnight.

Remove dough ½ hour before ready to fix. Cut dough into 6 sections. Flour board before rolling. Roll as thinly as possible.

Fill each section with the following mixture:
1 3 ½ oz. can coconut

1 12 oz. jar apricot preserves

Roll up each of the 6 rolls. Bake in 375-degree oven for 20 minutes or until golden brown. Remove to cooling rack. Cool; the cut into one-inch slices. Dust with powdered sugar.
Recipe Yield
Makes about 45 strudel slices
Cookie Category:  Molded or Shaped, Refrigerator, Rolled