I have really fond memories of shortbread cookies from my childhood. We had a baby sitter from Scotland that made us a traditional shortbread recipe when she was at our hours…flour, butter, and sugar.  The Scotch Shortbread No. 1 recipe has a couple more ingredients, so I was curious how similar they would be the cookies from my childhood.
Scotch Shortbread No.1 cookies are actually very different cookies from the shortbread cookies I remember having as a kid.  My childhood shortbread cookies were bar cookies.  Scotch Shortbread No. 1 are rolled cookies.  But, both of these recipes have that rich buttery shortbread flavor and that dense butter cookie texture.   You just can't beat BUTTER!
Scotch Shortbread No. 1 cookies only call for 1/2 cup sugar, so are not super sweet.  I tend to like sweet cookies, so prior to baking some of the cookies, I decided to sprinkle them with colored sugar.  Not only did this add a springy personality, the sugar added the just enough sweetness!
I'm rating the Scotch Shortbread No. 1 recipe, 3-stars for cookie baking difficulty.  In general, I tend to rate all rolled cookie recipes 3-stars because of the additional time and effort to roll and cut out the cookies.  Cutting the Scotch Shortbread No. 1 cookies is actually one of the easier rolled cookie recipes I've made.  The dough is rolled thick and the dough consistency is just about perfect for rolling.
I just have to thank Grandma Bess for finding a rolled cookie recipe that not only brings back memories from my childhood, but is also relatively easy to make!
Super easy to pull the ingredients together!
After creaming the butter and confectioner's sugar, the recipe says to "knead in sifted dry ingredients".  I think this is the first time I've seen instructions for kneading in a cookie recipe.
I've gotten in the habit of using my Kitchen Aid to mix cookie dough.  Luckily, I realized the Kitchen Aid has a kneading tool.  It's obviously meant for kneading bread dough.  I wasn't sure if it would work for the cookie dough.  So, I tried it out!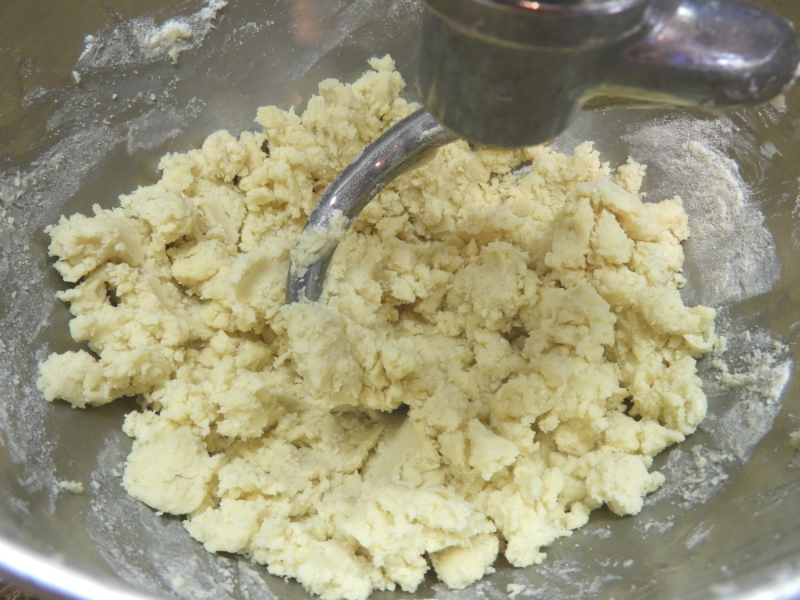 It actually work well!  After using the kneading tool, the cookie dough was a little crumbly, but it was mixed together and seemed to be the right consistency.
I was right!  All I had to do was continue to knead the dough together with my hands.  It easily came together and was ready to roll out with just a little extra flour.
Thinking the cookies were going to be super buttery rich, I decided to use small cookie cutters, but any size or shapes will work.
I rolled out the cookie dough to about a 1/3 inch thick and started cutting.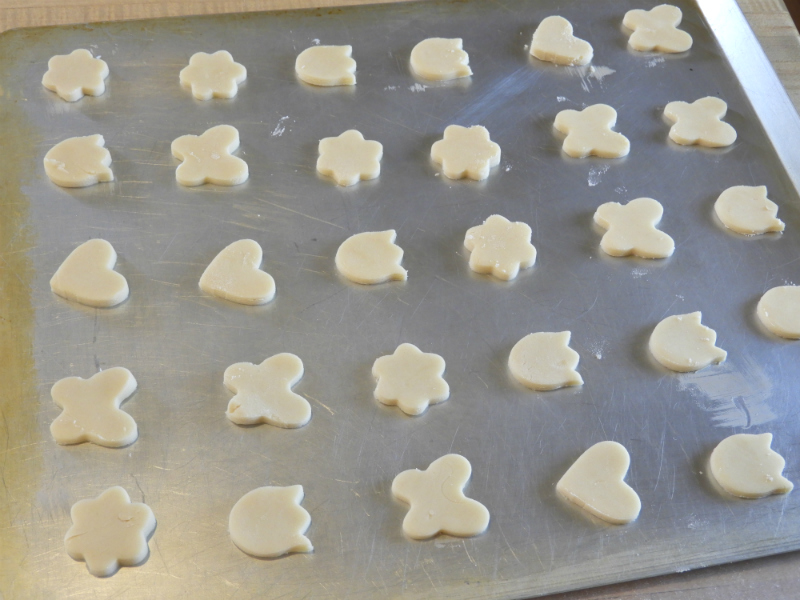 The cookies didn't spread or change shape much while baking, so I was able to pack the cookies on my lightly greased cookie sheets.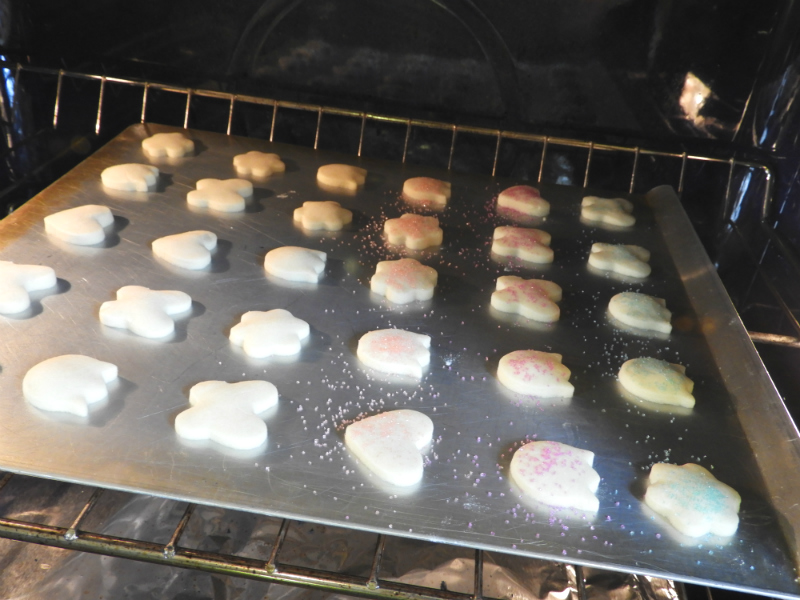 The baking time was the most challenging part of making Scotch Shortbread No. 1 cookies.
The recipe says to bake for about 20 minutes, and the cookies should be a delicate brown.  Well, I'm not sure if it's my oven or what, but as you can see above, I needed to experiment a bit with the baking time.
The first batch I baked for 15 minutes.  These you can see got WAY TOO brown.  They still tasted great :), but almost look burnt.  The next batch I baked for about 12 minutes, but still came out too brown.  With this batch, I also realized they kept baking AFTER I took them out of the oven.  On the cookie sheet AND on the cooling rack.
Finally, I baked the cookies for 10 minutes and immediately took them off the cookie sheet when they came out of the oven.  Even with cutting the baking time in half, they had a light brown color.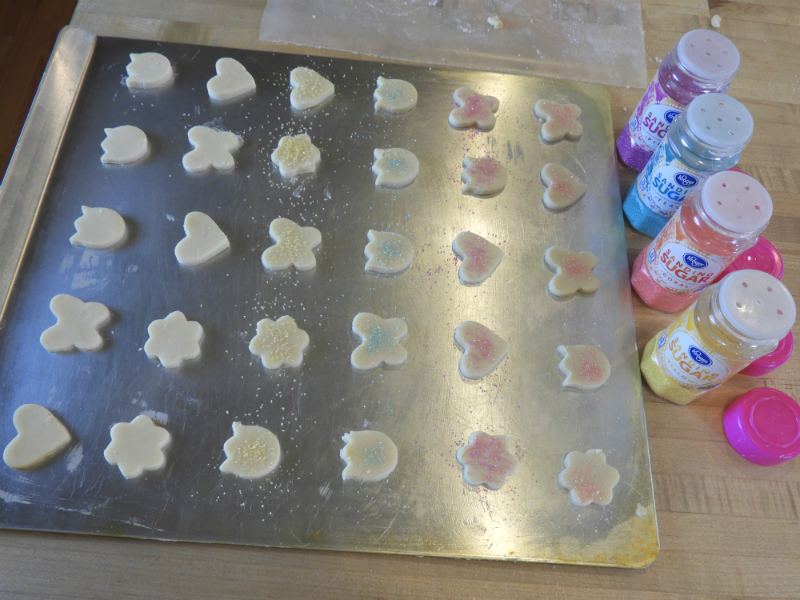 As I mentioned above.  I decided to sprinkle a little colored sugar on top of the cookies before baking.  I think this adds a little personality and just the right amount of sweetness!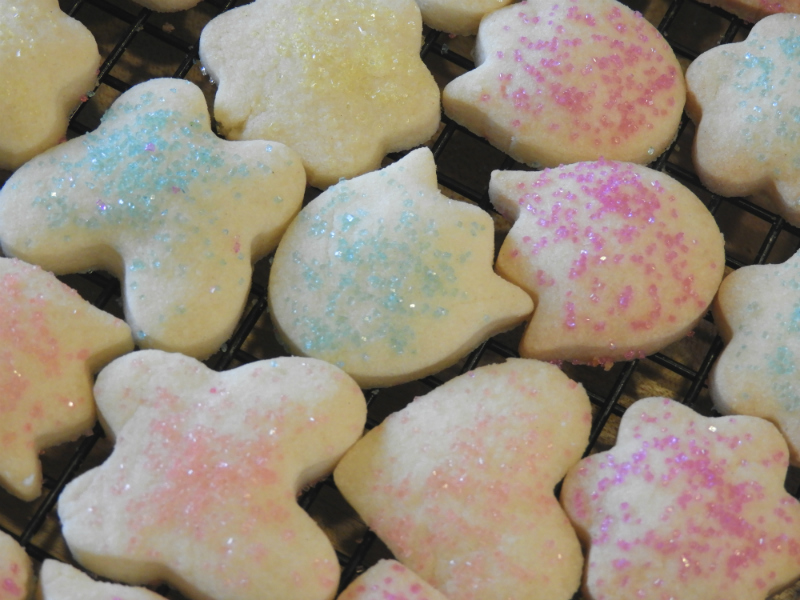 Check out how pretty these Scotch Shortbread No. 1 cookies turned out (once I figured out the baking time!)!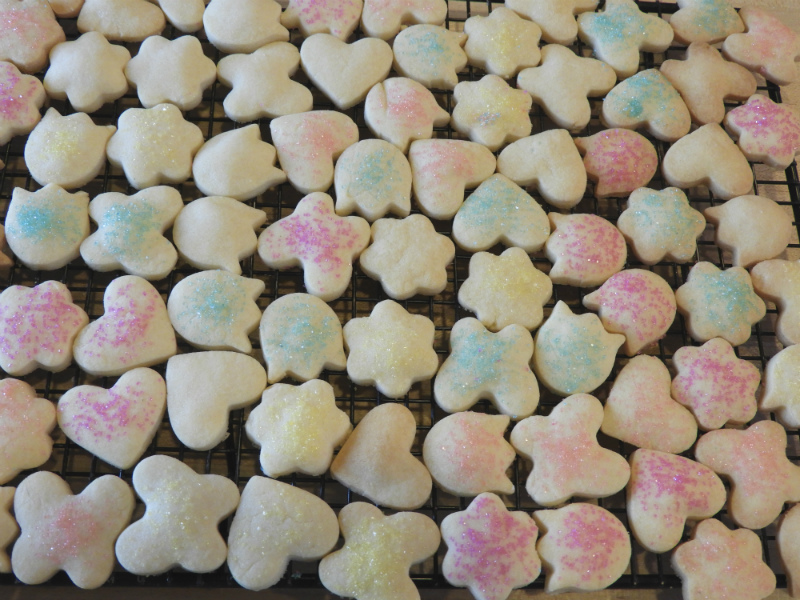 Scotch Shortbread No. 1 cookies are a light and buttery rich shortbread cookie.  Using small cookie cutters make it easy to just pop one or more in your mouth.  A little crisp at first, then they melt away!
If you are looking for a relatively easy rolled cookie recipe that meets all the shortbread criteria, you will love Scotch Shortbread No. 1 cookies!
XXOO,
Janet
Print
Scotch Shortbread No. 1
Ingredients
2 cups sifted flour

¼ tsp baking powder

½ tsp salt

1 cup butter

½ cup sifted confectioner's sugar
Instructions
Cream butter and sugar until light and fluffy. Knead in sifted dry ingredients. Roll 1/3-inch-thick on floured board. Cut into desired shapes. Bake on lightly greased cookie sheets in 350-degree oven about 20 minutes. Should be a delicate brown.
Recipe Yield
Amount varies depending on size of cookie cutters used