What would the holidays be without cut out cookies? For some reason, I always think of the holiday as the best time of year for rolled cut out cookies.  True to most of Grandma Bess' cookie recipes, Santa Claus Cookies from Cookies by Bess are a fun and unique holiday cut out cookie recipe! Unique because they aren't the typical sugar cookie you find in most holiday cut outs.
Santa Claus Cookies combine brown sugar with the best baking spices!  The brown sugar and spices mixed together make the cookie dough a wonderful cinnamon brown color with a spicy flavor. Because the dough is rolled thin, the baked cookies are crispy and crunchy. Not your traditional holiday cut out cookies, but one everyone will love!
I'm rating Santa Claus Cookies 3-stars for cookie baking difficulty. The recipe says to chill the dough, which helps make rolling the cookie dough easy. Once rolled, the cookies cut up easily and baked up nicely! The recipe makes about 100 cookies, so it took a while roll, cut out and bake all the cookies, but after tasting the baked cookies, it was well worth the effort!
All the ingredients for Santa Claus Cookies are staples in my baking pantry, so I was good to get started!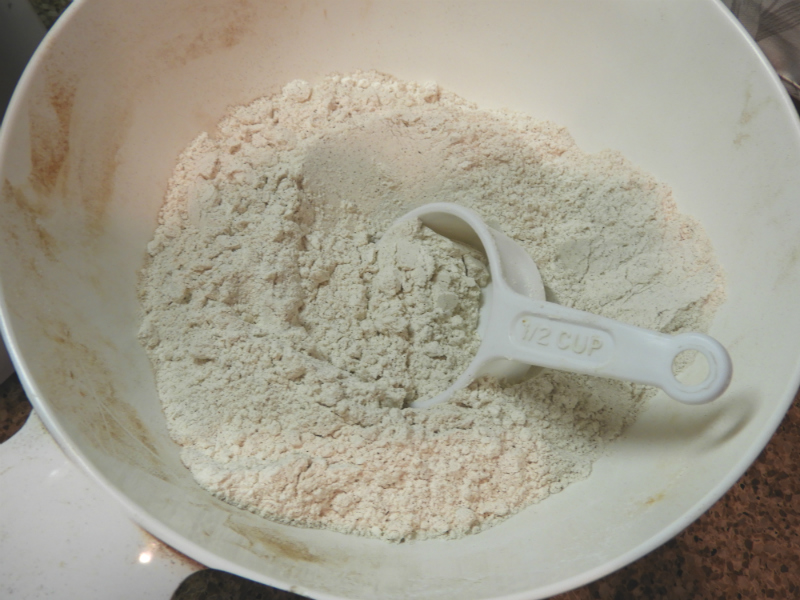 First, I sifted all the dry ingredients together.  3 1/4 cups of flour! I figured I was in for a long afternoon of rolling and cutting out cookies! Once all sifted and mixed together, I set the dry ingredients aside.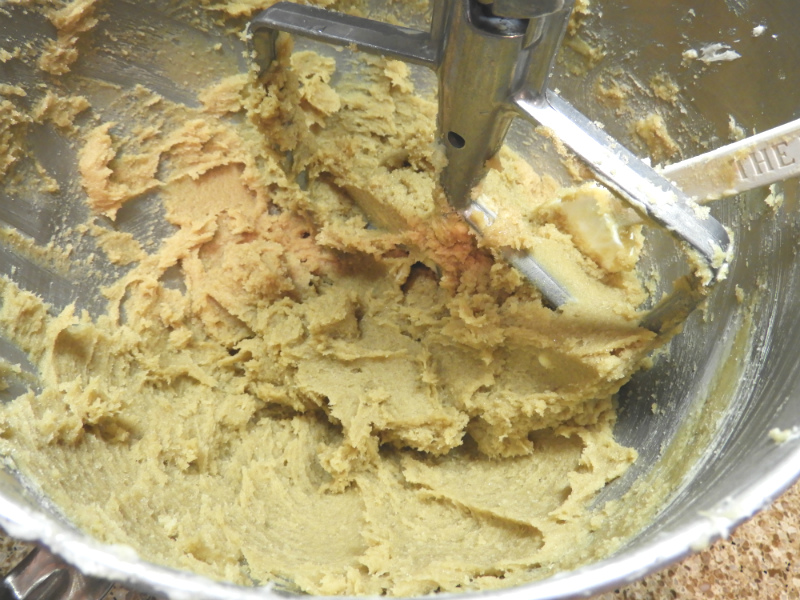 Next, I mixed the brown sugar and butter together. I have to admit, I didn't sift the brown sugar per the recipe. Sorry Grandma Bess!
I've sifted the brown sugar for other recipes. I actually found it difficult to do. After looking in to the "why" behind sifting brown sugar, I decided it wasn't worth the fine and effort. The reason I found for sifting the brown sugar is that it helps ensure there aren't any hard sugar pieces. I understand the reasoning, but again, decided to just pack the sugar right out of the package. I did look for hard clumps and made sure to remove them.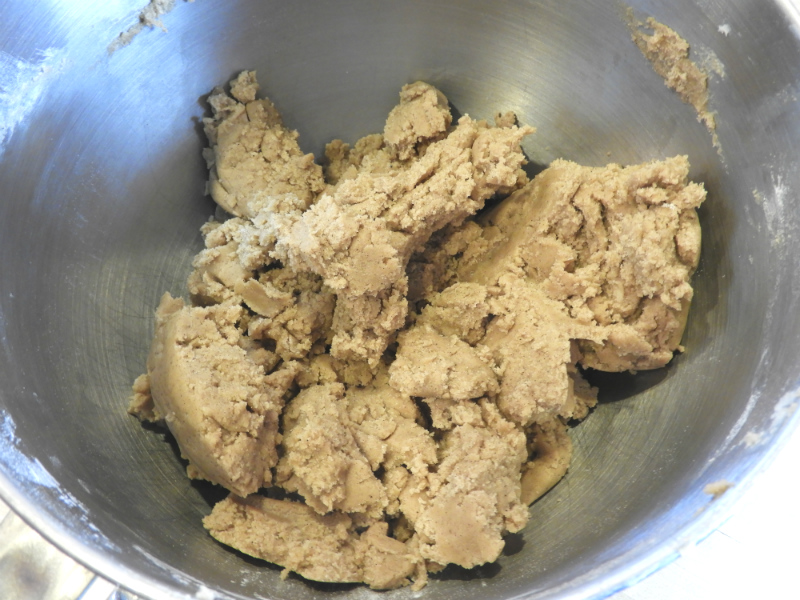 Finally, I added the 3 ¼ cups of dry ingredients gradually. After a good amount of blending, I had this wonderful dough!
I covered the dough with wax paper and stuck it in the refrigerator for a couple hours.
The recipe says to chill the dough in the refrigerator. I didn't want to let the dough get too hard, so I took it out of the refrigerator after only a couple hours. Turns out, it was already chilled through perfectly!
After pulling my holiday cookie cutters together, I grabbed a handful of dough and kneaded it together a bit to help smooth it out and form an oval ball.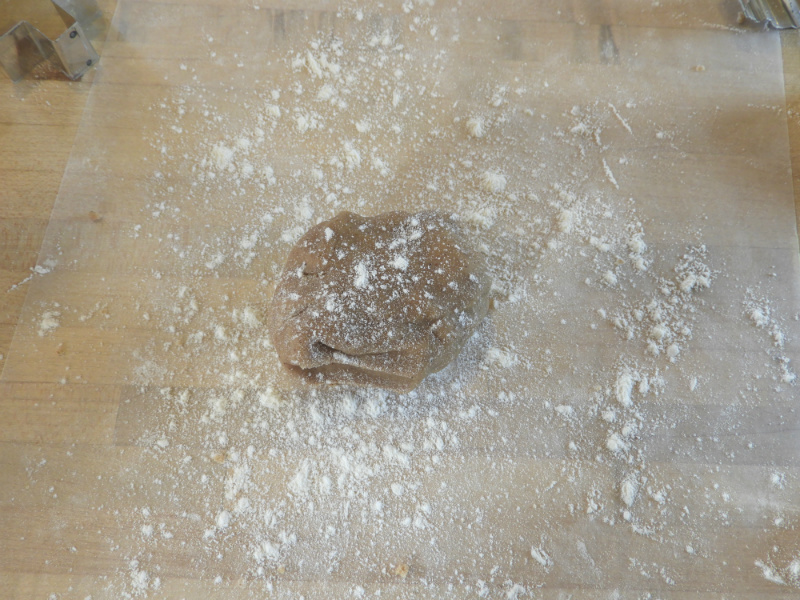 I put down some wax paper to protect my wood counter top, sprinkled some flour, and was ready to roll…hahaha ?
The dough was the perfect consistency for rolling! The little bit of flour helped keep it from sticking to the wax paper and the rolling pin. I rolled out the dough about 1/8 inch thick per the recipe.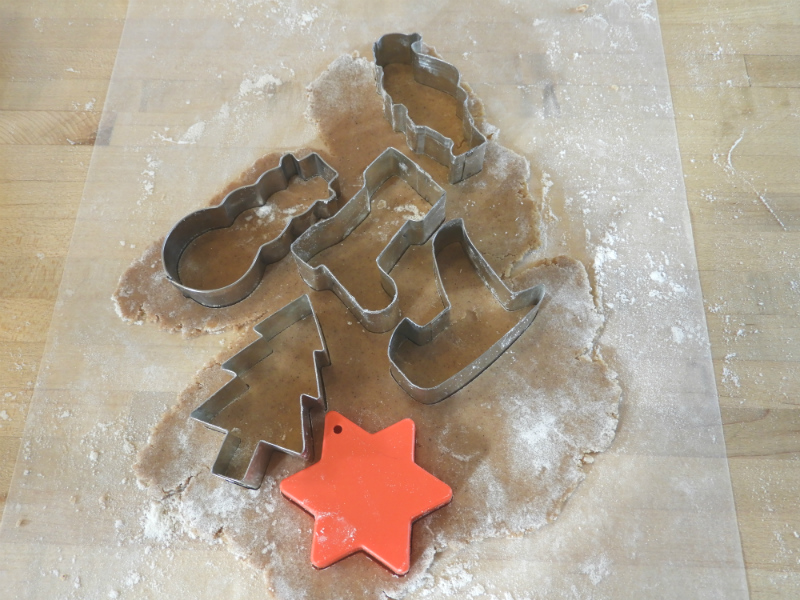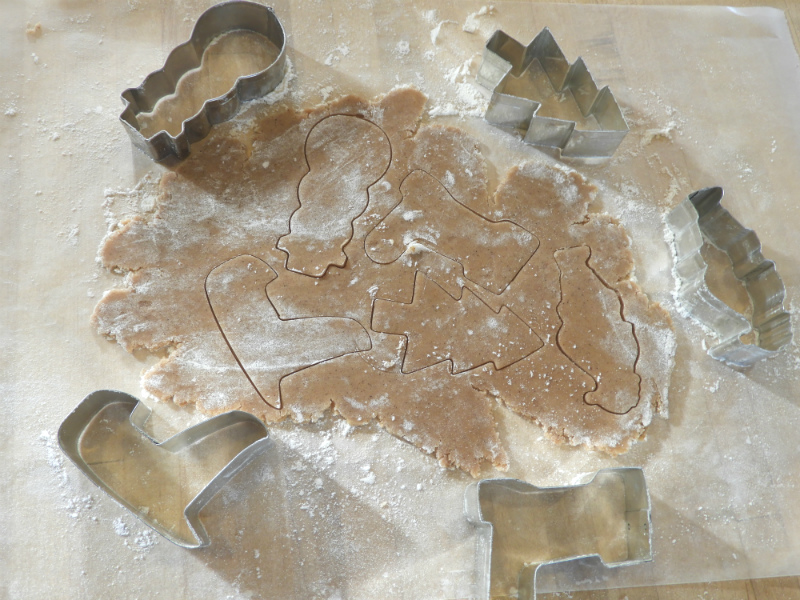 My cookie cutters worked perfectly…
And the cookies were easy to move to the ungeased cookie sheets.
I filled up my cookie sheet and was ready to bake!
As I put my first batch of cookies in the oven, I realized the recipe doesn't call for any holiday sprinkles, frosting, or decorations. So, I decided to sprinkle my red and green sugar on top of the cookies before sticking them in the oven. After all, it is December and these are Santa Claus Cookies for goodness sakes!
The cookies baked up nicely.
Since the cookies were rolled thin, I took them out of the oven at about 10 minutes to ensure they didn't get too brown.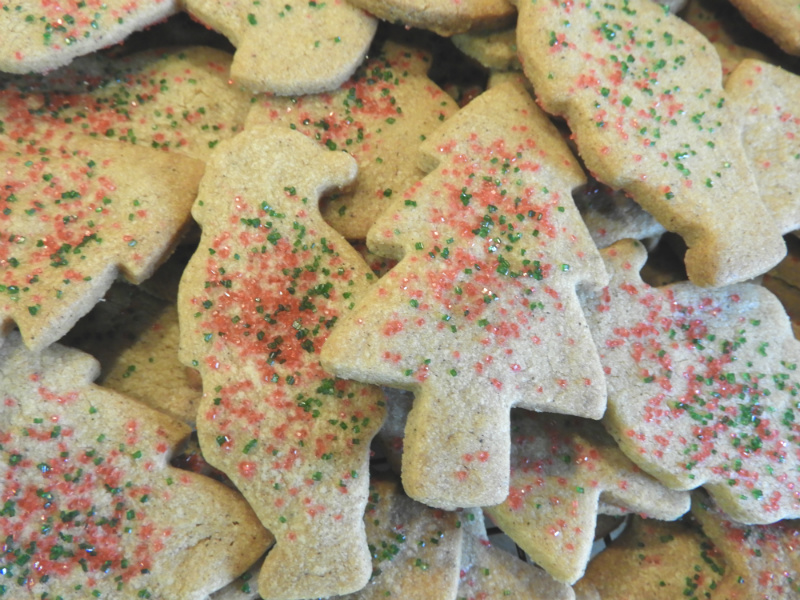 Check out how pretty these Santa Claus Cookies are! I just love the unique brown color…can't you just take the cinnamon, cloves, and brown sugar!
The cookies are nice and thin which makes them a wonderfully spicy crispy!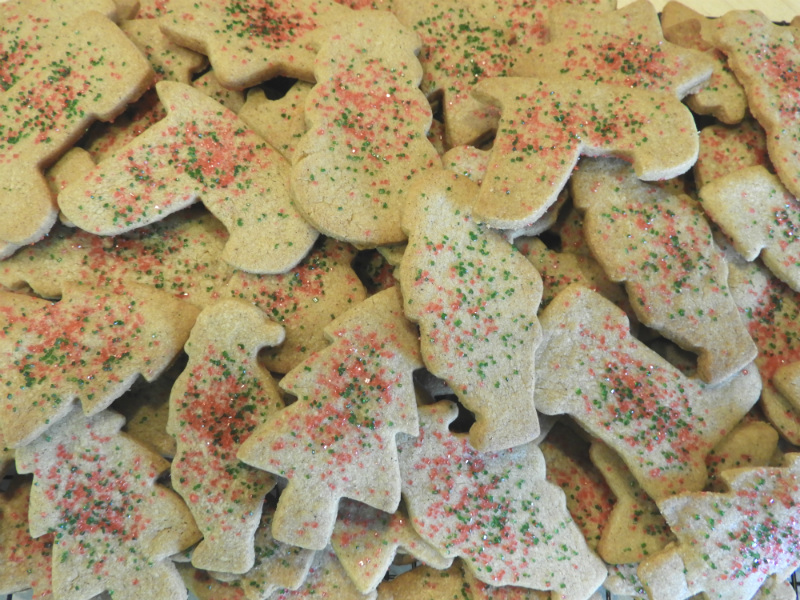 This Santa Claus Cookies recipe baked up 100 cookies! Spicy and crunchy are perfect for dipping in coffee after dinner or sticking in the cookie jar for after school.
If you are looking for a new holiday cookie recipe that will WOW your guests, you must try Santa Claus Cookies! A perfect way to spice up your holiday cookie patters! All your family and friends will love these unique holiday cookies!
XXOO,
Janet
Print
Santa Claus Cookies
Ingredients
3 ¼ cups sifted flour
1 ½ tsp baking powder
2 ½ tsp cinnamon
1 ¼ tsp cloves
1 ½ cups butter
2 cups blown sugar, sifted and packed
1 egg
Instructions
Mix and sift flour, baking powder, and spices. Cream butter, add sugar gradually ad cream until fluffy; add egg and mix. Add sifted dry ingredients gradually and mix. Chill in refrigerator. Roll about 1/8 inch thick and cut out with assorted floured cutter. Bake on ungreased baking sheets in preheated 350 degree oven about 12 minutes. Store in covered container.
Recipe Yield
7 - 8 dozen cookies 1x
Cookie Category:  Rolled, Holiday