Pecan Sandies from Keebler were a favorite of mine when I was a kid. They were buttery, nutty, and super sweet! Granted they were store bought…so I probably shouldn't admit to buying and eating them,but, I have to be honest, even when it comes to cookie eating! 😊
Knowing that Sandies were one of my favorite snacks when I was a kid, I was excited to see that Cookies by Bess had a Sandies recipe! I was even more excited that the cookies were easy to make and I had all the ingredients in my pantry!
After baking the cookies, I realized Grandma Bess' Sandies taste a bit different from my childhood memories of Sandies…which I guess you would expect. Grandma Bess' Sandies taste much better because they are homemade!
Sandies by Cookies by Bess are a wonderful buttery and nutty cookie that, you will see if you continue reading, are a perfect cookie for experimenting with sweetness…
I am rating this recipe 2-stars for difficulty just because of the extra steps of rolling the cookies into small balls. Otherwise, this is an easy and quick recipe to make and enjoy!
As I pulled together my ingredients, I noticed right away, this recipe doesn't have many ingredients and it doesn't have a lot of sugar…only ¼ cup of confectioner's sugar…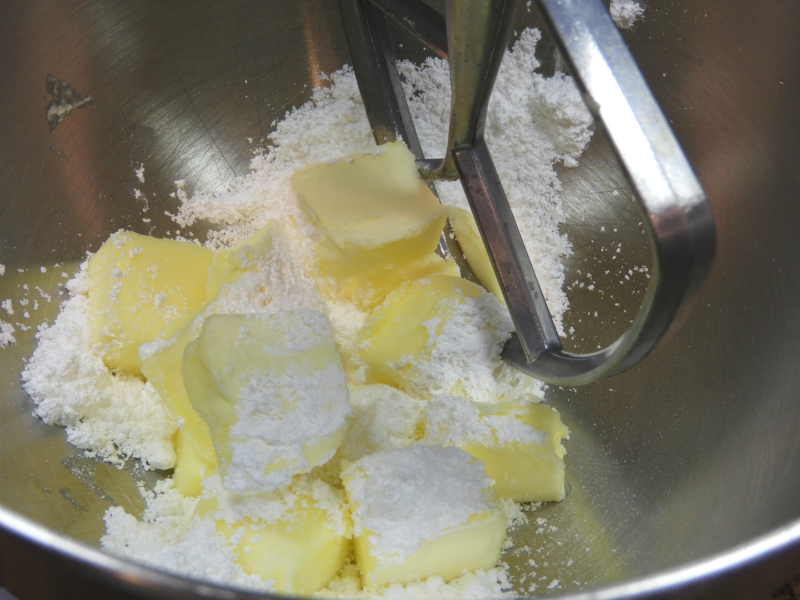 I just had to take a picture of the butter and confectioner's sugar before I started mixing them together. I think the color contrast and texture really made for an awesome picture!
After adding the rest of the ingredients, the dough came together nicely and looks awesome! Of course I had to try it…it was buttery good, but not as sweet as it looks. I began to wonder what the end result cookie was going to taste like??
Once I had the dough all mixed, I got started rolling the small balls. The dough was perfect consistency. It didn't stick to my hands and didn't get dried out.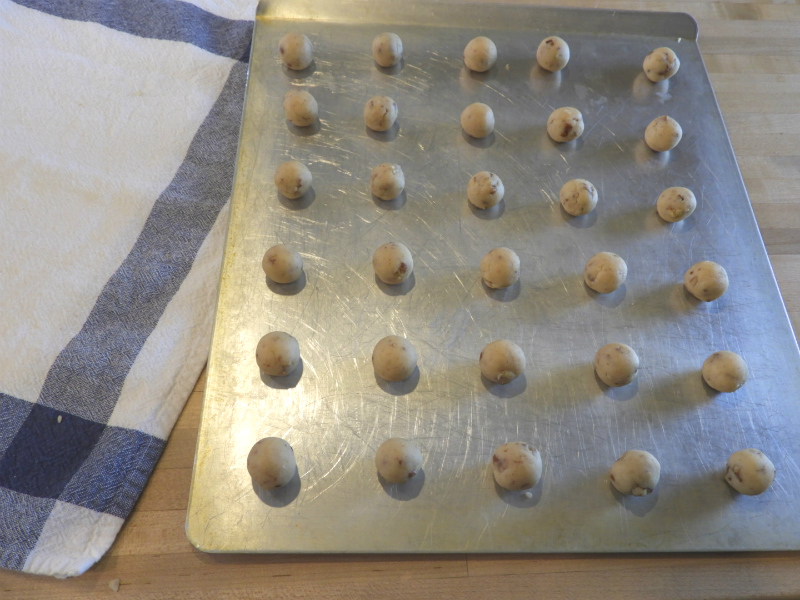 Rolling the cookie balls was fast and easy! I had a full cookie sheet in no time!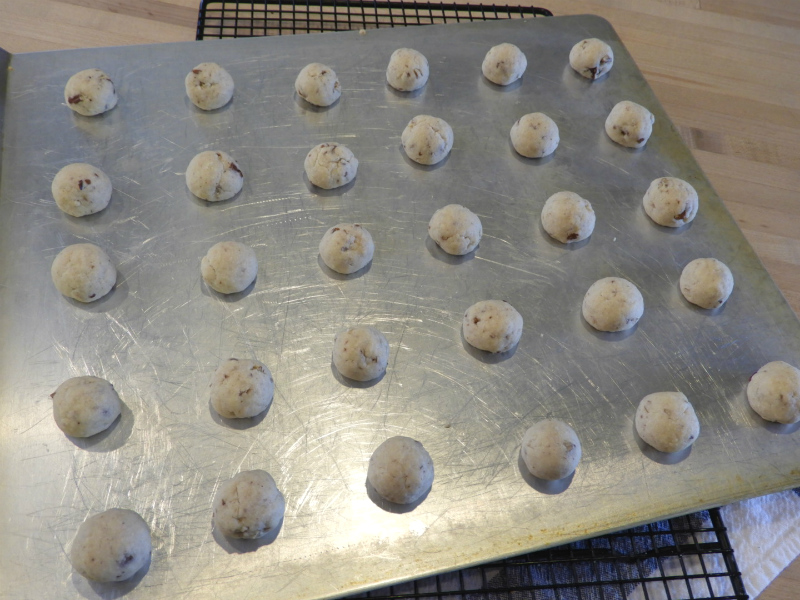 The baking time of 20 minutes is a bit long, so I was glad the dough balls didn't spread out while baking! They kept their nice round shape and just puffed up a little. I could tell they were done by touching them and feeling the firm consistency.
I was so curious how the cookies were going to taste with only 1/4 cup confectioner's sugar, I decided to taste one right out of the oven. As I expected, they had a wonderful buttery and nutty taste, but they weren't sweet enough for me.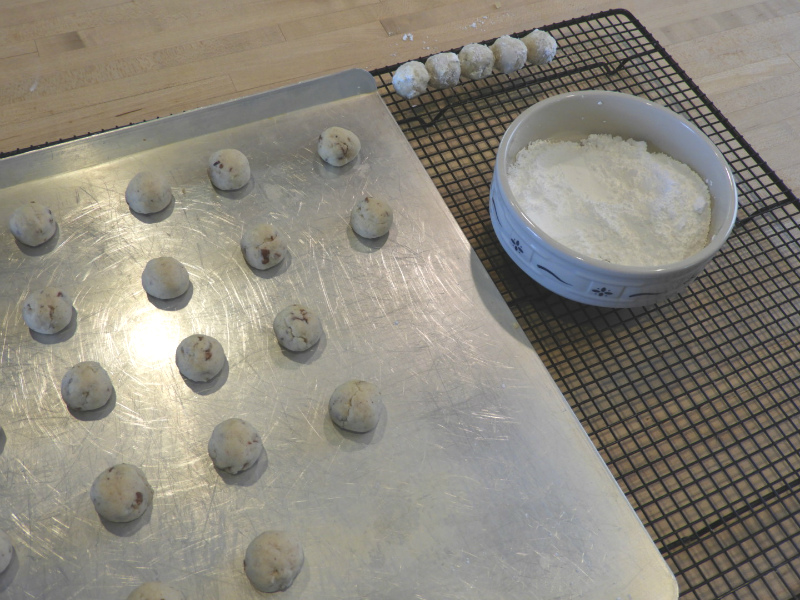 So, I decided right then and there to experiment with rolling the warm cookies in confectioner's sugar. As you might expect, this made a big difference! The confectioner's sugar melted a bit on the warm cookie, which made a nice almost glaze. And they tasted awesome!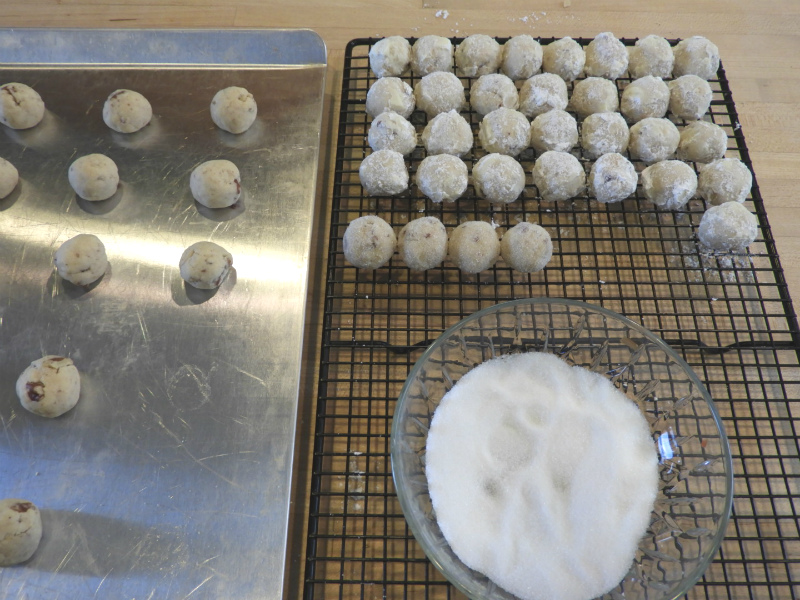 I was so excited about the added confectioner's sugar, that I decided to roll the next batch in granulated sugar! Again, the added sugar made a huge difference in the taste!
The added sweetness made for some pretty awesome cookies!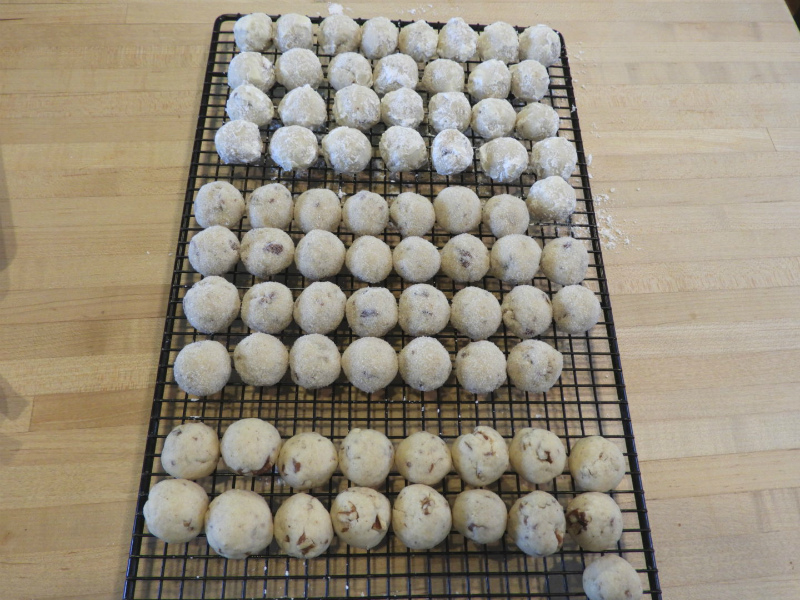 So, I ended up with three cookies in one! The original Sandies, Sandies rolled in confectioner's sugar, and Sandies rolled in granulated sugar! Talk about flexibility and variety!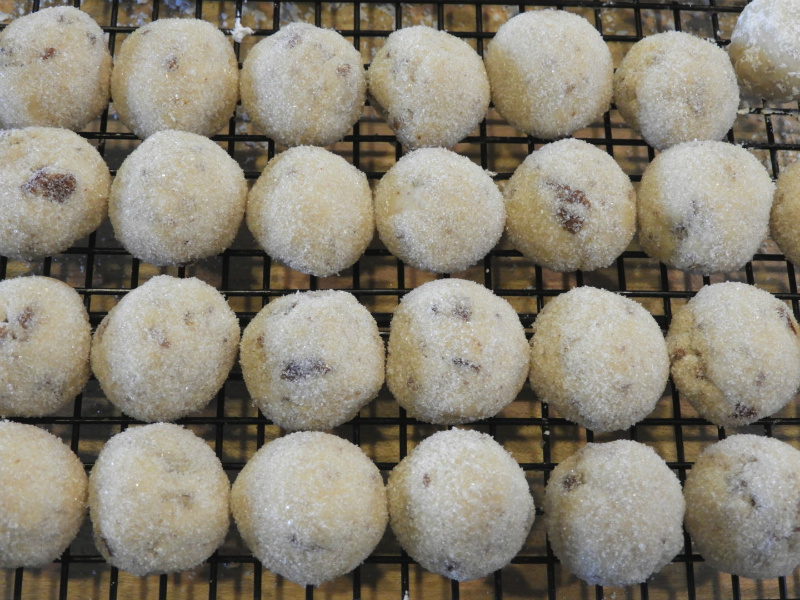 Sandies is a perfect cookie for those that like a buttery and nutty cookies! Whether you like it sweet or not so sweet, Sandies will please everyone!
I hope you enjoy Sandies!
XXOO,
Janet
Print
Sandies
Ingredients
1 cup butter

¼ cup confectioner's sugar

2 tsp vanilla

1 Tbs water

2 cups flour

1 cup chopped pecans
Instructions
Cream butter and sugar well. Add vanilla and water. Mix well. Add flour and chopped nuts, mixing well. Shape into small balls or finger sized logs. Bake on ungreased cookie sheet in 300 degree oven for about 20 minutes or until a light brown.
Recipe Yield
Makes about 6 dozen cookies
Cookie Category:  Shaped or Molded