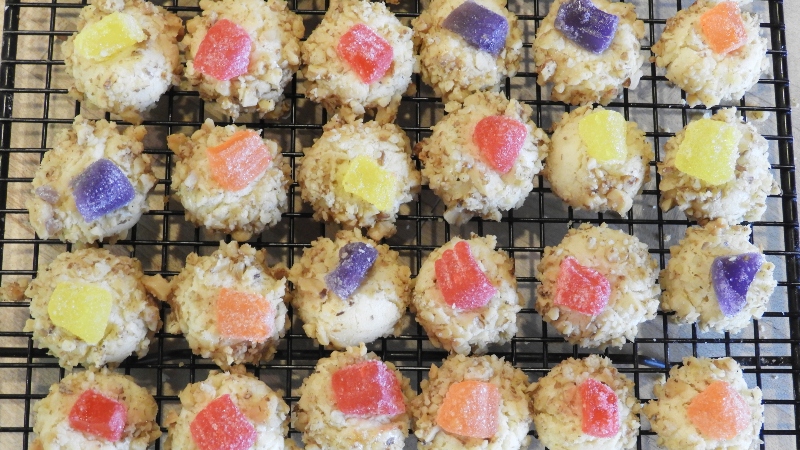 Okay, I just have to say, Rich Butter Cookies is not the best title for this cookie recipe. When I think of rich butter cookies, I think of shortbread cookies or frosted cutouts or brown rimmed cookies…cookies that accentuate all the butter used. Cookies by Bess' Rich Butter Cookies are filled with butter, but also have nuts and gum drops which over shadow the butter flavors a bit. Maybe a better title would be Nutty Gum Drop Butter Cookies…ha ha!
Don't get me wrong, Rich Butter Cookies are a super yummy cookie, definitely filled with butter. The nuts and gum drops paired with the butter take this cookie to a whole new level of yummy! I love gum drops on a normal day…add them to a cookie and I'm almost in heaven! The sweet flavored candy that gets stuck in your teeth is awesome and helps keep the cookie flavors around in your mouth for a bit longer ?
I'm rating Rich Butter Cookies 3-stars for cookie baking difficulty. As usual, not a difficult cookie to make, but there are several steps in the baking process which add to the baking time and complexity of the baking process.
All the ingredients were in my baking pantry, even the gum drops! The list of ingredients doesn't include the gum drops needed or what to do with egg whites. I decided to add both to the list of ingredients here so you are aware of the need for gum drops and so you don't toss the egg whites as they are useful in the cookie rolling process.
I started by blending the butter, egg yolks, vanilla, and sugar together per the recipe.  It definitely looks light and fluffy!

After adding the sifted flour and baking powder, I had a beautiful blond cookie dough!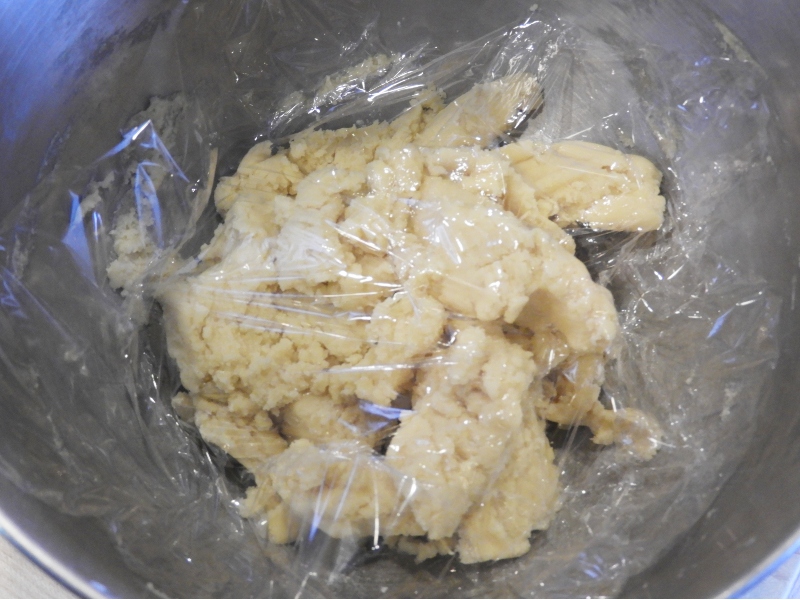 I covered the dough with plastic wrap and per the recipe, stuck it in the refrigerator for a couple hours. The dough became nice and firm after just a couple hours.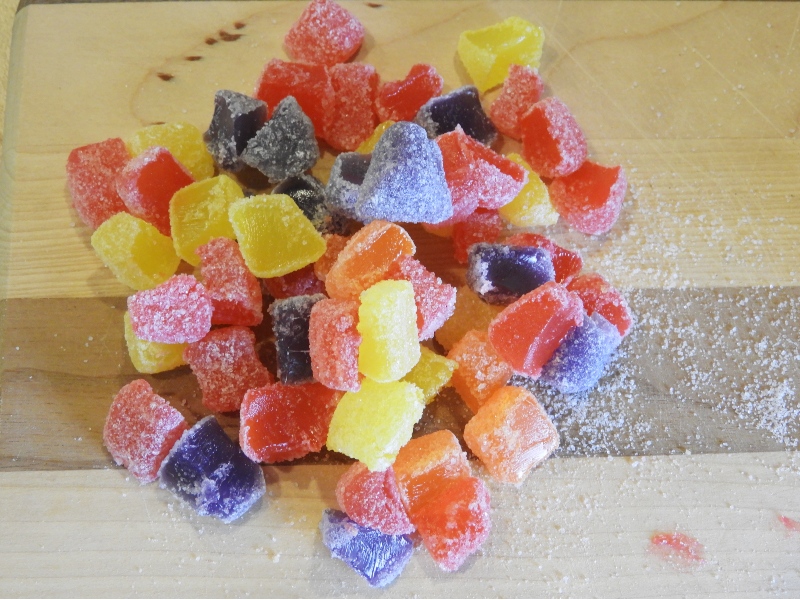 I cut up my gum drops into quarters per the recipe.
And them, I chopped the nuts.  I decided to use chopped walnuts this time around. Next time I'll try pecans!
After rolling the cookie balls, rolled them in the egg whites and then in the chopped nuts.  Rolling the dough balls in egg whites makes it easier for the nuts to stick to the cookie, I learned this trick from other recipes.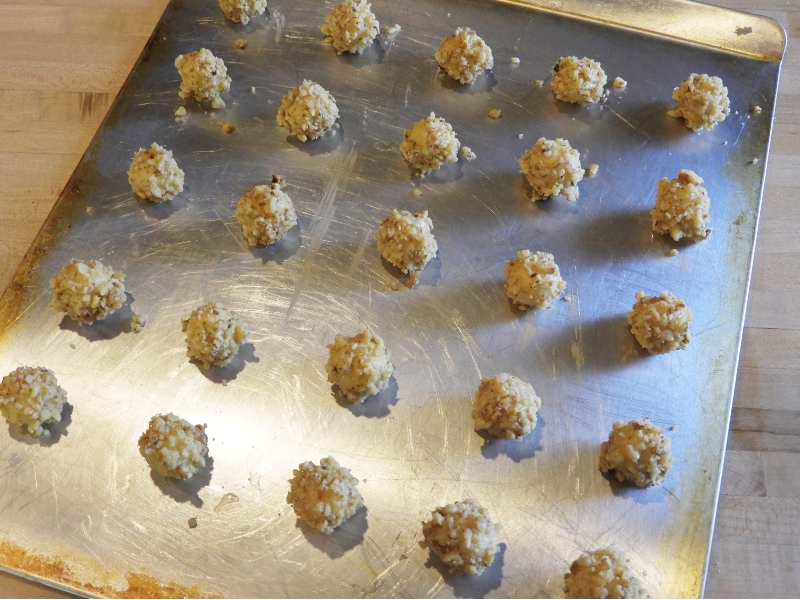 After rolling the cookies and placing them on my greased cookie sheets, I was ready for the gum drops.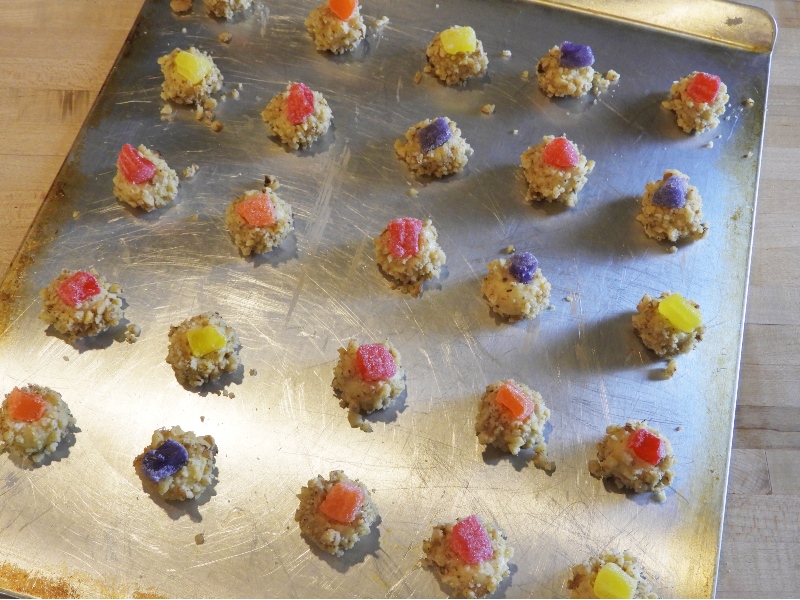 Next, I pressed a gum drop into each cookie.  Finally, I was ready to bake!

The cookies baked for 10 to 12 minutes. When done, they looked just like the ready to bake cookies!

I just love the texture of the nuts, how the nuts blend with the blond cookie and the beautiful color of the gum drop.
Yum!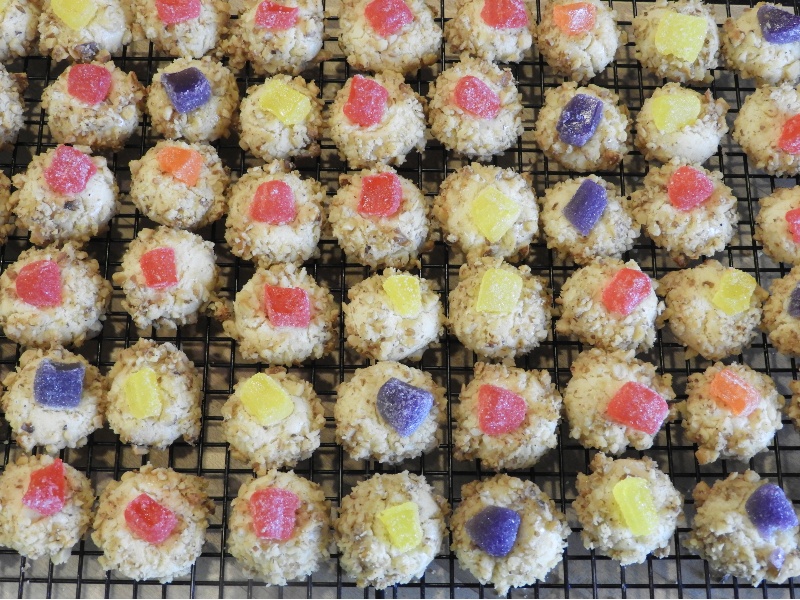 Rich Butter Cookies are a wonderful cookie that can be used to brighten up any cookie platter or dessert tray. The rich butter flavor paired with nuts and gummy candy really make this cookie special. Everyone will love them!
Enjoy!
XXOO,
Janet
Print
Rich Butter Cookies
Ingredients
1 cup butter
1 tsp vanilla
½ cup sugar
3 egg yolks
2 ½ cups flour
¼ tsp baking powder
1/8 tsp salt
Gum drops
Egg yolks
Instructions
Cream butter, add egg yolks, vanilla and sugar and mix until light and fluffy. Add sifted flour and baking powder and mix well. Chill dough. Shape into small balls and dip in ground nuts. Place ¼ gum drop into center of each cookie. Bake on greased cookie sheets at 375 degrees 10 to 12 minutes. Can also be rolled and make into sandwich cookies.
Recipe Yield
Makes about 7 dozen cookies 1x
Cookie Category:  Molded or Shaped