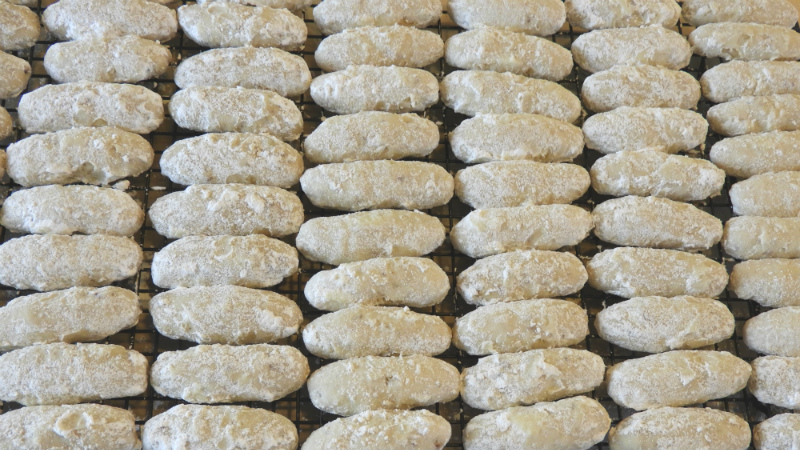 Pecan Fingers, one of my mother's favorite Cookies by Bess recipes, is absolutely in the top 10 Cookies by Bess cookie recipes. I honestly don't know why I don't make Pecan Fingers once a month. They are easy to make and "to die for" taste good!
One of my most favorite things about baking Grandma Bess' cookies and blogging is when I hear from someone that knew Grandma Bess or has one of her cookie books published back in 1960 or 1980. I just love to hear about how Cookies by Bess has been a part of so many family baking traditions.
This week, I decided to make Pecan Fingers because a Cookies by Bess fan sent me a note about her family tradition of making Pecan Fingers every year!  This fan is graciously allowing me to share her story and the pictures…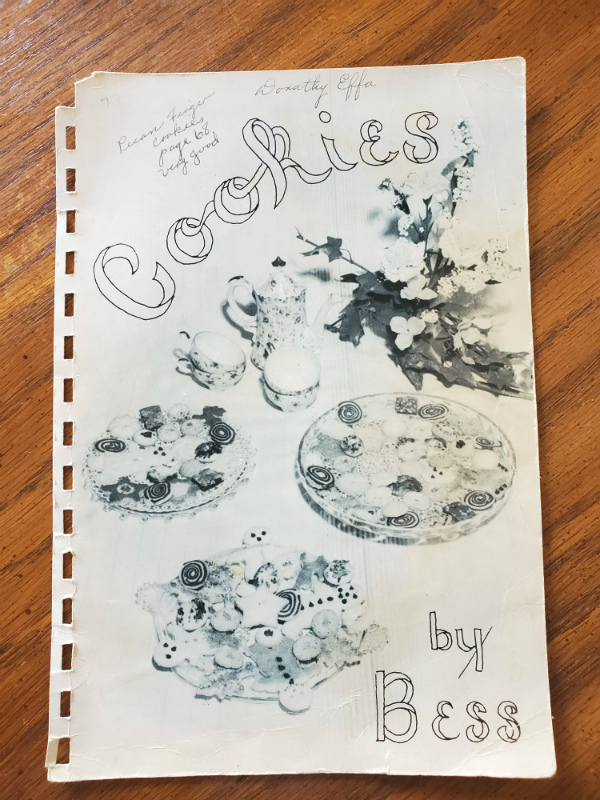 "Since the 60's, my grandma's Pecan Fingers have been a family favorite at Christmas time. My grandma did the mixing and my grandpa would very meticulously roll and shape the "fingers", making sure that they were all the same size…"
"…Grandma would write notes in the margins of the cookbook with the date she baked them and how they turned out—"very good". In the 80's, after my grandpa passed away and my grandma's eyesight was failing, my mom and I took over making the pecan fingers. I am currently the family Pecan Finger Bakers and am required to make separate batches for both my mom and brother. "
"I am planning to have the cover and page 68 framed as a keepsake to hang in my kitchen."
Honestly, I can't tell you how much joy it brings me to hear that Grandma Bess' Cookies by Bess touched so many people and that her love and tradition of baking is a live and well today…even though her cookie book hasn't been available for over 30 years. What a wonderful legacy she has left for all of us all to continue!
Thank you Grandma Bess for making Cookies by Bess such a wonderful family tradition and keepsake! And thank you so much to this Pecan Fingers fan for sharing your story, pictures, and love of baking Pecan Fingers!
I'm rating Pecan Fingers 2-stars for cookie baking difficulty. An easy recipe to make and simply easy to bake!
After pulling all my ingredients together, I got started chopping 2 cups of pecans!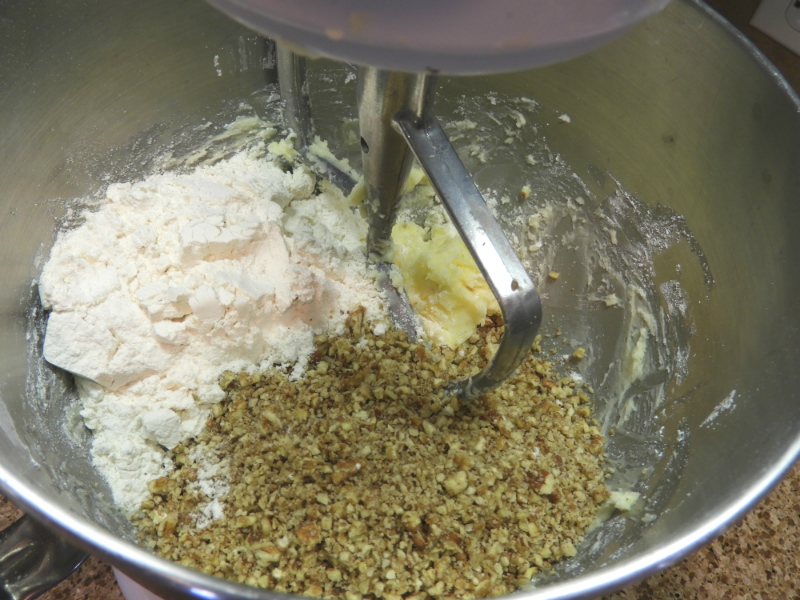 Pecan Fingers is another recipe with very little liquid, so I was a bit concerned on how the dough was going to come together. I did decide to add a bit more vanilla.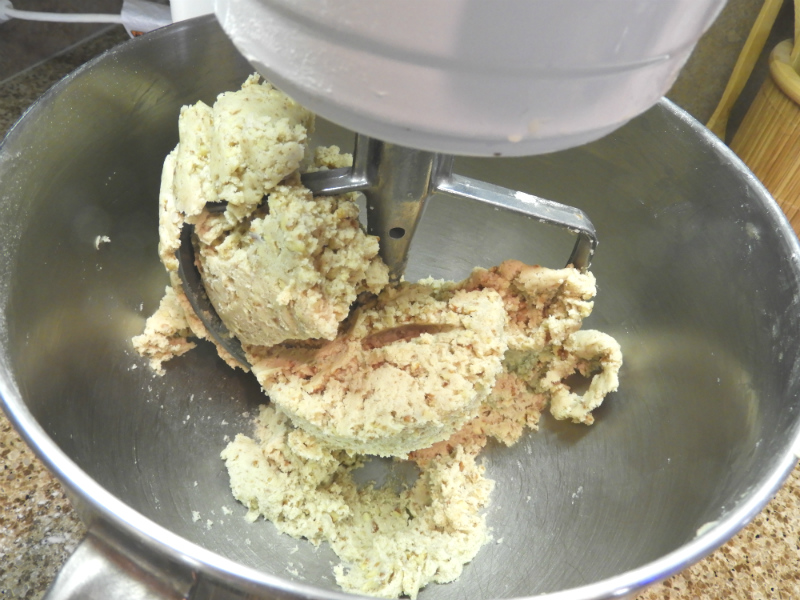 I took this picture just to show how dense the dough was. Each time I turned my Kitchen Aid on to mix the dough, it ended up all together on the mixer.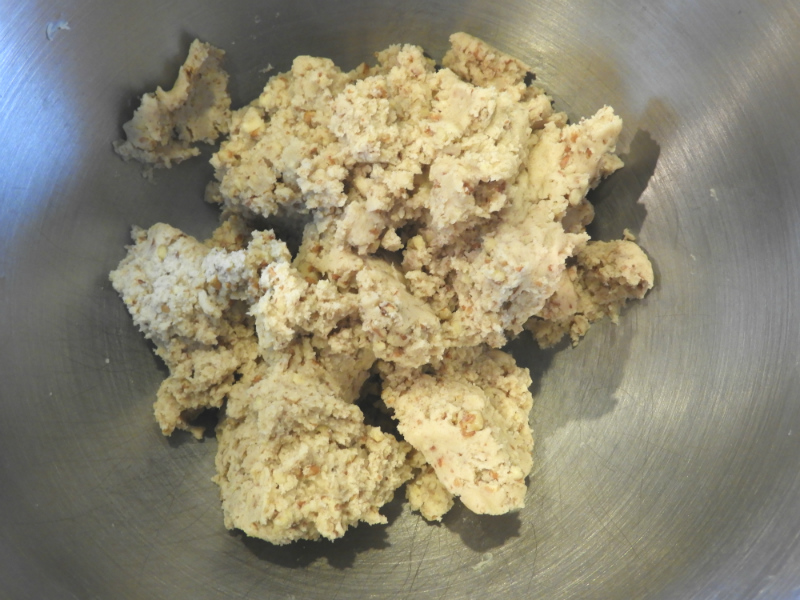 The dough was very easy to work with and the perfect consistency for shaping the "fingers"! And as you can imagine, it tasted great! ?
The fingers rolled together nicely and quickly.  Having made Pecan Fingers before, I knew they wouldn't spread out too much, so I was able to pack the cookie sheets with lots of finger cookies!
The fingers baked up nicely in the 300 degree oven.
I baked the fingers for 22 – 23 minutes just to make sure they didn't brown too much. Baking for the full 25 minutes will work as well. The cookies came out perfect and were easy to remove from the ungreased cookie sheets.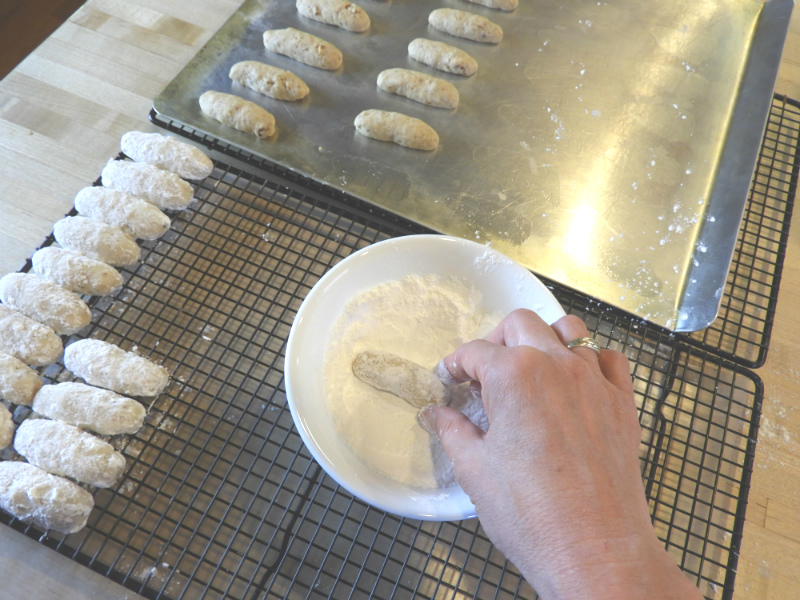 I rolled the cookies in confectioner's sugar as I took them off the baking sheets.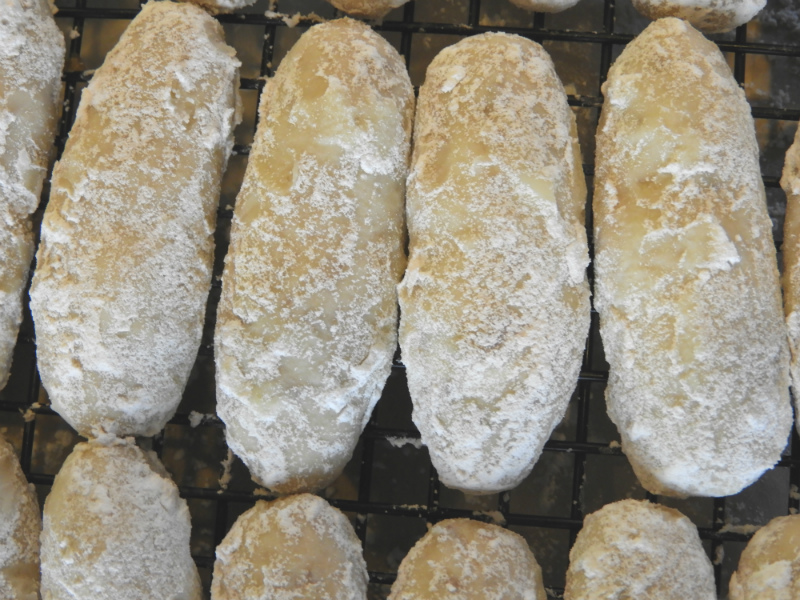 Many cookie recipes call for rolling the warm cookies in confectioner's sugar, which adds a nice coating and sweetness to the cookies. Like magic, Pecan Fingers actually turn the confectioner's sugar into a frosting like glaze. If you look closely at this picture, you can see the glaze under the sugar.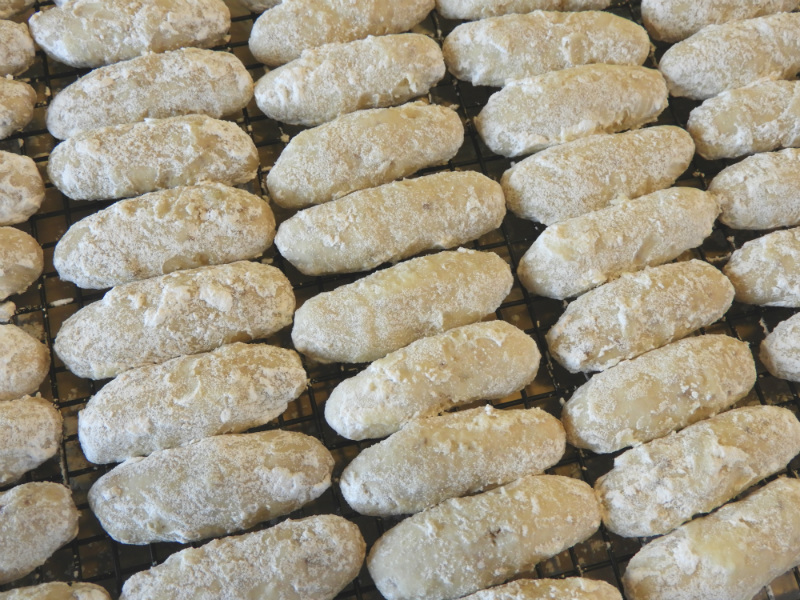 I believe this is what sets Pecan Fingers apart as one of the best cookies ever! Rich, nutty, and melt in your mouth sweet.  Oooo, Pecan Fingers are my new favorite!
I hope you will enjoy Pecan Fingers as much as I do! And I hope you make Pecan Fingers a family tradition like so many of Grandma Bess' Cookies by Bess fans!
XXOO,
Janet
Print
Pecan Fingers
Ingredients
1 cup butter
½ cup confectioner's sugar
2 cups ground pecans
2 cups flour – sifted
2 tsp vanilla
½ tsp salt
Instructions
Cream butter and sugar well. Add all other ingredients and mix well. Form into rolls about 1 ½ inches long. About finger thickness. Bake on ungreased cookie sheets in 300 degree oven about 25 minutes. Cookies should be light in color. Roll in confectioner's sugar while warm.
Recipe Yield
Makes about 6 - 7 dozen fingers 1x
Cookie Category:  Molded or shaped