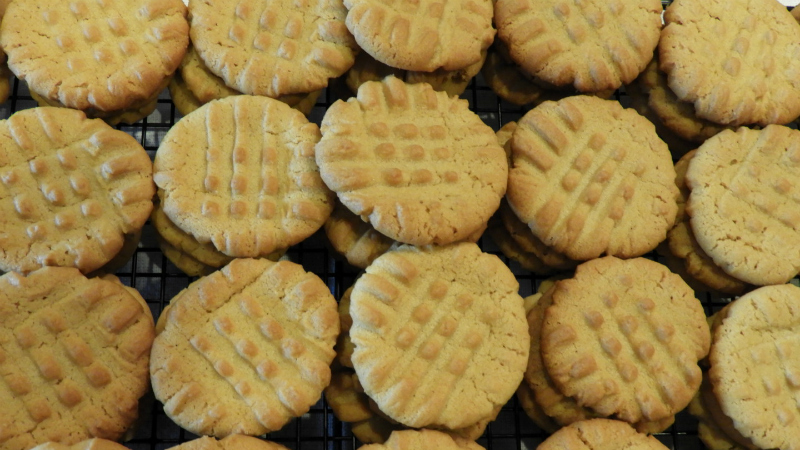 Did you know, June 12th is National Peanut Butter Cookie Day?  It is and so of course, I had to make Peanut Butter Cookies! Cookies by Bess has a few recipes that call for peanut butter, but only one Peanut Butter Cookies recipe…and this is it!
I haven't made Peanut Butter Cookies since I was a kid. I have a vague recollection of making them, using a fork to press the tines into the cookies; what I don't remember is how easy these cookies are to make!  This recipe whips up quickly, the dough is easy to handle, and the batches only bake for 8 – 10 minutes. Easy, yummy, and I ended up with about 120 cookies! WOW…what a treat!
I didn't make any adjustments to the recipe, except maybe adding an extra tablespoon of flour at the end just to make sure the dough wouldn't stick to my hand as I rolled it into balls. There was no sticking to my hands and no sticking to the cookie sheets, even though the recipes calls for ungreased cookie sheets.  I did use butter instead of shortening, so I guess that's a change, if you've read my other blogs, you know by now that I don't like using shortening so always substitute butter.  Sorry Crisco ?
This is definitely a 1-star recipe for difficulty and definitely a recipe your kids will have fun helping to make and for sure helping to eat!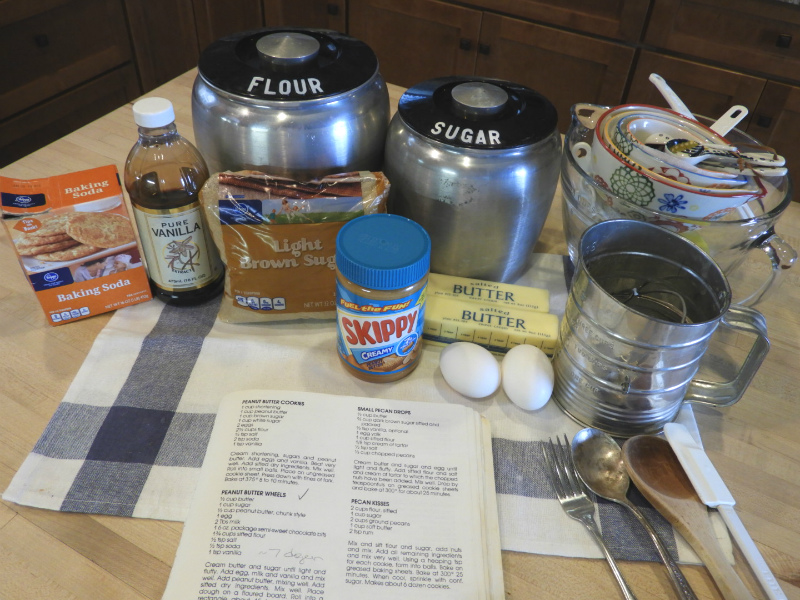 I tend to use low fat or less sugar peanut butter when I'm buying it for sandwiches, so I needed to run to the store to get some "regular" peanut butter. My brand is Skippy…I guess because I grew up eating it. Once I was back from the grocery store, I gathered all my utensils and ingredients together and got started.
I used my Kitchenaid to mix the butter and sugars. I have to admit, I was astonished to see a full cup of brown sugar, a full cup of white sugar AND a full cup of peanut butter! Holy Moley…that's a lot of sugar in just one batch of cookies!  Regardless, it all looked good after mixing!!
Once everything was mixed together, I was amazed at the perfect consistency of the dough. I did add a tablespoon of flour, but only because I "assumed" it would need the little extra flour to help with rolling the cookie balls. It probably didn't need it, but oh well…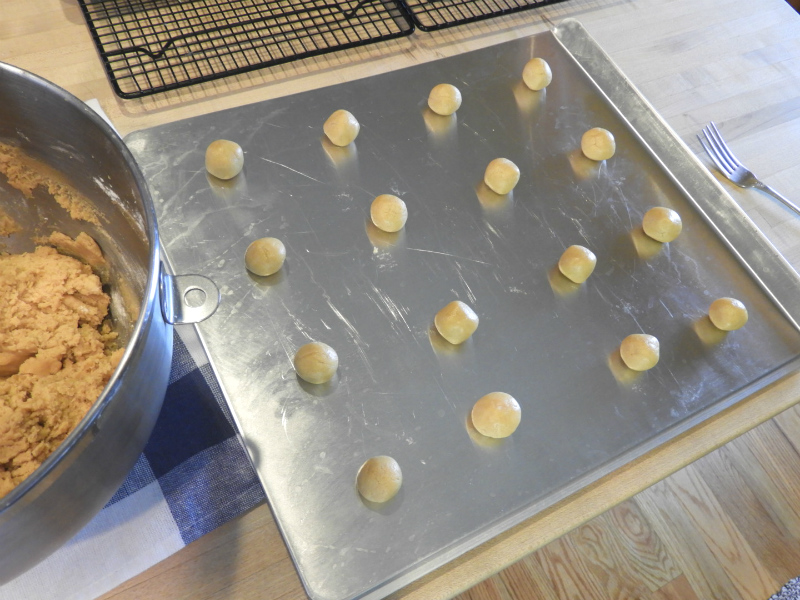 I baked a small test batch of 3 different size cookies to see how much they spread out as they baked. I wanted these cookies a little bigger than bite size because I think peanut butter cookies should be at least a two if not three bite cookie! The decided on a 1 – 1 ½ inch round cookie ball. This resulted in about a 2-inch round cookie. You can go bigger or smaller if you want.  Just increase or decrease the size of your cookie balls.
Next the fun part, and the part I think your kids will love! Fork Tines! The recipe isn't specific on the fork tines pattern to use. I decided on the "crisscross" pattern. The other option would be to just press the fork tines once leaving a vertical line look. Either way works, it's your preference.
Rolling the cookie dough balls and pressing the fork tines went quick and easy! This was a good thing, because there is a ton of cookie dough. I was able to shape the balls and press the fork tines pattern in about 3 – 4 minutes, so it was easy to keep things moving and baking!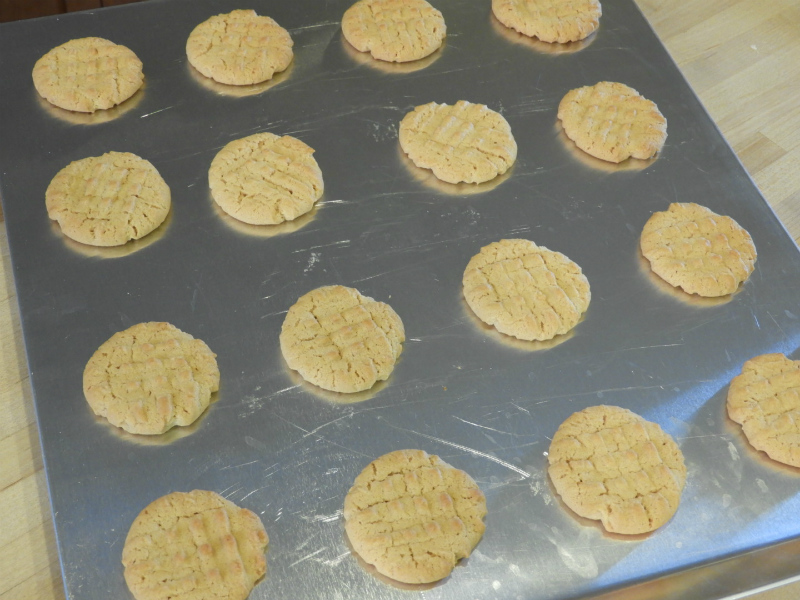 I baked the cookies for 9 minutes. The full 10 minutes was a little long for my taste as the color of the cookie quickly turned a darker brown and the cookies got much crispier. It just depends on how you like your cookies. If you like them soft, I would go with 7 – 8 minutes. If you like them crispy, I would go with 10 – 11 minutes. I like them just right, so I went with 9 minutes ?
I have to mention again how easy these cookies are to make! Not only to they roll up easily, they were super easy to remove from the cookie sheets after baking. No sticking, no braking, just easy to scoop up and place on the cooling racks.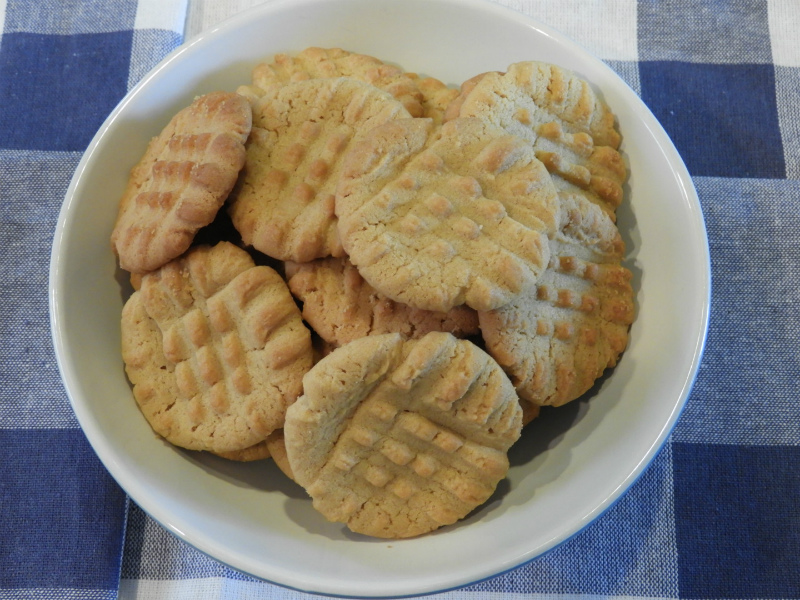 If you love traditional peanut butter cookies, this is the recipe for you! These cookies are sweet, peanut buttery, with just the right amount of crisp. These are the peanut butter cookies I remember making and eating when I was a kid.  Perfect for filling up your cookie jars with, the Peanut Butter Cookies will delight kids, young and old!
Here's to National Peanut Butter Cookie Day and to Grandma Bess for picking the best cookie recipes to share with all of us!
Enjoy!!
XXOO,
Janet
Print
Peanut Butter Cookies
Ingredients
1 cup shortening (butter
1 cup peanut butter
1 cup brown sugar
1 cup white sugar
2 eggs
2 ½ cups flour
½ tsp salt
2 tsp baking soda
1 tsp vanilla
Instructions
Cream shortening, sugars, and peanut butter. Add eggs and vanilla. Beat very well. Add shifted dry ingredients. Mix well. Roll into small balls. Place on ungreased cookie sheet. Press down with tines of a fork. Bake at 375 degrees for 8 – 10 minutes.
Recipe Yield
Makes about 10 dozen 2 inch round cookies 1x
Cookie Category:  Molded or Shaped