Mexican Christmas Cookies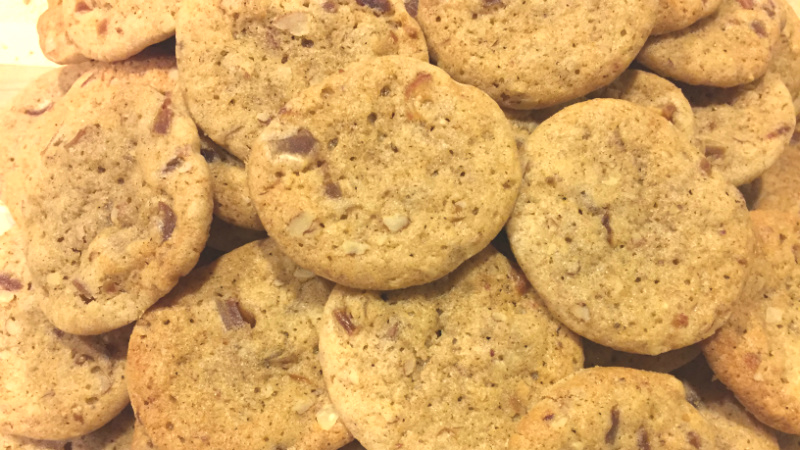 What is are Mexican Christmas Cookies? I wasn't sure, so I Googled it to find out…I found Mexican Wedding Cookies and Biscochitos, a traditional New Mexican holiday cookie, but didn't find anything similar to the Mexican Christmas Cookies recipe from Cookies by Bess. It's an interesting recipe.  Nothing like other traditional holiday cookie recipes.  I was intrigued, so I decided to try this recipe out.  I was pleasantly surprised at how these Mexican Christmas Cookies turned out!  Again, certainly not traditional for an American Christmas in how they look, but forget about that…they have a unique flavor and taste great!
I rated the recipe 2-stars because of the multiple steps of rolling, refrigerating, and then cutting. The rest of the recipe is easy!  Except the fact that it made about 10 dozen cookies, the baking process when pretty fast!
I got started by pulling all my ingredients together.  I did have to grab some dates from the grocery store as I don't normally keep them in my pantry.  My preference is to buy the whole dates and chop them up by hand.  I do love dates in cookies, so maybe I'll keep some around going forward.
The recipe calls for a good amount of dry ingredients.  After mixing them all together and I put them aside for mixing with the butter, sugar, eggs, and milk.
I used my Kitchen Aid to blend the butter, sugar, eggs and milk (and dissolved baking soda) together and then added the dry ingredients about ¼ cup at a time. Once all was mixed together, I noticed the dough was pretty wet and sticky.
After removing the bowl from the Kitchen Aid, I used a wooden spoon to mix it a bit more to observe the consistency. It seemed I would need additional flour to form the dough into rolls. I decided to add another ¼ cup of flour to help firm up with dough a little, so it would be easier to handle as I formed the rolls. I used additional flour for my hands and my wood surface the prevent the dough from sticking as I rolled it out.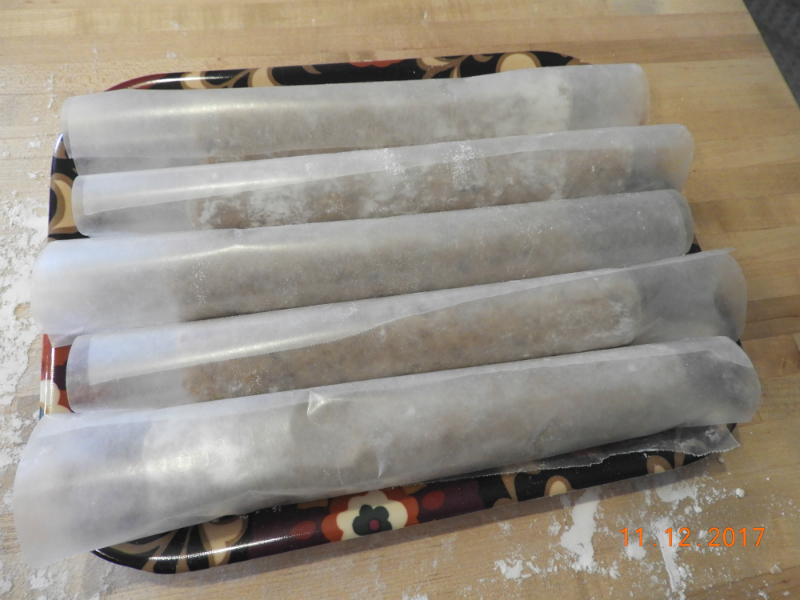 The flour helped a ton and made it easy to form and wrap the rolls in wax paper. I stuck the rolls in the refrigerator and came back to them the next day.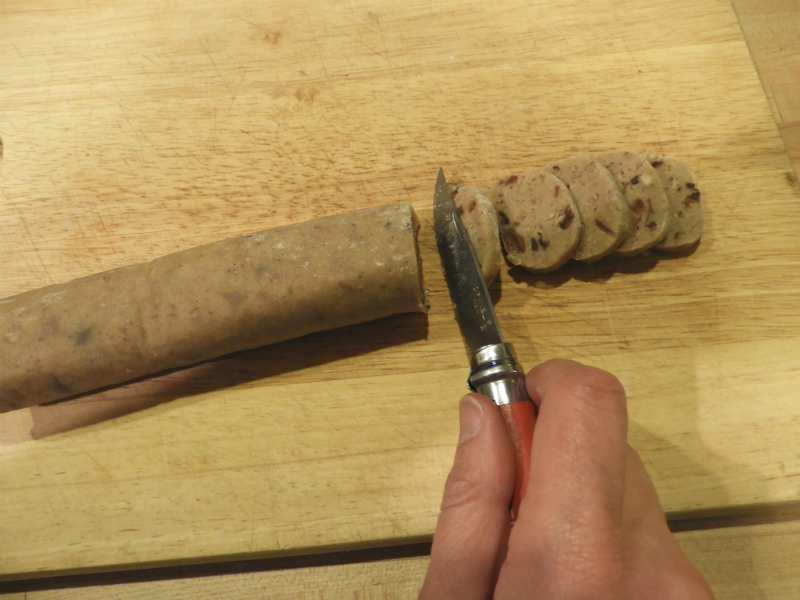 The dough was perfect for slicing right out of the refrigerator. I didn't have any trouble cutting through the nuts and dates and the consistency of the dough was firm…the slicing was easy! I kept my slices pretty thin as the instructions say. If go a bit thicker, I think if you will get a softer, chewier cookie.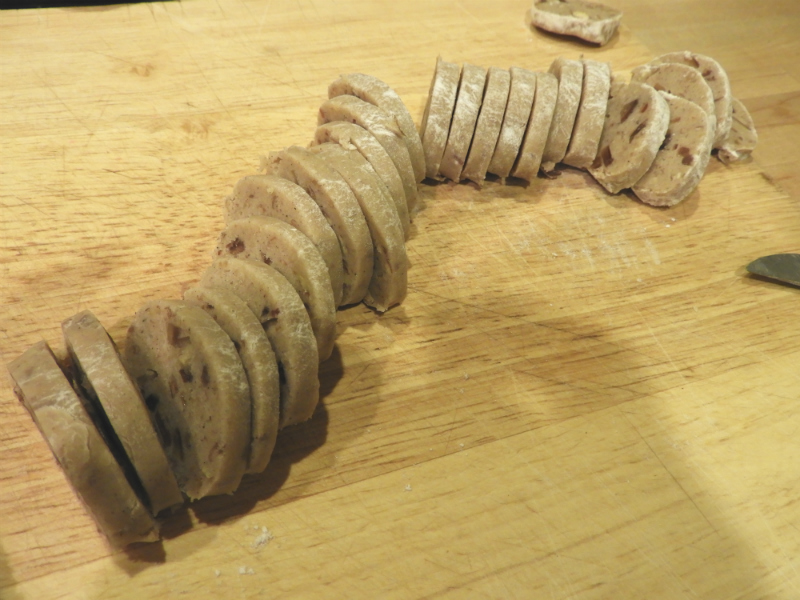 I just love the look of the sliced cookies.  The texture from the dates and nuts really adds to the personality of this cookie!  They add to the amazing flavor of the dough too 🙂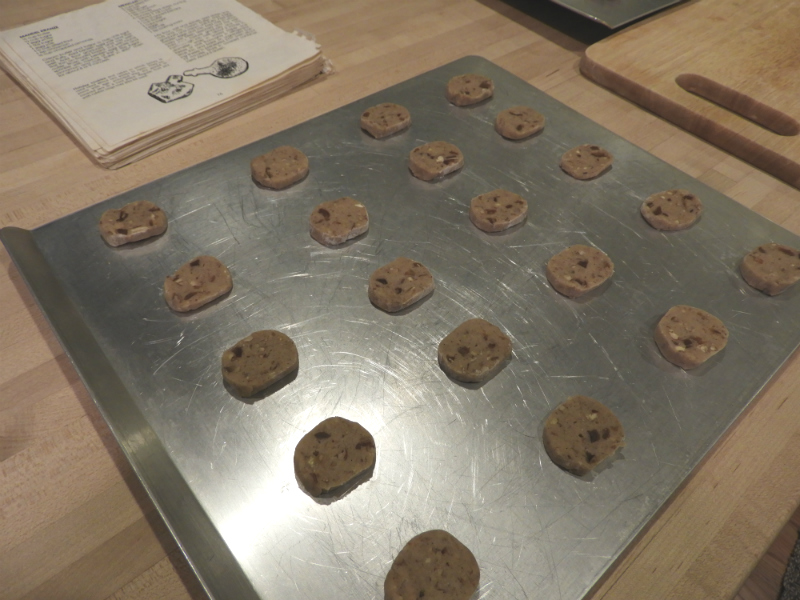 After slicing, I placed the cookies on ungreased cookie sheets for baking.
The cookie disks puffed up a bit while baking, but then settled back down into a relatively flat and round cookie.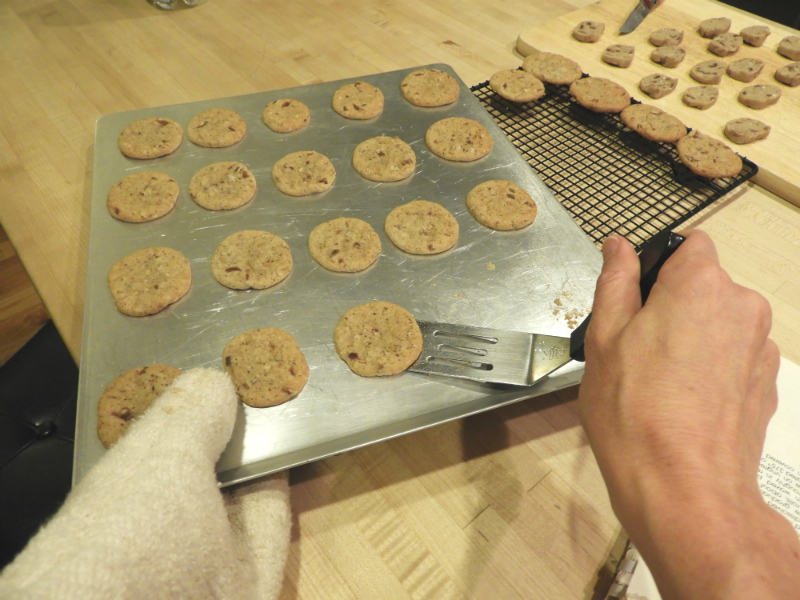 It took a little patience to remove them from the cookie sheets, but in general, they moved nicely to the cooling racks.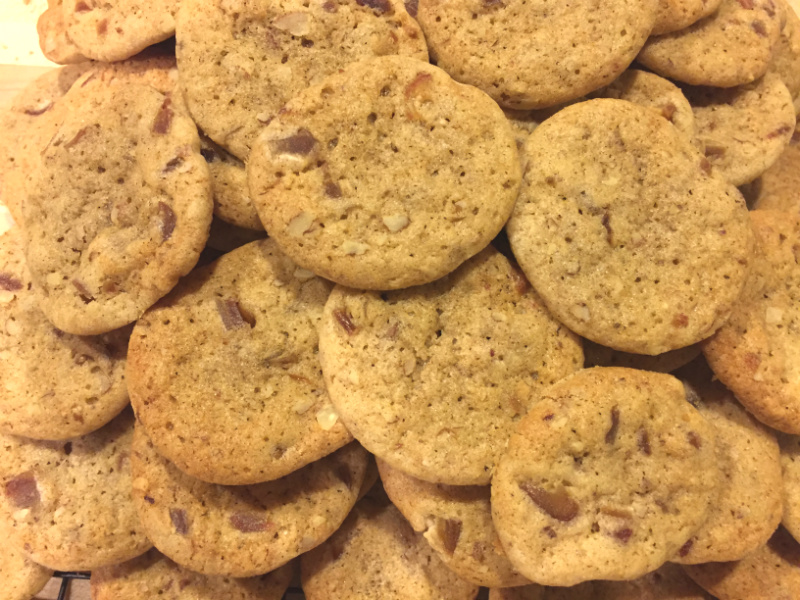 The baked cookies are nice and crispy with great flavor from the ginger, cinnamon, and cloves. The taste is like an oatmeal cookie, but of course different without the oatmeal.
This Mexican Christmas Cookies recipe made a ton of cookies, so if your family likes spicy cookies, this one is a good choice…the recipe is easy to follow, you can slice up and bake a roll at a time.  They bake quickly, and will be a crowd pleaser for those with a spicy appetite!
Oh, and I wouldn't just think of these as just holiday cookies, I think they will be great all year round!
Happy Beginning of the Holiday Season!  I hope you decide to try this unique tasting Mexican Christmas Cookies recipe…you will be WOWed and AMAZED at the flavors!
XXOO,
Janet
Print
Mexican Christmas Cookies
Ingredients
3 cups sifted flour
1 tsp salt
1 tsp ginger
1 tsp cinnamon
6 ounces pitten dates, cut fine (about 1 1/8 cups)
1 cup chopped pecans
1 cup butter
2 cups sugar
3 eggs
3 Tbs milk
1 tsp baking soda
Instructions
Mix flour, salt, and spices; add dates and nuts and mix. Cream butter, add sugar gradually until fluffy. Add well-beaten eggs and mix. Add milk in which the baking soda has been dissolved, mix well. Add flour mixture gradually and mix well. Form dough into rolls, about 2 inches in diameter, wrap in waxed paper and freeze or chill thoroughly in refrigerator. Slice thin and bake on ungreased baking sheets in preheated 375 degree oven for about 12 minutes. Store in covered container.
Recipe Yield
Makes about 10 dozen 1 - 1 1/2 inch round cookies 1x
Cookie Category:  Refrigerator, Holiday