Maude's Butter Cookie Recipe
Maude's Butter Cookie Recipe is the namesake recipe from, bear with me, my father's brother's wife's mother Maude. Ha ha, hopefully you are able to follow that one! ?
Pic of Maude
When I was a little girl, I remember Grandma Bess and Maude talking and baking together. Just a couple memories, but I just love the fact that I remember Maude and are now making her cookie recipe!
And how about this recipe! Maude's Butter Cookie Recipe is the BIGGEST cookie recipe I've made so far…2 cups of butter, 5 eggs, 7 cups flour! And don't let me forget the 5 teaspoons baking powder and 3 teaspoons vanilla…Holy Moly! That's a lot!
I was happy to see the recipe instructions said to roll the cookie dough ¼ inch thick. This gave me comfort I wasn't going to be rolling and baking cookies until the wee hours of the morning! Certainly, the recipe makes a ton of cookies, but definitely less than if the instructions said to roll the dough thin.
To be honest, I must let you know I made an adjustment to the recipe instructions. I decided to not only decorate the cookies by sprinkling candies and colored sugars, I decided to frost the cookies and then decorate with sprinkles and colored sugars.
After seeing how beautiful the cookie were after baking, I just couldn't resist so I texted a friend asking for her holiday cookie frosting recipe. I'm so glad I did and so are my family and friends!
I'm rating Maude's Butter Cookie Recipe 3-stars for cookie baking difficulty. Mixing the dough and rolling the cookies are a normal part of baking rolled cut out type cookies, but baking this amount of cookie dough and rolling this amount of cookies certainly is not!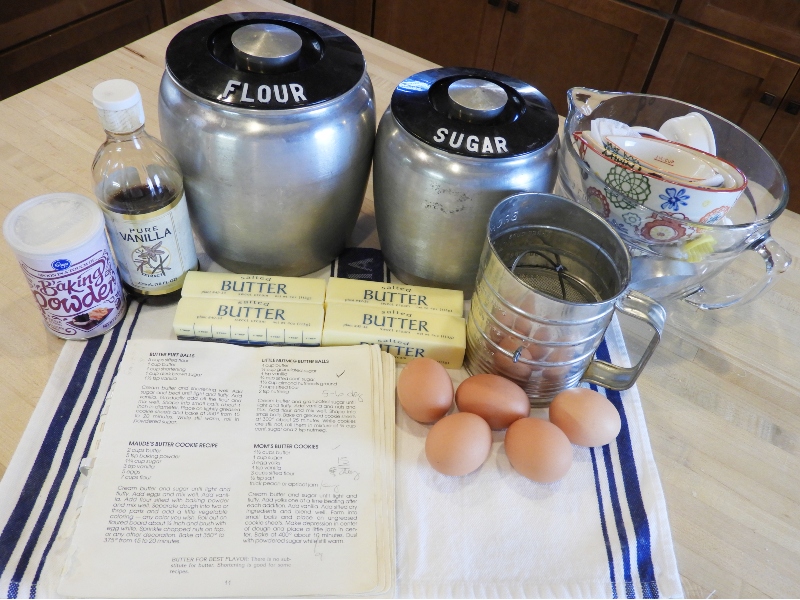 Luckily, I had all the ingredients and amount of ingredients needed in my baking pantry!

Before starting to blend butter, I like to cut the sticks into tablespoon size chunks.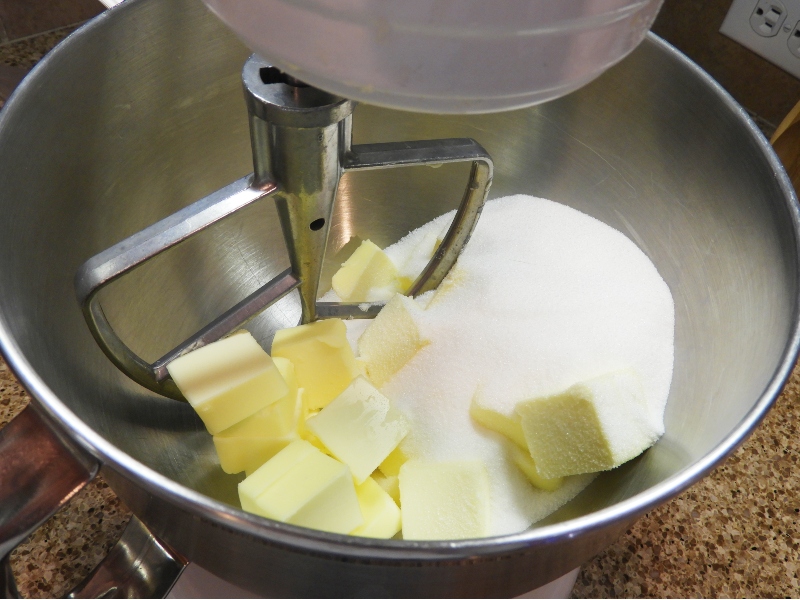 Next, I added the sugar.

Then the eggs and vanilla.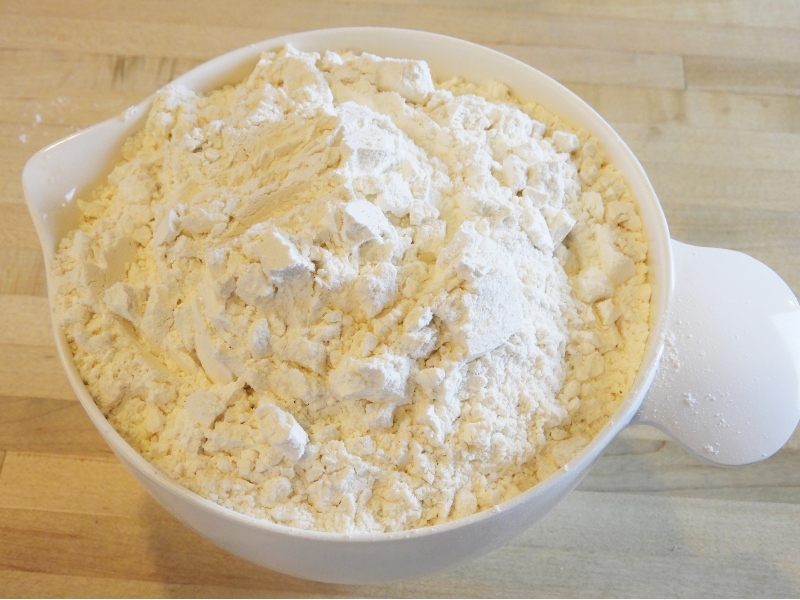 While the butter and sugar were mixing, I sifted together the 7 cups of flour and 5 teaspoons of baking powder. I hope I didn't lose count ?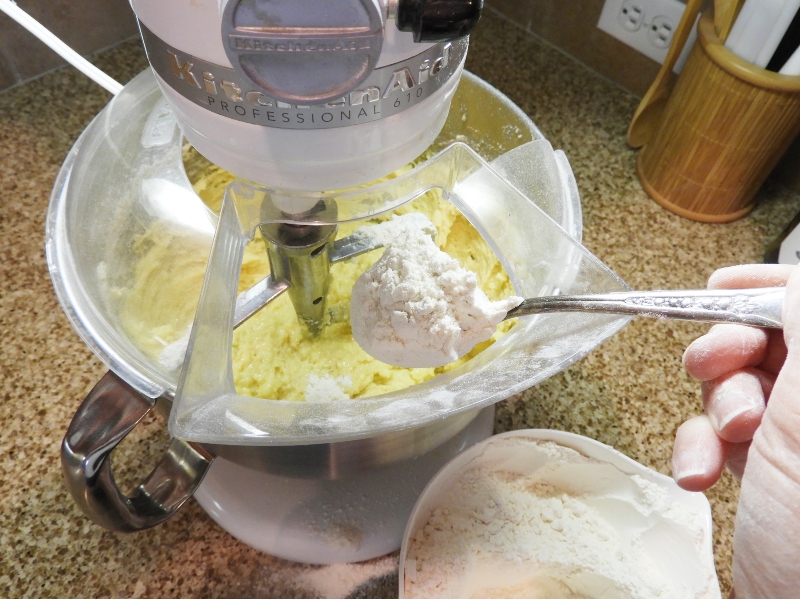 With the amount of dry ingredients I as working with, I thought it best to drop large spoonful's of the flour mixture into the butter, sugar, and eggs while my Kitchen Aid was mixing. Adding the flour slowly prevented flour being flying all over.

Once all the flour was blended, I ended up with a huge amount of cookie dough!

Just look at all that wonderful cookie dough!

One item in the instructions I wasn't expecting was the vegetable coloring. I wasn't quite sure how to mix the coloring into the dough, so I started blending the coloring in with my wooden spoon. After a few tries to mix the dough, I had an idea and stopped mixing.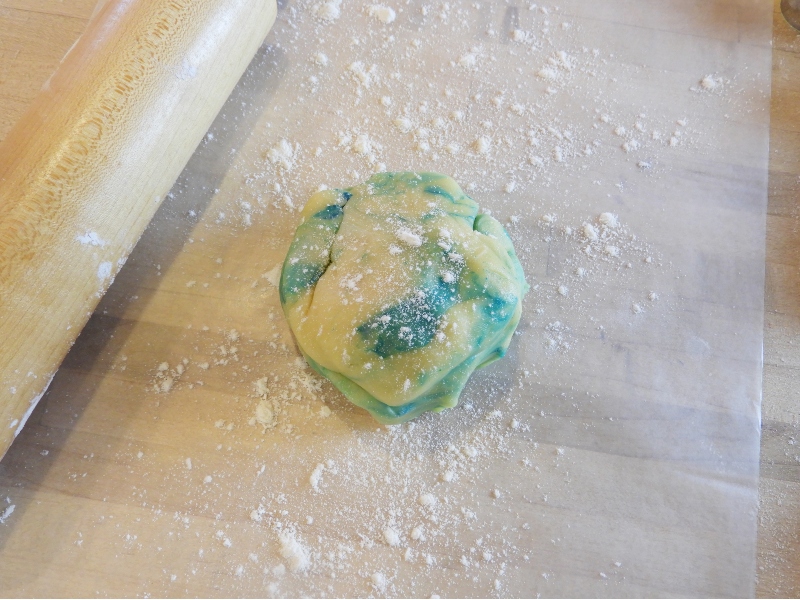 I kneaded the dough together a bit with my hands, floured my board and began to roll.

My little idea seemed to work perfectly! After rolling the dough about ¼ inch thick, the cookie dough looked like it had been tie died!

So much fun to use my cookie cutters with my tie die cookie dough!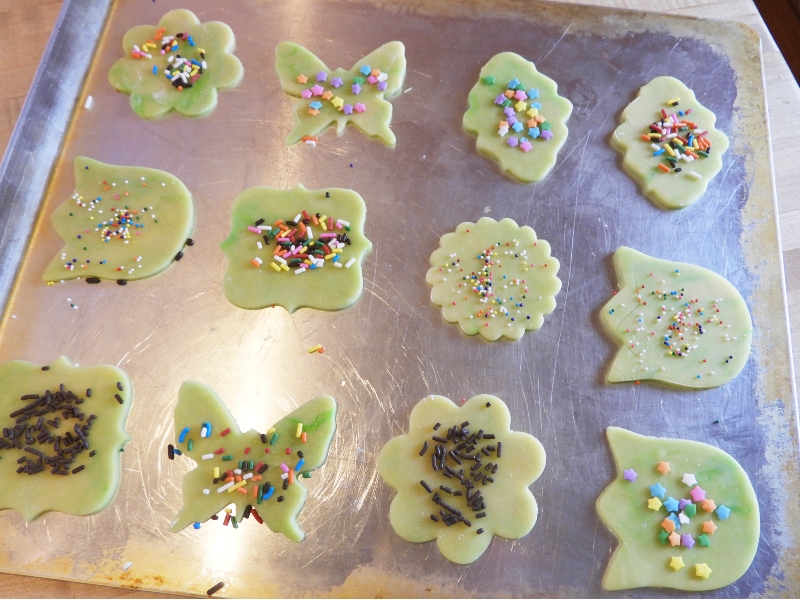 After placing the cookies onto the cookie sheet, I used my sprinkles to decorate them and was ready to bake!
I will admit, I didn't brush the cookies with egg whites prior to adding the sprinkles. I just couldn't bring myself to break another egg. It did make it more difficult for the sprinkles to stick to the cookies, but not to worry…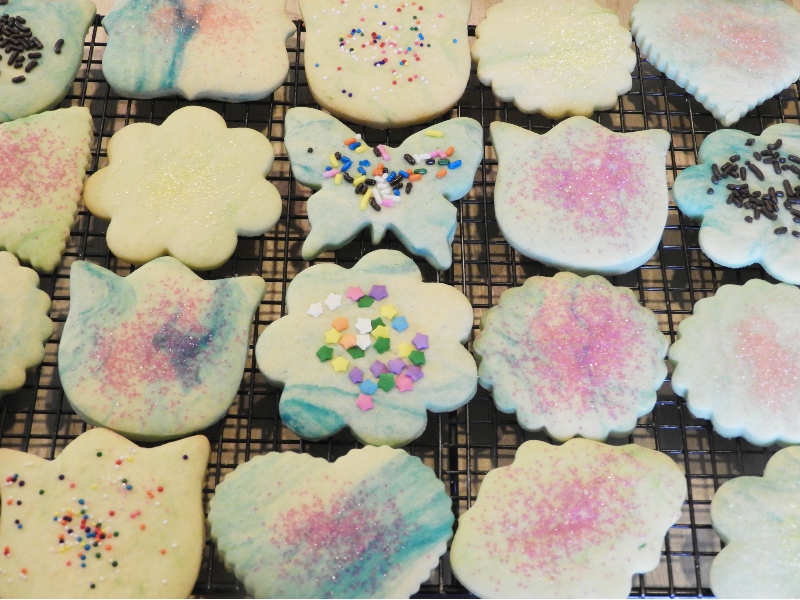 The cookies still turned out great and look beautiful! I baked the cookies only 10 minutes, just enough time for them to bake to firm, but not brown or become to crispy.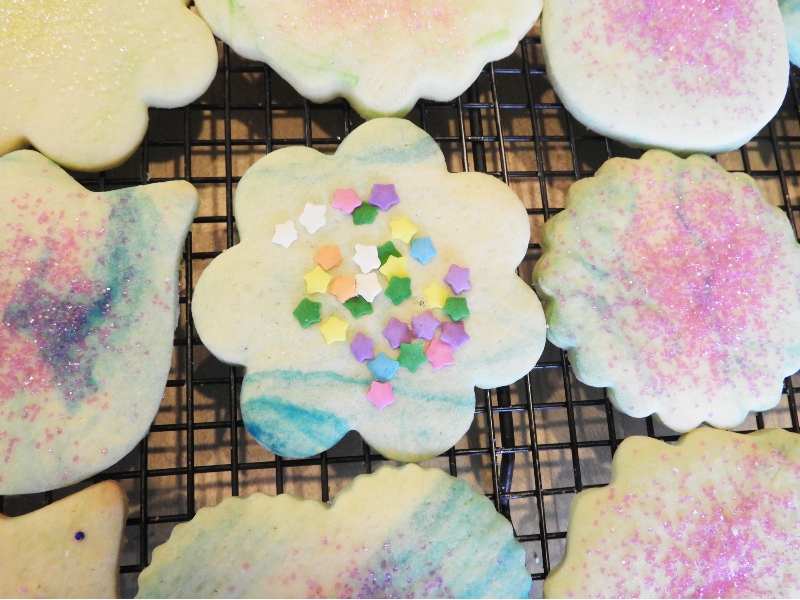 I love the tie die color of the cookies and the fun sprinkles on top!

As I mentioned above, I wasn't quite satisfied with just the sprinkles on top of these beautiful cookies…I decided to add a wonderful powdered sugary sweet frosting.  I used a simple frosting a friend was so kind to share. Powdered sugar, butter, vanilla, and milk.

Just look at this wonderful cookie…can't you just taste the buttery sweetness!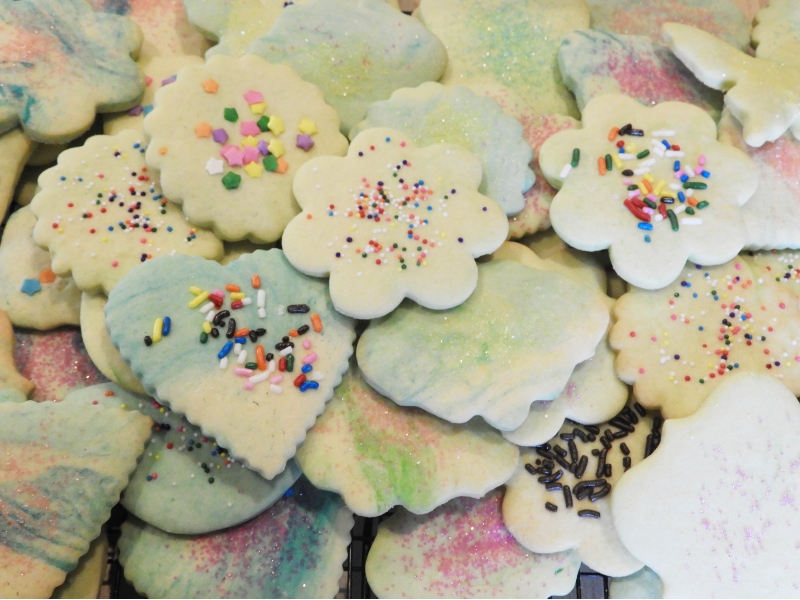 I admit I've avoided making Maude's Butter Cookie Recipe due to the large amount of ingredients. I just didn't want to make so many cookies at one time. Well, I'm so glad I finally did! I just love the thickness of these cookies and I love the frosting I decided to use at the last minute.
Maude's Butter Cookie Recipe cookies are a traditional butter cut out cookie recipe that will be loved by kids and adults everywhere!
Enjoy!
XXOO,
Janet
Print
Maude's Butter Cookie Recipe
Ingredients
2 cups butter
5 tsp baking powder
1 ¾ cups sugar
3 tsp vanilla
5 eggs
7 cups flour
Instructions
Cream butter and sugar until light and fluffy. Add eggs and mix well. Add vanilla. Add flour sifted with baking powder and mix well. Separate dough into two or three parts and add a little vegetable coloring – any color you wish. Roll out on floured board about ¼ inch and brush with egg white. Sprinkle chopped nuts on top or any other decoration. Bake at 350 to 375 degrees from 15 – 20 minutes.
Recipe Yield
Makes about 10 dozen cookies 1x