Mandelbrodt cookies were common in my childhood home. My Mom used the Cookies by Bess Mandelbrodt recipe regularly for the Jewish Holidays and for family gatherings.
Mandelbrodt is a Yiddish word that means "almond bread". There are many different mandelbrodt cookie recipes, all having the traditional double baked cookie in common. Cookies by Bess' recipe is a typical recipe that includes all the common ingredients: oil, eggs, cinnamon, fruit (maraschino cherries) and nuts (walnuts or sliced almonds).
If you are not familiar with Mandelbrodt cookies, you might be familiar with it's Italian cousin, Biscotti. Also a twice baked cookie, Biscotti has similar ingredients and flavors.
Here is in the United States, you have probably seen a Mandelbrodt or Biscotti type cookies in coffee shops as this type of cookie is often dipped in coffee or tea. It's crispy cookie and often bland flavors (it's not super sweet) pair nicely with coffee flavors.
I'm rating Mandelbrodt 3-stars for cookie difficulty due to the many steps involved in the baking process. As with all Cookies by Bess cookie recipes, the baking steps are not hard, but do require more time and attention to ensure you are doing them correctly.
As I was pulling all my ingredients together, I thought about cutting the recipe in half…but didn't 😊 Having made Mandelbrodt before, I knew I'd eat all the cookies! They are so good and can easily be frozen if some how it took me too long to eat them.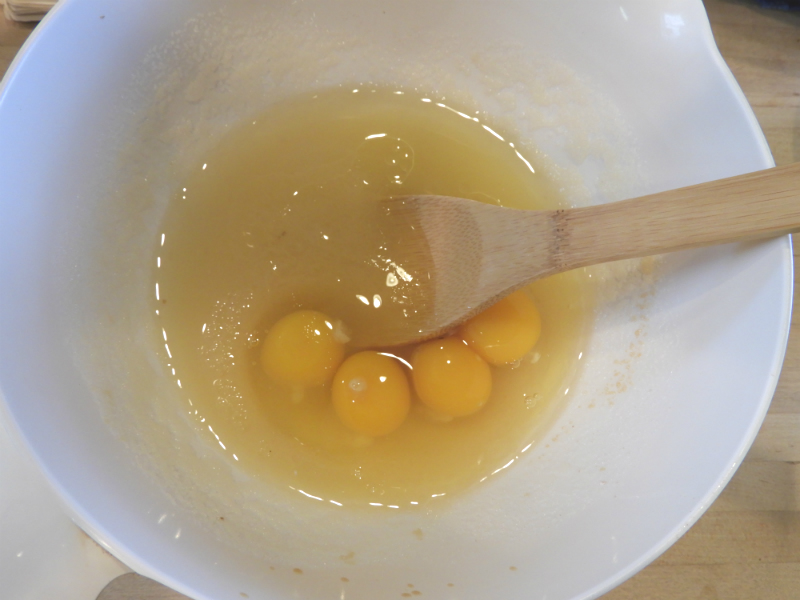 The recipe calls for cooking oil versus butter. It's always difficult for me to pour a full cut of oil…but oil is one of the traditional ingredients, so 1 cup of oil it was! To the oil I added sugar and eggs.
Also traditional are nuts and cherries. The recipe lists both walnuts and almonds. I remember walnuts in the Mandelbrodt cookies my Mom made, so I decided to use walnuts. I do remember having Mandelbrodt with almonds…both are so good, I can't decide which I like best. Both provide wonderful flavor and texture!
I do love maraschino cherries in cookies. They add a wonderful bright color to these cookies and are the perfect addition to the flavors and textures. If cherries aren't your favorite, you can substitute with chocolate chips or any other type of flavored fruit.
Mixing all these ingredients together provides a wet mixture. Surprisingly, it doesn't seem oily as you might expect.
The recipe says to add the sifted dry ingredients in three parts. This was helpful in mixing the ingredients together evenly.
Once all the dry ingredients were mixed in, I had a soft dough that tasted great! Not super sweet or oily…
Next, I was ready to form the dough into loaves. I floured my hands and scooped out about a cup of the dough. The dough wasn't sticky or too oily and it was easy to form the loaves.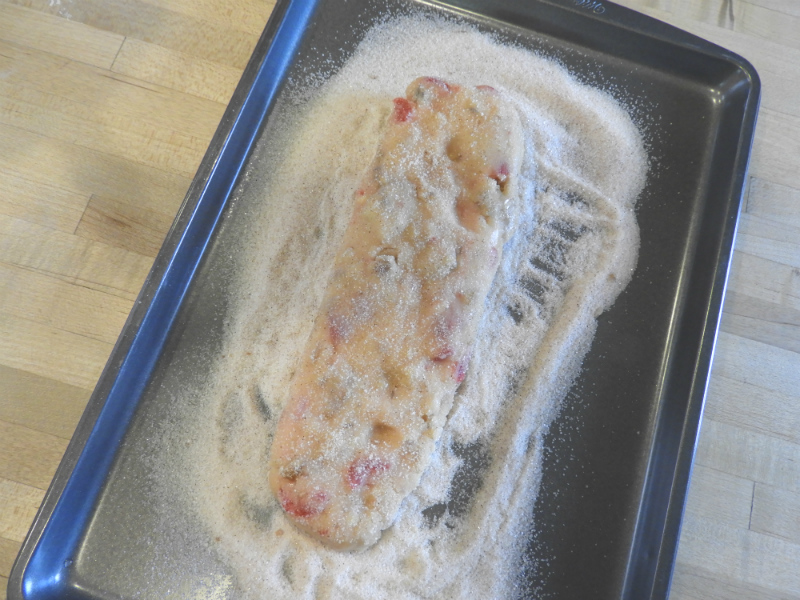 I used a jelly roll pan to roll the loaves in the cinnamon and sugar mixture. Then placed the loaves on the greased cookie sheet.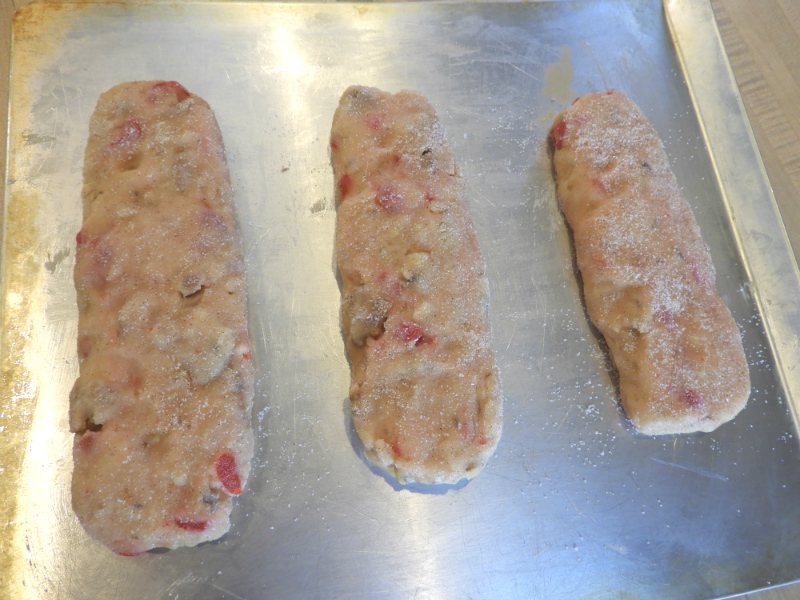 I placed 3 loaves on my baking sheet and stuck them in the oven.
The loaves spread out and rose a bit, but not too much.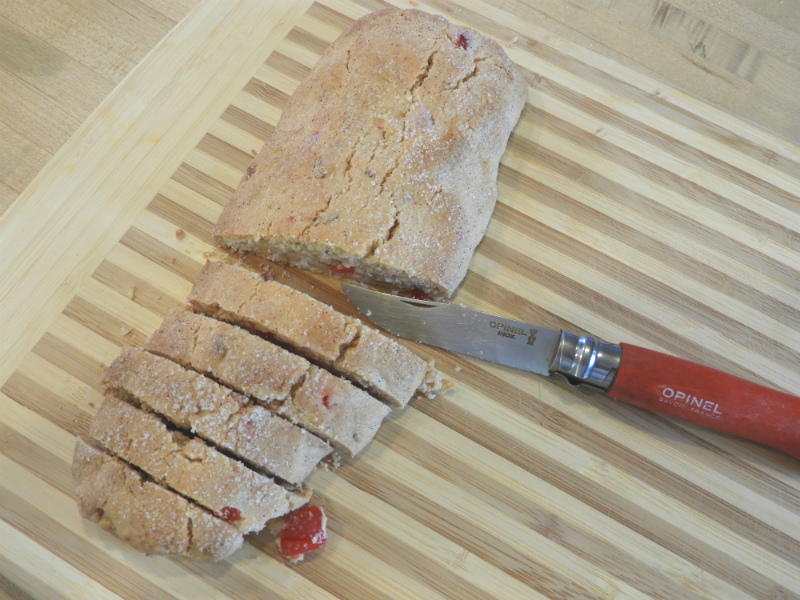 You might think you are done at this point, but not so fast! This is a twice baked cookies, so the Mandelbrodt needed to be baked one more time!
But first, I sliced the loaves into ½ inch slices…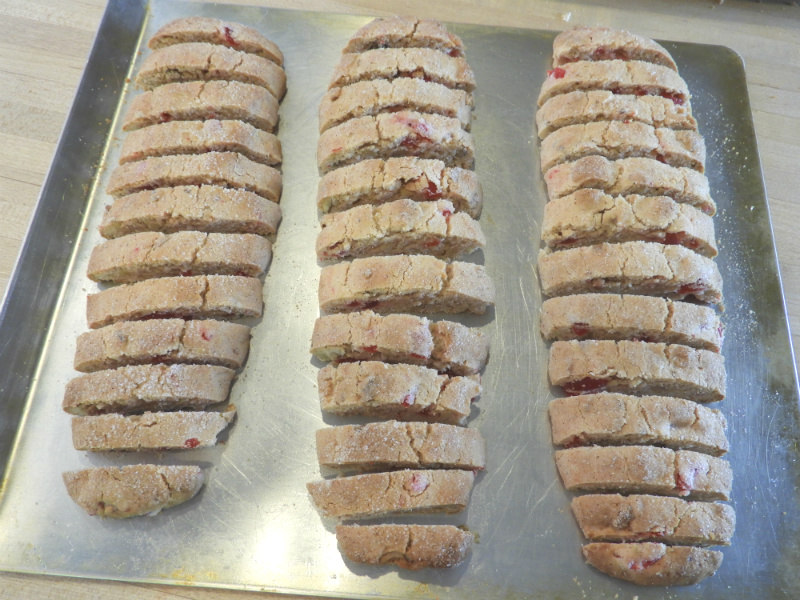 And place the cookies back on the cookie sheet to bake for another 20 minutes.
The second bake browned the cookies just a bit more.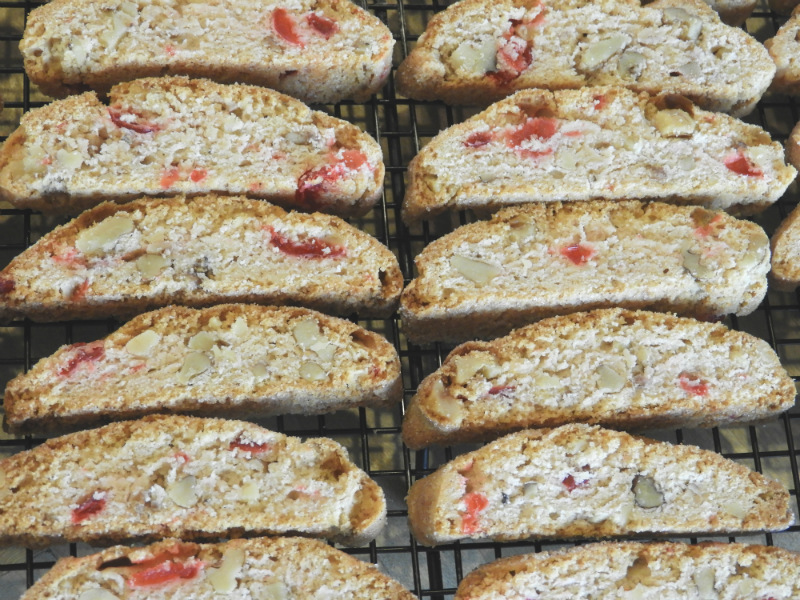 Look familiar? Mandelbrodt are such a pretty cookie! The shape, crispy brown color, pop of the maraschino cherries, and nuts add such wonderful texture and flavors.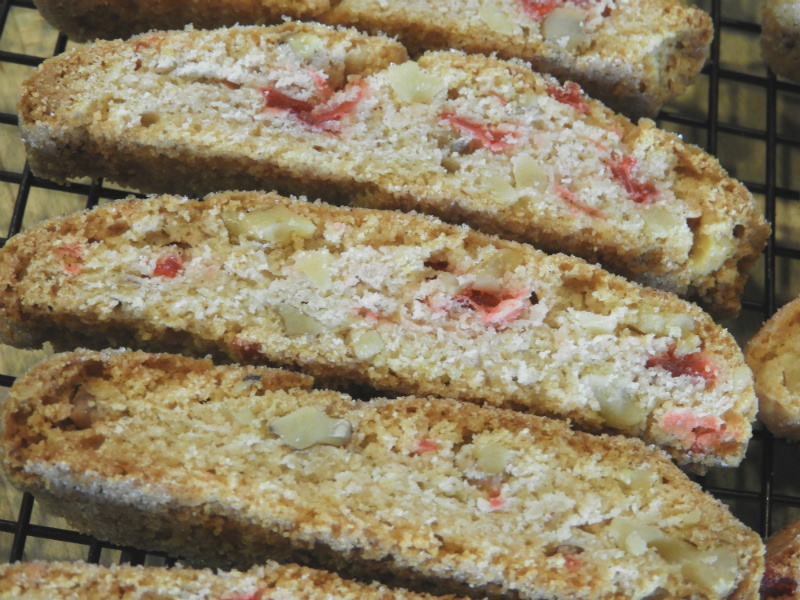 Just look at all that texture!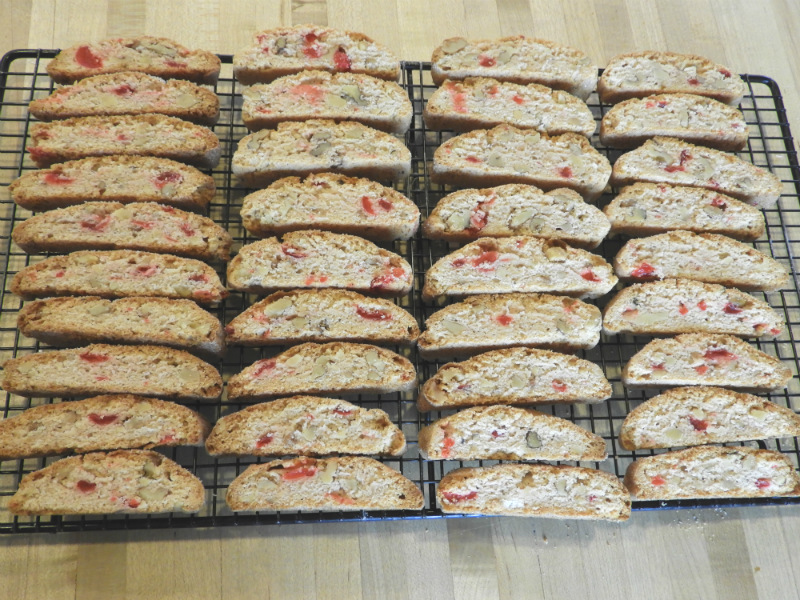 Say you haven't made or tasted Mandelbrodt before?  Well, I hope I've convinced you to try this recipe! If you are a coffee drinker, it's a must! If you aren't a coffee drinker, it's still a must!
Enjoy this wonderfully traditional "almond bread" cookies! Whether with almond or walnuts, cherries or chocolate chips, I promise you are going to love this cookie!
XXOO,
Janet
Print
Mandelbrodt
Ingredients
1 cup cooking oil
1 cup sugar
1 tsp vanilla
4 eggs
½ of a 12 oz jar of maraschino cherries, drained and cut into small pieces
2 cups coarsely broken walnuts or 2 cups sliced almonds
4 cups flour
2 tsp baking powder
1 tsp salt
Instructions
Mix oil and sugar until light and color. Add eggs and vanilla, beating well. Add nuts and cherries – mixing well with a wooden spoon. Add sifted dry ingredients in 3 parts. Mix well. This dough will be soft. Use floured hands to form into loaves about 2 inches wide and about ¾ inch high. Roll in a mixture of cinnamon and sugar. Place on greased cookie sheets – 3 rolls to each sheet. Recipe should make 6 rolls. Bake in a 350 degree oven about 30 minutes. Remove from oven and cut into ½ inch slices. Return to oven to toast until brown about 20 minutes. Cool on cooling rack.
Recipe Yield
Makes about 6 dozen cookies 1x
Cookie Category:  Molded or shaped