Mandel Kranze is an traditional German style cookie, at least that's what I found when I Googled Mandel Kranze. There wasn't a lot of information about Mandel Kranze cookies out there on the internet, but I was able to find out that Mandel Kranze means "almond wreath" in German. There are also some pictures of traditional Mandel Kranze cookies, but I didn't find any recipes or any other tid-bits about where these cookies came from.
After reading the little I could find about Mandel Kranze cookies, I am surprised that the Cookies by Bess recipe doesn't call for making the cookies into little wreaths. Instead, the recipe says to roll the dough thin and use a round cookie cutter to cut out the cookies. I also found it a bit strange that this recipe was listed with the Christmas or Holiday cookies. The recipe doesn't call for using any holiday colored sugar, or holiday shaped cookie cutters.
To ensure my Mandel Kranze cookies looked festive, I decided to use red and green colored sugar with the cinnamon and chopped almonds. I think you'll find, like I did, this little added color helps brighten up the cookies and certainly makes them festive for the holidays!
Next time I make this recipe, I will use a doughnut hole type cookie cutter, so they look more like wreaths. I'll use the colored sugars with the cinnamon and almonds again if I make them around the holidays…I like the way the colors brightened the cookies up and more festive.
I'm rating Mandel Kranze 3-start for cookie baking difficulty. Nothing in the recipe is difficult, but there are a few steps to work through.  Also, rolling the dough and cutting the cookies always adds time to the baking process.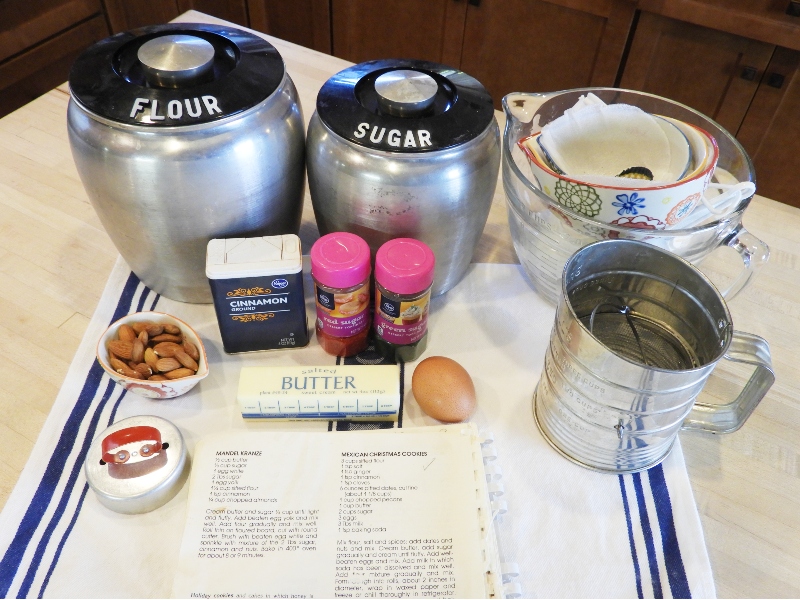 Mandel Kranze have all the basic cookie ingredients, so it was easy to pull everything together and get started!

Nothing special or difficult about mixing the ingredients together.

After only a few minutes of mixing the ingredients, I had a yummy dough ready for rolling!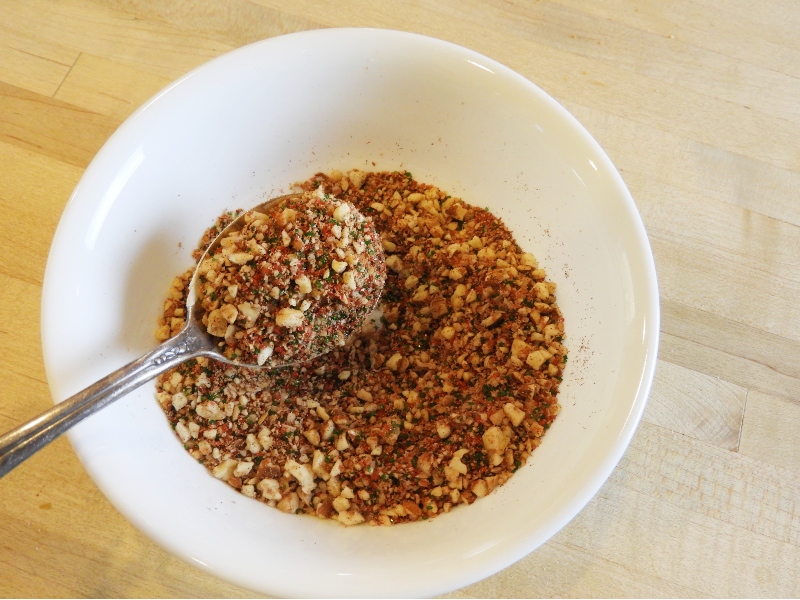 Prior to rolling out the dough, I combined the cinnamon, sugar, and finely chopped almonds together. As I mentioned above, I decided to use red and green colored sugars to help make the cookies a bit more festive for the Christmas holiday. Certainly not required, but I'm glad I made the adjustment…especially since the recipe doesn't call for shaping the cookies into wreaths, at least the colored sugar provides some holiday colors.
Along with my dough and topping mixture, I beat my egg white a bit with a fork and was now ready to roll!  The dough was the perfect consistency for rolling out right away versus having to chill. It's fascinating to me how some cookie doughs are perfect for rolling and some need to be chilled and firmed up.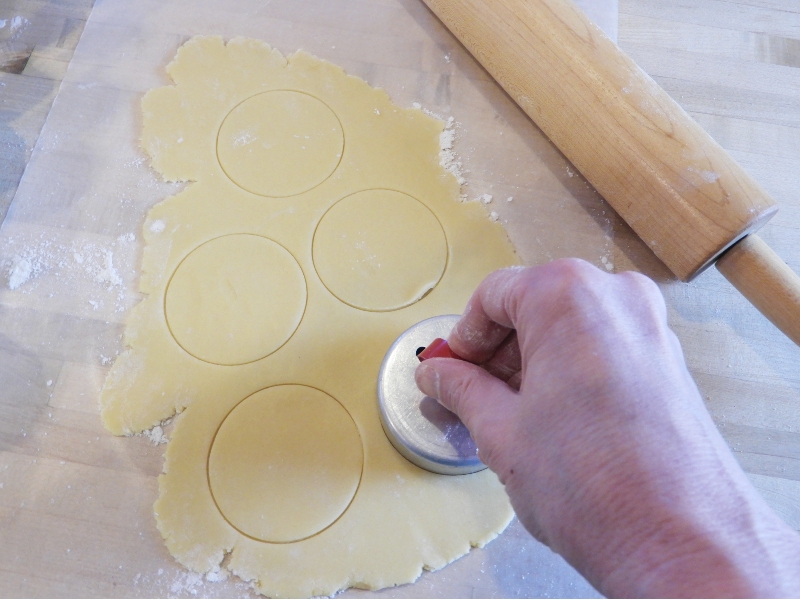 I used my round cookie cutter, which I believe is the one Grandma Bess used to make these and other cut out cookies!  After rolling the dough thin, per the recipe, the cookies cut out easily and perfectly!

Once placed on my cookie sheets, I brushed each cookie with egg whites.
I decided to lightly grease my cookie sheets, just to make sure they didn't stick.

After brushing the cookies with egg whites, I sprinkled each with my topping mixture.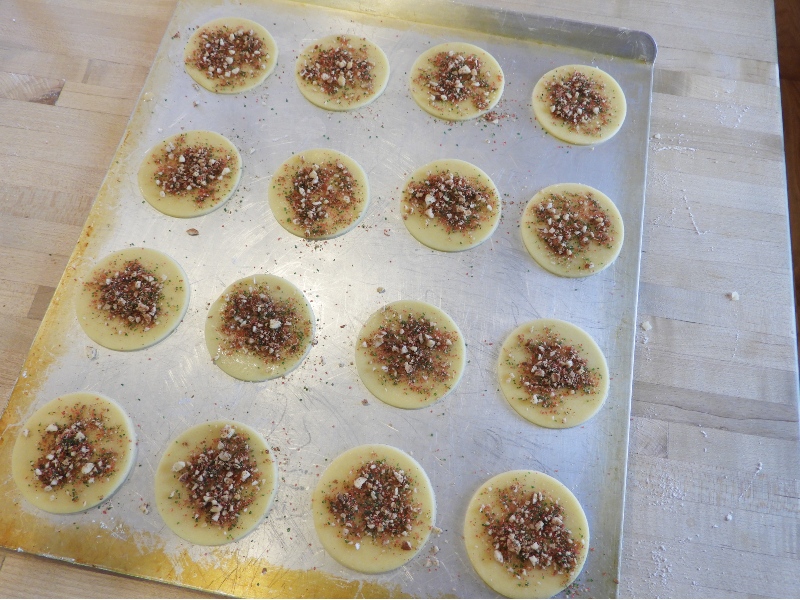 In no time, I was ready to bake!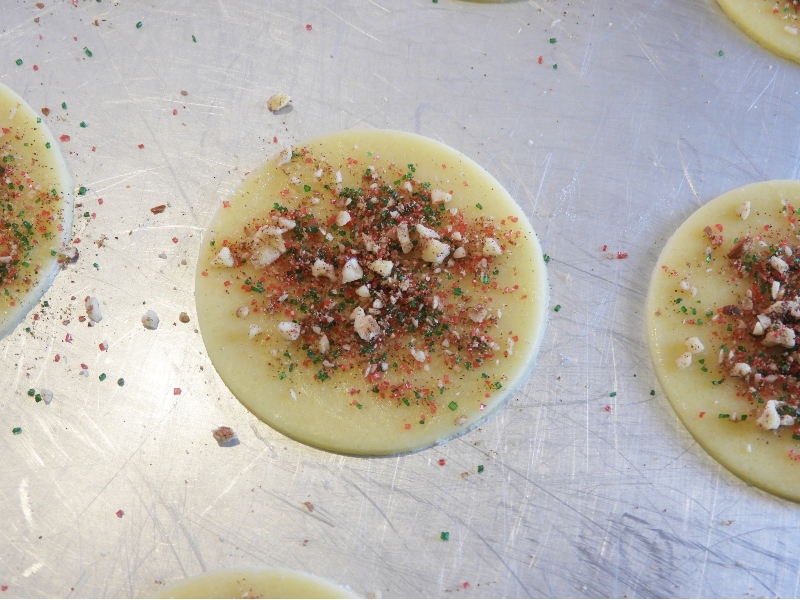 Just look at how pretty the cinnamon, sugar, and almond topping are on the light-colored cookies!

Since the cookies were rolled thin, I was careful to watch the cookies as they baked to ensure they didn't get too brown or burn. I ended up baking them for just 8 minutes.  They came out perfect and didn't stick to the cookie sheets.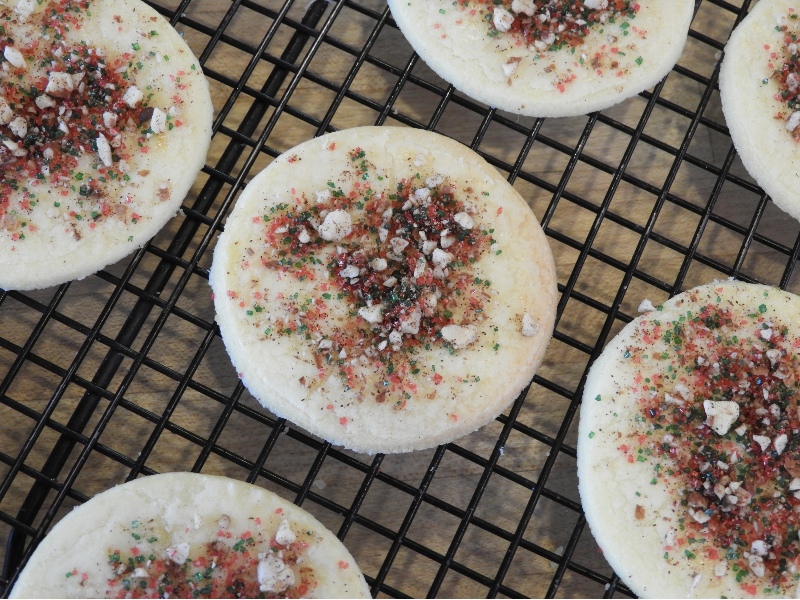 The cookies look as pretty after they baked as they did before!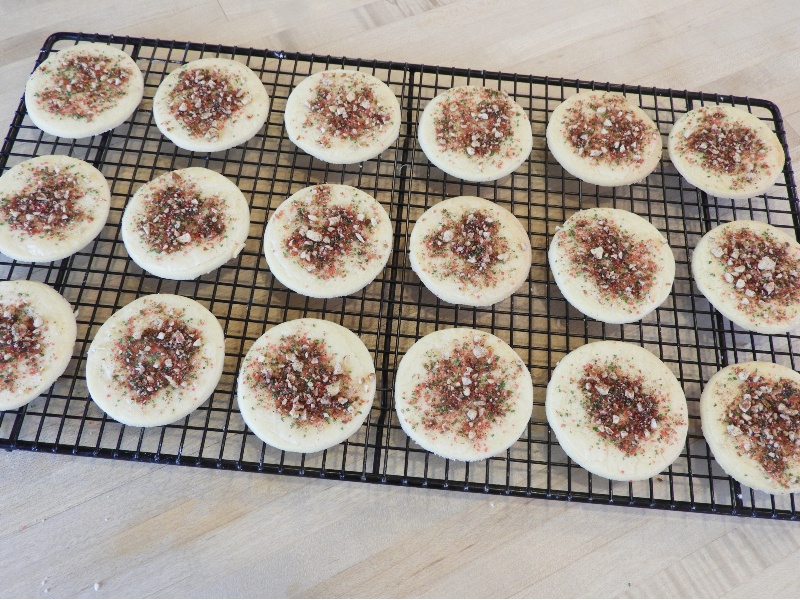 Such a pretty and simple rolled cookie! Thin and crisp, buttery and sweet, spicy and nutty…this Mandel Kranze cookie recipe is a wonderful for the holidays or any time of year!
Enjoy!
XXOO,
Janet
Print
Mandel Kranze
Ingredients
½ cup butter
1/3 cup sugar
1 egg white
2 Tbs sugar
1 egg yolk
1 ¼ cups sifted flour
1 tsp cinnamon
¼ cup chopped almonds
Instructions
Cream butter and sugar 1/3 cup until light and fluffy. Add beaten egg yolk and mix well. Add flour gradually and mix well. Roll thin on floured board, cut with round cutter. Rush with beaten egg white and sprinkle with mixture of the 2 Tbs sugar, cinnamon, and nuts. Bake in 400 degree oven for about 8 or 9 minutes.
Recipe Yield
Makes about 2 - 3 dozen cookies 1x
Cookie Category:  Rolled, Holiday