I didn't know what to think when I saw and read the recipe for London Stripes. I've never heard of this cookie before, so I had to Googled it to see if there was any information about the recipe. I got nothing. Seems London Stripes from Cookies by Bess is a one of a kind, unique recipe…which as you will see below, is definitely true!
The first thing I noticed about this recipe is that it calls for 8 eggs! Four in the cookie crust and 4 egg whites in the topping. I kept reading and reading the recipe to make sure I wasn't reading wrong. I thought maybe the cookie crust would use the egg yolks and the topping the egg whites.
In the end, I followed the recipe as written; 4 whole eggs in the crust and 4 egg whites in the topping.  The end result bar cookies tasted great, so not sure if there was a mistake in the recipe or not. If there was you certainly can't tell!
Putting the layers together to make London Stripes was fun and resulted in a unique bar cookie! You certainly taste the eggs, then the butter, then the jam, all with nuts…unique and wonderful!
I'm rating London Stripes 2-stars for cookie baking difficulty. There are a good amount of steps involved, but nothing too difficult or time consuming. Just different in such a good way!
To make this London Stripes recipe, I had to run to the grocery store to pick up some jam and another dozen eggs!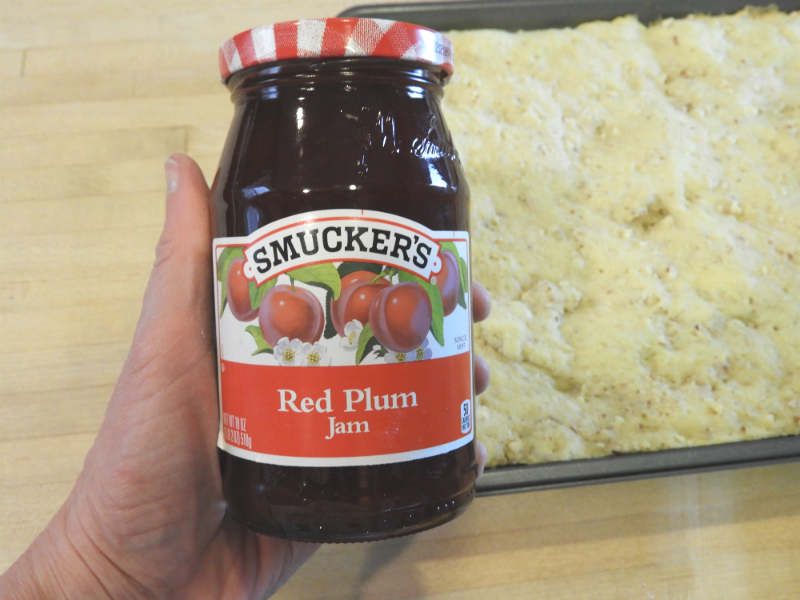 There is always some type of jelly or jam in my refrigerator. This time I had strawberry, grape, and apricot…but there wasn't 1 ½ cups of any of them. For this recipe I wanted to try something different…after searching the jelly aisle at the grocery store, I ended up finding Red Plum Jam from Smucker's. I don't remember seeing this type of jam before, so I decided to try it!
I got started mixing one ingredient at a time per the recipe. Adding the eggs made the cookie dough such a nice and rich golden color.
The recipe calls for 2/3 cups of nuts…but doesn't mention what kind of nuts. The topping calls for shredded almonds, so I decided to use chopped almonds in the cookie dough.
I do have to mention, the cookie crust dough was very spongy and a little sticky. This had to be due to the eggs. I'm not a baking scientist or chemistry wiz, so I don't know for sure, but all those eggs had to make a difference in the consistency of the dough!
The stickiness of the dough made it a little difficult to spread, but I just dipped the palm of my hand in a little flour to help.
The recipe says to spread the dough in a "greased jelly roll" pan. I always use the normal size jelly roll pan unless the recipe specifies the size. After spreading the cookie crust, I noticed it was quite thick in the pan. Next time I'll use the next size up jelly roll pan, as the cookie crust in the finished bar cookies was a bit too thick.
As the cookie crust baked, I could see the butter melting and the eggs binding into a dense crust. I ended up baking the crust about 5 minutes more than suggested to make sure it was done.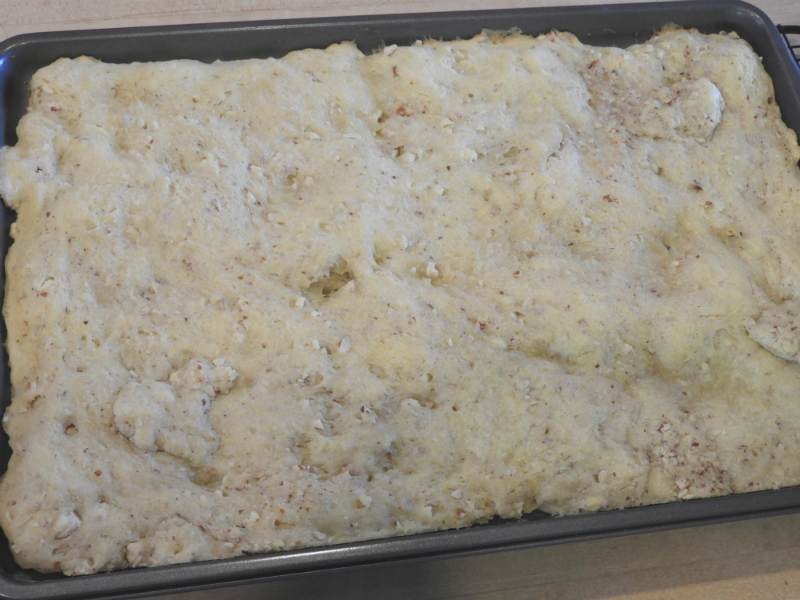 Out of the oven you can see how dense and thick the cookie crust is.
After cooling the crust, I began spreading the red plum jam.  The recipe calls for 1 ½ cups of jam.  My jar was 18 ounces (just over 2 cups)…so I used about 2/3s of the jar.  I wish I had used it all!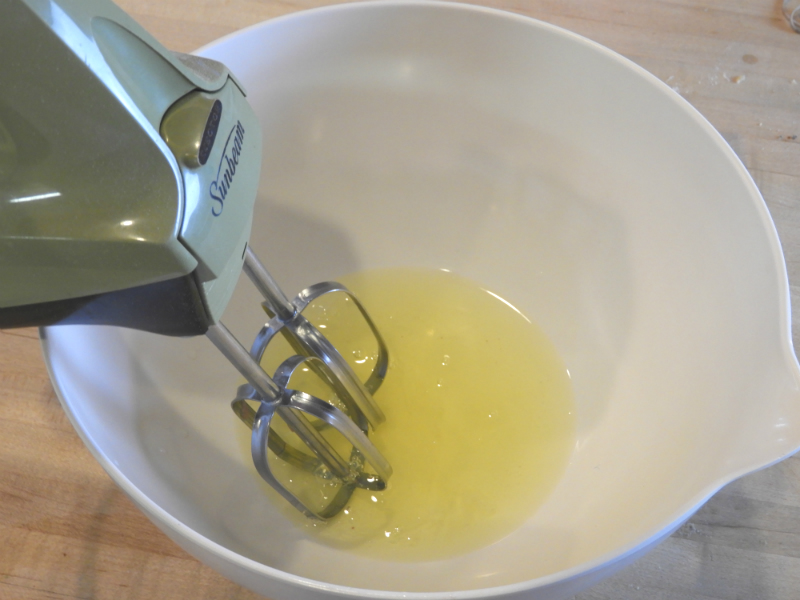 Next, I began beating the 4 egg whites…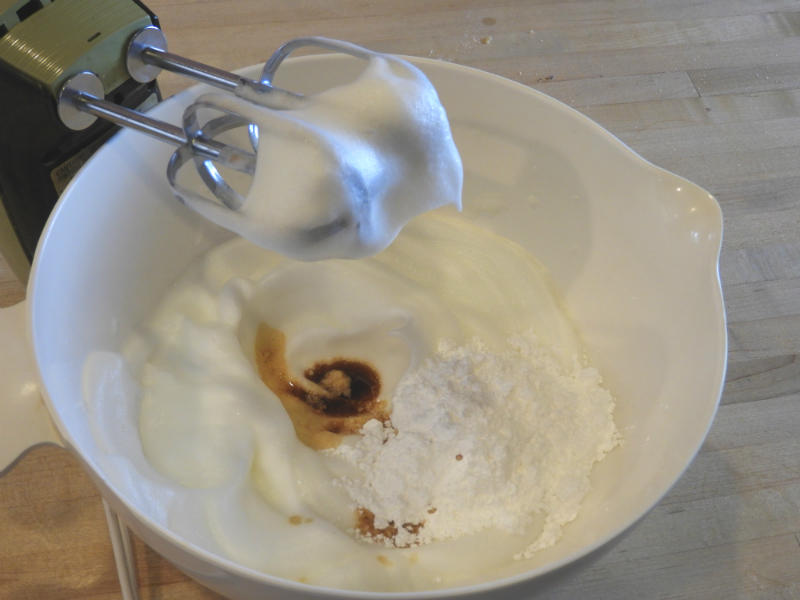 …adding the vanilla and powdered sugar…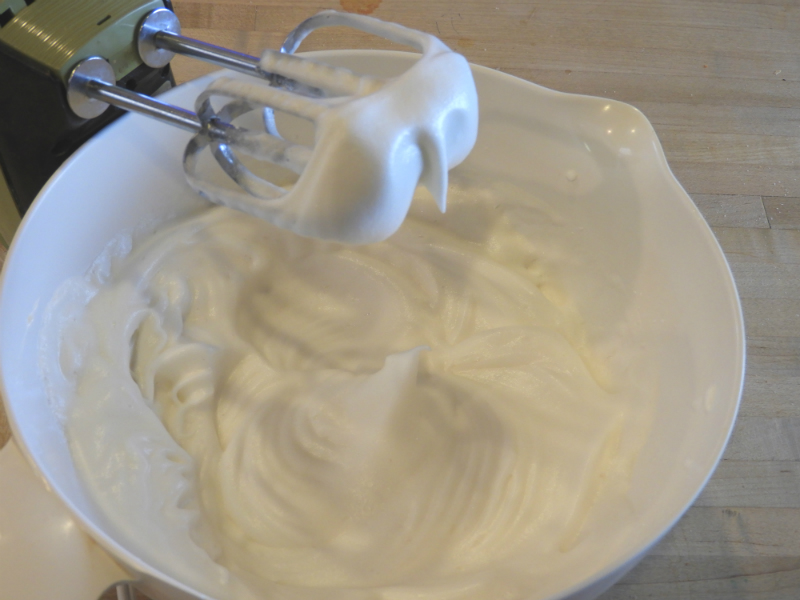 …and continuing to beat until the egg whites were stiff.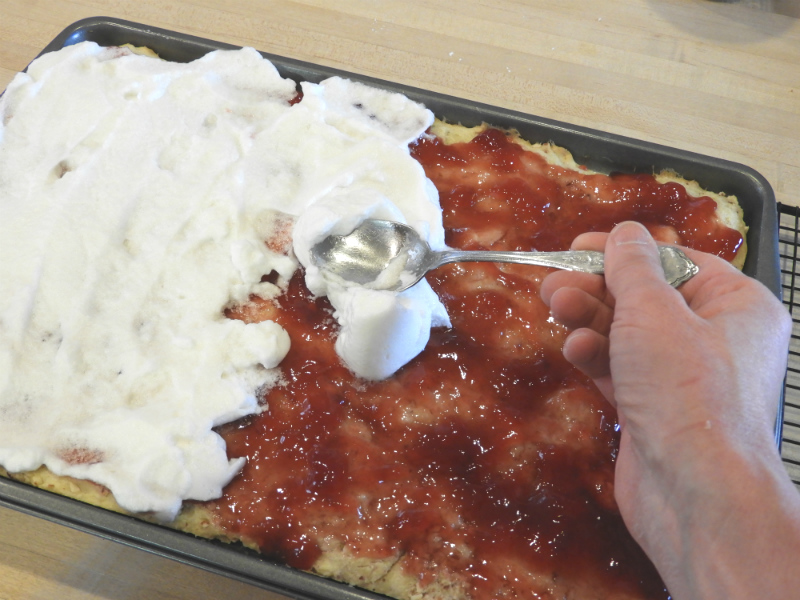 Spreading the egg whites over the jam was a bit tricky. I used a teaspoon to scoop and spread them. Not difficult, just take your time so the jam doesn't get mixed up in egg whites.
Next, I spread the almonds on top of the egg whites. I didn't have sliced almonds, so I just chopped the almonds up and spread them on top.
Finally, I was ready to bake!
The egg whites turned to a golden brown color while baking.
After letting the cookies cool completely, I got started cutting. The recipe says to cut into "stripes". I wasn't sure what that meant exactly, so I decided to be a bit creative and cut what I thought stripes might be.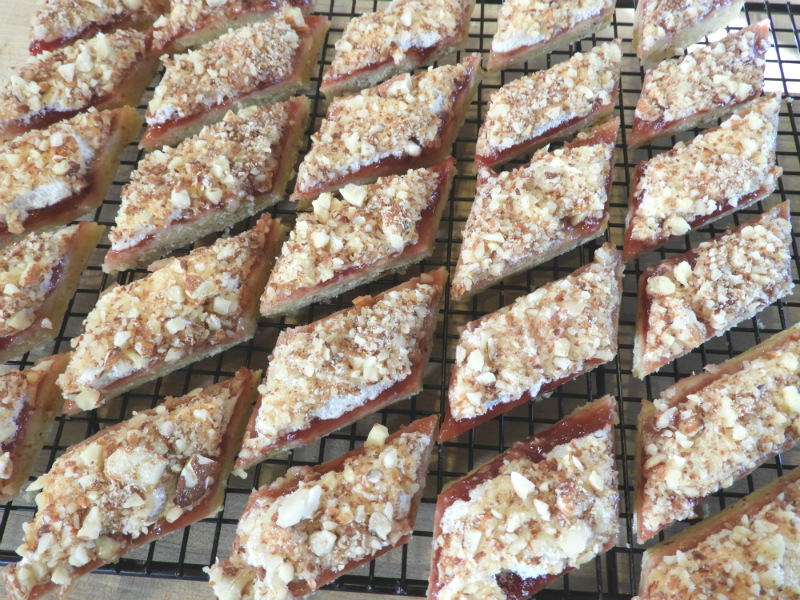 And, here you go! London Stripes!
You can see the crust is a bit thick compared to the jam and egg white topping. The larger jelly roll pan and using more jam will even everything out!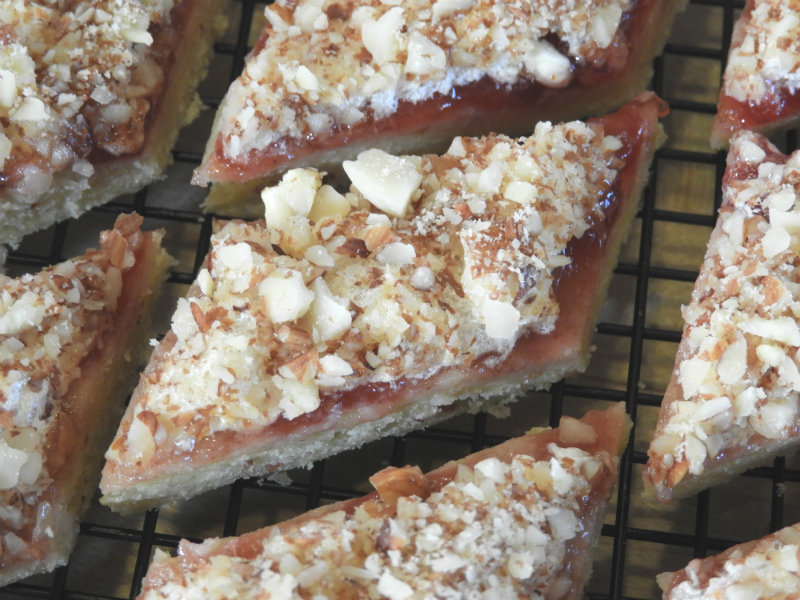 The cookie crust has such a unique flavor, one I realized after multiple cookie tries, I really liked! I had a hard time eating just one cookie at a time…you might want to cut them into small bars so you won't feel guilty for eating 2 or 3 cookies at a time!
I hope you will try London Stripes…they are perfect for a fancy tea party or casual family/friends gathering. Everyone will want the recipe, I'm sure!
Enjoy!
XXOO,
Janet
Print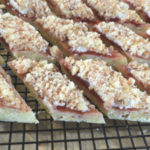 London Stripes
Ingredients
1 cup butter
½ cup confectioner's sugar
1 tsp salt
4 eggs
2 cups flour
2/3 cup chopped nuts
1 ½ cups jam of your choice
Instructions
Mix in order given and spread on greased jelly roll pan. Bake at 350 degrees about 10 minutes. Spread with jam and cover with topping.
Notes
Topping
4 egg whites
¼ cup confectioner's sugar
¼ cup shredded almonds
½ tsp vanilla
Beat the egg whites until stiff. Add the sugar and vanilla and beat again. Spread on top of baked part and sprinkle with shredded almonds. Bake in 325 degree oven for 15 minutes. Cool and cut into stripes.
Recipe Yield
Makes about 5 - 6 dozen bar cookies 1x