Little Nutmeg Butter Balls
Little Nutmeg Butter Balls are another winner cookie recipe from Cookies by Bess! This recipe combines the wonderful tasting butter cookie with just enough spicy nutmeg to make you want to eat more cookies!
After all my baking, I have become partial to making molded or shaped cookies. For some reason, to me, there is something soothing about making small balls with wonderful tasting cookie dough. I also love rolling the warm baked cookies in powdered sugar…I just love how the sugar melts into the cookie leaving a nice moist frosting like texture.
Adding nutmeg to the powdered sugar for Little Nutmeg Butter Balls takes the flavors to a new level! Just a wonderful spicy and sweet combination.
I am rating Little Nutmeg Butter Balls 2-stars for baking difficult. As with other 2-star rated cookie recipes, Little Nutmeg Butter Balls are not hard to make, but there are a few extra steps that take it to the 2-star rating level.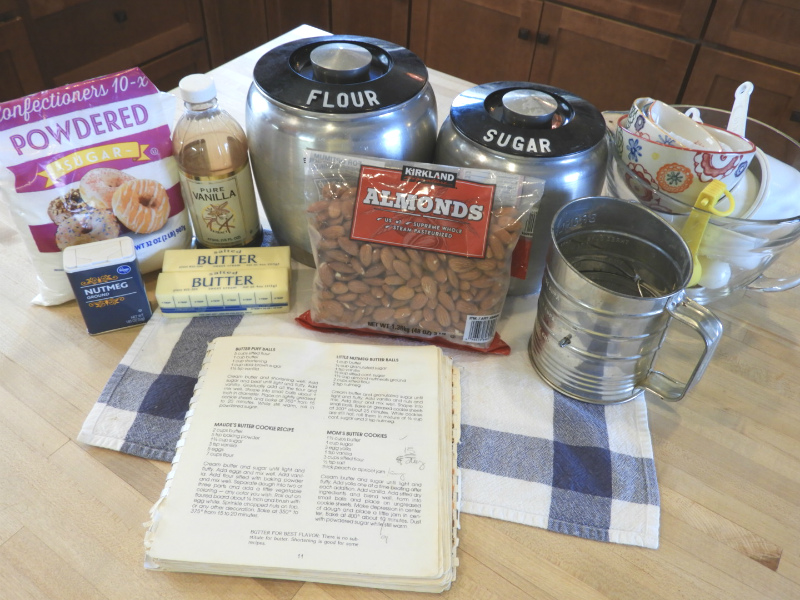 Not too many ingredients to gather for this recipe…and once again, I had everything in my baking pantry!
I quickly mixed together the ingredients. The most difficult part was grinding the almond nutmeats. I don't know about you, but I keep my nuts in the freezer. This is great for keeping them fresh so they last longer, but it's not always so great for chopping them up!
It took quite a bit of effort to chop up my almonds. About half way through, I realize it was easier if I chopped the almonds in halfs or quarters before putting them into my nut chopper. It still took some time, but the smaller pieces helped quite a bit!
I found the dough to be just a bit dry, which doesn't surprise me since the only liquid is a teaspoon of vanilla.  This made it a little difficult to roll some of the dough balls.  Not a big deal, I just needed to make sure the balls were solid before I put them on the baking sheet.
I just love the color and texture of this cookie dough! Such a creamy color and the ground almonds blend in so nicely!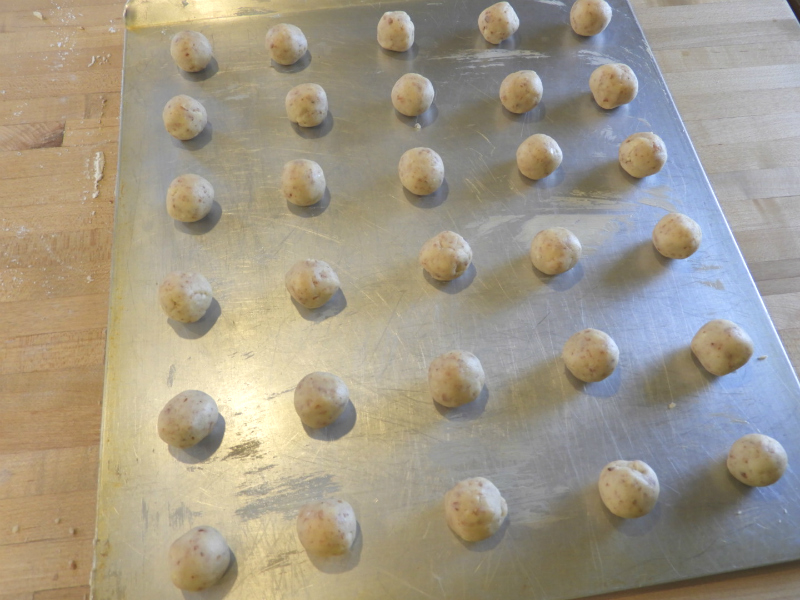 As usual, I baked a couple cookies for my test batch just see if the dough balls shape changed. As I expected, the dough balls stayed pretty close to their original shape. They puffed up a bit and the bottom of the cookies flattened out, but otherwise, they were perfect!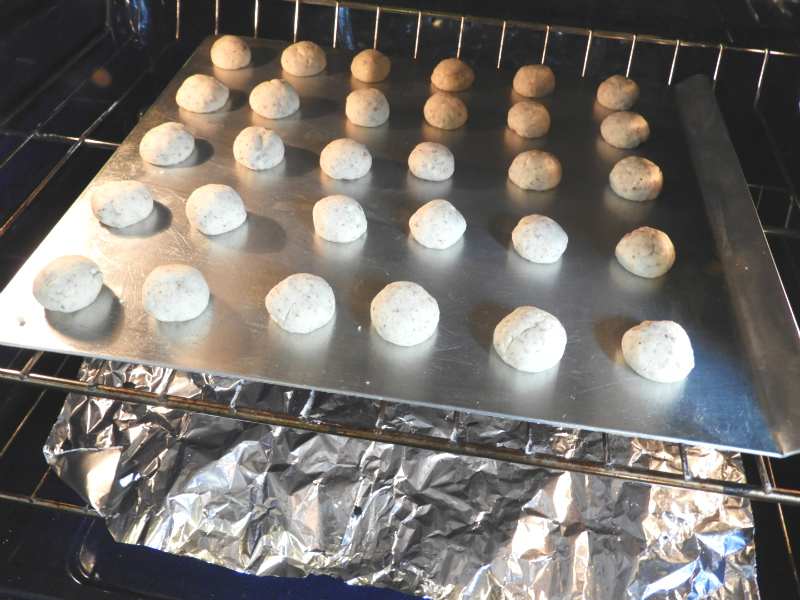 Because the dough balls didn't spread out, I was able to pack my cookie sheets with 30 cookies! I was done baking in almost no time which was awesome because each cookie sheet needed to bake for 25 minutes.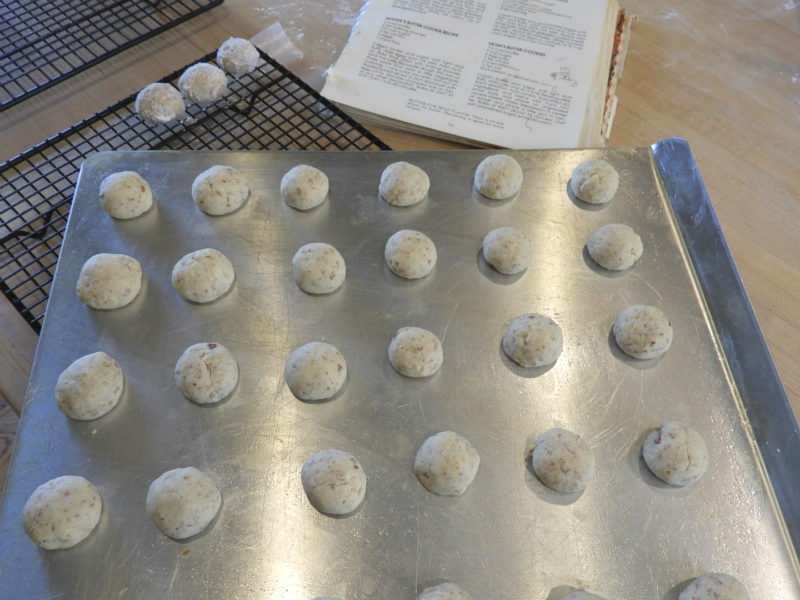 Just look at how wonderful these Little Nutmeg Butter Balls baked up…perfectly shaped!
I took the cookies right off the cookie sheet and rolled them in the powdered sugar and nutmeg. The warmer the cookies the better for this process, it helps the sugar stick and melt nicely.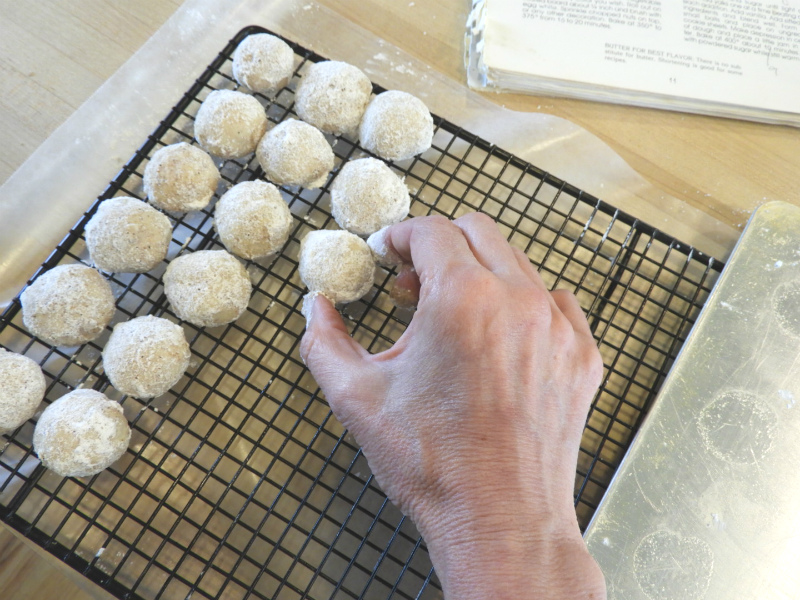 It didn't take long to roll the cookies and place them on my cooling rack.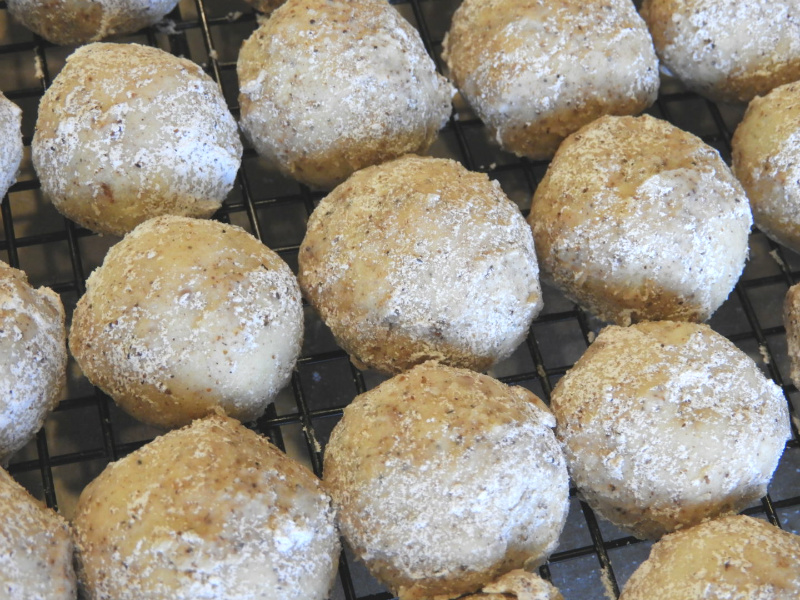 Just take a close up look at these Little Nutmeg Butter Balls! Can you see the little specks of nutmeg? What a nice little accent!
It is amazing to me how using a simple butter ball recipe can be elevated to such a wonderful level just by adding almonds and nutmeg! You are going to love the unique flavors of this cookie! The subtleness of the nutmeg is just enough to make this cookie unique and flavorful.
Little Nutmeg Butter Balls are a great cookie for any and all occasions! They won't take you long to bake and your family and friends will love them with coffee, milk or even champagne 😊
Enjoy!
XXOO,
Janet
Print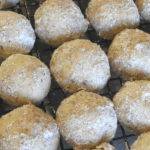 Little Nutmeg Butter Balls
Ingredients
1 cup butter

½ cup granulated sugar

1 tsp vanilla

¾ cup sifted confectioner's sugar

1 1/3 cup almond nutmeats ground

2 cups sifted flour

2 tsp nutmeg
Instructions
Cream butter and granulated sugar until light and fluffy. Ad vanilla and nuts and mix. Add flour and mix well. Shape into small balls. Bake on greased cookie sheets at 300 degrees about 25 minutes. While cookies are still hot, roll them in mixture of ¾ cup confectioner's sugar and tsp nutmeg.
Recipe Yield
Makes about 5 - 6 dozen cookies
Cookie Category:  Molded or Shaped