Lemon Flavored Cheese Cookies
Cookies by Bess is full of cookie recipes that use a cookie press or in Grandma Bess' case a cookie gun to create tasty cookies with fun shapes! Lemon Flavored Cheese Cookies are a great example! Other pressed cookie recipes you may enjoy can be found here.
Before making Grandma Bess' recipes and using her cookie gun, I was a bit afraid to make pressed cookies. I was worried the dough would be too sticky or the cookie press wouldn't work or it would take forever to get the cookies just right.
I am happy to say, the dough for each and every one of Grandma Bess' pressed cookie recipes has been the perfect consistency for pressing cookies! Not to firm and not too soft. The dough is easy to load into the cookie gun and easy to press on to cookie sheets.
The addition of cream cheese to the Lemon Flavored Cheese Cookies recipe is a unique ingredient that adds a creamy texture to the cookie dough. The lemon zest and lemon juice add the perfect amount of lemon flavor to make these cookies perfect!
I am rating Lemon Flavored Cheese Cookies 2 stars for cookie baking difficulty. It's a normal cookie press type cookie, with the added steps of grading the lemon zest, chopping and sprinkling nuts and colored sugar add a bit more time and effort.
I normally have cream cheese, lemon juice, and lemons in my refrigerator, so it was easy to pull all my baking ingredients together and get started.
Mixing the butter, cream cheese egg yolk, sugar, lemon zest and juice together created a wonderful light and fluffy start to the dough.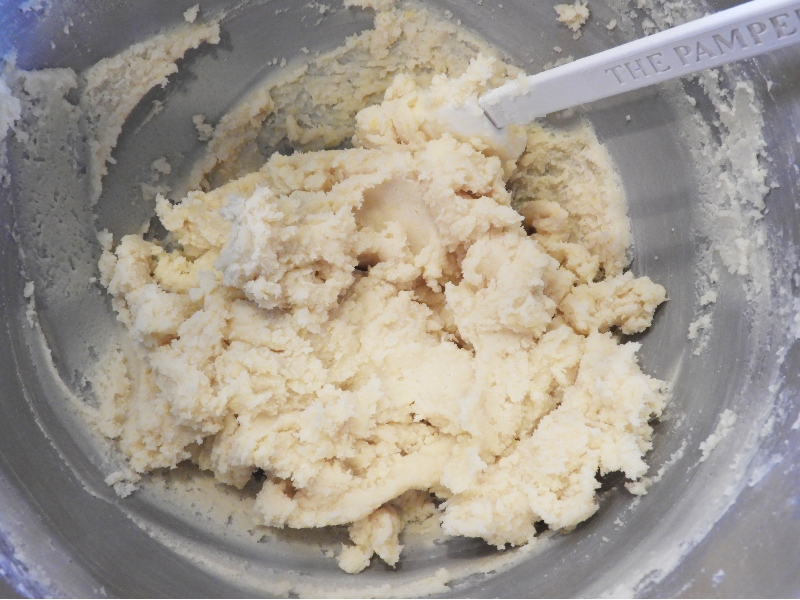 After mixing in the dry ingredients, I had a beautiful blond cookie dough the perfect consistency for pressing cookies.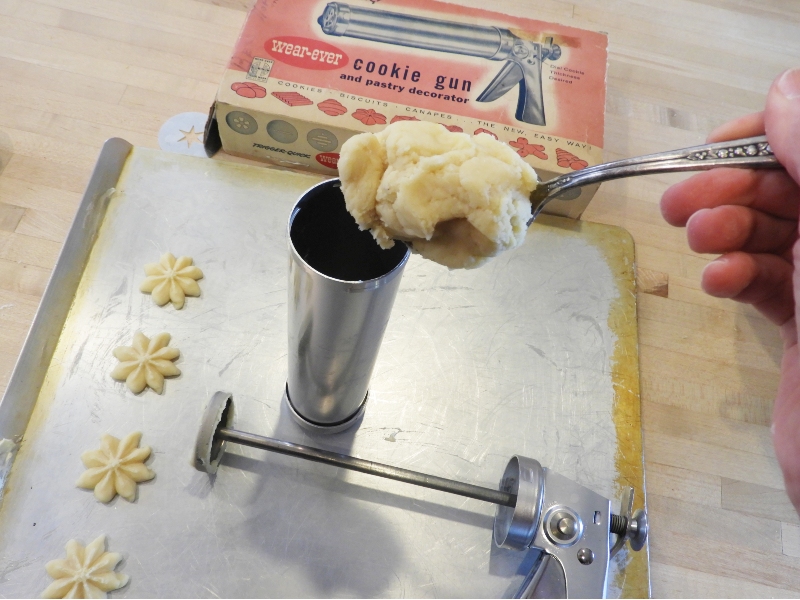 As I mentioned, I love to use Grandma Bess's cookie gun for making pressed cookies! It's easy to fill…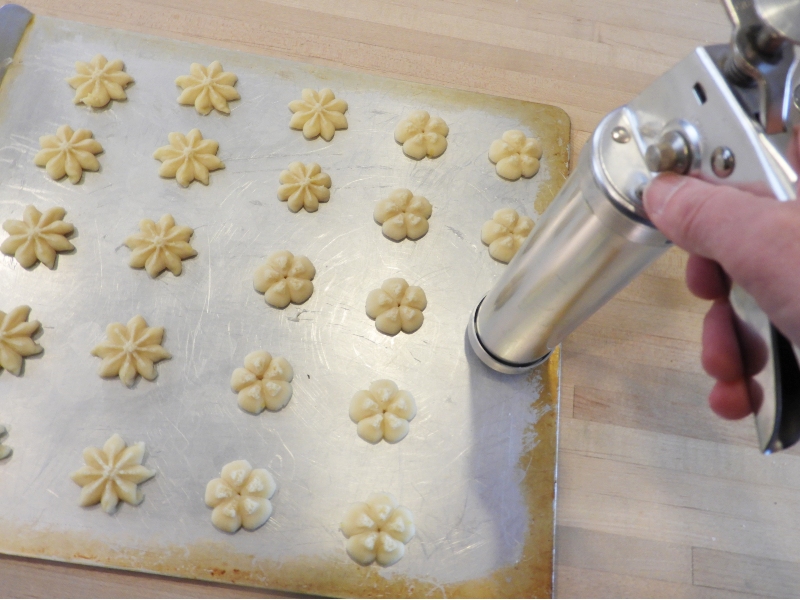 And easy to press the cookies!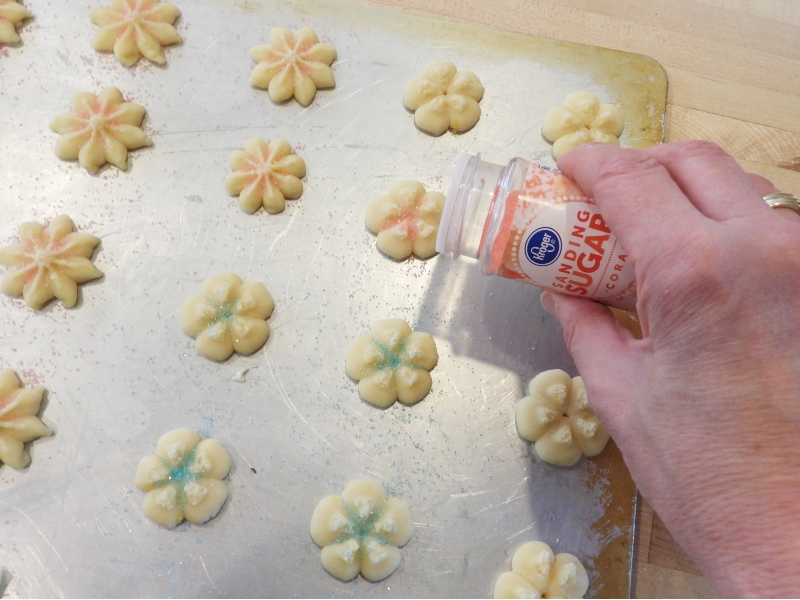 Next, I was ready to sprinkle the colored sugar and nuts on top of the cookies.  It was a little challenging to keep the sugar and nuts on the cookies due to their different shapes, but worth the effort!
I was ready to bake!

The cookies baked up perfectly!

They were also easy to remove from the cookie sheets to the cooling racks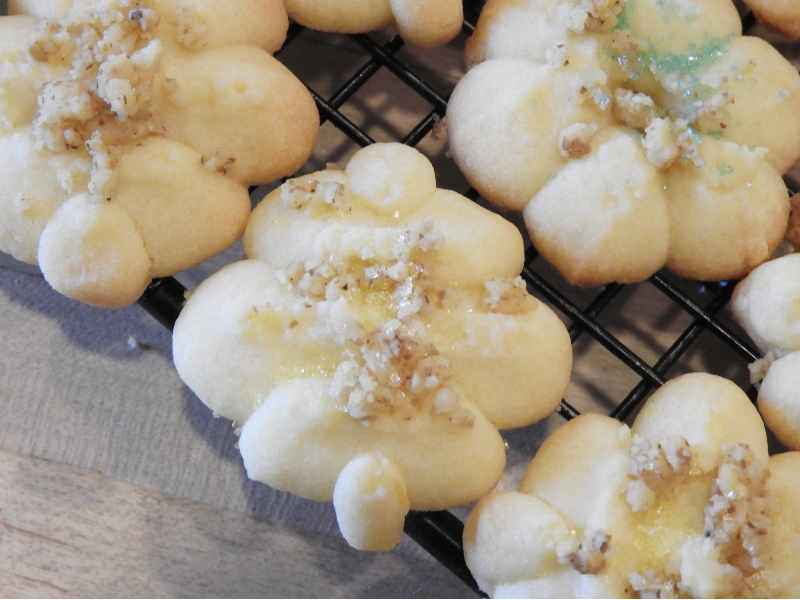 The sprinkled nuts and sugar on top as the perfect amount of personality to these Lemon Flavored Cheese Cookies!

I just love the different shapes and colors of the sugar!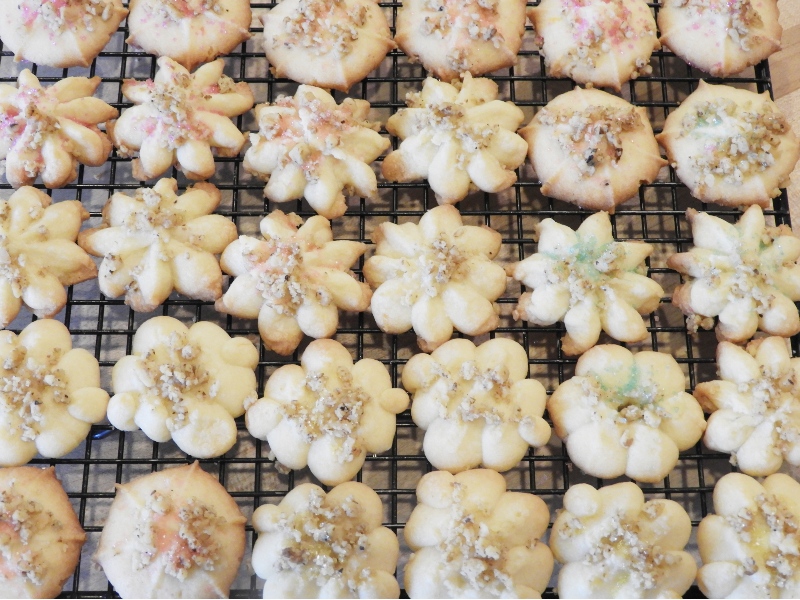 If you like lemon, you are going to love Lemon Flavored Cheese Cookies! The cream cheese adds a subtle creaminess to the cookie texture. The lemon zest coupled with the lemon juice adds the perfect amount of lemon flavor. And, the sugar and nuts sprinkle add the perfect amount of personality.
Lemon Flavored Cheese Cookies are a wonderful cookie you can make to dress up your party dessert trays or give to your kids after school. A versatile cookie everyone will love!
Enjoy!
XXOO,
Janet
Print
Lemon Flavored Cheese Cookies
Instructions
1 cup soft butter
1 3 ounce softened cream cheese
1 cup sugar
1 egg yolk
½ tsp lemon juice
1 tsp lemon rind, grated
2 ½ cups sifted flour
½ tsp salt
Colored sugar
Nutmeats, finely chopped
Notes
Cream butter, cream cheese, and sugar well. Add egg yolk and grated lemon and lemon juice. Mix well. Mix until light and fluffy. Add flour and salt. Mix well. Using cookie press, press cookies onto a greased cookie sheet and bake at 350 degrees for about 15 minutes. Decorate as desired.
Recipe Yield
Makes about 5 dozen cookies
Cookie Category:  Pressed