June's Cream Cheese Jam Pockets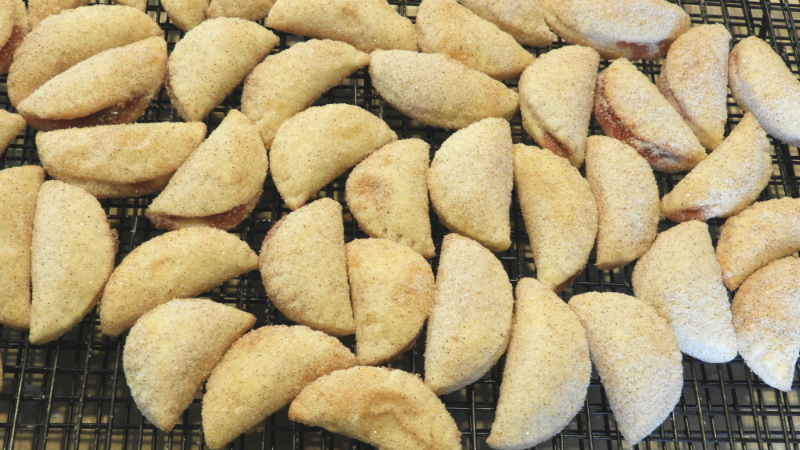 The "June" in June's Cream Cheese Jam Pockets is definitely my Aunt June, Bess' oldest daughter, my Dad's older sister. I know Aunt June from our family visits to Chicago. We always stopped to see Aunt June, Uncle Sy, and my cousins Paula Rea, Bob, and Steve. I loved our visits to Chicago! There was always lots of family to visit and catch up with.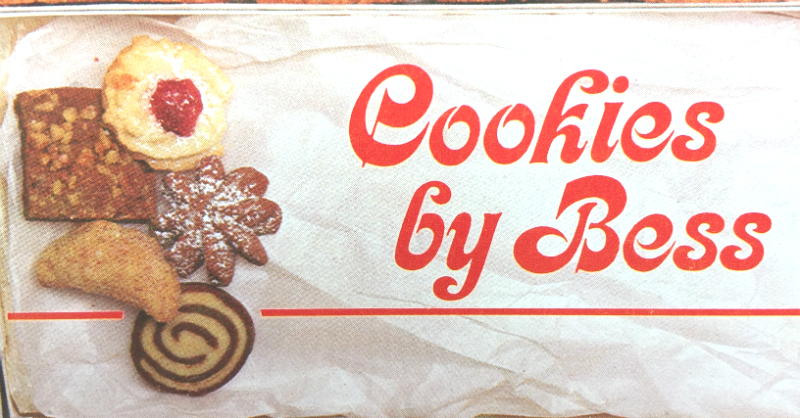 June's Cream Cheese Jam Pockets are part of the Cookies by Bess logo designed in  1980 for the new edition of Cookies by Bess. They are a half moon shaped cookie that has a pastry type cookie, filled with sweet jam, and then covered with cinnamon sugar. What an awesome cookie!
June's Cream Cheese Jam Pockets are one of the few more difficult cookie recipes to make, but leave it to Grandma Bess to provide great instructions, and a perfect recipe to help make the process easier.  I say this because anytime I see "roll very thinly" in the instructions, I get a bit nervous.
Rolling out cookie dough is never easy, and rolling it thin can be tricky…but as I got started, I was pleasantly surprised to see the dough consistency was perfect for rolling! I first chilled the dough for about 90 minutes and then rolled it out thinly and perfectly! With that part taken care of, the rest of the steps were a piece of cake 😊
Because of the cookie dough rolling and other multiple steps involved, I'm rating June's Cream Cheese Jam Pockets 3-stars for cookie baking difficulty. The good news, is the recipe only makes about 3 – 4 dozen cookies, so even though they are a bit more involved to make, you don't have to make too many!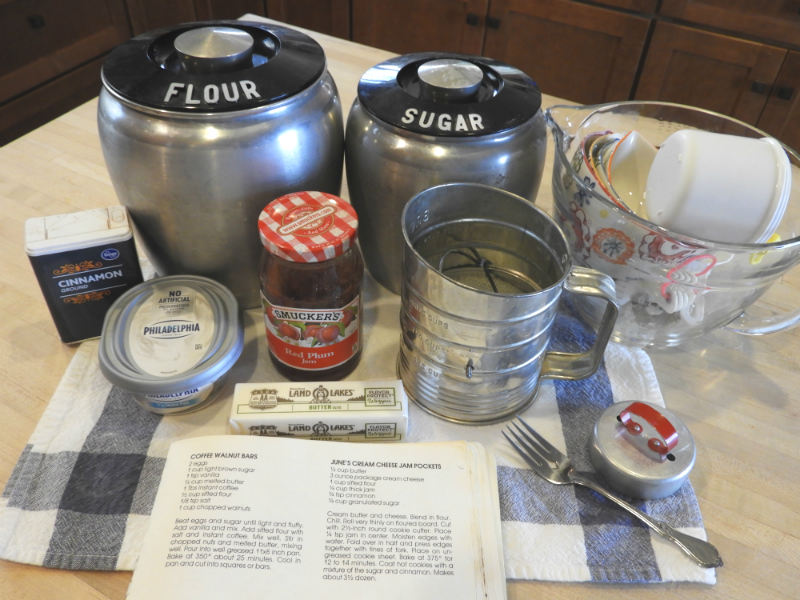 I found all the ingredients in my baking pantry, even the cream cheese! I had a couple options for thick jam in my refrigerator…strawberry, grape, and red plum. I decided to mix it up a bit and use both the red plum and strawberry.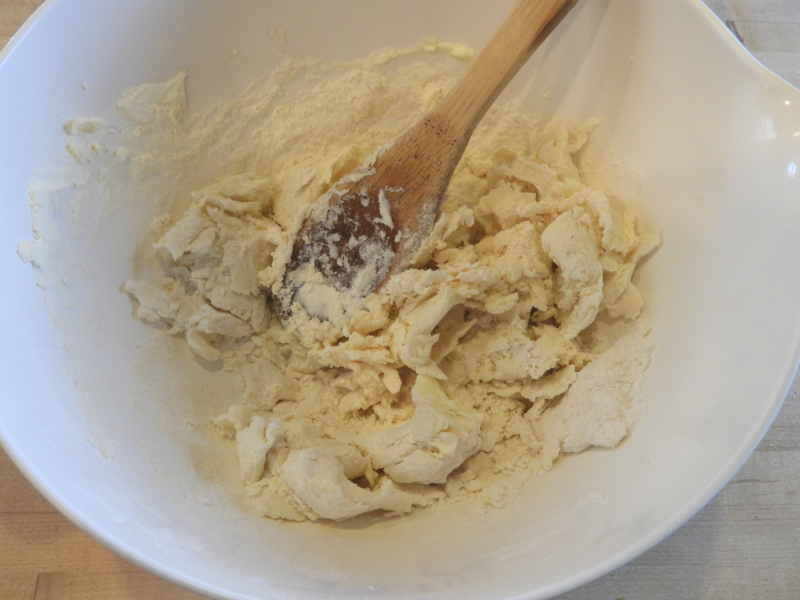 The mixing process for the cookie dough didn't require my Kitchen Aid. Since there were only 3 ingredients, I used my trusty wooden spoon to mix the flour, butter, and cream cheese together.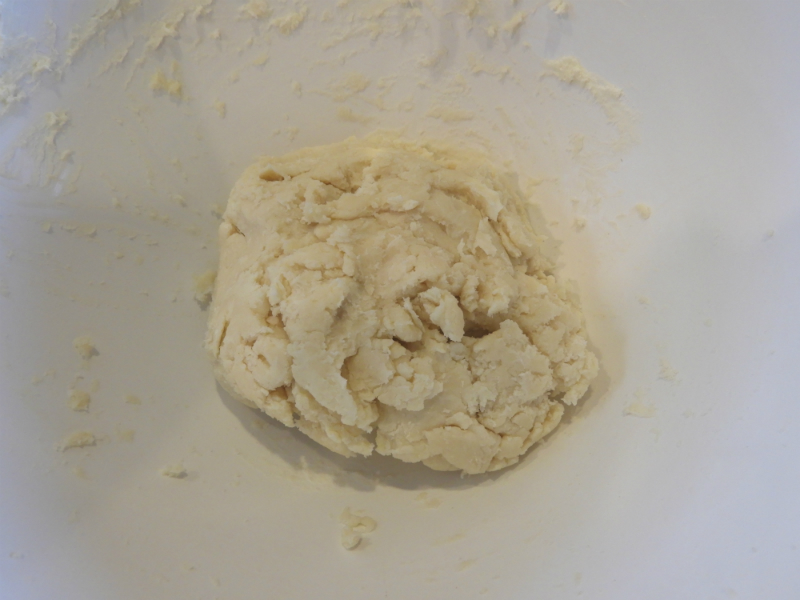 It did require a bit of "elbow grease", but the dough ended up coming together nicely. I rolled it into a ball, wrapped it in plastic wrap and stuck it in the refrigerator. This gave me time to get some errands done before the cookie building process!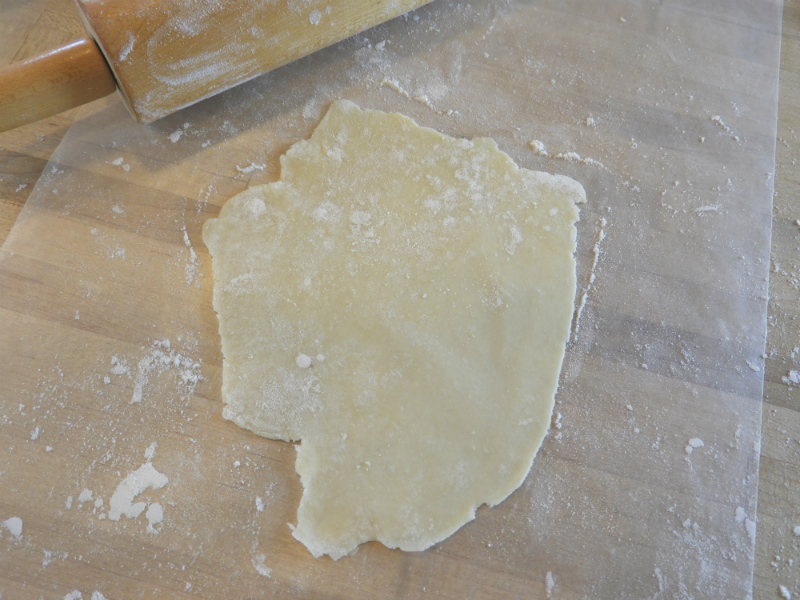 As I mentioned above, the dough was the perfect consistency for rolling after chilling a bit in the refrigerator. I used a good amount of flour to help keep it from sticking. Once rolled, I used my round cookie cutter to get my 2 ½ inch cookies.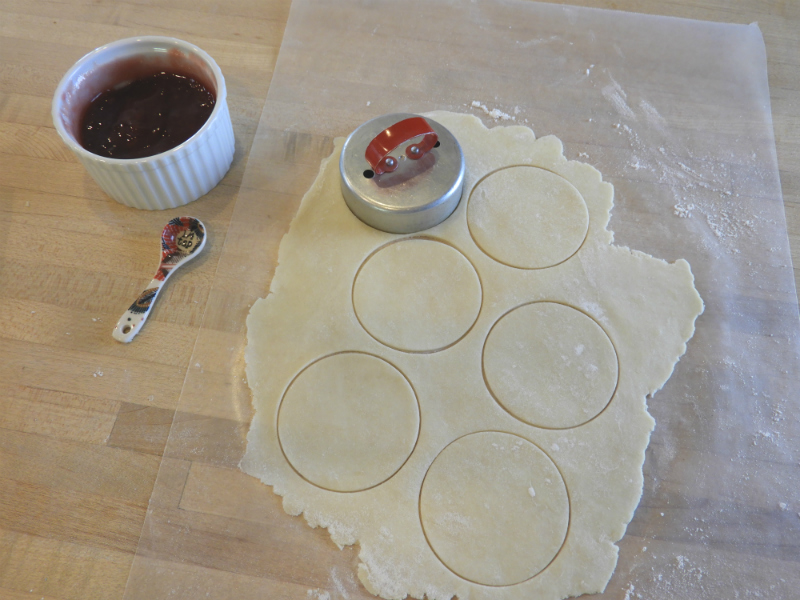 I was amazed at how thin I was able to roll this dough! Rolling the dough on wax paper make it easy to pick up the round cookies. Again, so much easier that I was expecting which make the process go relatively quickly.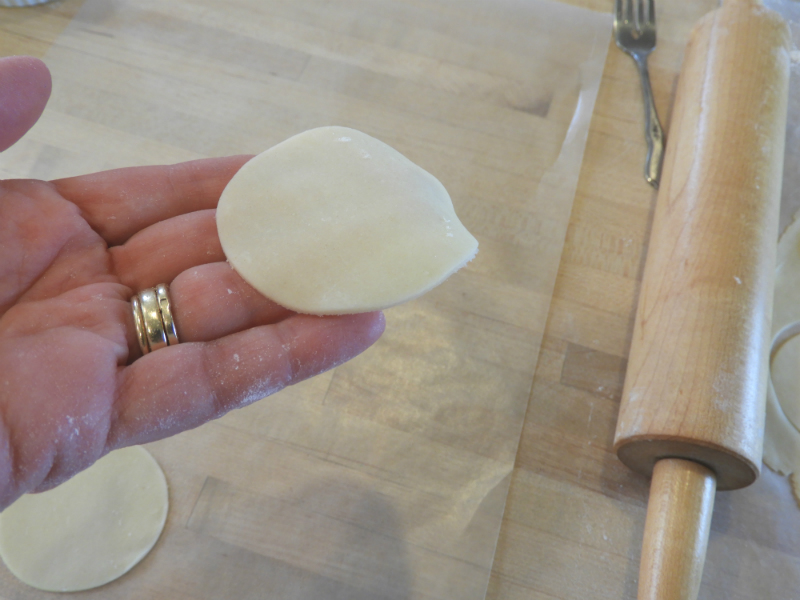 I was amazed at how thin I was able to roll this dough!
The next step was to add the ¼ teaspoon of thick jam. The red plum and strawberry preserves I used were pretty thick, at least I thought they were…you'll see in a bit that it wasn't thick enough.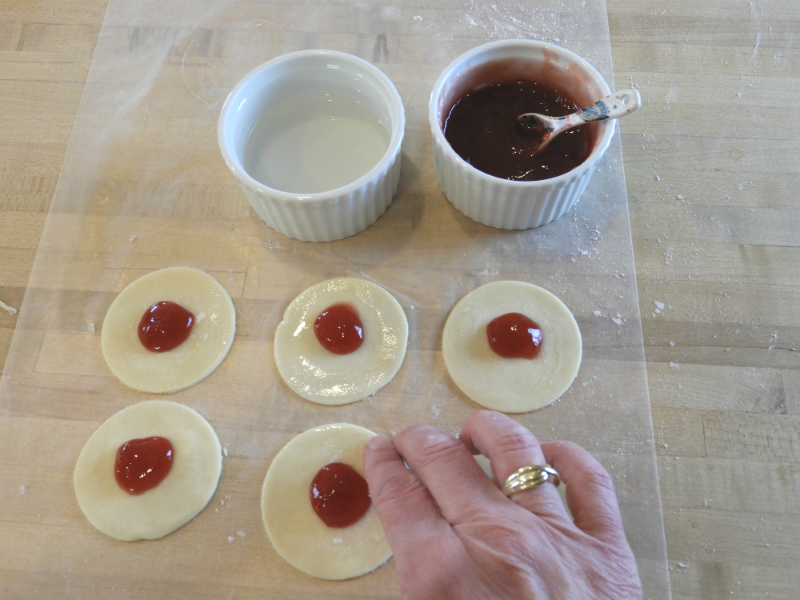 After the jam is placed in the center of the cut out cookie, I used my finger to wet the edges with water.
And then, I folded the circle over and pressed the edges together.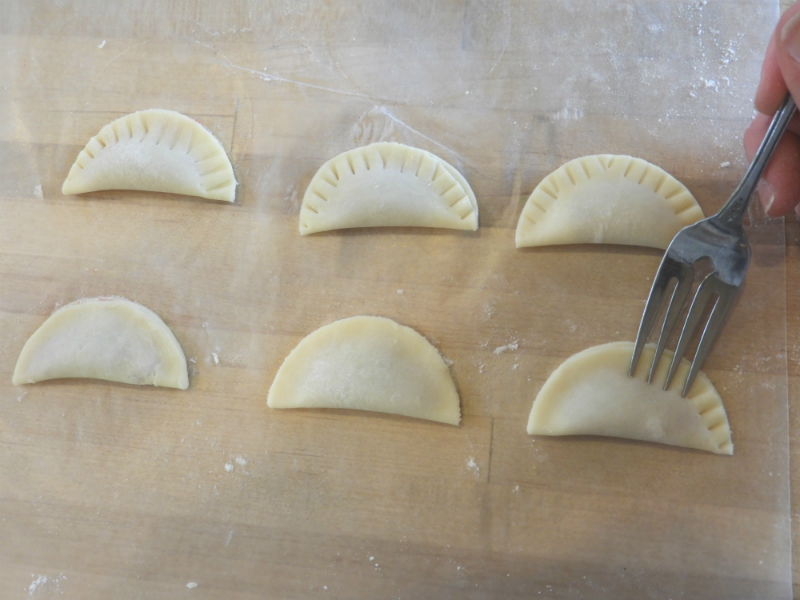 Finally, I used fork tines to press the edges together even more.
Aren't these pretty! Cute little half suns shining!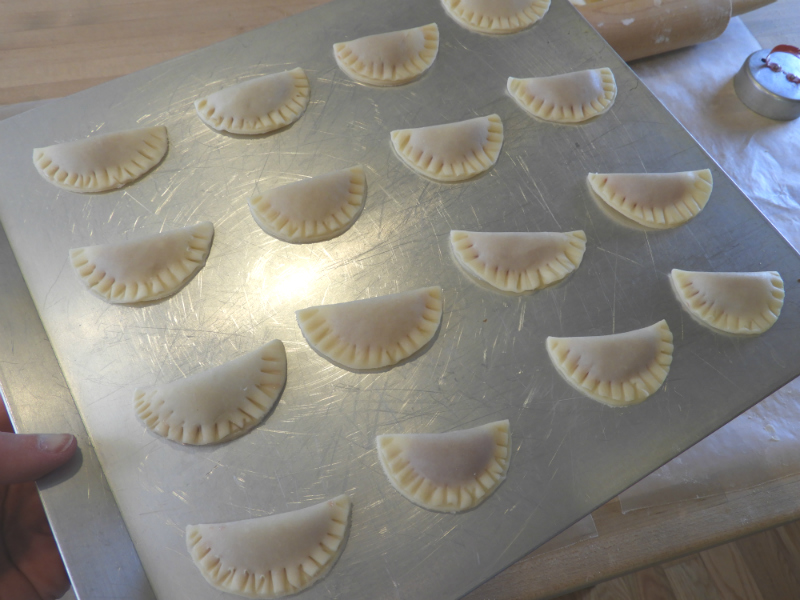 I was ready to stick the Jam Pockets in the oven.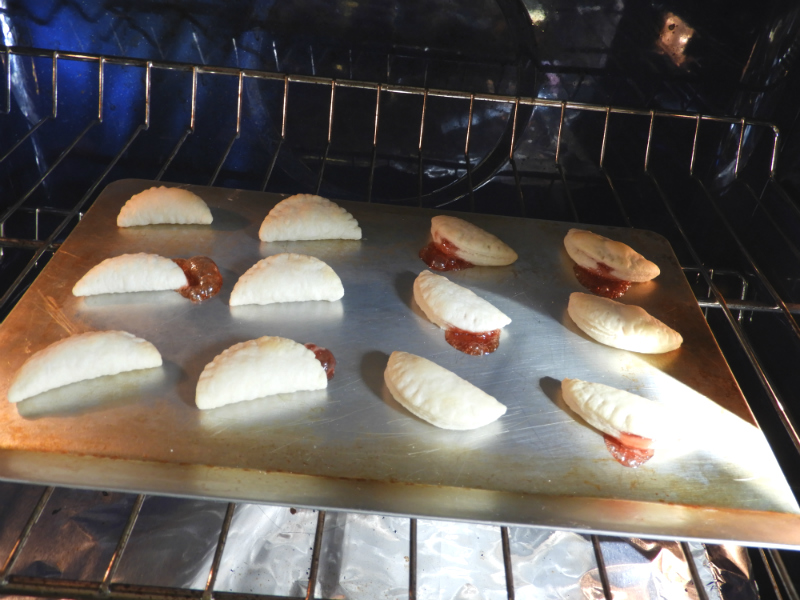 The cookies puffed up quite a bit while baking. And you can see how the jam found its way out of some of the cookies onto the cookie sheet.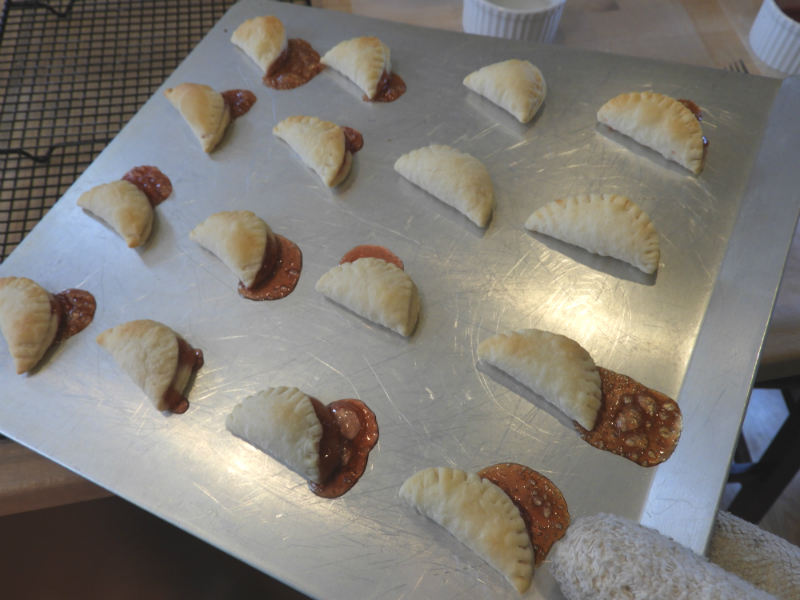 I am guessing the jam leaking was to be expected, and even if I pressed the edges together more than I did, I think the jam would still find a way out.
The recipe says to roll the hot cookies in cinnamon sugar, so that what I did next.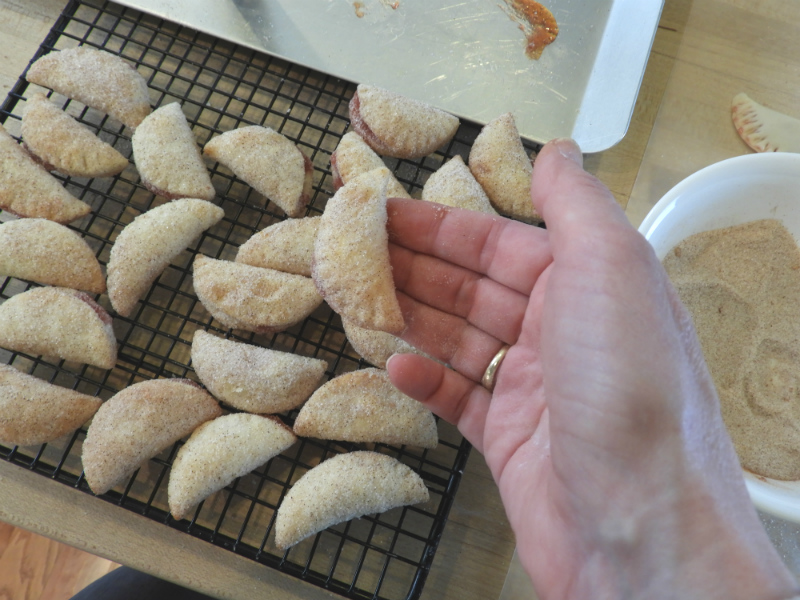 Such a pretty cookie!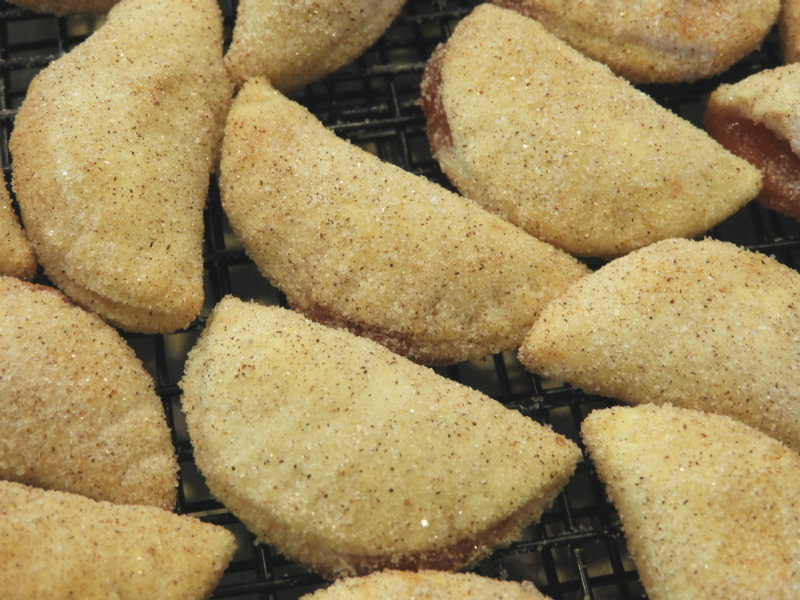 I am so pleased with how these June's Cream Cheese Jam Pockets turned out! They have a wonderful pastry cookie with a sweet jam filling, topped off with a cinnamon and sugar. This is really a one of a kind WOW cookie!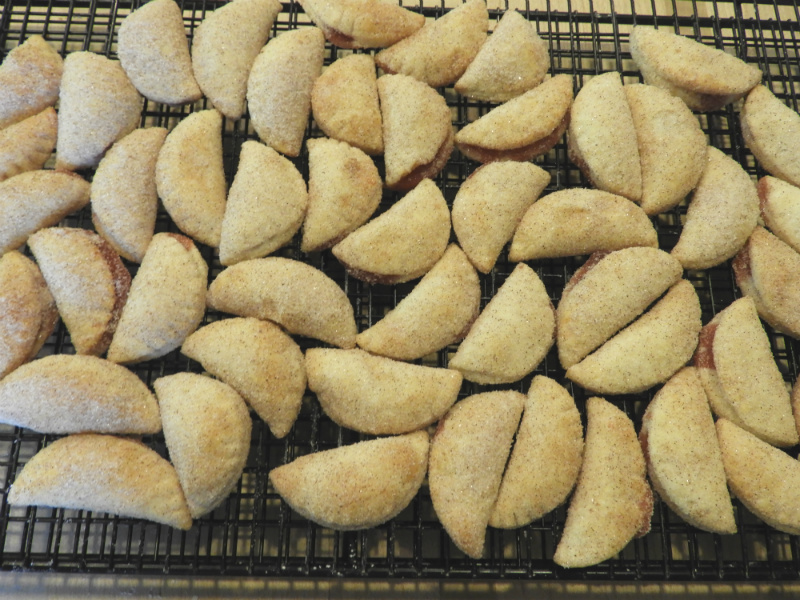 As you can see, the recipe made about 4 dozen cookies. With all the steps involved in making June's Cream Cheese Jam Pockets, I was glad!
I hope you will try June's Cream Cheese Pockets…they are fun to make and a pleasure to eat! You can serve them with coffee or tea or just pile them up for the kids to enjoy after school. Either way or any way, you can't go wrong!
Enjoy!
XXOO,
Janet
Print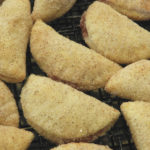 June's Cream Cheese Jam Pockets
Ingredients
½ cup butter

3 ounces package cream cheese

1 cup sifted flour

¼ cup thick jam

¾ cup cinnamon

¼ cup granulated sugar
Instructions
Cream butter and cheese. Blend in flour. Chill. Roll very thinly on floured board. Cut with 2 ½ inch round cookie cutter. Place ¼ teaspoon jam in center. Moisten edges with water. Fold over in half and press edges together with tines of fork. Place on ungreased cookie sheet. Bake at 375 degrees for 12 – 14 minutes. Coat hot cookies with a mixture of the sugar and cinnamon. Makes about 3 ½ dozen.
Recipe Yield
Makes about 3 to 4 dozen cookies