Now is the time to start thinking about and planning your Holiday Cookie Exchange!
One thing I always look forward to as we get closer and closer to the holidays is a Holiday Cookie Exchange!  Being Jewish, I didn't grow up celebrating Christmas, but pretty much everyone I knew and worked with did. Working at the Target store in Athens, GA, I was inundated with Christmas from late September through January every year! I knew the commercial side of Christmas from every angle. While I didn't officially celebrate Christmas, I was always in the holiday spirit and my way of participating was to bake cookies.
I baked cookies to share, to give as gifts, and I started organizing cookie exchanges with my co-workers. Through one of the cookie exchanges at the Athens Target store, I was introduced to a cookie recipe that…yes, sorry Grandma Bess…was one of the best I've ever tasted. For the life of me, I can't remember whose recipe it was, but I have made these cookies every year since! I am now famous for these cookies and I get requests every year from friends and family just for these cookies!
The recipe I'm talking about is Pumpkin Cookies. This cookie has everything you could want in a cookie! It's soft and moist, sweet and savory, and frosted with a cream cheese and butter frosting. It's even wonderful to eat when frozen!
You generally see pumpkin used in recipes for fall, Halloween, and Thanksgiving. These cookies are perfect for all your fall activities and holidays for sure.  As the cookie exchange season came around in December, I was asked by so many people to make my Pumpkin Cookies for the holiday cookie exchanges.  Pumpkin Cookies became a holiday cookie favorite in my circle of friends, family and co-workers. As the years went by, I ended up always making two cookies for the cookies exchanges, Pumpkin Cookies and a second from Cookies by Bess.
I am a big proponent of Holiday Cookie Exchanges! It's a fun way to bring together friends and family whether in your home or at work. It's easy to organize and goes a long way in building friendships, traditions, and sharing treasured cookie recipes. When I worked at Sports Authority, here in Denver, I organized the annual cookie exchange 6 years in a row!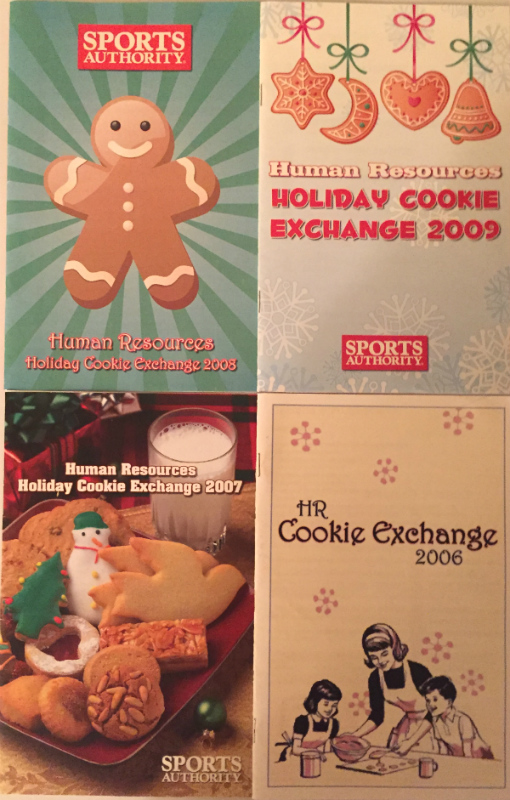 At Sports Authority, we had a few fun traditions everyone looked forward to each year. First was to have some snacks and holiday "spirits" to share. Second, we required ONLY home baked cookies and third, we published (internally only of course) a annual Human Resources Holiday Cookie Exchange cookie book with all the cookie exchange recipes included.
Our Manager of Communications was also a graphic artist.  One year I asked him if he would design and create a cookie book for us after the cookie exchange. He agreed, but in exchange for his time and efforts, he asked for cookies! He wasn't a baker, so didn't want to participate in the cookie exchange, but he wanted the cookies! I happily agreed and built his share of cookies into the total cookies each participant had to bake and bring to the exchange. It was a "win/win" for everyone!
The annual event became a tradition within our department. We had "regulars" that participated each year, we had those that were new to the department, and those that opted in and out depending on what else was going on that year. Bottom line it was a great team building event for our department and it was something we looked forward to every year.
You can create this type of tradition within your neighborhood, with your family, or with your community. It's easy to plan and in the end you get to try new cookie recipes!
Here are 10 easy tips for planning and organizing a simple and easy to host Cookie Exchange…
1. Select a date and location
2. Create and send invitations (at least 4 weeks in advance)
a. Include RSVP date
3. Plan for snacks/drinks (hot apple cider/spiced rum, hot chocolate/peppermint schnapps, wine, etc.)
4. Decide on party theme and decorations
5. Decide on a fun game to play or contest to win a prize (maybe a cookie book)
6. Send event reminder note to those on your RSVP list (1 week before event)
a. Let participants know how many dozen cookies to bring
b. Ask participants to bring copies of their recipe to share (enough for each guest)
7. Prepare snacks and drinks (day before or day of)
8. Prepare for guests
a. Set up and decorate room
b. Have extra tin foil, plastic wrap, plastic containers available
9. Welcome Guests
10. Exchange cookies, and have fun!
The number of participants can vary, but I would aim for an even number and for no more than 10 – 12. Keeping your party to 10 give you a nice round number to determine how many cookies each participant has to bring. With 10 participants, each guest brings 5 dozen cookies and goes home with 5 dozen cookies, ½ dozen of each type of cookie.
That's it!  Super easy and super fun!
Please share with me your cookie exchange experiences, ideas, and traditions! I'll collect all your thoughts and share them with our community so we can all plan a great cookie exchange this year!  Just go to Join The Community.
Also, don't forget to take pictures during your cookie exchanges and send them to me! I can't wait to see all your ideas and fun experiences! You can send me your favorite cookie recipes too!
XXOO,
Janet